Ain't Asking for Additional Anticipation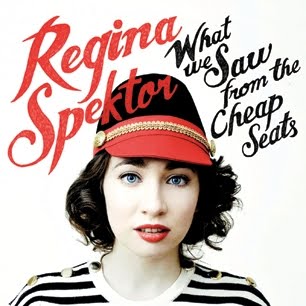 It's a few days into June and I thought that after the rather intense post on John Mayer from last time, that I would shift to the lighter load to start off month six of 2012. (Already? Jeez.) I would like to pose a scenario to you -a true story- and hear your thoughts on the matter.
I had the fortunate pleasure of logging into my Twitter account a couple weeks back, at just the right moment, when NPR Music announced via their own account, that they were sponsoring a free show at Le Poisson Rouge on the May 31st. Located in downtown Manhattan on Bleecker Street, this place is known and loved for its variety of musical programming that spans a plethora of genres from traditional classical to standing only indie punk, to piano and disco. It's truly a place of unique events.
Well, it so happened that the show NPR was sponsoring was a stripped down set by Regina Spektor; a singer-songwriter known for her Anti-folk musical styling.
I can't lay claim to being the most hardcore follower of Spektor's music, though I do enjoy her clever word play and extremely identifiable voice, among other things. This being the case, it was kind of cool to know I just had to send my name over Twitter to get on the list for this show and experience her talents live. Perhaps it would motivate me to not only buy the new album she was promoting, (Titled: What We Saw From the Cheap Seats. Excellent stuff) but some more of her back catalog to add to my CD collection as well.
Fast forward to the day of the show and I had received a confirmation email from the ticket provider about the venue, show time start and an advisement to be early…all of which is normal and expected for a free concert. (or really any concert for that matter.)
Now, here's the thing:
I showed up two hours before the time when doors were even supposed to open, which was an hour itself before the music would start. There was a small bit of a line already formed outside along a barricade but nothing discouraging. I stood there, with a friend who had come to see the show too, and knowing neither of us had eaten yet, we pondered going to grab a bite and coming back. However, I remembered having seen in the confirmation email I received, there being a statement made that went something like this:
"Please Note: This event WILL BE OVERBOOKED and admission will be on a first come, first admitted basis. Please arrive early for best chances of admission. CAPACITY IS LIMITED."
Just to be sure, we asked the doorman if this was indeed the case, and it seemed the line was there to stay. Not wanting to completely risk losing our chances to get in, we waited in line. The thing about having to wait that baffled me slightly, came in retrospect after the filing in had finished. I did what the email said. I arrived early. I saved myself a decent spot near the beginning of the line, and yet, the idea of that earned place seemed to go out the window once I was in the spot I would remain during the entirety of the show. You would never know I had been in such a good position on line outside because once let in, things became all about being the first to rush down the stairs to gain the perfect holding spot next to some doors, to get into a second room, where you would dash to grab a spot next to the stage.
This was, contrary to what I thought it was going to be, a standing room show. Le Poisson Rouge is known for its cabaret style, staggered seating. Having been in such before, I figured with the stress on limited capacity, the tables and chairs were being used and that waiting in line would be worth it so as to obtain a front table. After you sat down, you'd know no one could take what you had patiently waited for. Finding out after the fact this is not the case made me ponder the reasoning behind each piece of the situation, since together, they made for a less than pleasant surprise for some people. What I mean by that is the disparity between someone 6'1 and someone 5'3. Even if 6+ was way behind you in the line, if they happened to rush in and stood in front of you, there went all your patient efforts for a good view.
I know I'm branching off a little bit into concert etiquette, which I have covered before, addressing the issue of obtaining/giving up your spot on an audience floor but pointing that out is just a means of additional emphasis. I understand there are common explanations that can be the reasoning behind this combination of limited list, line waiting and race for prime viewing:
1) Building excitement (Twitter announcement)
2) Creating feelings of exclusivity (Limited List)
3) Building anticipation/publicity (Establishing first come, first admitted with barricades for an outside line)
The fact that my friend and I had wanted to leave and come back after eating shows just how effective the last policy is for creating the desired result. If everyone left to bypass waiting, there would be a line of place-marking "stuff" behind this barricade and everyone would go grab a few rounds of drinks instead of standing around for 2-3 hours. Not surprisingly, other people walked by who hadn't signed up for the show, asking what the line was all about and some were genuinely shocked to hear an artist of Spektor's mainstream standing would be at this innocent looking venue on one side of Bleecker. In other words, tt gets people to notice Le Poisson if they don't already know it and gives NPR plenty of photo shot potential for a post-show story. (See below)
Given that the show itself was indeed free, it made sense that Le Poisson wanted to get as much positive use out of all the people as they could, since they were not making any money off the audience. Add to that the idea that the house would be packed no matter what, because they took more requests than they knew would fit, and it's a positive outcome for everyone. Spektor gets a full audience, NPR has their name attached to this 'cool' show and LPR can say they have a full house for this one night only extra special performance, meaning they're the place to be, as opposed to their competition, for rare and free events.
Sure, this is what happens with businesses, and LPR is after all, a commercial business. They just happen to be supporters of less mainstream music and art as well. They can be a bit more 'high class' than your average night club with the acts they book.
However, in aligning itself with this idea and execution of finesse/sophistication that differentiates from the rowdiness of your average quarter-tap-beer and rock joint, is there something to be said, and a tiny bit off, about the idea that such a place would manipulate the situation around a show to not orient around their consumers, even if the show is free? I would think first impressions from first experiences are a factor of foremost importance in planning an event like this. The idea that someone might be thinking, "We don't really care how long you have to wait, we're going to fill the house and just be grateful you got in," doesn't exactly ring with the sweetest or classiest of tones.
Then again, perhaps my mental connection with propriety and "earned order" made because NPR sponsored this event, should be disregarded and this should be retrospectively chalked up to an orderless, freebie of a concert. During the show, Regina Spektor even said it best herself:
"It amazes me how you be playing on NPR and people still talk through your show. Really." 
What do you think? If you tweeted to get on a list and waited in a line, would you expect that those proactive actions would earn you some sort of corresponding result in your concert viewing experience? Both figuratively and literally. Because sandwiched between two 6'1s, I probably could have had a better sight line watching the web stream in high definition and still laughed at Spektor's between song jokes. NPR's coverage of the event, post-show, indicates an archived recording of the show will be available for playback in the future.