Help yourself to the self-aware songwriting and symbolism of Future Teens' "Self Help"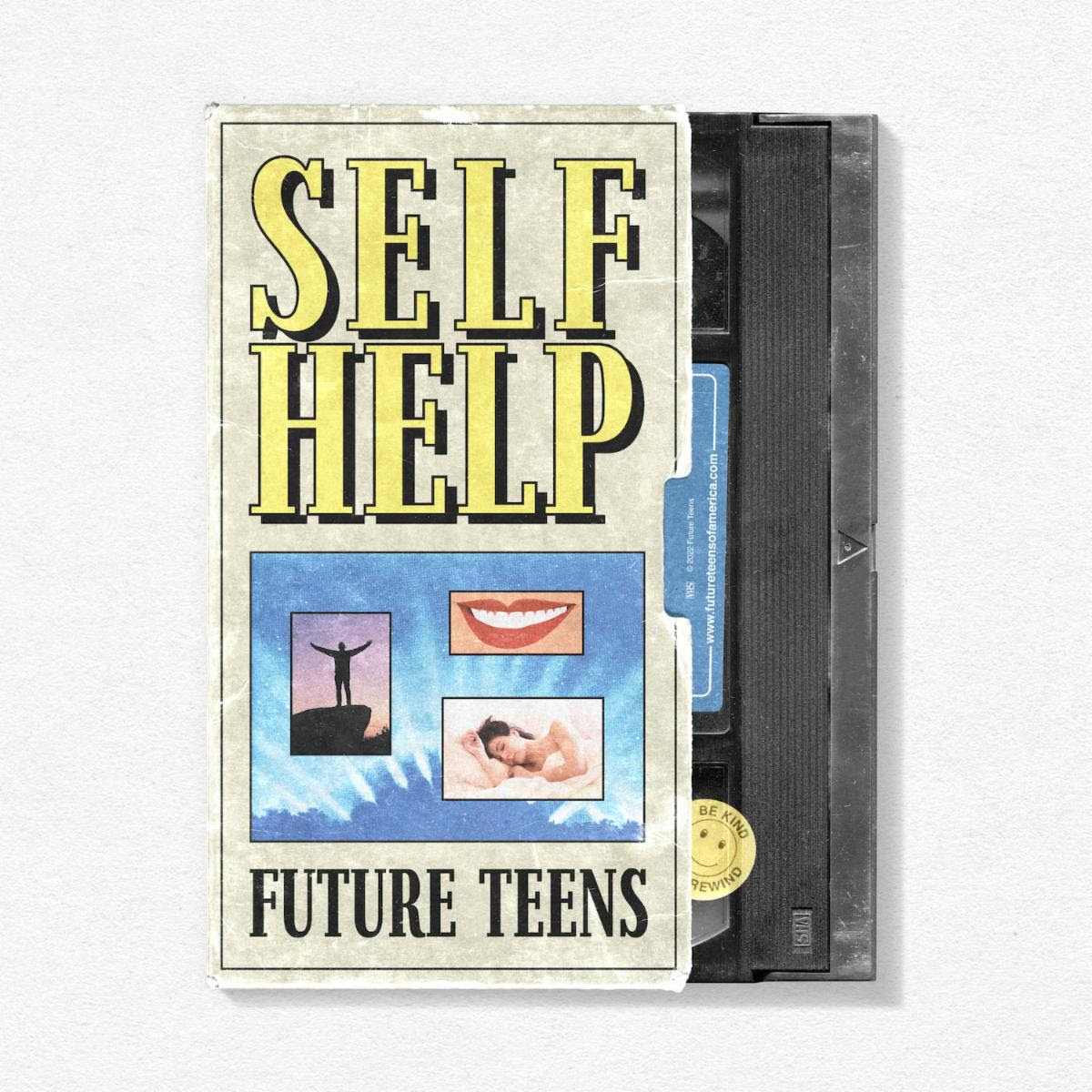 Boston, MA quartet, Future Teens, are a creative force to be reckoned with and the band's momentum is only picking up steam with the release of Self Help, the band's third full-length release, out now via Triple Crown Records. The group has chosen to continue to solidify its character profile as a band that writes with a focus on self-described "bummer-pop" style musicality and lyricism. This catchy sub-genre  label seems easy to lump in with the broader genre of all things emo however, there's a subtle pivot in the way Future Teens conveys its emotional reflections and needs, which makes the band's approach to a sadder point of view stand apart from older definitions of what it means to write and sing "emotional" pop songs.
Future Teens is:
Amy Hoffman (Vocals, Guitar)
Daniel Radin (Vocals, Guitar)
Maya Mortman (Bass)
Colby Blauvelt (Drums)
Starting with just the title of the record, one might even pause to wonder if the core concept of Self Help and all that lies beneath its visually nostalgic cover art is showcasing what listeners could perhaps consider the present day take on emo –– a question for which the answer goes far outside the bounds of these 10 songs and speaks more to the overall motivation behind why the narratives of Self Help convey the messages they do. Bands brandishing emo pop, emo pop-punk, indie emo, screamo, emo-metal, etc., in the veins of Saves the Day, American Football, Mayday Parade, Red Jumpsuit Apparatus, A Day to Remember, and so many more may exist on a wide spectrum of sounds, intensity, and timbre in how their music takes shape, but beneath each individual band's tone colors lies layers upon layers of musing over personal struggles of isolation, loneliness, rejection, misunderstanding, self-depreciation, anger, resentment, and other relative sentiments indicative of a negative and-or troubled disposition.
Future Teens have their own batch of personal challenges recorded onto Self Help but a critical point of differentiation is in the band's objective behind exploring the feelings heard in these songs and the assorted personal experiences that spurred those feelings forth. There's a substantial beam of self-awareness supporting all of the songs on this album, evident in the opening track "Doorknob Confessional."
I'm always
Halfway between asleep and up all night
Glued to dirty sheets whether or not I like
Around 4am I'm hearing voices
But nothing scares me anymore
I know it's just
New medication reacting to
My reticence to accept the truth
Got a lifetime of error ahead of me
Trial that might not change anything
– Lyrics from "Doorknob Confessional"
The difference between the awareness of struggle found on Self Help over say, Simple Plan's 2004 single, "Welcome to My Life," starts with the specific lyricism that doesn't just look to evoke a feeling from a scene but to meticulously describe a state of being – physically outside of the individual, as well as what's going on inside. There's a pursuit of providing a connection to the listener beyond describing macro imagery and elements that might provoke higher emotional reactions or straight shock value.  In short, the lyrics throughout Self Help combine the specificity of meticulous scene setting with the personalization of diary writing. The songs take on an intimacy that even music sung with the most visceral of emotional displays, will likely fail to capture in the same way.
Add to this delicate mixture, Future Teens' use of polished pop production, uplifting melodic hooks, and smart stanza structure amid longer than average lyrics lines, and what comes about is neither simple songwriter openness, nor an indiscriminate emotional down pouring. The ratio and choice of where, and to what degree, Future Teens implements each aspect of their blended approach to vulnerable music, is what makes their artistry stand out. Three albums in, the band display a well honed instinct for how to attain the right combination of everything to attain their signature musical character.
On songs like "BYOB," the self-reflection goes to an even deeper level of individual lived experience, as the song directly recalls some sibling-bestowed observations that, by only coming out now, shows a flash of insight acquired with age. The song opens with this revelation, continuing on to unveil recognition of risky tendencies and one's own personal temptations. (Is it coping or a problem? / Feeling best when I feel nothing / Getting worse here at the bottom). It's brutal honest in a private sense but brutal and honest nonetheless. A song like "Real Change" speaks to just how much the emotional and vulnerable subject matter of today's bands differs from its predecessors. A song reflecting on the ebbs and flows of imposter syndrome draws a direct line to a particular feeling of debilitating self-consciousness that has become a state of mind seen as widespread but also able to be discussed in open public discourse and casual conversation.
Fundamentally, Self Help shows just how far the U.S. public has come in not just its acknowledgement of the intangible mental and emotional struggles of the human condition but also in its positive encouragement of transparency about the problems everyone faces as well as the often challenging journeys taken to search for answers, relief, and healing. That talk of such things can migrate to into music for personal enjoyment and not be instantly branded a public service announcement project, means a degree of normalization has been achieved. Emo music has always been brutally honest but a current band like Future Teens has chosen to focus the purpose of the honesty toward honesty about the pursuit of wellness. The stories on Self Help don't just tell listeners "Something's wrong and here are my feelings about it." The stories Future Teens delivers with such earnestness also strive to show analysis and growth via methods like talking openly to others ("Smile with your Teeth"), taking medication ("Doorknob Confessional"), struggling to seek support ("Well Enough"), going to therapy ("Team Sports"), no longer seen as taboo or unappealing as topics for broad public reception.
Not only are the members of Future Teens are eager to embrace their individual struggles but there is also a clear aim for these songs to celebrate the ways different people and opportunities in their lives helped to pull them out of a situation or provide present day clarity with regard to what happened in the past. Furthermore, in supporting such an open stance about the pursuit of solving an emotional disconnect in healthy, self-improving ways, Future Teens are in effect expressing gratitude, both current and retroactive, for the everything and everyone that provided a form of comfort and-or helped find solutions. Interestingly, in positioning Self Help this way, Future Teens are effectively giving their bummed out basis of songwriting an optimistic point of view – the very opposite of songs that may have elected instead to simply vent and seek empathy without solutions – even at times escalating core tensions with audible frustration, found in other emo songs through lyrics, delivery, dynamics, or everything together.
---
Self Help is available now via Triple Crown Records.
Get a copy through Triple Crown Records, iTunes, and stream on Spotify.
Keep up with Future Teens through their official website these social media outlets:
Facebook
Twitter (@FutureTeensUSA)
Instagram
Bandcamp
SoundCloud