Connie Han reveals new strength to her songwriting sense on "Secrets of Inanna"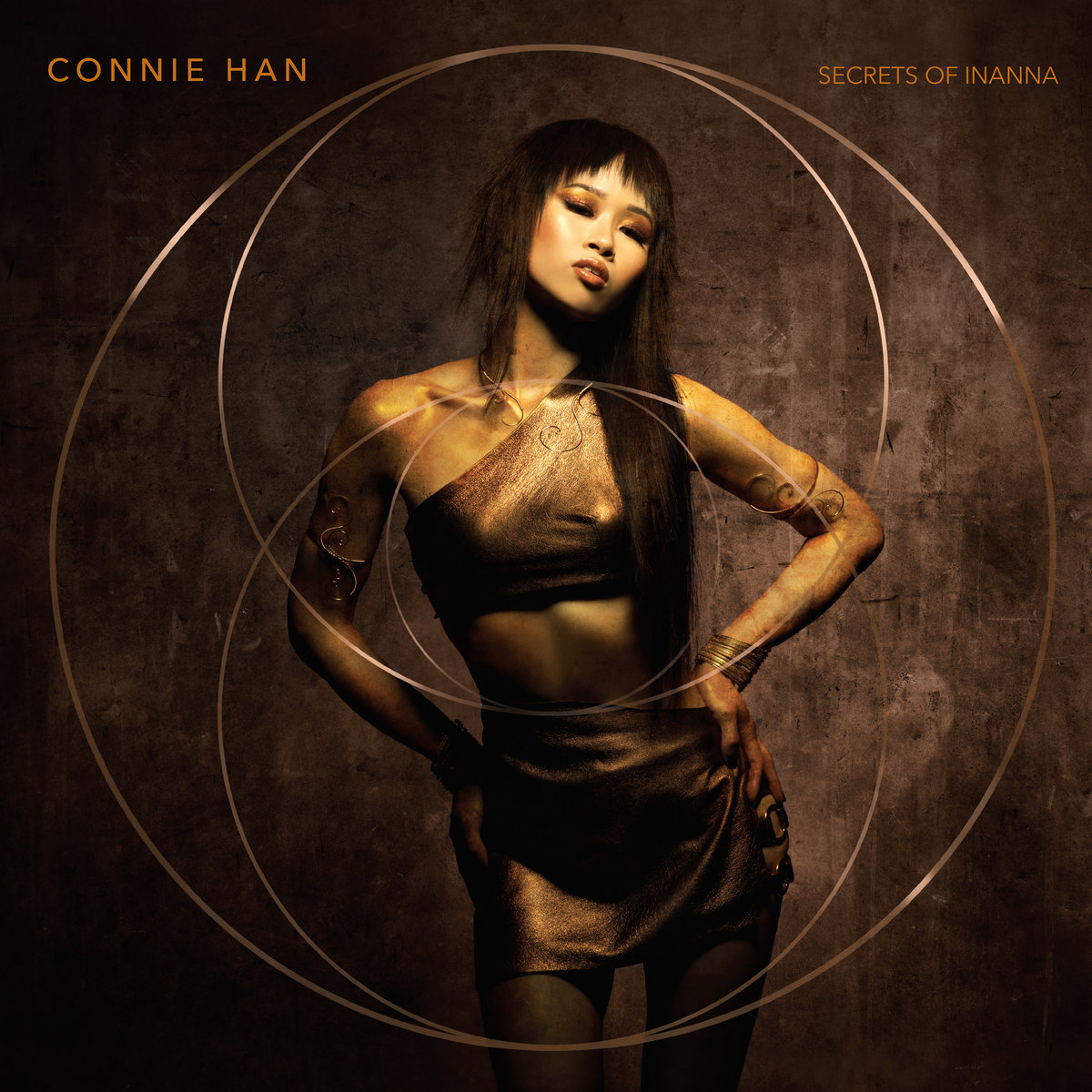 When it comes to the expectations around the album releases of a new musician, sometimes the deck can not only feel stacked against them but also split into multiple piles that the musician has to jump over more than once. There's the daunting task of the debut, the nerves of a sophomore slump, and then one would assume an artist is in the clear. However, the promise of a third record comes with its own challenges – namely finding a way to navigate whatever signature artistry a musician has developed and refined during their first two releases, while not necessarily committing to a style so indulgently that a third reprisal of too much similarity makes the artistry at hand appear "safe," even if the work required to achieve it is anything but that.
This is the quandary that quietly laid itself before jazz pianist Connie Han, as door to her second album, Iron Starlet gently closed, revealing the beginning of the path that would become Secrets of Inanna (Mack Avenue, 2022). Up to this point, Han has carved her place in the jazz landscape with thrilling boldness and meticulous knowledge of those who came before her. This attribute of almost scholarly dedication only enhances Han's enthusiasm for the music she plays and is influenced by, which is easily heard in her performance and seen in her dynamic live gigs. 2018's Crime Zone allowed Han to introduce her fierce and fiery blend of agile playing and cross-medium appreciation for film and the drama of sci-fi to the world with an assertive collection of gripping original compositions that balanced historical cognizance and modern momentum in the most perfect of ways. Then 2020's Iron Starlet saw Han take her writing to the next level, diversifying the ways in which she had her instruments of choice – piano and Rhodes – dance around one another and create complex but neatly intertwined melodies.
With the announcement of Secrets of Inanna, the question arose of how Han would approach composing this time around. Her sheer skill was, and is, a given on the album; it's no wonder since time and practice only lead to stronger skills. And yet, with Secrets of Ianna, Han embraces a softer approach to demonstrating her ever-evolving musicality. Opening track "Prima Materia" revels in this sense of softer from a literal vantage point, as Han leans on the Rhodes to begin the album's homage to the Sumerian goddess Inanna. Additionally though, there's the expanding to feature the fluttering timbres of piccolo and alto flute, played  by Katisse Buckingham. The piece exudes a lighter tone color to start the album, rather than splashing down with an explosive chord or rapid fire run of notes played by Han or rippled away by Han's trusted drummer, co-composer, and producer, Bill Wysaske. It's surprising and a welcome change of pace, as one is then left to wonder if and-or when Han's lightning quick reflexes and slick style of delivery will make their appearances across the 88 keys.
The answer is "right now," as following track "Ereshkigal of the Underworld," returns the arrangement to the traditional trio of piano, bass (played by John Patitucci), and drums. The tried and true formation serves as the vehicle for a cool and collected, striking, and assertive rhythmic groove that aligns with the intense but reserved energy of the underworld. It's a taste of where Han's writing style has traveled over time, and again, it retains some of what's familiar and deeply appreciated about her art but also reveals a new depth of consideration that hasn't perhaps played as big of a role in the prior two records: conceptual metaphors and symbolism. While Crime Zone did pay homage to some non-musical influences that Han enjoys, the connection was more generalized, whereas Secrets of Ianna connects more directly with the specific figure of Ianna and the settings in which she exists, and the other mythical beings with which she is associated. Ianna herself also embodies very particular qualities in her mythological lore, as the goddess of love, sensuality, beauty, fertility and war. Though not to a perfect tee, there's a resonance between the written demeanor and understanding of Ianna as a being, and Han's own personal strength, most often felt in the way she takes declarative and confident ownership of her talent, ambitions, her appreciations both musical and aesthetic, as well as her intentions for continued growth as an artist and an aspiring master of her craft as a composer and pianist.
It's through this newly incorporated creative element, that Han is able to give her well honed skill and signature style a fresh perspective, as well as place it within a new and unique context. Though only one aspect of the project, the decision makes a world of difference in perception and enhances the drive for purpose behind when, where, and how Han exercises grand displays of artistry, as one hears in the difference between the frenzied melody and frenetic tempo of "Gilgamesh and the Celestial Bull" and the far more relaxed pace and playing style of  Chick Corea's"Desert Air." Still, despite the latter track appearing to give reprieve from the kind of straightforward, high-energy musicality Han excels at, the piece isn't without showing how Han found ways to keep the music feeling unexpected and spicy all the same – a sign she knows how to present her style in ways beyond overt displays of technique, as well as showing listeners the beautifully subtle but impactful way she connected with the imagery of the track's title. The recurring shift in ascending and descending harmonies, the accidentals inserted into passages that simultaneously fit in the tune and keep a listener on their toes, and the gentle swing imparted on the music, plus Wysaske's shrewd use of brush sticks, all channels the gentle movement of desert sand through the air, which can harmless but also unpredictable at times, jumping out like small sparks, the same way the notes in the music prompt heightened attention but only for the briefest of moments.
It's exciting to see how well Han has succeeded in finding a new ways to demonstrate her approaches to composing and playing, while not needing to wholly abandon what listeners have come to love about hearing her play. The growth feels neatly sequential in the best of ways; there's no dramatic deviation from the path Han has been carving, due to some fear of potential stagnancy. Han, who so eloquently embraces a challenge and a touch of the unknown, found a narrative full of vivid imagery, characters rich in personality and dramatic energy, and a setting that acknowledges near limitless potential. Altogether, it makes for the ideal inspiration to keep her on the path she's made for herself but leaves ample room to grow, transform, and go beyond what Han thought possible the day before.
---
Secrets of Ianna  is available now via Mack Avenue Records.
Get it through Mack Avenue, iTunes, Amazon.
Streaming is available on Spotify.
Keep up with Connie Han's journey through her official website and these social media platforms:
Facebook
Twitter (@ConnieHanJazz)
Instagram
YouTube
Spotify