Jonas Myrin extends an unconditionally open hand "For the Ones We Love"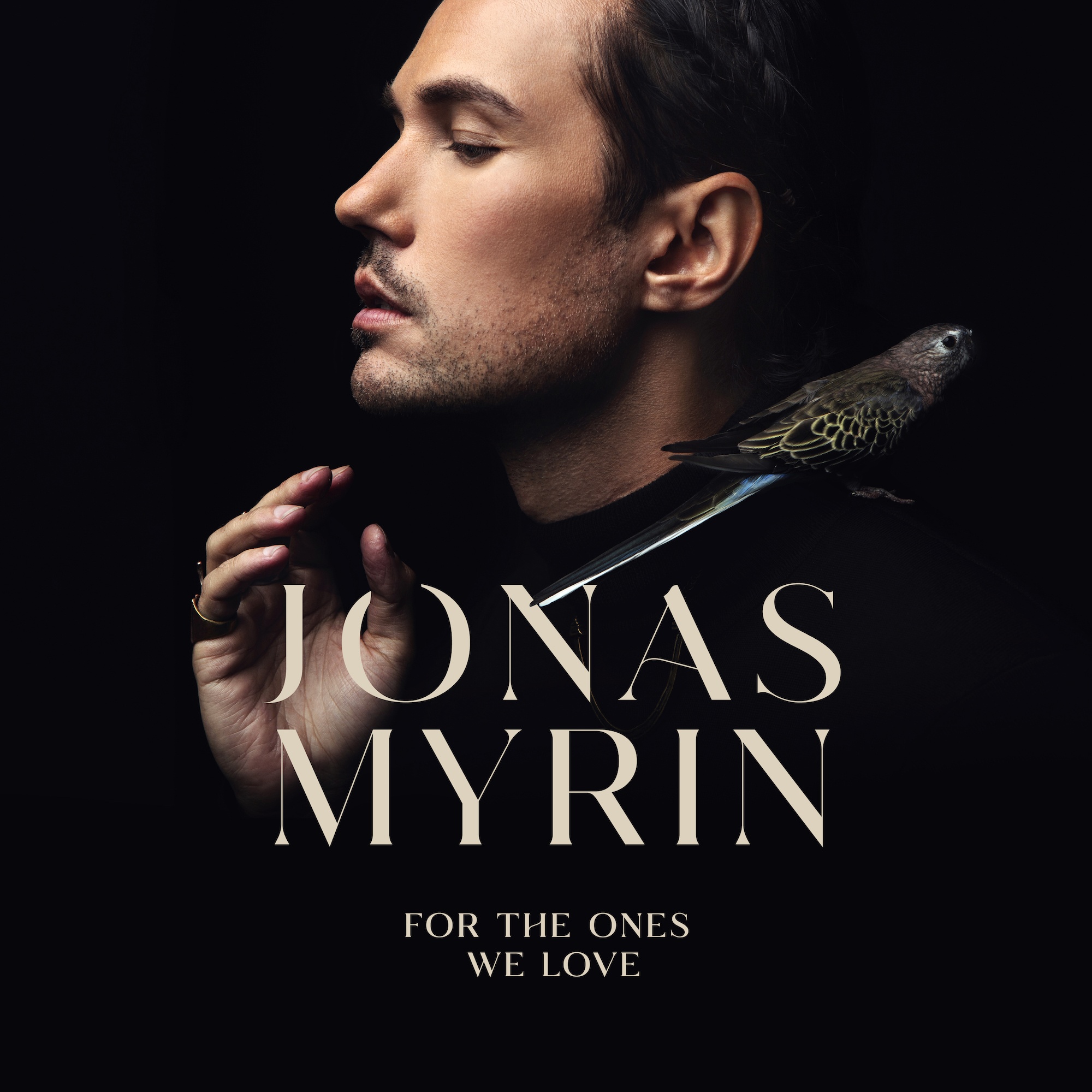 Jonas Myrin loves to embrace grandeur but, not for reasons of amplifying himself. This is easy to understand when one considers all the ways Myrin doesn't try to get himself noticed. Myrin is a multi-Grammy winning songwriter and yet his public presence remains modest, free of self-aggrandizing bombast, or a sense of unrelenting social media hustle, despite how easy it would be for him to ride the momentum of beloved artists for and-or with whom Myrin has composed, like Idina Menzel, Andrea Bocelli, Celine Dion, and Natasha Bedingfield. "I never really think about like 'I need to write a song that's gonna be a hit.' I always think like, this [music] can hopefully help someone out there that needs to hear it. This is why I was put on earth, to actually help people and use my gifts with music to try to just inspire [others,]" Myrin explains.
Even now, as Myrin has chosen to step forward and be fully present to his own music through solo releases, the sense of selflessness remains a fundamental and unwavering focus. "To me, there's always been this guiding light that [shows] music can do be beacon of hope for people, because it's been there for me [through trying times]," he says. "So, I feel like even this year with COVID, it's like, I have a mission; I have a job to do with my music."
Where a larger-than-life mentality does fall within Myrin's music career, is in the kinds of messages he strives to emphasize through his work. This approach to songwriting was given an especially bold presence last year, when Myrin and Bedingfeld teamed up to create the single, "Together in This" – an uplifting, rhythmically appealing, lushly produced pop song that served as the soundtrack to the ending credits of the children's film, Jungle Beat: The Movie. The spirit of that project, though only one song, was about highlighting the themes of bonding with, and collectively supporting, others. Given the real-life parallel of a need for connection and encouragement across the whole human race last year, it makes every bit of sense that Myrin's personal philosophy toward the power of music would be the perfect fit to write it.
Now almost a year later, Myrin has found there is still plenty of a need for positivity, encouragement and, most importantly, for true empathy that is born from looking beyond our own experiences and our own pain. Subsequently, in response to this realization came Myrin's newest single, "For the Ones We Love."
"It was very close to home for me, ['For the Ones We Love']. The song was a personal journey about how love, sometimes love dies but, it means that something new will be restored," Myrin says.
Though musicians across the globe have composed and performed song after song meant to provide emotional comfort and inspirational strength against the struggles of the pandemic, one key difference with Myrin's new song is that its focus on love and support isn't directed at or for the listener. It's a song highlighting the unconditional side of loving others. "There's a line in the second verse that goes, 'When life breaks down, sweep up the glass / and forgive the hurt that's in the past.' And that to me, was this picture; I felt like, that is unconditional love," says Myrin.
"When life breaks, or if someone breaks down, you get to come humbly and you just pick up those broken pieces and you sweep up the glass with someone. And sometimes you might hurt yourself when do that, picking up those pieces, you might bleed a little bit yourself. But, I felt like this is a time in the world where we really need to have compassion. This is a time where, you know, we have gone through so much."
The song's title is mostly clear with its intention, using proposed scenarios that offer choices in life, and the emergence of accompanying emotional crossroads within the song's lyrics, to really point out who the message is for and what the song is encouraging listeners to think about. This isn't about the showiness of love or even the poetic nature of how one might express it to someone else – partner, family, or otherwise.
Instead, Myrin is looking deeper down, talking about the kind of connection that persists and that somehow endures in the face of disappointment, hurt, loss, anger, confusion, sadness, or some other kind of emotional let down that someone else may inflict upon those who care about them. In Myrin's case, his own most recent challenge and need to reflect on his own inspiration, came after the loss of his father to COVID-19 last year."It really has cost me a lot to let someone else sweep up my broken pieces [in life.] I've always found ways to be the hero rescue people and be the one who is that for others," Myrin explains.
"However, in my grief, I didn't have the strength to and I had to allow my friends, who love me, to help me," he adds. "I didn't eat and they would come with food on my doorstep. I [felt] like, 'I can't like receive this' because I [often] find it really hard to receive love. ["For the Ones We Love" became almost like my own, prophetic song for this moment from my own life. I've been living these words and I've had to accept them actually lov[ing] like that. It's so easier to love others like that but, to actually receive it…And we all are loved like that. And I think, you know, what a beautiful gift to feel that from your friends. I felt so–I felt that unconditional love, you know?"
Choosing to explore the ubiquitous topic of love from this angle – one prompting listeners to do a bit of self-reflecting and perhaps some painful internal work – may project more challenge than consolation at a time when the former is the last thing people might want to face. Still, from an artistic perspective, Myrin sets up an applaudable contrast between the emotional prompt of "For the Ones We Love" and its audio-visual framework. Everything – from the melody, to the graceful ballet-based music video, to the way the music is produced – to sound poised, calming, and effortless – speaks to the mentality of easing into the work that comes with pursuing true forgiveness and self-acceptance and in turn, welcoming or offering unconditional love. In other words, "For the Ones We Love" can be viewed as a supportive starting point of entry to healing, not a summation of the entire endeavor.
"We're all in this journey. No one can tell someone else, 'This is the time for [this song]' because it's their journey," Myrin explains.
"I think all I can do is be like a lighthouse that's on this ocean. If I can be that lighthouse, that's how I see the world of music – to be this little tower in the dark [and] just have this little spotlight that's guiding people. That's why I felt ["For the Ones We Love"] is important for now. My job is to set these songs free for you on my laptop and into the world so they can just, travel where they need to go."
---
"For the Ones We Love" is available now via Capitol CMG.
Find it on iTunes, and stream on Spotify.
Keep connected with Jonas Myrin through his official website and these social media platforms:
Facebook
Twitter (@JonasMyrin)
Instagram
YouTube
Spotify
SoundCloud