Tune into the cosmic frequency of Jack the Radio's "Creatures"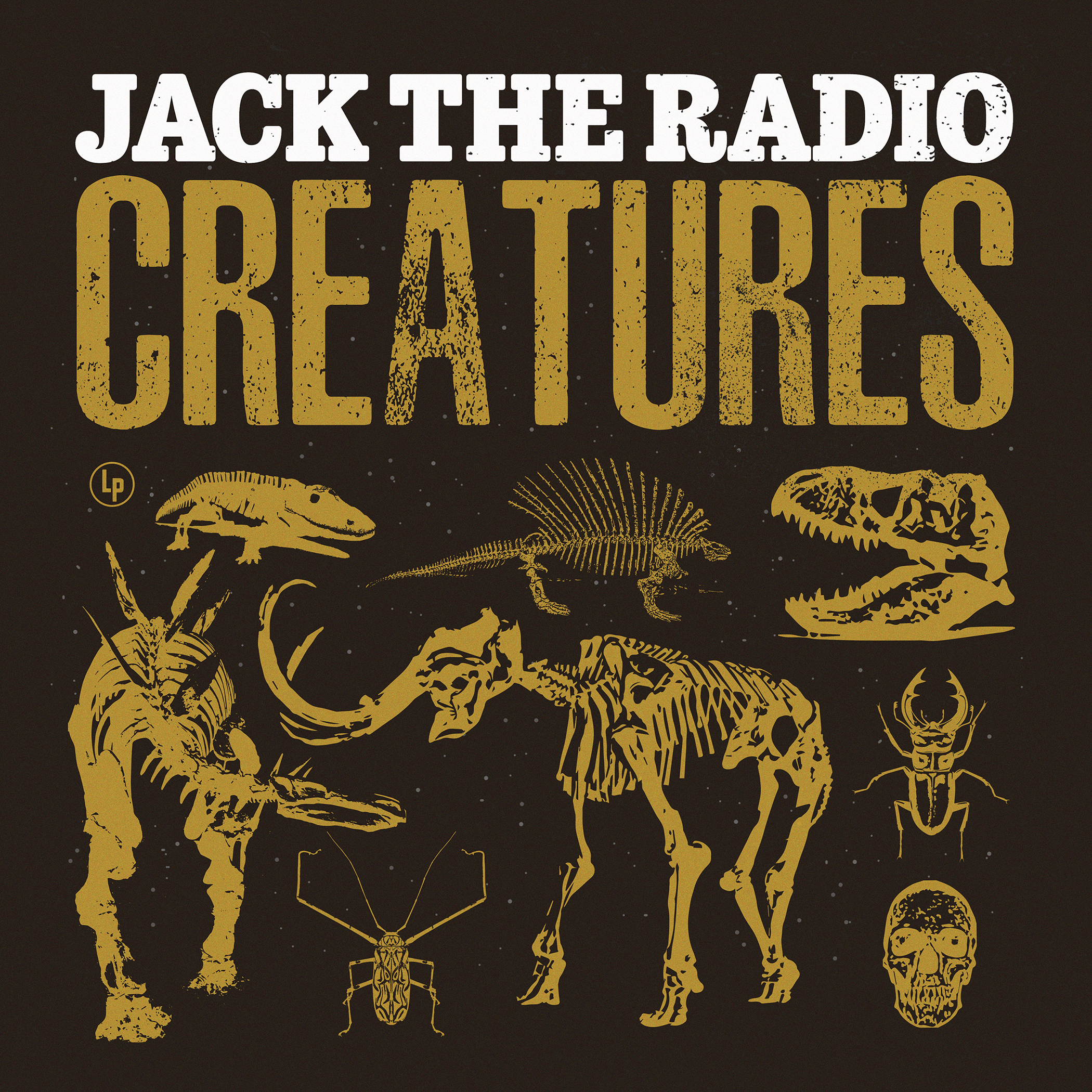 Imagine for a moment, deciding to write a story and choosing to get the ball rolling on an idea through the use of random prompts. If that scenario were to lead to an assortment of elements like galactic travel, cowboy garb, the homey streets of Raleigh, North Carolina, bold blues roots rock, and a cold hard slap of reality-inspired conflict all together in one narrative, it might be understandable that one would seek a fresh hand of ideas as, all together this collection perhaps seems a bit conceptually disjointed – at least if a seamless and coherent story is the end goal.
However, what if that conclusion is premature? After all, Raleigh, NC band, Jack the Radio, ran with all of the above ideas and more, to the creatively fruitful and pleasantly cohesive result that is the group's latest full length album, Creatures (independent, 2020).
Jack the Radio is:
George Hage (Vocals, Guitar)
Danny Johnson (Guitar, Keyboard, Lap Steel, Vocals)
Dan Grinder (Bass)
Kevin Rader (Drums, Vocals)
The follow up to fourth album, Badlands (independent, 2013), Jack the Radio wasted no time nor effort to show that five records into the group's career doesn't mean automatic creative stagnancy. When it comes to the sounds the band chose, the stories they wanted to tell, and how they went about sharing those thoughts in the form of 14 well constructed songs, Creatures is unique and unexpected enough to feel like those unplanned stops on road trips that end up being the best parts of an entire vacation. The sheer fact that a strong single, music video, album, and comic anthology all bear the title of Creatures speaks volumes of the multi-faceted but thoughtfully-assembled set of ideas Jack the Radio put into the record.
The visual and fictional narrative aspects of Creatures – particularly the hand drawn and animated video, title track counterpart – lay out a space-like fantasy explored by a cowboy-dressed skeleton protagonist that seems like an error in time travel. Such a pairing of ideas is atypical enough that viewing the comic before the album or scenes from the video without with music might leave listeners at a loss for what to expect sonically. But Jack the Radio makes sure to reveal its musical intentions right away, as less-than-a-minute opening Electric Haze serves up tightly intertwined, thick, sustained and slowly delivered chords from the jagged electric guitar; aggressive bass plucks; and wailing organ in conjunction with punctuating snare beats and a plethora of auxiliary percussion like the sound of shaken metal meant to project the jangle of metal spurs on cowboy boots. Not only does this introduction cement the album's confident bluesy, roots rock footprint but, it also quickly and vividly sets the mood for the heavy topics and-or emotional conflicts to come.
The fact that each of Creatures' songs was written by front vocalist and guitarist George Hage certainly plays a part in the music's compositional consistency yet beyond the melodic through line of the album. Yet Creatures make a point to keep enough of an ear on the timbres, rhythmic flow, and conceptual focus of each song so that it by the time the album has ended and Jack the Radio's story has wrapped, listeners aren't left trying to remember where one piece ended and another began. While the tonal character between some songs, like "Electric Haze" to "Don't Count Me Out," only feels separated by the blunt chunk of silence separating the tracks, the contrast between distorted guitar lingering to start the second song and the empty space preceding it, gives the pair of songs a kind of structural flow like what one might encounter in the opening scenes of a play. The attitude set in one frame carries over but shifts ever so slightly, like beginning a new sentence and keeping with the theme at hand.
Meanwhile, the topical explorations of Creatures navigate a similar dance, never standing too long in one place but managing to keep a lifeline connecting each track back to the others – almost like a variety of people sharing one neighborhood or even one street. Sewn into the wildly imaginative backdrop of a rogue skeleton cowboy wandering the psychedelic landscapes of space and developing relatable, complicated relationship along the way, are musings, calls-to-action, and declarations of reassuring encouragement. Creatures' chapters dive into realities surrounding capitalistic greed, needing to persist when the odds look downright grim, other moments in life when those two ideas clash, and the desire to find one's own way through it all.
Though that sounds like a limited palette of vantage points to explore without succumbing to sonic repetition, the inclusion of guest vocalists like Lydia Loveless ("Getting Good"), Jeanna Jolly ("Trouble"), and Tamisha Waden ("Creatures," "We're Alright") brings a bright bouquet of vocal timbres – from direct and mildly twanged, to smooth and steady, to bold but comfortably improvisational – that complements the consistent factor of Jack the Radio's own harmonies. The subtle changes play out similarly to the incorporation of different shades into a consistent primary color. Add to this layer of variation the carefully considered trajectory of the album's stories, as well as the differing vantage points from which the pieces themselves are sung, and suddenly Creatures' perceived limited range of narration has enough perspective and empathy to fill a record and then some.
While a handful of the songs on Creatures are underdog-style narratives, for example, not all stories of perseverance look the same, even if the exterior appears identical. "Getting Good," moves along with a relaxed demeanor, sounding more like a casual ballad than a fiery declaration to push through – what one might expect in an 'underdog fights back' song. Still, the underlying sentiment that a person who has had things crumble around them ultimately picks themselves up and dusts themselves off, comes through. Meanwhile, the "Don't Count Me Out" (as well as closing track "In The Trees") approaches the topic of adversity through a lens of finding clarity. In the former, the song's central character plays a role in saving the world from being taken over by evil creatures and the moon. The story makes things sound bleak – especially when its noted that the central wanderer initially has no direction in life and is thus like an underdog. But here, the very plot of the song itself is what brings listeners the achievement of success as good triumphs over evil and the protagonist achieves "success" through inadvertently finding a greater purpose. Both songs delve into the idea that we should work hard to achieve an end goal despite the odds but what defines the obstacle standing between success and rejection is framed in a vastly different way between the three songs.
But the light's been growing dimmer with each and every day
As the moon sits and conspires with the creatures in their caves
I was walking by I heard the tale of their crime
But I've been busy crying rivers that been turning into seas
Falling up stairs. Bruised knuckles, broken knees.
And I'll try, I try not to bleed
– Lyrics from "Don't Count Me Out"
The beauty in Creatures' range of subject matter is its most thrilling asset, followed closely by the supporting imagery created through the album's companion anthology. When orienting these two sides of the same coin to face one another, what listeners get in return in an album that holds a treasure trove of surprise and replay value. On its own, Creatures is a solid, if only mildly unorthodox bluesy roots rock project. The Creatures Anthology on its own is a fantastical story that places the familiar range of human conflicts and emotions in wildly colorful and unconventional frames of presentation. Then, between those two ends of the conceptual spectrum is the collection of different character perspectives and respective driving motivations behind those common conflicts and emotions. From there, the songs open doors to multiple sides of understanding. Simply put, Creatures is a like an easy-to-cherish musical multi-tool. Such close but cleanly separate distinctions in every facet of creativity behind the album and comic reveal that any one piece of the project can be enjoyed and worthwhile to have on its own. But it's cleverly having everything in one place and easily able to enhance everything else that really makes Creatures the kind of project that will be effortlessly and enthusiastically returned to over and over again.
---
Creatures is available now.
Get it on iTunes and stream on Spotify.
Stay connected with Jack the Radio through its official website and these social media outlets:
Facebook
Twitter (@JackTheRadio)
Instagram
YouTube
Bandcamp
Spotify
SoundCloud