Fake Magic's entertaining indie rock debut is no illusion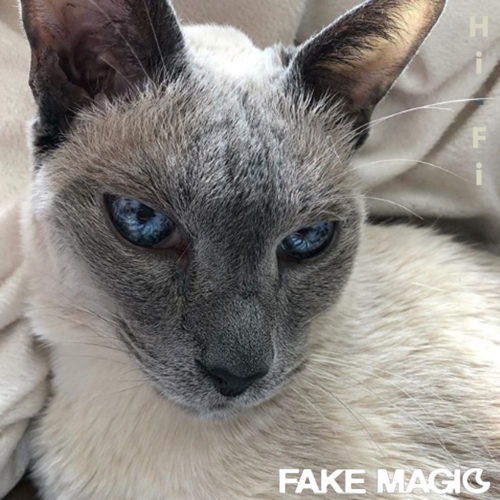 Precious few days remain until Hanukkah, Christmas, the winter solstice, and ultimately the end of the decade. It's quite the parade of occasions that would make presenting a list of matching proportions, all of music come and gone during that time, feel appropriate. But lest the world forget that new bands are formed and new albums are conceived everyday, from places all around the world. Here in these final weeks of the year, a new band like Fake Magic might be swimming against a rough current of 10 year old nostalgia but, what's better than a record coming in clutch during the darkest days of the season with a burst of satisfying indie rock that is simultaneously brand new and channeling qualities of groups beloved and long existent from the past?
Fake Magic is:
Greg Markham
Bryan Paccagnella
Hailing from the hockey capital of the Great White North that is Toronto, Ontario, Fake Magic hasn't let the bitter colds of Canada freeze up its intent to write music with a confident groove and lively tongue-in-cheek personality. Hi-Fi, the band's debut LP, beats with a pulse carrying rhythmic weight rather than a firing a cannon of feathery synth potpourri that has become a favored route of genres from pop, to rock, to alternative and of course, electronica. This alone puts the album under a light of the beloved styles and sonic characteristics past. The opening few seconds of "Hot Math Teacher" even nod to the old school hip-hop crowd with a few bars of an expansive, booming drum break that sounds nearly in line with that from "Get Out of my Life Women" by Lee Dorsey. Following that, Fake Magic's wacky factor puts itself at the forefront with a music video for "Madeline" that compiles seemingly mundane everyday scenarios (and what's more everyday in Toronto than watching Maple Leafs hockey?)  with people dancing through them all and not taking anything happening too seriously. Pairing this visual narrative with a well-defined, aurally magnetic seven note motif and a singing style that waves appreciatively to Issac Brock of Modest Mouse, results in an overall humorous quality born from the cognitive dissonance of wanting to dive into a song about wanting to "move in with you and do the dishes."
This dichotomy of dynamically assertive drum and bass driven hooks existing alongside the most unassuming, commonplace, and-or just random lyrical focuses, remains steady throughout. While the kick to snare see-saw rhythm played against the syncopated eight beat hi-hat taps of "Muffin" immediately ushers in the bass line and thick guitar strums with a sure-footed sashay fitting of classic disco songs like the Bee Gees' "Stayin' Alive," Fake Magic meanwhile sings of a desire to "wake and bake" not with marijuana but with muffins. ("Grab a tray slide it in, mix a little butter with cinnamon.")
The other food-themed track, "Sandwich," follows this song structure lead. A thick, slightly crunchy bass part, and subsequent continuous snare and cymbal smack on each beat promote a distinct and dynamically pronounced rock feel that would likely pique the interest of fans of Franz Ferdinand or The Strokes. If even then, this collection of earlier decade indie and alternative rock delight isn't enough, one splash of the full band opening on "Catcher in the Rye" and the frequency filtered, compressed, and lo-fi fuzz will instantly resonate with the large garage aesthetic of Cage the Elephant's mainstream mega-hit third album, Melophobia (RCA Records, 2013).
All of this is to say that Fake Magic, for being forged from an independent band iron that's very much still hot, has something interesting going on. There are hallmarks of other bands abound and yet the band definitely has its own wells of quirky and amusing inspiration that then takes it out of copy-cat territory. Not to mention, the tonal hallmarks heard are never piled on in spades or placed all together for the purposes of just clicking listeners into a cruise controlled seat of constant comparison and never establishing Fake Magic's own sense of self. That's why the normalcy of the lyrics doesn't render the music boring. That said, it would be a remiss decision to not mention the awkwardness of "Hot Math Teacher's" subject matter. While the rhythmic and effectual side of things certainly grab the attention, the song's general narrative indeed being about a hot math teacher and a student's fixation on the teacher's appearance (with the kind of internal monologue one might expect to hear from a boy mid-adolescence,) is more so awkward, uncomfortable, and honestly even a little objectifying, than it is innocuously funny the way singing about baking pastries or barking like a dog in the pet-pining closer, "My Lil' Doggo" is, instead.
Collectively however, Fake Music make more headway than hiccups with Hi-Fi and the good thing about releasing a healthy dose of material as a debut rather than going for the singles road, is that the good can outweigh the needs improvement and put a project in the context of solid first outing with promising room to grow. Lucky for Fake Magic, a whole new year and a decade are both right around the corner so whatever comes next, the possibilities are endless.
---
Hi-Fi is available now.
Find it on Bandcamp.
Keep your eye on Fake Magic through its official website and these social media outlets:
Twitter (@Fake__Magic)
Instagram
Bandcamp
YouTube
SoundCloud