City Mouth doesn't hold back declarations on "Quit While I'm Ahead"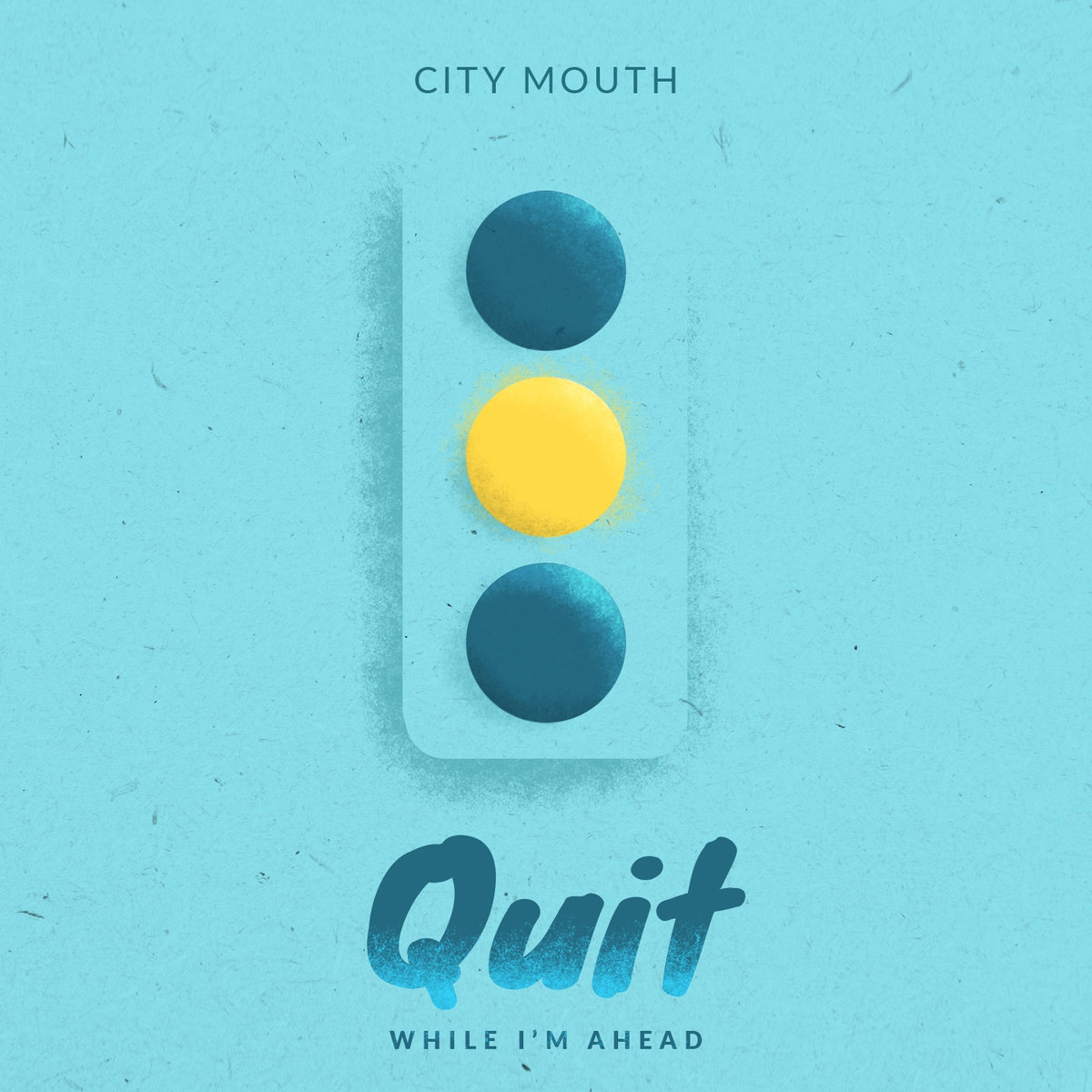 Somber with sparkle might be the snappiest way to describe the newest chapter of indie pop + punk band, City Mouth. While 2018 EP Hollows certainly didn't compromise recording quality or thoughtful production, the Evergreen Park, IL group has since moved into a sonic space that is less anchored by thick rhythm guitars or shouting background vocals and more drizzled with instrumentation and effects reflecting tonal clarity. Since the release of post-Hollows single "Sanity for Summer" back in June, everything from synthesizer beeps, to toy bells, to fluttering patterns of minimalist drum machine beats, have slowly risen in the mix ranks. This transformation has now led to "Quit While I'm Ahead," and from the very opening measure of the song, it's made clear City Mouth's compositional cognitive dissonance isn't calling it quits anytime soon.
While the inspiration for many of songwriter Matt Pow's tunes has remained focused on the messier and sometimes dispiriting aspects of human living – "Quit While I'm Ahead" being no exception to the rule here – the newest song to depict City Mouth's doubt conveys such with sonic framing that merely strives to turn up the tonal brightness and precision even more than its predecessors. Here the primary support for Pow's self-reflective questioning is a boldly placed, single note backing of thin toned but loudly marching synthesizer. This introduction of a striking electronic component paired with Pow's otherwise lone vocal presence in the opening verse, makes for a powerful display of "less is more," while showing the band not being forced to stick with the pop-punk cliché embodiment of hushed acoustic instrumentation to highlight said mindset. In this first decision and continuing throughout the song, City Mouth shows ingenuity with perception around what it puts in front of its listeners.
Case in point, while the song's title might elicit a thought of resigning from a situation out of fear, pessimism, or feelings of inadequacy, the thought of quitting while one is ahead doesn't necessarily have to mean abandoning something for negative reasons. Swaying back and forth from initial cynicism, to the choral declarations of "want[ing] it all," to the straightforward confession of believing "everyone else just functions so much better" in the bridge, before coming full circle, emphasizes how important a full picture can be to telling a story. Similar to the reverse play of positivity in defunct-indie rock band, FOXTRAX's single, "Nothing Lasts Forever," Pow tinkers with context of perception to turn the focus of abandonment from himself, ultimately to that of the very thoughts of self-doubt and frustration that open the song.
I said I hate it but I think that I was lying,
I think I want it
I think I want it all
I said I hate it but I think that I was lying,
Oh, I think I don't want to slow down."
Lyrics from "Quit While I'm Ahead"
The emotionally vacillating flow of the track inarguably calls back to the somber, more classic emo side of City Mouth's conceptual history. However, the choice to resolve with a hopeful and ambitious outlook toward living life, and deciding to take in all the emotions that come with it in spite of the difficulties that await, makes for a strong statement of more all-around commitment to synth-driven dance pop. It's always been admirable of course, how City Mouth managed to straddle the attribute lines of pop punk, indie pop, and pop rock with sonic consistency. That said, the alignment of more clarity via bright synth instrumentation and a more emotionally decisive state of songwriting motivation really hammers home the push for change and growth that City Mouth have been alluding to for a few years now. This isn't to say that the band is destined to lose mental substance or an appreciation for melodic variety – "Sanity for Summer" was proof of that. "Quit While I'm Ahead" might just be a signal of sorts that the introspection and heavy topics of discussion often on Pow's mind can withstand some defined compartmentalization in the creative process. Though he doesn't hold back telling listeners how he sees himself and perceives his own value, the seriousness of Pow's contemplations doesn't then also dictate things like the song's tempo, key, tonal character, or vocal style (the latter of which Pow has never compromised even in City Mouth's early and unwavering pop-punk days).
All this in mind, given the showings of subtle part versatility exercised in previous City Mouth songs, there's an almost distracting quality to the simple seven note motif recurring between verses. The combination of repeated notes, loud dynamic play, and blunt tone quality of the synth, cuts away from Pow's otherwise fluid singing like a harsh turn off the autobahn. There's an out-of-left-field feeling to the shift that seems ripe for some mild reduction of overall presence. By contrast, the song's bridge shows just how smoothly the same kind of repetitious synth part can provide a steady rhythmic pulse to the melody, while gradually surrounded by a layering of guitar strums, snare hits, and Pow's vocals, and do so without fighting for priority in the cumulative band arrangement. City Mouth excels at organizing its many moving parts into balanced arrangements of almost kaleidoscopic character and thus the production-related decision to conversely place a single element so far above the rest and have that be in recurring musical phrases, feels uncomfortable. Then again, since this is a song meant as further embrace of change for City Mouth, perhaps it would pay to take a cue from Matt Pow's rising optimism and remember a person can eventually come to change their mind about something for the better.
---
"Quit While I'm Ahead" is out now via Take This to Heart Records.
Get a copy through iTunes or stream on Bandcamp, and Spotify.
Stay in the loop with City Mouth's developments through these social media outlets:
Facebook
Twitter (@CityMouth)
Instagram
YouTube
Bandcamp
Spotify