The "Devil" is in the details on Stephen Babcock's new single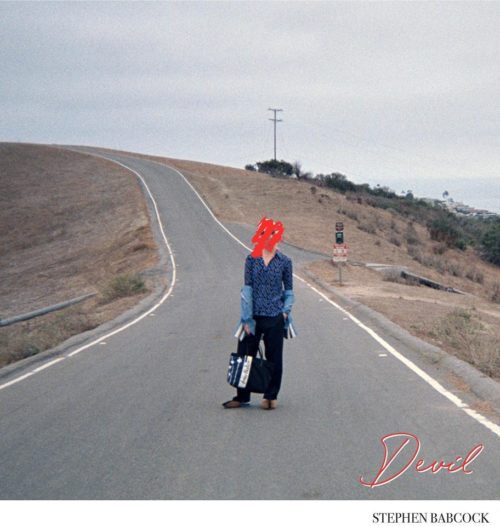 When first gracing these pages back in 2016 with Said & Done, Stephen Babcock presented himself as the "Northern boy with the southern heart." A songwriter who slung an acoustic guitar and evoked John Mayer-esque storytelling candor and melodic style, there has always been a bit of blues running through Babcock's ears. Still, there was never a presumption that what Babcock would offer would be downtrodden or full of narrative disappointment. Rather, for the New York City artist, his fuel for blues manifested mostly in compositional flair over namesake emotional packaging. Nowhere is this approach to the style more apparent than with Babcock's newest track, "Devil."
The second in a trio of seasonally planned singles, Babcock has cranked up his alignment with all things blues, garage, and even a touch of gospel musical aesthetic, thanks to a subtle but definitive organ coloring the end of verse phrases. "Devil" is inarguably more gritty and more sonically bold than some of Babcock's previous work. While older songs were not made to be entirely acoustic, they tended to showcase gentler timbres and softer instrumental blends that complemented Babcock's friendly but straightforward character of natural voice. The beginning of "Devil" unfolds familiarly enough, with a hook  introduced by solo acoustic guitar that's left room to breathe away from the mic, giving the moderately swinging, major 4th-centric motif a slightly more raw lo-fi  character of sound, without compromising recording quality. This one, small sonic choice plants a seed of someone plucking away around a fire or on a back porch with their friends, not polishing every last pitch in a recording booth and that's to be appreciated as a sign of thoughtful production.
Past the song's opening, Babcock and his co-producer/engineer Mike Tierney, go for an assertive distortion on an electric guitar. Sprinkling little strums here and there under a steady kick-snare backing beat, this plugged-in support comes in at the point of breaking open the arrangement after two verses of gradually increasing instrumentation, which includes bass, kick to hi-hat, and some more flexible melodic movement with the aforementioned organ. It's a very sensible flow and a carefully built up tower of sounds around Babcock's declarative set of lyrics talking to a perceived romantic interest:
Don't you see me?
Coming for you
I adore you
What am I to do?
Oh I'll wait till
it's just us here
Honey you won't
see what's coming soon
But if I do this deal with the devil
is he gonna take my soul?

–Lyrics from "Devil"
All this being said, get closer to "Devil" and it does start to run into some trouble. While technically the song steadily increases in active parts as it moves along, the way and amount in which each part is utilized throughout leaves the finished song sounding slightly less filled out than it looks on paper. Most prominently, at the start, it's difficult not to hear a stylistic direction similar to "Gunpowder & Lead," the lead track off Miranda Lambert's second  LP, Crazy Ex-Girlfriend. There's no implication of copyright confusion between the two songs but the pair of tunes do evoke a similar emotional brazenness and so it's hard not to think a similar aim for instrumental punch could be applied to "Devil" – using a unique arrangement of course. However, this ends up not being the case. The electric guitar is a prime example of "Devil's" under utilization, as the electric's thick, punctuating, and slightly jagged tone isn't given space to play a wide range of notes or to sustain those notes in an aurally meaningful way until the instrumental interlude almost 3/4ths of the way through "Devil's" 4:20 run time. In a macro sense, the song does trend toward a climax and follows a neatly executed song pattern with verse, verse, refrain, verse, verse, refrain, keeping with the short-and-sweet style of the verse lyrics and of the blues overall.
Yet, given how the message of the song, its emotional foundation, backing instrumentation, and style of melody are meant to evoke a sense of cunning and even a touch of sensual arrogance, all the elements together seem to fall short of the song's total potential towards that artistic objective. The song might have a climax section but it seems to clamor for more. It's as if "Devil's" highest ceiling of activity should be moved back one section and that the true climax can go farther – whether that extra musical push is realized in the form of doubling of the distorted electric guitar for a harmony part, adding a bluesy harmonica improvisation during the interlude, or affecting Babcock's voice in a way that makes it closer to the rough and rugged aesthetic the rest of song is presenting. There is something to be said for the contrast between Babcock's earnest vocal and rest of the music but when taking the sassy and even mildly aggressive nature of the lyrics into account, the decision to keep his voice mostly unaffected leaves Babcock's performance feeling a little awkwardly out of character, even if it's entirely technically sound.
Overall, "Devil" is an applaudable step into fun new instrumental and emotional territory for Babcock. After a bit more experimentation, this more significant dive into the blues side of his evolving sound can become a cherished artistic signature. The fact that in an age where critics often beg for a return to organic form, Babcock could play a tasteful amount of sonic dress-up with his voice, is as easy a component to try out as any going forward and, as with any new change, given a little time, Babcock is bound to keep listeners coming back for more.
---
"Devil" is available now.
Find it on iTunes and stream on Spotify.
Stephen will be touring extensively along the U.S. east coast (plus a stop in Birmingham, AL), through November. Full tour list is below and ticket links can be found HERE.
Look for him locally at New York City's Rockwood Music Hall TONIGHT, 14 September, and again on 26 October.
Stephen Babcock Live – Fall 2019
Sat 14 Sep 2019 Rockwood Music Hall Stage 1 New York, NY, US
Fri 20 Sep 2019 Savoy Tap Room Albany, NY, US
Sat 21 Sep 2019 The Listening Room at 443 Cafe & Lounge Syracuse, NY, US
Wed 09 Oct 2019 The Evening Muse Charlotte, NC, US
Thu 10 Oct 2019 Sofar Sounds Atlanta, GA, US
Fri 11 Oct 2019 Sofar Sounds – Birmingham, AL Birmingham, AL, US
Sat 12 Oct 2019 Sofar Sounds – Charlotte, NC, US
Sun 13 Oct 2019 Sofar Sounds – Washington, DC, US
Sat 26 Oct 2019 Rockwood Music Hall Stage 1 New York, NY, US
Fri 15 Nov 2019 Sofar Sounds – Washington, DC, US
Sat 16 Nov 2019 Sofar Sounds – Baltimore, MD, US
Stay up to date with Stephen Babcock's work through his official website and these social media platforms:
Facebook
Twitter (@StephenBMusic)
Instagram
YouTube

SoundCloud