It's a no-brainer: Wylder's "Golden Age Thinking" glows with growth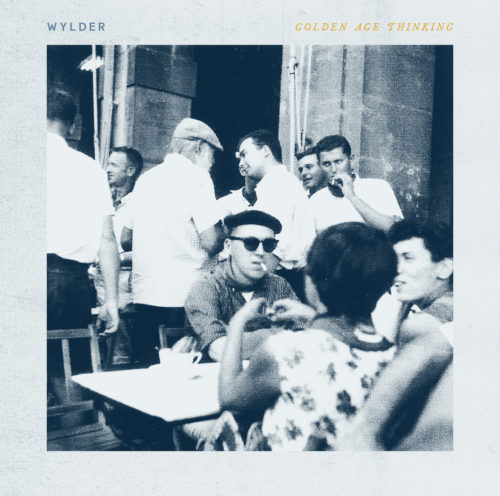 Washington D.C's Wylder have grown up. Sure, it's only been a few years since the now band of four first formed and shared their lone, jingly summer single, "Sunstroke," with the world. Yet, in that brief span of time the group has endured personnel changes, ebbs and flows of progress with visibility, and a taxing quest to figure out who they are, what they want to say, and how they want to say it.
Wylder is:
Will McCarry (Guitar, Vocals)
Lonnie Southall (Mandolin, Guitar)
Jackson Wright (Bass, Piano)
Mike Pingley (Drums)
Generally speaking, the band's sound on excitedly-anticipated sophomore release, Golden Age Thinking (independent, 2019),is more closely tied to that of their long-playing debut, Rain and Laura (independent, 2016), than one might have thought the album was initially headed. Early on this was an understandable position to take when songs like "Save a Way" placed priority on more amplification and artificial guitar tones in Wylder's arrangement, as well as the removal of acoustic pieces like fiddle as a supporting source of harmony and tonal distinction for the delicate hand Wylder first extended to listeners. Still, that's not to say this time around that the band elected to curl up, stay stagnant, and play it safe when subsequent singles like "Ready to Break" and "The Lake" reassuringly brought the reemergence of acoustic priority to the music.
This assessment might seem misplaced particularly where the former single is concerned, which begins with a single chord from Southall's thickly toned electric guitar, repeatedly strummed over the opening two measures. An introduction only given differentiating texture via rhythmic changes, it's a much more concentrated sound than what's heard on the "The Lake's" live counterpart from 2018 EP Live at Whitestar Sound. Interestingly though, much like the see-sawing recurrence of acoustic and artificial prioritization mentioned above, despite sonically gaining something in the amplified instrument timbre, the song loses some opening compositional character in this new form that it had with the breathable quality of McCarry's electric-acoustic and the presence of wave-like arpeggiation in the hook to unfurl the beginning chord sequence.
That's not to say the Wylder is going in a poor direction with its identity or writing. Rather, when considered as an entire album and its front-to-back flow, Golden Age Thinking demonstrates here, that Wylder exists on a kind of musical continuum. Similar to how a single handle faucet can lend itself to small adjustments to maintain an ideal temperature, each individual track presents just one spot on the style spectrum, that the D.C. quartet takes the time to explore over the 11 song span. Songs like "Snow Day" employ a primarily organic arsenal, with piano, acoustic guitar, natural snare, and trumpet shaping the instrumental melodies. While perhaps not as folk-rustic as the acoustic guitar, piano, and mandolin arrangement propelling "We Met Just Once," hearing "Snow Day" and thinking of an artist like Beirut – who is at times seen as folky, though more eclectically and experimentally so with his instrumental choices – unveils a sense of artistic range for Wylder that also retains sonic focus. What the mild levels of audible variation across folk and rock qualities show isn't that Wylder is trying to amass acknowledgement for many genres but that the band has internalized the power of subtle nuance within the broad identities of a few styles.
The lone acoustic guitar starting "If I Love You" for example, throws delicate indie folk presumptions out the window when the full band falls into place and the electric guitar strums in with the instantly bold sound of a tom roll. However, unlike the former's slightly more jagged tone from "The Lake," the electric now teams up with McCarry's acoustic, the jangle of tambourine, soft but sustaining tones of organ, and the the song's moderately swinging rhythm, to gradually fill out a sound that is confidently Americana and southern rock in its intent. Though new for Wylder, the approach up to it is done in such a way that the band's original sound isn't nixed entirely. Certainly, some smaller pieces within entire songs detour away from organic sound (the digital drum machine sounds placed at the front of "Ghosts" is unmistakeable) but it's not so much that any piece of Golden Age Thinking becomes a non-sequitur.
Try to imagine Golden Age Thinking like the undertaking of updating a house. There are two options: build up or build out. What listeners are actually given, is evidence of Wylder pursuing both: first, the band challenges itself to expand out to new style markers without losing the shape of the original structure and second, the group expands the style it already knows by building the stylistic home base upward and doing it with enough logic, smart structural transitions, and balance so as not to have the extra levels feel forced or out of place. The wider sound stage; the move from strings on individual instruments to entire ensembles of lushly mixed violins, cellos, and upright basses; the soft encompassing cloud of reverb over group "ooo's" and "ahh's" that give them an air of choir-like support rather than meaningless lyrical filler all reflect an aspect of seriousness and musical sophistication that translates to change without a strict detour in style. Furthermore, and maybe most importantly, the depth of intimacy in McCarry's lyrics can't go unnoticed as an indicator of conceptual maturity as well. Though Rain and Laura had its melodically somber and lyrically poetic moments in the midst of McCarry's sharing the pains of a long relationship now ceased, Golden Age Thinking feels like an even deeper revealing for McCarry to Wylder's fans after so much time together. Topics have moved from humor-driven disgruntlement over items lost to an ex, to literary metaphors and odes for family born from the oscillatory relationship between nostalgic memories and grief from death.
No one should fault a band for wanting to try new things or break out of deeply rooted habits and Wylder is no exception. Similarly, there's nothing wrong with maintaining that lifeline back to what initiated a journey. The thing is, in spite of facing periods of imbalance, uncertainty, and maybe even some desperation to try something to in order to get the wheels turning productively in those moments of doubt, what's ultimately become of who Wylder is when the music is playing isn't a jumbled mess but is merely an honest display of every inch of the path the band has taken to reach this point. And that kind of indirectly shown but nonetheless obvious transparency aligns perfectly with the type of quietly different artistry that made Wylder stand out from the start. Truthfully, despite being album two, this feels like a true corner-turning moment for the bad and it's somewhat unsurprisingly impossible to know what's in store for the next chapter but that's all the more reason to be impressed. Wylder are clearly masters of walking the creative line between the known and unknown.
---
Golden Age Thinking is available now. Find it on iTunes and Bandcamp.
Streaming is available on Spotify.
Stay in the loop with Wylder through its official website and these social media platforms:
Facebook
Twitter (@WylderMusic)
Instagram
YouTube
Bandcamp
Spotify
SoundCloud