Here comes Sarah Slaton's "Dance In The Sun"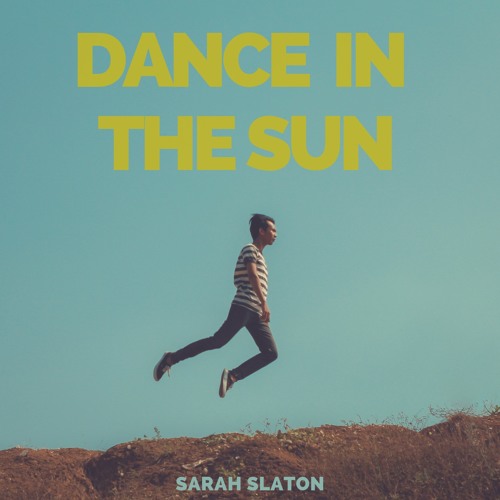 When an artist makes the decision to strike out on their own – to find, shape, and share what sings in their soul – it's so often met with trepidation and a giant sense of the unknown for those who have thus far been along for the ride hosting the status quo. Perhaps Colorado creative, Sarah Slaton, had this at the front of her mind when she co-wrote her debut single, "Dance in the Sun" with Lewis Pesacov because this song projects the exact opposite: assurance and confidence.
Beginning a new chapter where there's no voices in the peripheral margins means that the music a solo artist makes is as open and limitless as a blank notebook. Slaton, who is best known for wearing many creative hats in defunct Denver trio, Edison, has taken the first step to showing the world what she wants to sound like when standing solo at the mic. And while it's no hard left turn into dramatically different genre territory from fan-familiar folk roots, "Dance in the Sun" is definitely a stylistic detour on Slaton's musical journey. Light in tone, this single effortlessly walks a line of instrumental substance and melodic looseness.
Right after a bright nine note piano motif opens the track, a packed arrangement full of the usual suspects – guitar, drum kit, and a lesser heard element in Slaton's past, bass guitar – fall into place simultaneously. Yet, the kick-in doesn't aim to knock people off their feet. Acoustic guitar played in comfortably but not excessively high register, and drums that keep things moving with the more reserved touch of a drier snare and a off-beat brush, give the song an immediate flourish of sound without weighing it down. Then, even when Slaton's vocal rises up a few bars later, the stepwise-focused melody helps to serve a trio of purposes: keeping her voice in the perfect range to modestly float above the backing band, establish a memorable hook anyone can hum after the song ends, and leaving the  humble enough that listeners can better take to the lyrics and intended message of optimistic bravery.
And you've been walking a tightrope
Lost on a wire without hope
But lift your head, don't let go
But lift your head don't let go, let go
– Lyrics from "Dance in the Sun"
While the lyrics are given plenty of room to be heard and taken well to heart, much like the delicate balance of walking a tightrope that Slaton references in this second verse, she and co-writer Lewis Pesacov opted to exercise restraint in the complexity of their chosen metaphors, swinging the balance of focus back toward the instrumental support. Once the first chorus has arrived, "Dance In The Sun" has settled into its groove and the completed sonic landscape can be digested more carefully. What listeners might start to notice at this point is that, beyond rationing out just the right amount of dynamic intensity with tonal clarity, the music feels distinctly reminiscent of classic Fleetwood Mac, and not just for the reasons of Slaton's admittance of alignment vis-a-vie her layered vocals. Solid guitar and bass playing driven the song but are kept moderate enough to maintain favor with the folk rock crowd. The thick but defined bass guitar fills out the lower range during a lyric minimal chorus introduced with densely multi-tracked "ooo" vocals by Slaton and by the titular second half, the band is riding on the momentum of a melody that turns just the slightest bit minor in tone color as it descends, while a second clean electric guitar arrives to add just a dash of bluesy attitude off note transitions that hook together with Lindsey Buckingham-flavored swagger.
The track also being engineered, mixed, and produced by Pesacov (Best Coast, Local Natives, Fool's Gold), credit needs to be given to his sharp ears, which helped enhance the listening experience by how he made these moving parts come together. The sound stage is crowded but nothing is shoving for space in the mix. The wider, heavier sounds are given the room they need to be heard clearly without skewing the fully realized performance. When a bass guitar is able to be not only heard but tastefully appreciated without distracting, it's a sure sign of a studious engineer who knows the power of low end instrumentation lies not just in sheer tonal force and, that it can truly contribute to the impact of a chord progression if guided correctly.
Still, the subtle and effecting decision-making of "Dance In The Sun" doesn't end there. Slaton pulls another rabbit out of her signature fedora with the choice to strip back the whole band exactly when the point of the song seems to have hit its lyrical and dynamic apex. It's daring to elect for a virtually bare vocal over an acoustic take of the chorus. There's vulnerability in the choice and with the song not harboring a surprise third verse, this is a clever way to add another dimension of indirect symbolism for the vulnerable and daring juncture at which Slaton currently stands, without introducing in new ideas at the last minute before the full arrangement floods back in and pushes the song to its actual conclusion.
"Dance In The Sun" definitely gives off that summer radio theme song vibe and it reflects a change in direction for Sarah Slaton's songwriting style. However, considering the initial spark for this track was lit in Slaton's mind years back and only brought to complete fruition now, it's clear a great amount of meticulous thought was given to all the components of this song and to all the steps in its process of creation. And no matter what style she chooses to channel going forward, Sarah Slaton is making it clear her penchant for putting an authentic piece of herself and her life experiences into her music is one thing that's certain to stay the same. It's just a matter of where and how she will choose to let it come through.
---
"Dance in the Sun" is available now.
Find it on iTunes and stream on Spotify.
Engineered, Produced, Mixed by Lewis Pesacov
Written by Sarah Slaton and Lewis Pesacov
Recorded at Ahata Sound. Los Angeles, CA
Mastered by Brad Blackwood at Euphonic Mastering
Stay in touch with Sarah Slaton through her official website and these social media platforms:
Facebook
Twitter (@iamsarahslaton)
Instagram
Spotify
SoundCloud