Judah & the Lion's "pictures" provide interpersonal perspective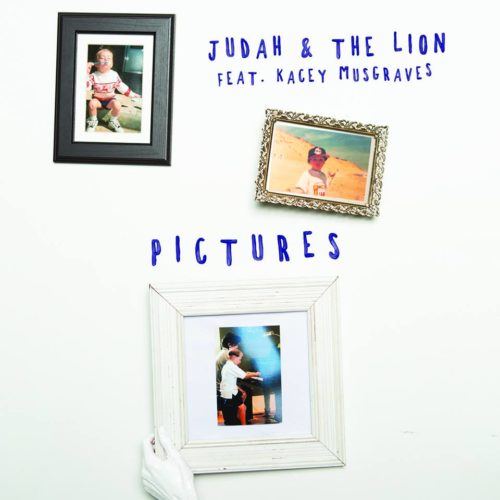 A band like Nashville, Tennessee's Judah & the Lion doesn't need much in the way of an introduction the way a band fresh out of the neighborhood garage or local dive bar might. Walking a well carved, folk rock-tinged and alternative rock-fueled trail heading towards eight years long, Judah and the Lion are coming upon the horizon of their third full length, titled Pep Talks, slated for release later this year. Leading up to this new installment, the band has been gradually rolling out singles promoted as "pep talks" in their own rights, which, from a marketing standpoint, is an incredibly good move. Reinforcing the title of an album in a completely thematic and mentally un-distracting way – just clever to the bones.
Still in the middle of this shrewd line of reveals, the latest single unveiled is titled "pictures" and the track continues unpacking the album's overarching narrative of facing and overcoming turbulent experiences – this time with honed in focus on the personal life of lead singer, Judah Akers.
Judah & the Lion are:
Judah Akers (Guitar, Lead Vocals)
Brian Macdonald (Mandolin, Vocals)
Nate Zuercher (Banjo, Vocals)
"Family,
Sometimes you have to talk about the things that are most personal to you in order to move forward. A lot of this record dives into what I, personally, have been dealing with—-
My family went through a rough patch a few years ago and, as a result of it all, my parents found themselves in the middle of a hard divorce. I felt helpless. hurt. angry. Mostly at them and the "whys" in all of it. This record dives into that. 
But writing this song really helped me see them as people and allowed me to back away from my own "rage" — and look into theirs."
The above excerpt from a message shared by Akers across the band's social media discloses his parents' recent divorce – a common but no less sensitive and shock-inducing life change that initially shifted the view in his world toward a fragile and furious place. That said, it's refreshing, before even listening to "pictures," to go into the music knowing that the emotional objective of the song is one devoted to attaining a sense of self-reflective empathy. Whether the individual event in question would be a divorce, a death, a breakup, the loss of a friendship, or something else weaving together interpersonal connections with pain that befalls those we know, it's not always common to see musical breakdowns of these situations aim to put the songwriter's emotional point of view on the back burner.
Adding to a more selfless line of thinking, "pictures" doesn't stop its impressive elements there. The unexpected quality of this single is given an off-setting recognizable touch thanks to a vocal feature by regular country music line-crosser and recent four-time Grammy winner, Kacey Musgraves. As it stands without Musgraves' contributions, "pictures" is a slower paced, more sonically vulnerable, and conceptually contemplative piece of music. The arrangement technically speaking, isn't all that minimal, with the standard rock band ingredients at play for support, as well as some gentle piano and dramatically low octave, bowed cello to start. Not to mention, Macdonald's prominently featured, tremolo heavy mandolin part and Zuercher's distinctly un-buried banjo topping off the blend.
---
However, the lines of the song, which are kept to a comfortably succinct length (Too scared to move these things / from this home we made / So many good memories / and some fatal mistakes), counteract such a dense instrumental crowding with an overall delivery that prompts and encourages the idea that every line should help "pictures" sink further and further into the lining of one's mind and heart. One could consider this as how such heartbreaking news might come to inhabit our consciousnesses – in a way that feels both frenetic and overwhelming but glacial and inevitable at the same time. The notable amount of space left between lyrical thoughts seems designed for this purpose.
And after mulling over all these weighty aspects of "pictures'" musical landscape, hearing Musgraves' voice re-enter during the subsequent choruses is like seeing a single but bright and unwavering light among all the inner tumultuousness. Against Akers' voice, which is somehow both slightly nasal in tone (think the Decembrists' Colin Meloy) and softly edged when moving from one pitch to the next, Musgraves' conversely crisply toned and well-supported voice thrives in its featured slot well. Singing on her own and harmonizing with the band, it's hard not to find one's ear drawn to her signature mild twang and Musgraves' candid, matter-of-fact singing style – especially when applied to such stark doses of reality in "pictures'" narrative context (Every truth I knew since high school / was a lie from your mouth).
The whole of "pictures" feels like it can be summed up as a work of tragic beauty. The song goes by with an unquestionable smoothness in how all of its components interact and balance with one another but, its substance isn't something that inspires repeated review for pure enjoyment in the conventional sense. In this case, and perhaps in the case of everything already heard and yet to come on Pep Talks, it might be more appropriate to say the desire to dwell on the music comes instead, from a place of appreciation. It's recognizing that "pictures" serves as an honest reminder of just one of the many kinds of trials anyone can find themselves facing but, enjoying that if we have to endure those hard changes in our realities, getting to do so through Judah & the Lion's artistry and willing openness helps make those moments that much easier to confront for ourselves.
---
The band will be doing a handful of intimate "Album Listening and Storytelling Experience" events, weeks ahead of the official release in May. The six shows don't include New York but anyone planning a road trip might consider one of the stops!
Information and tickets to each of the events can be found HERE.
Pep Talks: An Intimate Album Listening and Storytelling Experience
presented by Judah & the Lion
New single "pictures" is available now.
Find it on iTunes.
Pep Talks arrives 3 May 2019 via Cletus the Van/Caroline Records.
Pre-orders will open soon.
Stay up to date with Judah & the Lion through their official website and these social media outlets:
Facebook
Twitter (@JudahandtheLion)
Instagram
YouTube
Spotify