Melody and storytelling come out the winners on Madisen Ward and the Mama Bear's new EP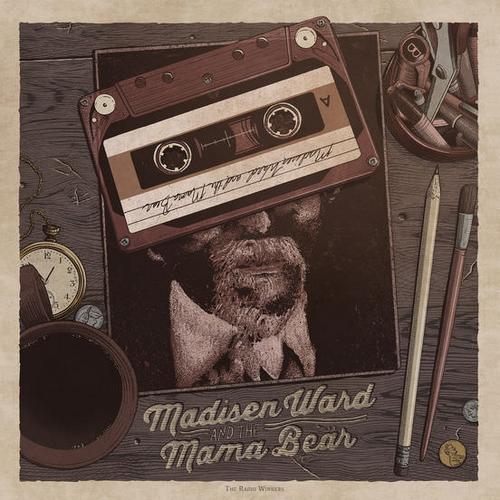 Kansas City, MO's Madisen Ward and the Mama Bear might be a duo that's connected by way of a parent-child relationship but, in some ways, it might be better if the world at large didn't know that. It can be so easy to see a marketable facet of music makers like Madisen and Ruth Ward, and then to latch onto it tighter than green ivy to a garden lattice. The truth of the matter is however, that while the familial dimension of Madisen Ward and the Mama Bear's music might color the dynamic between the two in so far as how they relate to one another in writing and performing, this isn't a pair of people who should be thought of as solely driven by the fact that they're related. Each is a musician and artist in their own right.
Once the front running facet gets put into proper perspective, it's not hard to hear why it's just a beautiful twist of fate that this mother and son made a band together. After a stylistically refreshing arrival on the scene with 2015's sonically vintage tinged roots record, Skeleton Crew (Glassnote Records, 2015), the duo is back with a short but creatively punctuated EP titled, The Radio Winners (Glassnote Records, 2018). Where Madisen Ward and the Mama Bear were simply putting their creative fruits out there for the world to hear the first time around and doing so in a very safe, linear fashion with (understandably) just themselves writing and Jim Abbiss, (Adele, Arctic Monkeys, Catfish and the Bottlemen) producing, there is a deeper running vein of confidence in the six track extended play and it shows in nearly all aspects of the record. The Radio Winnersis, to put is succinctly: grander. The acoustic guitar propelled contemplations no longer sound like songs offered in earnest in the corner of a coffee shop, as was the band's mutual stomping ground. There was a sense of introduction and now, despite only being an EP, this release has stepped up to the microphone with the intent to see how far the heart of the music can go when given musical turbo jets.
Well, perhaps turbo jets is a bit of an extreme analogy but the sentiment is fitting. The key to folk music is in its partnership with the idea of narratives. Even for folk music that lacks lyrics, often times there is a defined flow, phrasing, and predetermined musical conclusion in mind for whatever intricate instrumentation awaits. Throughout The Radio Winners, there's never a lack of narrative or emotional direction and so, the integral element of what has become musically recognizable for Madisen Ward and the Mama Bear remains valued and highlighted as ever, even if the sound stage has expanded. While lead single, "Childhood Goodbye" opens with a deceptively stripped back acoustic three strum motif that only takes on Madisen Ward's minimally affected vocal for the first verse and chorus, the EP moves things right into a higher energy bracket with steady and prominent addition of both kick drum down beats, matching group claps, and thicker group vocals to accompany Madisen Ward on the second chorus. Interestingly, there are moments of similar arrangement and production leanings between this, "Hey Brother" and "Southern Gothic"– the first two tracks that showed veteran bluegrass artist, Dan Tyminski performing out of his wheelhouse and with more sweeping production decisions.
The extra degree of clarity that manages to cover not just one piece of Madisen Ward and the Mama Bear's arrangement but the end quality of whole songs, is the most noticeable shift in sonic framing on this new venture. The more diverse arrangements, which now include the likes of soothing legato cello harmony lines; (a clever melodic response and emotional solution hybrid for the titular line, "Everybody's got problems" that permeates the other single track,) gracefully accentuating piano; bells; hand percussion; and a brief, but heavily emphasized harmonica on turning point,"Mother Mary," are all given ample room to not only be heard but to breathe fully in the mix, thanks to added sustain and tonal refinement depending on the featured instrument at hand.
The collective expansion of Madisen Ward and the Mama Bear's instrumental arsenal works in conjunction with the added attention to detail in production. However, the band doesn't go crazy just trying new things at random and there's a definite consistency across all six tracks, with the wider array of sounds. Any perception of additional musical texture isn't excess orchestration but rather, is a matter of stretching techniques across an established foundation: sweeping, long bow strokes for example, complement the syllabic ("na na, na na") backing vocals filling "Hell and Back," and soft but strong pizzicato on violin strings between verses in "Mother Mary." The see-sawing four bass notes that open "Hell and Back," combined with the momentarily soloed, syncopated drums, creates anticipation for something like a dirty, raw, and distorted guitar to come dashing in, to initiate a dynamically intense blues rock hook. Yet, the song goes in a completely different direction with light, clean guitar, and flourished strings that create a sense of drama far less rugged than presumed. Furthermore, the priority given to ensure an aesthetic like full and defined drum hits across much of the EP comes with little surprise when one takes into consideration that Nathan Chapman, the Nashville based musician and producer known for his shaping of Taylor Swift's sound – especially Swift's style shifting records of Speak Now (Big Machine Records, 2012) and 1989 (Big Machine Records, 2014) –contributed to production of The Radio Winners.In both cases with Swift, there was a drastic shift to more anthemic pop style production, leading to elements like expansive and prominently featured drums. This sentiment seems to echo, albeit with tasteful restraint by comparison, in The Radio Winners' sonic stylization.
All of this having been said, The Radio Winners isn't entirely about never-ending spaciousness and added sonic sparkle whenever possible. Despite the limits of 20 minutes time, there remains a definite moment of musical respite, creating a pleasantly surprising detour in the production landscape at the middle and end of the EP on "Walk' in the Park" and "Family Treason" respectively. The two songs don't exude the same kind of melodic or emotional intents and in reality are actually quite divergent from one another; the former is assertive but ultimately solemn in its recollections (Out there on the street / Nothing but a child / A runway making my own way but I swear I wasn't wild).Still, in each case, the wide and generous sound stage gives way to a much more intimate capture of Madisen and Ruth Wards voices, where, even with the instrumental flourishes and children's choruses that remain behind them, the duo suddenly feel like they are performing in a place more akin to their coffee shop roots – a smaller venue, a community church perhaps. And it's interesting to hear how a single production decision can steer the emotional and imaginative direction of two songs in two very different directions. While the familiar third interval harmonies filling "Walk' in the Park's" chorus mesh well with closely recorded vocals to support the delightfully complementary illusion of a casual, outdoor, family sing along, for "Family Treason," the closeness in delivery makes it seem as though Madisen Ward and the Mama Bear are sharing a delicate family secret with the listeners, despite singing the song's declarations (I'll never go back / I won't die if it kills me) and questions (Is anybody out there / Is anybody missing me), with a louder dynamics and audible conviction.
Perhaps the most ironic thing about The Radio Winners is that it creates conflicting feelings that manage to coexist as the EP plays through. It's a short record but it feels like there's plenty of music filling the far-too-fast 20 minutes. Madisen Ward and the Mama Bear have expanded their sound and fancied up its production values but the core character of the songs is very much in line with the conceptual style ofSkeleton Crew. Then, most amusing of all, nearly every one of the tracks is a suitable radio friendly length but, the most radio leaning, emotionally friendly, and universally approachable piece of the whole record is "Walk in the Park;" the track that seems to stay closest to the more huddled and organic style for which Madisen Ward and the Mama Bear originally became known. That's not to say this is proof a band shouldn't change, grow, or alter their sound. Nor does it mean that the other five tracks lack radio potential. In truth, radio is just one way for music to be shared and first experienced. Ifthe transition from Skeleton Crew to The Radio Winners can be summed up in any single way, it's that for the rest of the music on the EP, and for those unsure of this new stylizing, just think of Madisen Ward and the Mama Bear taking the heart of their songs out of the coffee shop and onto a national festival stage. They're still creating with the same soul; the pair just now have the opportunity to see what their musical spirit sounds like with more support from the growing family of peers and collaborators who were won over by the band's inspirations in the first place – and who wouldn't want to see their own creative potential come to fruition when the chance comes along?
---
The Radio Winners will be available tomorrow, 27 July 2018, via Glassnote Records.
Find it on iTunes,Google Play, and Amazon.
Stream the album on Spotify.
Madisen Ward and the Mama Bear are in New York City tonight, 26 July 2018, for a show at Public Arts. Full details below:
Thursday, 26 July 2018
Public Arts
215 Chrystie Street
New York, NY
Doors: 7:00PM
21+
Tickets available HERE.
Stay connected with Madisen Ward & the Mama Bear through their official website and these social media platforms:
Facebook
Twitter (@MadisenWardMB)
Instagram
YouTube
SoundCloud
Spotify