Skout carve out a welcoming "Space In Between" for light in dark times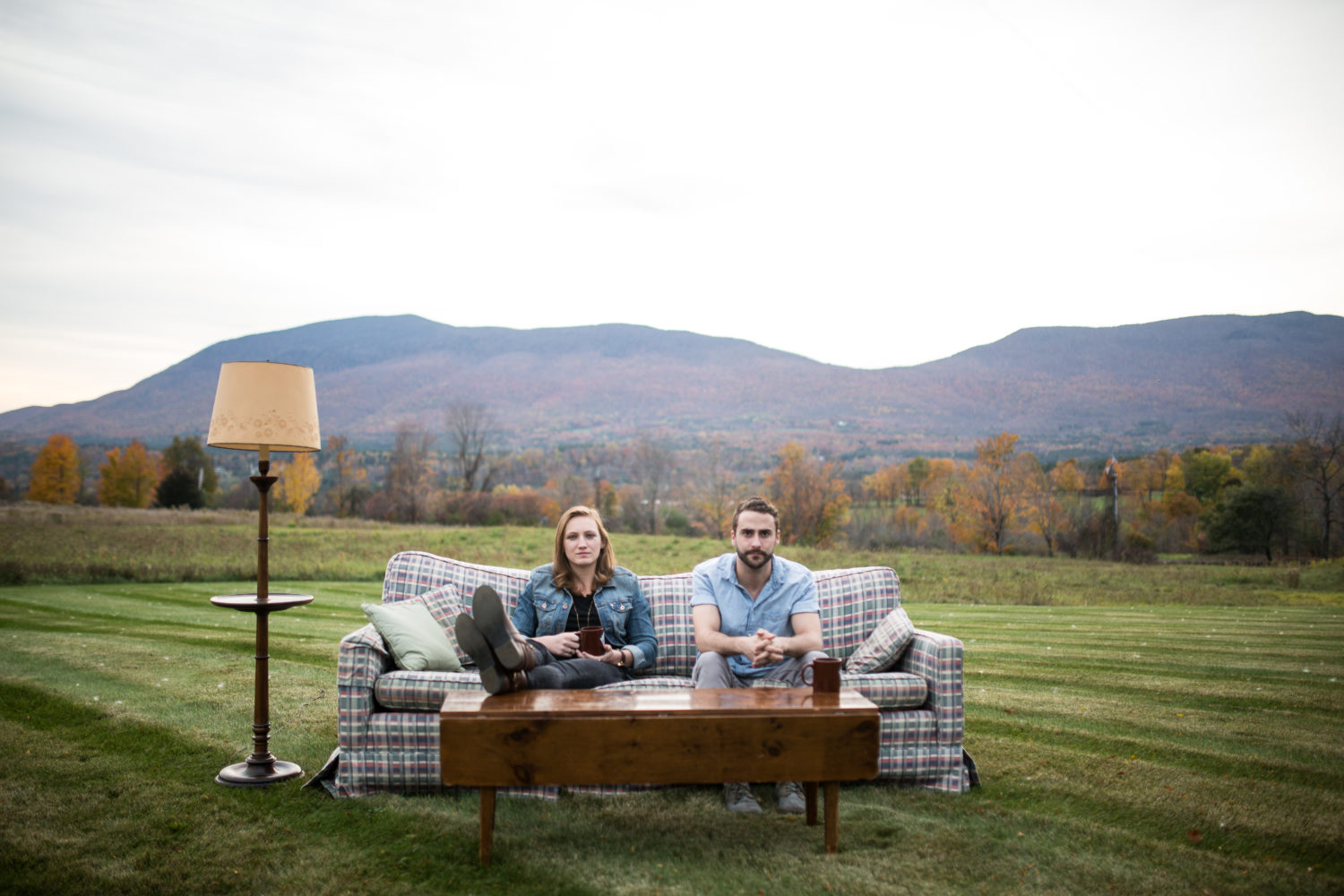 What does it mean to go through tough times? The answer to such a question could almost be considered limitless. What's tough for one person might be a cake walk for someone else. Everything is relative. Put it in perspective; things could be worse. These quips are virtually attached at the hip whenever talk of misfortune arises – whether the situation be individual or as big as a global dilemma. Still, it's important to remember that regardless of the magnitude or supposed uniqueness of a problem or struggle, everyone's feelings are their own and even if something doesn't seem to line up from the outside looking in, whatever someone feels about tough times they're having, those emotions and attached mental adversities are real to them and that's what counts.
This sentiment, the idea that things might not align from the outside toward the inside, is just one of the many insights to takeaway from energetic new single, "Space In Between," the newest song by Brooklyn indie folk duo, Skout (Laura Valk-Vocals, Guitar; Connor Gladney-Vocals, Guitar). The first new material from the self-described "edgy indie folk" pair since the release of the music video for single, "These Bones" back in March, "Space In Between" comes across innocent and lighthearted enough at both first listen and first watch.. An easy-going but sprightly hook is loaded right out of the gate with toms, acoustic guitar, bass, just a dash of shaker, and a happy-go-lucky motif soaring atop on banjo and spanning no wider than a cheerfully perfect fifth interval. After just a few intro bars, Valk's voice kicks in with but a single word sung gently over two descending notes. 'Listen,' she starts, as if breaking some kind of fourth wall to the faceless listeners who will be hearing the song for the first time. Yet, this opening isn't meant as a self-contained imperative statement. Instead, it's just giving listeners an extra moment to hone in on what's coming, which is exactly what the opening lyrics set audiences up to do.
"Listen – close and you'll hear the sound"
The visual counterpart to the liveliness that's unfurled thus far, feels anticipatory as well. However ultimately, with the sights of Gladney and Valk casually making their way onto the subway and around a sunny, bustling New York City, the video conveys a harmlessness in its potential for creating uncertainty of the uncomfortable variety and-or heavy emotional suspense the way Skout's often conceptually despondent catalog does. After all, what could be so awful about a day walking about the Big Apple? It turns out, as can be watched below, really nothing whatsoever. The video plays out like a touring band's day off (ironic for a group local to the area but nonetheless sincere in what viewers will watch), made into half behind-the-scenes b-roll travelogue and half carefree lip-sync session, with interspersed straight-on shots of Skout singing along with the chorus amidst changing cityscapes.

But don't stop for a second;
you've got places to be.
And I can't help but think,
The same goes for me.
There's a city of lights that lives in my head
I'm a moth in my instincts
But you say instead,
I'm not ready to go yet
I don't need to know
where I'll be in five years
See I'm just finding my feet
Yeah, I'm learning to breathe
In that space in between
Oh that space in between
Lyrics from "Space In Between"
Reflecting up to this point, "Space In Between" might seem like it exists to merely fill a space in between for Skout, as a fluffier composition meant to embody young freedom and the quest for figuring out life and, to a point, this is true. Valk, who readily disclosed a plethora of emotions and recently lived experiences that preceded the writing of "Space In Between" by a not very long margin of time, concurred with what's likely to be the most presumed significance of the song.
"More obviously [than other reasons], the song touches on the more common theme twenty-somethings experience. The 'what now?' we all face. School is over. We've checked our boxes. What the hell do we do now? Are we ever enough? The song tries to combat that mentality. [Connor and I] were both set on writing a 'happy' song, since we tend to write sad ones more readily."
Still, with such a deliberately overt alignment of emotional direction, musical tonality, and visual uplift, it would be understandable for anyone to find confusion over why "Space In Between" should also be considered a notable point of envelope-pushing for Skout, beyond simply: happy song versus sad song. Going back to the idea that things on the outside differ from things on the inside, the finished product of this single is neat, tidy, cheerful, and optimistic but this outcome is one born in the same way a wild-fire damages a forest, only to leave new and unique flora in its wake, which might not otherwise appear without having endured undeniable travesties. Yes, despite how this single looks and sounds – with its beautiful finger style interludes, and vocally expanded, choir-minded bridge – the duo of Skout was hitting jarring bump after bump. Thankfully, the rebounding from such things can turn into moments of self-affirming perseverance. "Right around the time the song was being finished, our track 'Just Words' was climbing the USA Spotify viral charts. Eric Hutchinson had produced our EP, we just finished up tour with him, and another one of our tracks was set for its national television debut. By all accounts for an indie artist, we had some amazing momentum and kept being told we were 'making it'." "At the same time," Valk continued, "we were literally so broke that we were recording ["Space In Between"] out of my bedroom. I remember recording vocals out of my closet in between crying outbursts from the baby next door you could hear through my apartment walls. Not ideal. So, on the production front, it was scrappy as hell and a clear disconnect with what the world at large was seeing with our music."
The personal dilemmas that befell Skout didn't stop at the all-too-thin DIY door though. When a band, and making music, are as important as they are to people like Valk and Gladney, few things tend to put serious dampers on motivation and creative energy for those pursuits except perhaps, individual revelations and familial discord. In an admittance that might have previously been kept off the table for Skout, Valk shared that during writing, she had also just come away from her first relationship with a woman and was "still struggling with identity [and] sexuality at large and how to move forward."
"I think that's subtly where some of the lyrical inspiration comes from," she explained. "I felt like the entire world was demanding that I define myself (i.e. Are you gay?! Are you straight?! Is this a 'phase'?!) while I just wanted to be ME. I didn't know what my label was and I wanted that to be ok. Embrace uncertainty. Embrace a lack of definition or permanence. Embrace that 'space in between'." Meanwhile, as Valk was contending with the significance (or lack thereof) in exploring a new dimension of herself, Gladney was faced with some harsh realities of his own that only added to the frustrations Skout was encountering during their writing process. Struggling to finish school, Gladney was also not on good terms with his family. There even came a time last year, amidst this deeply unfortunate, personal schism, the finger-style guitarist found himself homeless.
"Music and Skout, this bond [Laura and I] have, and the partnership of writing/recording, were the only constants in my life at the time," Gladney said. "I was also trying to embrace uncertainty."  The emotional adjustment of understanding one's sexuality; anxiety over the quality, and possible rejection of, one's art; unexpected displacement and literal isolation: though the source and events leading up to Skout dealing with these circumstances are individual and not by any means universal, the thought of a musician suddenly needing to overcome any one of these situations as a general hurdle, is hardly impossible to fathom. Furthermore, in contrast with where "Space In Between" begins with such jovial energy, as Skout's transparency shows, the true beginning of this song was one steeped in all manner of internal and external pressures that would hardly be pinned as desirable or relieving.
In fact, it would likely be a benefit to the music world at large if artists felt they would be received positively more often, if and when they decided to open up about uncomfortable subjects such as these and to make the exposure, and the aim for emotional recovery through community, less atypical. Musicians are people too. The public at large likely sees and feels more emotions from musicians than most other occupations because songs are like individual houses for individual stories and all the emotions that move those experiences along. However, somewhere in the process of a person hearing a song for the first time, loading it onto a playlist, and widely declaring how great the music sounds or loving what it says, there can be a loss of empathy of the literal origins or emotional fuels that led to that song becoming real in the first place.
Music is an art and music can also be a business. Putting art out there for business-minded purposes is an artist's choice but regardless of whether a band never makes a dime on the songs they write, or an artist just got nominated for a Grammy, life keeps moving forward for everyone and money or no money, emotions can hit us all the same, whether they are publicly disclosed or not. And for song like "Space In Between," for however much of a fun and innocent folk-minded summer tune it can be, there's so much that can be learned from the vast canyon of contrast Skout has created with it. The song can be both an oasis from inevitable adversity and a path to reigniting hope. The song can also, and perhaps most importantly, be a reminder that artists exist beyond even what they let pour out on stage or in the studio. The general public might not always get to know the specifics of what that "beyond" means. Nevertheless, much like the unexpected Valk and Gladney had to face leading to now, everyone can take an extra moment to internalize that fans and musicians both, are on a constant journey to figure out how and where the uncertainties we encounter – whether that means the joyous, the difficult, the confusing, the lonely, the infuriating, or even the virtually unbelievable – fit into the stories of our lives.
---
"Space In Between" is available now through iTunes and streaming on Spotify.
Skout are currently in-between dates on an east coast tour through August.
Look for Laura and Connor in New York on 9 August. Full show details below.
Skout: Space In Between Tour
Thursday, 9 August 2018

Mercury Lounge
217 East Houston Street
New York, NY 10002
Doors: 6:30PM
Tickets available HERE.
21+
Keep up with Skout through its official website and these social media platforms:
Facebook
Twitter (@SkoutOutLoud)
Instagram
YouTube
Spotify
SoundCloud