Make memories during "Summer Days" with Alpaca Sports' new music video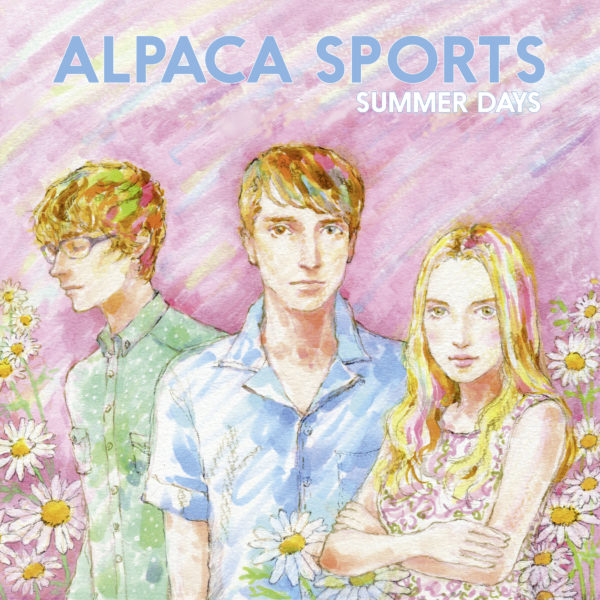 Every year when the calendar closes in on the precious months of summer, music platforms everywhere start the race to decide what will become the quintessential song(s) of the season. A band based in Sweden flooding the U.S. airwaves might not be a proposition commonly considered but the thought of that might just sound less unexpected after hearing a few bars by the band Alpaca Sports and more specifically, its aptly named new single, "Summer Days."
Alpaca Sports is:
Andreas Jonsson (Guitar, Vocals)
Amanda Åkerman (Vocals)
Lisle Mitnik (Guitar, Bass)
Carl Jirestedt (Percussion)
Hampus Öhman-Frölund (Drums)
Julia Rydholm (Bass)
A collaboration-heavy endeavor featuring contributor rotation not entirely unlike the kind found in The go! Team's work, Alpaca Sports was founded by Andreas Jonsson in 2011. The band might be from Sweden but the bright, optimistic, and romantic ideals of Alpaca Sports' music are themes that listeners from just about any part of the world can connect with and appreciate. "Summer Days" is a single that revolves around just what its title references, in conjunction with the description of a thriving romance that would be a perfect fit with any cheerful pop and surf rock – especially from the 1950s to the 1970s. Anyone thinking to channel the happy-go-lucky pop tunes of earlier decades need not be surprised, as Jonsson cites a great appreciation for the sounds of bands like ABBA and Saint Etienne.
Top everything off with some gorgeous and color saturated cover art that could effortlessly double as a framed piece of canvassed wall art (Alpaca Sports has worked with artist Ray Kimura for all of their previous and equally vibrant covers.) and there is not a single aspect of "Summer Days" concept or performance that brings on melancholy. In purely metaphoric terms, this is sunshine, candy, rainbows, and the cute animal of one's choice, in a bottle. If all relationships could exist solely inside the confines of "Summer Days," no one would ever be sad again.
The video counterpart doesn't bombard with as much visual sparkle and classic bubblegum pop era perkiness as one might presume but, the aesthetic chosen by Alpaca Sports and director Carl Jirestedt still dials up plenty of older charm. The video has a softened, warmed hue that gets glitchy at times and features somewhat campy transitions and effects (See the hand gestured rainbow less than one minute in!) for Andreas and Akerman's journey from inside an apartment, to under the sea. Put all of this together and it makes the duo seem like a perfect fit for an after school special played on an old VHS. In reality, this is exactly what Jirenstedt was aiming for when he worked with the band on the concept, saying it's "a tribute to mysterious unlabeled VHS cassettes." (Nothing of course, like the mysterious VHS in John Darnielle's imagination.) The song and video flow together very effortlessly, presenting a track with a great nostalgia factor that is central to the whole release but not so much as to become a overused and confusing gimmick.
One could easily dive into the backlog of Alpaca Sports' discography and get plenty more blissful, uptempo, cutely rhyming, indie, rainbow pop. What lets "Summer Days" retain an element of anticipation for its accompanying full length release, From Paris With Love, is the fact that producer Ian Catt (The Field Mice, Saint Etienne, Trembling Blue Stars) took the founding emotions and love driven motivations of what make up Alpaca Sports' music and grew those inspirations into a more complex and sonically colorful version of themselves. Just a few listens to this single at the height of summer's long days and new fans or old will be right with the band in saying they don't want this – the season or the song – to end.
---
"Summer Days" is available now as a digital single, via Elefant Records.
Look out for From Paris with Love from Alpaca Sports in the near future.
"Summer Days" was directed by Carl Jirestedt.
Keep up with Alpaca Sports through Elefant Records' official website and these social media platforms:
Facebook
Twitter (@AlpacaSports)
Instagram
Bandcamp