The Kickstand Band are parked in summer with "In The Sun!" (Premiere Play)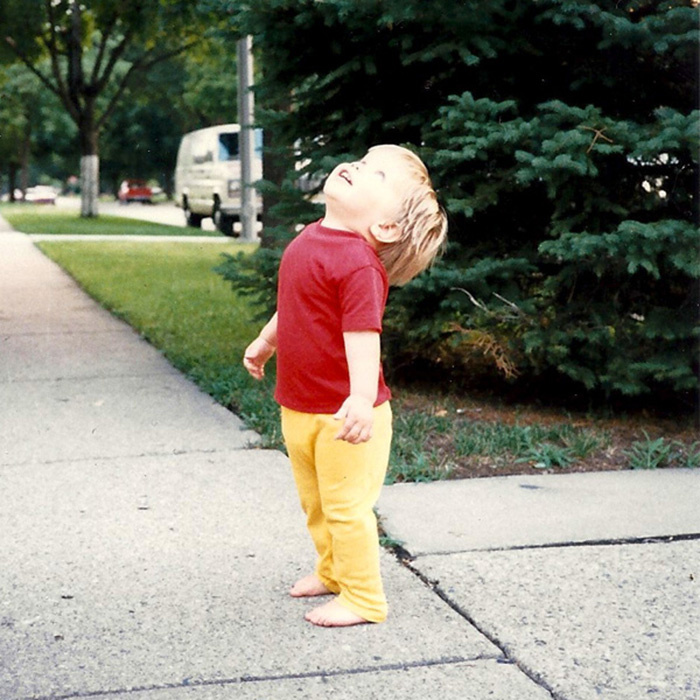 Just off the heels of Labor Day 2015 and the unofficial end of summer, it's hard not to sit back and wonder how the calendar got so far away from June 21, so fast. Autumn is speeding in fast and the sun is getting quicker to set everyday. Simply thinking about these small facts is enough to bum out any happy reminiscing of the season before it's even actually finished.
The Kickstand Band are having none of that though.
Gordon Smith and Allison Young, the duo from Detroit, MI who make up The Kickstand Band, don't have a setting that one would associate with the summer-loving styles of surf-rock and garage tinged power-pop. After all, Detroit doesn't exactly bring summer to mind in the same way as say, the Florida Keys or Los Angeles. Still, for a band that has propelled forth since 2011 with a love for the emotions connected to these sounds – enough so that The Kickstand Band is referred to as "sun soaked" – Smith and Young have made it clear they do not embrace this sonic aesthetic for any disingenuous or gimmick driven purpose.
"In the Sun" is The Kickstand Band's second, self-released EP, following their 2014 extended play installment titled, "Summer Means Fun." A five track release slightly longer than the last, "In the Sun" is not out for filler but all (well nearly,) in for fun. Collectively, this EP reflects rays of happy-go-lucky character from much of surf, jangle and power pop's current, staple canon. Vivian Girls, Best Coast, Weezer, Wolf Alice and (unsurprisingly) NXNE stage-mates, Alvvays, (Young's vocal delivery has moments that echo a timbre strikingly complementary to that of Molly Rankin), each shine through at varying moments and in varying ways –much like the sun shining on a long strip of beach.
"In the Sun" doesn't drop until 12 September 2015 but in the meantime, listen to the entire EP through the exclusive premiere play stream below:
The narrative content of "In the Sun" doesn't stray too far out in the tides of storytelling –with crushes, summer romance, partying on the beach and kissing goodbye to school, pretty much summing it up. One verse sliding into the chorus of Barracudas's cover track, "Summer Fun" (1980) and most of the EP's bases are covered. ("School is no fun when you can't / be in the sun / Cause we'll all go running out the door / The term is out / I don't care for the rest of the year / Cause this is what I wanna do / The sun is out, the feeling's right / It's all up to you.") This isn't to say that The Kickstand Band have merely "set it and forget it" on five carbon copies of a beach photo-turned-audio track. Tempo and meter choices vacillate over the five songs; at times possibly catching one pleasantly off guard. Their inclusion and interpretation of Jill Gibson's only solo single,  "It's As Easy as 1, 2, 3," provides both a rhythmic and emotional rotation by way of a swap between waltzing 3/4 and standard 4/4 count between bridge and chorus; on top of an additional shift to leaving love and demanding mental abandonment. ("Tomorrow's the last day that I'll be with you / Cause we're through. Forget me. / It's as easy as 1, 2, 3.")
*Historical side note: It's amusing and somewhat enjoyable that this track about a romantic split, carries so much melodic and lyrical color like that of The Shirelles hit, "Will You Still Love Me Tomorrow?" However, rather than asking if tomorrow brings lasting love like the latter, the former gives a deadline of definite departure. Of course, both these songs being within the 1960s pop era (1964 and 1961 respectively) makes their "two side of the same coin" nature fit right in with the songwriting tendencies of the time in which they were written.
"In the Sun" does depart from genre-generated expectancies through the band's original material as well, not solely relying on gems of the past. Unlike the upbeat energy radiating in other places on the EP, finale track "July" is more like a quiet summer evening, where the day's busy activities and incessant zeal are winding down. There's still fun times that can be had but perhaps it's around a bonfire with more reflective exhalation and decompression. Furthermore, Smith taking the lead on vocals, and injecting an almost dialogue-like quality to his singing, gives way to pause and draws one in so they can hear what Smith has to say and get a real grip on his downtrodden state as the EP closes out. It's quite the contrasting bookend to opener "Anxious Love," which is the clear strong cut on this EP in all manners: from its immediately catchy, syncopated guitar rhythms and recurring three-step descending melodic pattern, to the delightfully addictive and perfectly structured pop song format.
Young and Smith have compiled a bright, poppy and singable hook-laden release with "In the Sun." Things like melodic predictability are undeniable. Yet, that's part of what makes this summer driving, ear worm-inducing style, what it is. There's almost no guesswork involved with things like chord resolution and, much like fellow power-poppers Blink-182 and Weezer, the melodies are more than open enough to invite even the only mildly musically inclined to bust out those tempting, major third harmony parts. Occasional, isolated elements sprinkled throughout the EP leave small dings preventing an easy declaration of perfection. (e.g. the wood block/click track-esque beat pulsing through "July," that distracts one from fully immersing in the song's relaxed air –much like a lone cricket that chirps outside the window while one teeters on the edge of sleep, not fully able to grasp it due to the cutting sound.)
However, these less than optimal decisions are few amidst a total musical package that conversely shows a respect for and appreciation of natural dynamics in a mix. Backing instrumental choices harking to an "older sound" splashed throughout, bring forth reminders of past era in which "In the Sun" could comfortably sit. It's refreshing that Smith and Young are not simply out to deliver a strictly, fully modernized, 2015 arrangement of "classic surf rock songwriting."
As the cooler temperatures and longer nights creep ever closer, "In the Sun" will undoubtedly become a go-to set of songs for quick and effortless mental breaks back to the sunshine and carefree outdoor lounging everyone is bound to eventually crave.
---
Stay connected with The Kickstand Band's sun splashed escapades through these social media outlets and look for them on their current tour of the Northeastern U.S. and Ontario, Canada. Info below:
Facebook
Twitter (@TheKickstandBand)
Instagram
YouTube
Bandcamp
The Kickstand Band on Tour
September 9 Lancaster, PA @ The Seed
September 10 Providence, RI @ The Parlour
September 11 New London, CT @ 33 Golden street
September 12 Manchester, NH @ Modern Gypsy
September 13 Cambridge, MA @ Lillypad
September 14 Burlington, VT @ Nectars
September 16 Ottawa, OT @ House of Targ
September 17 Toronto, OT @ Coalition
September 18 Hamilton, OT @ TBA
September 19 Kalamazoo, MI @ Rupert's