There's no holding back the feeling in the music of Feral Conservatives!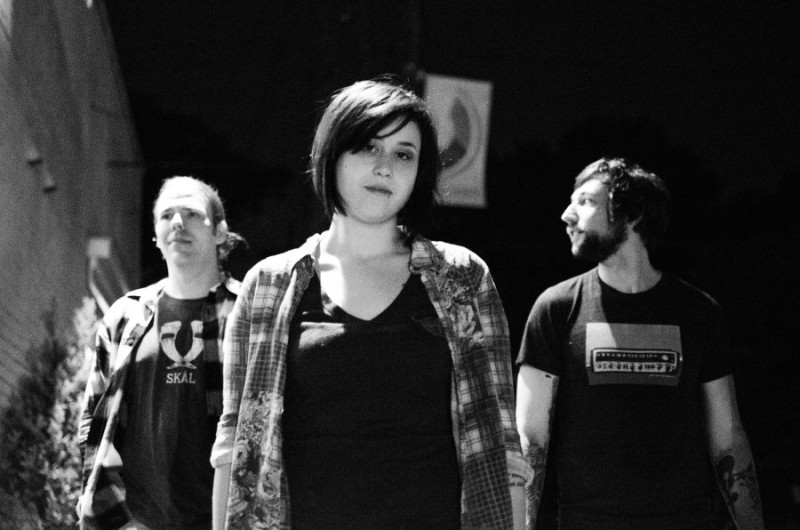 Every once in a while, it's amusing to take an observant step back from one's typical vantage point, mindset and default moods about music and take in elements of a band or album for what is put forth –and nothing more. In other words, it's refreshing to react to sound as sound; sans labels, assumptions and established traditions. Doing this requires a bit of conscious decision however and thus, giving pause for wider musical awareness is not the most common of occurrences.
Sometimes though, the idea of music speaking for itself truly shines through without a dramatic move for mental clarity and simply because what's heard upon hitting play demands attention and those listening can't help but oblige.
Enter: Feral Conservatives.
Rashie Rosenfarb (vocals, mandolin)
Matt Francis (drums, pedal noise and feedback)
Dan Avant (bass)
Blasting folky sounding feedback since 2011, Feral Conservatives are a mandolin driven, noise rock band from Virginia Beach, VA. Now, even if that seemingly non-matching three word label set has not inspired pause, pretend for a moment there has been no introduction and just hit play on the music video here.
Not a group that can easily be put into words, is it?
Be that as it may, what can be said about Feral Conservatives is that there is almost nothing about them that should be aligned with expected conclusions; not their instruments, not their band name and not even their home base of Virginia. A mandolin, the signature of this group's instrumental hooks, isn't bringing the traditional bluegrass crowds flocking and, the idea of scrappy, jagged, pedal feedback with steady rock beats sounds more like a lower east side, late show, garage band than anything. (That said, their Twitter mini-biography does see them described as, "…a trio who think they're a garage band" so, intuition avoidance be damned.) That though, is what makes this group so appealing.
No cultural or stylistic component is driving the choices Feral Conservatives makes for their songwriting or their determination to meet new people and share more music. The group aren't a "folk group trying to be rock" or a "rock group playing into a folk demo." As multi-instrumentalists and musicians with a spirit reminiscent of the feisty 1990s, Feral Conservatives have simply taken to what most inspires them as players/songwriters and the rest became their story. In no way is this more refreshingly noticeable than in their decision to include a soon-to-come stop in New York for the end of a month-long tour up the U.S. east coast, teaming up to make a musically diverse lineup with the indie punk and rock and roll/blues sounds of local NY bands, Megaweapon and Birds in the Boneyard respectively.
Before crossing the border into the five boroughs, Matt and Rashie found time to chat hurricane prep, the culture of "musical ADD," travel tales and even a little secret about new material, privileged to those who make it out to a show on the tour!
---
Kira: It's quite clear, reading through your band biography, that Feral Conservatives elicits several kinds of dualities: everything from your instrumental arrangements to the style of your playing, to well, even the band name itself. Did you all go into the development of this band with the definite intention (or at least a mindset) of artistic "disruption?"
Rashie Rosenfarb: Our dynamic of sounds and textures is something that just happened when Matt and I started writing together. It wasn't something we set out to do. But it's definitely something we've explored further and honed as we've grown. And it's become a big part of our sound.

Matt Francis: We worked the way to our sound backward. Initially, Rashie and I were in a more traditional, guitar-led garage band. Rashie then picked up the mandolin on the side, and we started a more rootsy, acoustic-based outlet…more the easy-going folk you would expect from a mandolin. When the garage band imploded, we injected the rock and roll energy into the mandolin project. It seemed to work, or interest us at least. The sound evolved from there. Like our first real tour was in 2013, and so we ran the mandolin through two amps — split the signal, low-end and high-end, added some crunch — because we wanted this sound that could go into any bar in America as a duo and grab the audience and just blow the roof off, and then that sound worked its way back into the studio recordings. I love the phrase "artistic disruption" by the way.
Kira: Along those same lines, how is it for you guys when coming up with new material? Do you tend to gravitate toward what just lights a spark in the group more than trying to channel the vibe from any one particular type of song like say, "a ballad" or "a bluegrass jam?"
Rashie: We both tend to write more emotionally in that we like to write when we're going through something in our lives. So I think they all come out different depending on how we're feeling in that moment. I personally like to take the feeling that the song evokes or is trying to convey and run with it. So the style of a song isn't something we try to seek out initially. We build the song up as a band from there and just see where it goes.

Matt: It's really fun to diverge off of our center — that being indie rock. Actually I just considered us a rock band, and that's what all of the songs are — rock songs at heart. But it's fun and keeps it interesting to kind of veer into different directions. 'Last Legs' off of our last EP — yes, it was always on the delicate side of folk balladry, but we wanted to reiterate that by keeping it acoustic, heavy shaker in the rhythm, and then the slide guitar really pushed it over into "twang" territory. Not that it wasn't already there, but if you hear it live, it's a little different; it's 'Last Legs' performed electric, by a garage band. The vibe is more imprinted on the song, and it's our job to step out-of-the-way and just reiterate that or steer it towards its natural conclusion.
---
Kira: Your newest EP, "The Feeling Noise Becomes" comes with this lovely declaration for the physical medium you chose for release. "Our sound was made for the hiss and lack of clarity of tape!" I certainly have to agree. Your delivery and the capabilities of cassette recording do mesh well. That said, how do you feel about the increasingly impersonal nature of digitized formats and the inclination of instantaneous access. Do you think those kinds of things – common characteristics of music listening today – take away from how you hope for people to experience your songs?
Matt: Absolutely. More and more bands are talking about letting the two-year, full-length album cycle go to the wayside in favor of singles, and I know…adapt or die, but, I feel like we lose something in the current ADD music-consumer culture. Not to show our age–I'm guilty of it, too…Spotify and streaming has given way to more and more immediate gratification, and I hate to think about how many good albums have come out that maybe are a little more challenging, that aren't given the chance they deserve in favor of more immediate music. I've experienced that recently with some bands I really love, releasing albums that take some listening to [in order] to sort of open up, and it's been worth it to pry into them and spend more time than maybe you would afford a new band with which you didn't have history.
Kira: Not every band has the luxury of strong multi-instrumentalism among its players. What drew you each to the assortment of instruments that you play? Furthermore, Rashie, why the focus on the mandolin for Feral Conservatives' signature element? Preference for its tone? Note range? Former violin player perhaps?
Rashie: I came from a family of musicians and we all dappled in several instruments. (Violin being one of them.) But the mandolin was one that always stuck out to me. And it's something that has been all my own since I'm the only one who plays it in my family.

Matt: It was out of necessity for me — I wanted distorted guitar on our first EP, so I started learning some chords (4!?) so I could do those big Pete Townshend ring-out chords (also because I couldn't change my figure positions fast enough). That was actually a staple of the band early on — we would learn new instruments to incorporate into the songs, and learn new chords together as needed. Since we were just a two-piece, the band was mostly a recording project at the time, and there would be these new textures that–while not expertly played–added a bigger element to the sound. That practice continues to this day…we are each proficient in a single instrument, and passable in one or two others.
---
Kira: Do you all have a preferred method for injecting distortion into the band's sound? Pedals? Cranking all knobs to 11? Some unorthodox approach that doesn't involve traditional equipment whatsoever?
Rashie: It depends on the song. Sometimes it's pressing the guitar or mandolin against my amp to get that screech. I also like to use fuzz and distortion pedals. A little delay is nice to add to the madness.

Matt: Most of what you hear on record is me in the studio. The formula is generally this: the biggest tube amp available, a First Act guitar, and a Big Muff pedal. Lately I've been using some delay and even a Leslie simulator for some movement.
Kira: Feral Conservatives is making its way up to Brooklyn as the last stop on a string of east coast tour dates that started in your home state of Virginia. How has that experience been for the band thus far? Any stark differences or otherwise noteworthy aspects to shows, audiences or venues from state to state?
Rashie: It's always a new experience where ever we go. But we're always meeting cool people.

Matt: It's up and down – you know, you play to full rooms and near empty ones, but it's all part of the experience. So to that end it's been great. You seem to connect with some soul at every show, whether it's that singular person, or maybe a crowd of people. That's what keeps it exciting. An early show was a little down for us…not too many people, mostly just the other bands and a scattered few. And then as we are getting off stage, this big guy we didn't even see in the audience wants to buy us all shots of top shelf whisky…turns out he is a pastor and from Australia, and he was just loving the show the whole time. Kept thanking us for playing. So even an "off" show like that have these little connections that keep it worth it.
Kira: Any unexpected tour stories you'd care to share?
Rashie: We once played this show up in Philly that ended up being kind of poorly attended. But we all made the most of it and during our set and the other bands everyone that was there would jump on stage with the band and dance and play tambourine or hit cymbals. It was unforgettable.

Matt: The hurricane threat was a nice touch from nature. I'll say I've never particularly enjoyed New York. It's too big off a mess to get in and out of. Our worst show experience was playing there last February. Our bassist (not Dan) told us he couldn't get the time off work a whole 4 days before we embarked, and a bitter cold front moved in. We soldiered on and toured just the two off us, and there were times on that tour the wind chill hit a record low for the year. I think it took Matt forty-five minutes to park the car, on top of a snow bank, in the city. About that same time, our PR firm decided not to promote the release unbeknownst to us (it was release week, we were doing an album release show in New York — and cutting ties with them on the road) and there was this moment where we were lugging all of our equipment on the Subway with a bottle of SoCo in our backpack in the sub zero temps and thinking "this is paying your dues." But at the same time, the show was a ton of fun…we played the Cake Shop, which is a basement venue, and we arrived to it packed and just put all of ourselves into the show and had a really solid response.
---
Kira: What's one thing you really want to do while in Brooklyn? I'd be glad to offer any recommendations!
Rashie: We love recommendations! I went to Brooklyn Brewery last time I was up there and it was awesome. I really want to hit a couple other breweries while we're there.
Kira: Seeing as it is getting close to a year since the release of "The Feeling Noise Becomes," (February 10, 2015) might listeners be hearing any unreleased songs thrown in your upcoming set?
Matt: Yes! We are currently mastering our second full-length, which looks to drop in January. A couple of songs have become staples of our live show. If anyone is really nice to us at the show, we may be able to hook you up with a preview of what's to come with a tour only, hand-stamped EP…
---
Better start to conserve your energy for what's bound to be a lively and pumped up show! Feral Conservatives come to NYC in less than a week, to wrap up their east coast tour. Details below!
Feral Conservatives October Tour!
Friday, 11 October 2015
Black Bear Bar
70 North 6th Street
Brooklyn, NY 11249
Doors: 7:00PM
21+
"The Feeling Noise Becomes" is out now via Egghunt Records.
Music is available through Bandcamp (which includes limited edition cassette format), iTunes and Amazon. Streaming is available through Spotify.
Keep up with news on Feral Conservatives through their official website and these social media outlets:
Facebook
Twitter (@feralconservtiv)
Instagram
YouTube
Tumblr
Bandcamp
SoundCloud