Looking to the upside with Feral Conservatives "Better Lives"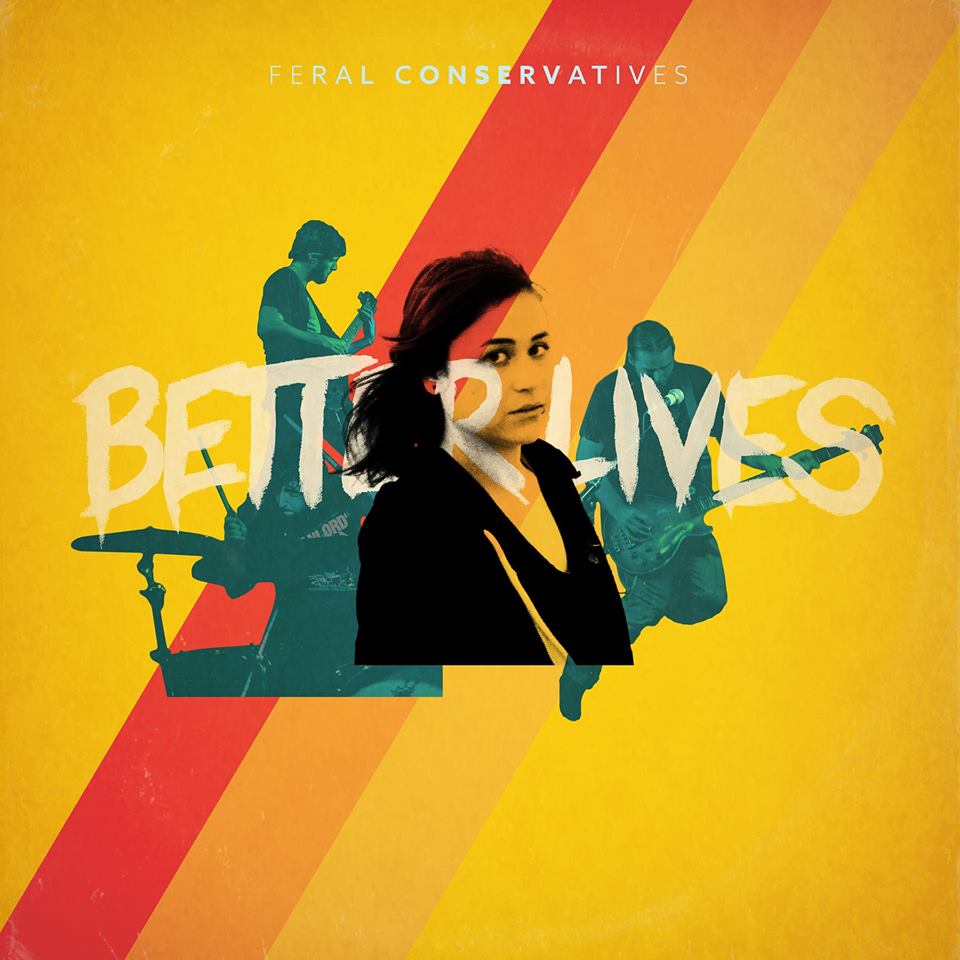 Feral Conservatives, the cat loving indie rock band from Virginia Beach, Virginia, has chosen the milestone of its sophomore album as the designated pedestal for a brighter outlook toward the future. Released today, Better Lives (EggHunt Records, 2017) is Feral Conservatives' follow up to Here's to Almost (EggHunt Records, 2016) and the group could not be in any better of a place – both musically and emotionally – this time around. Not to mention, the group has also grown another ring of support since last year, by way of a new combined guitarist and keys player. The air of 1990's alternative rock via Sixpence None the Richer, The Cranberries and the like keeps relevance but, growing to a four piece redistributes the sonic weight within the band and tints the light and jangly side of their sound a slightly richer color.
Feral Conservatives is:
Rashie Rosenfarb (Vocals, Mandolin)
Matt Francis (Drums, Feedback)
Dan Avant (Bass)
Zach Jones (Guitar, Keys)
Now, perhaps describing this second effort as being one in "so much better of a place" is a bit of an overstatement. Better Lives is in fact speaking to many things much improved – starting with the fact that the whole mentality behind Here's to Almost was rooted in pseudo-snark around the exhausting amount of hustle and struggle to find professional payoff that plagued Feral Conservatives in the time leading up to their signing with EggHunt and the release of that long playing debut. All the same, it would be grossly ignorant to present Better Lives as a record that's turned a complete 180°. The stories and introspective revelations that arise amidst their recounting across Better Lives' 12 tracks still bring listeners face to face with unwanted truths and long-fought emotional foes that craft a whole picture for the arrival of relief, as opposed to just doing a soap opera or movie sequel style time-skip where things are suddenly okay but no one is immediately sure why.
Where Here's to Almost pulled back the curtain on the difficulties that sometimes drain up and coming bands, this Jon Auer-produced record (The Posies, Big Star), instead creates a frame of emotional relativity by looking through the more ubiquitously recognizable, but unfortunately occasionally blurred, lens of mental health. Like many common adages that address opposites, the light of hopeful, confident narratives written on this album are able to make their impacts because Feral Conservatives allows everyone to know the darkness that precedes them and constantly looms nearby. Duality fires up Better Lives straight after a less-than-minute-long instrumental intro titled "Nursing a Stubby," which plays out like an anxious soul that seems to be holding things together only partially at best. The rising crescendo of a track isn't total musical cacophony but there's just enough conflicting sound and an undercurrent of feedback to prevent a clear and easily grasped connection with the ribbons of comprehensible melody and-or chord progression that exist shyly underneath. This brief and fleeting moment of concentrated unsteadiness is a beautiful sonic representation of the inner shakiness Rosenfarb recalls and eventually describes putting behind her in many of Better Lives' choruses and refrains – like right from the beginning of "Anymore."
The girl in the mirror's been whispering
A valueless currency
I don't fit in the little box
you designed for me
Well I'm not your punching bag
or a doormat to wipe your feet
I've got my battle scars
but I won't admit defeat
You don't own me anymore
You don't own me anymore
Left my shackles by the door
You don't own me anymore
What's most interesting and pleasantly surprising about the way Better Lives is arranged isn't necessarily the band's newly sparked arrangement. (Though the extra layer and rhythmic support from Jones's guitar is a welcome addition, as it gives the band a nudge of fuller sound that builds on Avant's low-end addition last year and, gives Rosenfarb the opportunity to utilize her mandolin in ways that flesh out its melodic and solo-oriented character much more than before.) The arrangement worth a wide-eyed nod is that of Better Lives' emotional and conceptual progression. Approaching an album that revolves around overcoming a pitfall of some kind, it would be the farthest thing from odd for this record to illuminate challenges for context and then spend the rest of the time gradually advancing the listener toward Feral Conservatives' ultimate realization and achievement of personal respite. Maybe some form of recurring conflict or setback would throw off a completely smooth rise to the end ("Eyes Open") but the pinnacle would still cap off the journey; as it should.
Except that's not what happens. In actuality, the so-called pinnacle of personal respite one would expect on Better Lives makes itself pretty clearly known just a quarter of the way through the record, by way of leading single, "Angels." If Better Lives were a primetime drama series, "Angels" would be like the perfect season finale and, to that end, its appearance so early in the track list feels a bit confusing. The very blunt reassurance provided by its refrain ("And you'll be just fine") makes the thought of any subsequent stumbles or moments of uncertainty feel moot because everyone already knows things will turn out okay. Yet, to jump to such a conclusion, as logical as it sounds, would be to give Feral Conservatives an inadequate amount of credit for its emotional intelligence.
Anyone who's ever struggled with depression, grief, low-self-esteem, or the like, knows some days can truly feel like all is in fact fine; that there are no demons in the corners, no clouds crowding your thoughts, and everything happening outside of one's self appears to fall right in place as well. Those minutes, hours, and ideally whole days, can feel like a pinnacle of sorts. However, that doesn't mean any particular struggle has left for good. Many bouts with one's own mental health are ongoing and life long. Looking back at the "imperfect" nature of Better Lives' narrative with this in mind, the choice not to make a straightforward, tied-with-a-bow finale with "Angels" suddenly makes applause-worthy sense. The contrast then becomes an enthralling zig-zagging path, as the focuses of some songs play a tug-of-war with what the band ends up most emotionally prioritizing; just as what might happen in real life.
Tell the f–king doctor, 'Give me something that works.'
Oh I can't keep my eyes open.
I can't keep my eyes open.
I can't keep my eyes open no more.
I just wanna sleep til this is all over.
– "Eyes Open"

Share a tuna can
and maybe watch some TV
Fall asleep of your soft purring
It comforts me
And I'm home
– "Cat Song"
The relatively quiet, reserved, and acoustically driven conclusion built into finale "Let It Be" isn't a Beatles cover but, the sentiment of learning to come to peacefully accept a situation – no matter how much it might be unwelcome – rings similar here. Despite the fact that the specifics revolve around a relationship, the general theme is an apropos takeaway that ties in subtly but wonderfully with the awareness of living day-to-day the best we can.
Overall, Better Lives is a poised and precise second record, which is amusingly ironic, given the messiness and unpredictability of the subject matter. The stories are delicate even though they emphasize a sense of wildness, and the album's sound is collectively more balanced and consistent, even though Feral Conservatives' signatures of feedback, distortion, and hard hitting drums keep them appreciatively connected to the noisy soul that lives inside Here's to Almost. (Cue up "Sippin' Slowly" if you want a touch of Feral Conservatives' good old classic noisy rock.) The quartet has not only managed to easily slide past the pit of failed sophomore albums, but also astutely managed to do so without going the route of flipping its sound completely upside down in production or burying it beneath an avalanche of double take-inducing instruments. These decisions are often made out of fear of too much similarity between projects and an urge to dramatically change because that's what second albums are supposedly all about.
The fact that the way and the amount of change on Better Lives feels like a stepwise transition rather than a toss into the deep end of the pool, is nice. That appreciation of the gradual is the icing on the cake of an album tackling the idea of gradual progress. Better Lives retains just the right amount of sonic markers from its predecessor to keep Feral Conservatives unquestionably recognizable but has enough new conceptual depth, and compositional complexity – the latter achievement attained through Jones, Auer, and the way the whole group worked with what these two new faces brought with them – to create something that displays definitive evolution.
---
Better Lives is available now via EggHunt Records. Find a copy on Bandcamp and iTunes.
Stream on Spotify.
Keep up with Feral Conservatives through their official website and these social media platforms:
Facebook
Twitter (@feralconservtiv)
Instagram
Tumblr
YouTube
Bandcamp
Spotify