Come on and embrace the passage of time with Howls' moving single: "Krusht"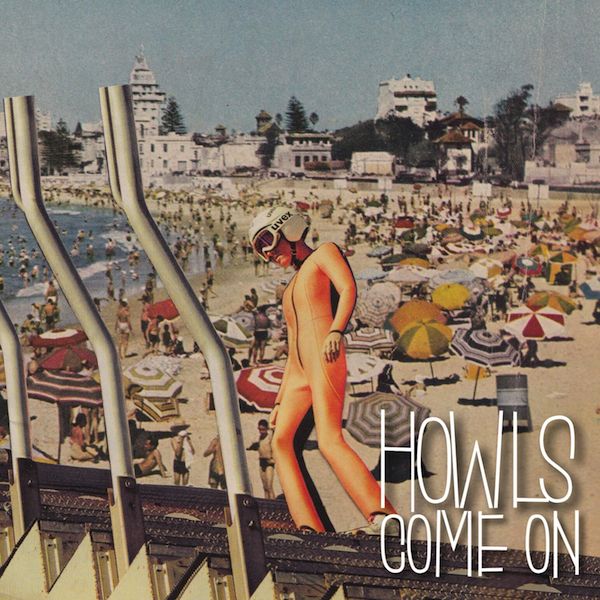 The arrival of November hanging just around the corner, and many a tree leaf turning fully into its autumn colors show the signs of summer's exit are undeniable; except perhaps, if one is hanging onto the warmth and sunnier days offered to those on the coastlines of California. Still, the beginning of autumn can allude to much more than a possible change in temperature. The all-to-common scenario of deeply intertwined relationships having to face uncertainties with travel, separation and a fear of growing apart, practically makes this time of year a hallmark of discomfort for both couples and best friends.
Amidst the many nostalgic but sad playlists bound to be shared between friends and lovers while facing this discomfort, "Krusht," the new single by Los Angeles based, electronic duo, Howls, actually floats like a truthful but contrastively optimistic island.
Howls are:
Annalee Fery (vocals, keyboards)
Christian Stone (guitar, vocals, keyboards, bass, drum programming)
Long acquainted musicians, Fery and Stone have a story that recounts with a fateful complexity almost like that of the relationships many musicians portray in their songs. First introduced through mutual individuals, then brought "together" in a band (Monsters Are Waiting), only to part ways for different projects, these two came back together under the identity of Howls in 2010. Stone went to develop a solo album but realized there was musical chemistry and potential to be explored with the inclusion of his former band mate, Fery.
Howls just released their newest EP, "Come On," via Buddyhead Records, which follows their eponymous, debut full length from 2014. "Krusht," the latest single from the EP, blends all these components: seasons changing, the flux of relationships and the idea of lasting chemistry found in longevity; all of this making the song feel widely relatable for listeners at large, as well as feeling slightly self-referential against the vacillating nature of Howls' own narrative roots.
Musically, "Krusht" is as electronic as they come: drum machine fueled beats tag teaming with naturally harmonized vocals projecting a gossamer layer of reverb and delay for an expansive tone. Fery and Stone's vocals trail off ever so slightly at the end of every phrase. The songwriting itself sits comfortably in minor key territory and this production/composition pairing makes "Krusht" a somber track for sure. All the same, this doesn't mean the song is meant to be relegated to "music for solo brooding."
Quite the contrary: the syncopated and 16th note-laden back beats that peek through in between Fery's consistent and flowing delivery of the main melody give "Krusht" the character of a solid and well-balanced ballad. It's slow enough to pack an emotive punch, which is only further boosted by the narrative laid out through the reflective lyrics ("Seeing this town in a new light / Real life and love got away from a schoolgirl too late…"). However, "Krusht" is no background soundtrack song.
The complete impression given by "Krusht" imparts shades of Lauren Mayberry's vocal timbre and Chvrches arrangements, with Lana Del Ray's paradoxical hit, à la the catchy but downtrodden, mainstream single, "Summertime Sadness." "Krusht" displays its own slice of conceptual opposition similar to Del Ray's but, ushers it forth with a bit more subtlety than her sadly titled, fast paced radio remix. There's a degree of maturity and sophistication in Howls' very sensual sound on "Krusht" yet, reference to things like being "wide awake on the phone" elicit thoughts of teenagers and late night, long-lasting, conversations talking to one's current love or crush.
The ways in which listeners can find a connection to this track and to the overall sonic character offered by Howls are many and given how easy it can be to write off music held up by electronic foundations, Stone and Fery stand to break away from this trap and their newest release shows the duo isn't having to try excessively hard to do so.
---
"Come On" is out now via Buddyehad Records and was produced by Jon Siebels (Eve 6, Flybys). It is available through iTunes, Google Play and Amazon. Stream it on Spotify and Apple Music.
Keep up Howls through these social media platforms:
Facebook
Twitter (@wearehowls)
YouTube
SoundCloud