Crown Colony is conjuring up a "Whir" of chatter!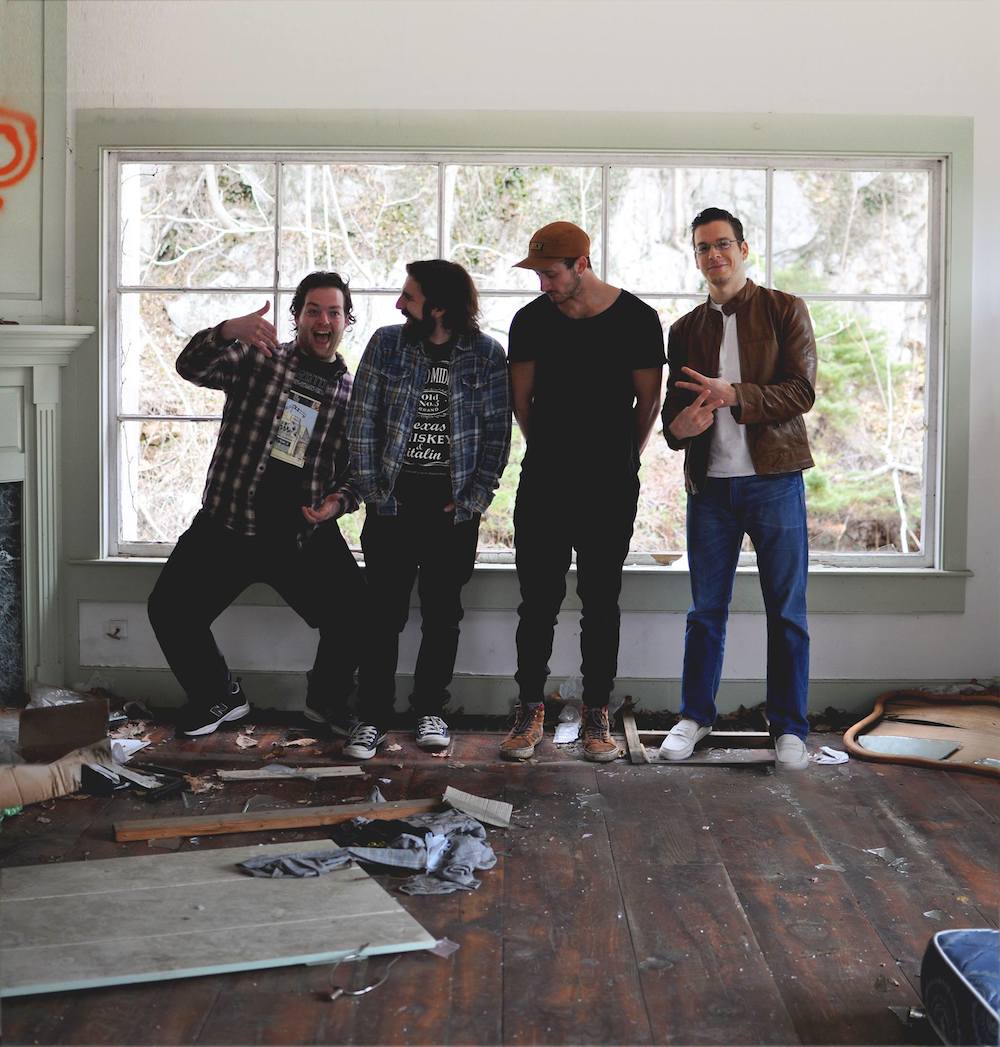 A genre like rock carries with it, a layer of founding power. Not a label that channels thoughts of severe sub-genre derivation, (Think of a pure color of blue, as opposed to a cerulean, royal or denim blue.) often times finding a band that turns to this cornerstone style of sound can feel like a coming home –a classic that prompts a certain kind of familiarity and leaves its fans hoping for the music to evoke a particular emotional and nostalgic response, sans an excess of predictability. A band that chooses to identify with – and perpetuate the torch of – such a base line style, is dealing with a forked road of starkly contrasting and sensitive proportions.
One side reflects a mentality of more simplicity. There's less deviation or alteration in straightforward rock so, it's easier to know what crucial pieces are needed to really hone in on the music with less chance for discrepancy and confusion –from either the band or its fans. Contrarily, with simplicity in identity tends to come difficulty in execution. The absence of a long list of components or instructions does not guarantee a flawless delivery or execution by default.
Crown Colony, a four man rock band from Norwalk, Connecticut, took on the challenge of this daunting two-sided route and did not shy away from its delicate set of demands. The group has played a slew of shows around their home state, played on local radio (WHUS) and even played to a full house at NYC's Pianos with indie rockers, Foxtrax.
Crown Colony are:

Chris Yerinides (Vocals, Lead Guitar)
Danen Saviano (Rhythm Guitar)
Stephen Vermilyea (Bass)
Gavin Pomerantz (Drums)
How very appropriate it is that this band refer to themselves as a colony. Their development since starting in November 2014, up to the present, sees their name embodied in a few different ways. The Connecticut quartet pursue this similar interest, living together in a community, while musically, the band keeps itself firmly connected to the origins of rock but do so from a place of newness and energized presentation. Additionally, marching steadily toward important benchmarks in band evolution, Crown Colony are establishing their own territory in the landscape of music, already attracting fans who have found appeal in their new-in-the-known sound.
Listen to Crown Colony's brand new single, "Whir," through the stream below. The song is off the band's upcoming debut EP, "Fraternal," which is set for release in late July/early August.
"Whir" presents as a mid-tempo track with a heavy gate and steady footing. The song's main hook kicks in on both guitars, playing a motif that is mirrored but separated by single whole step. Yerinides's vocals jump in the mix after a double loop of the motif that almost proceeds to a third but, stops short for a momentary break. This is from where the feel of a heavy gate comes. Right at the moment of the abrupt pause, each new line of lyrics in the song's two main verses begins and that gives the song an easy to follow structure. That said, the gradual addition of a moderately nimble bass line alongside the vocals brings in an extra color that keeps things moving and prevents monotony.
Lyrically, "Whir" lends itself to an easily visualized, live performance scenario; one wherein the simple but long-held vowel-ending words and open syllables that fill the chorus are vehemently sung-shouted by a lively audience in a packed room with an underground ambiance. (Ooo… / yeah… / Do I really want to love you / again….?) Technicalities and music theory aside, that generalized form and feel assembled from the very clear-cut distinctions between "Whir's" different sections, (verse, verse, chorus, bridge, chorus, instrumental breakdown and finishing with an a capella refrain) reinforces the very firm and confident delivery put forth by many songs steeped in a solidified rock structure. Downbeats are prominent and this lays the way for a very comfortably jamming live crowd –one that will have no trouble catching and holding onto a beat for head banging along with the band.
The way "Whir" plays back leaves an interesting dilemma for listeners. The instruments of the band are crisp and clean but have been mixed to retain their punch, without being loud and aggressive for the sake of "being more hardcore and real rock." Contrasting with this are the main and backing vocals, which, throughout the track, have been recorded to sound very no-frills –and no, this isn't a statement about the absence of the Auto-Tune plugin or any kind of implication that artificial manipulation is necessary here.
What's meant by no-frills, is that the vocals are as honest as they can possibly be when recorded: No dressing, no layering, no embellishing. It's Yerinides and a microphone set to appropriate levels. The belting frontman enunciates plenty and it is not as though the decision to keep his part sonically uncomplicated is a sign of deficit. While undeniably divisive, this approach to Yerinides's vocals during controlled studio recording inspires the feeling of live rock show – where Yerinides would have no special effects to hide behind anyway – but listeners are provided with clean audible access to everything else which can get otherwise lost amidst audience shouting, clapping and other (expected) ambient noise during a concert. It's linking the clarity of the studio with the honesty and intention of live performance.
Crown Colony are definitely taking a slight risk by putting themselves forward in such a raw and exposed way. However, there is no denying the band honorable credit where it is due because, if there is one equally distributed descriptor for its style and delivery that rock music can drum up, it's "raw."
Look out for Crown Colony's debut EP, "Fraternal,"  later this summer!
"Whir" is available digitally through RabbitHouse Records.
Find it on iTunes, Google Play and Bandcamp.
---
Keep up with the evolution of Crown Colony through their official website and these social media platforms:
Facebook
Twitter (@CrownColonyBand)
Instagram
YouTube
SoundCloud
Bandcamp