An audience with Face the King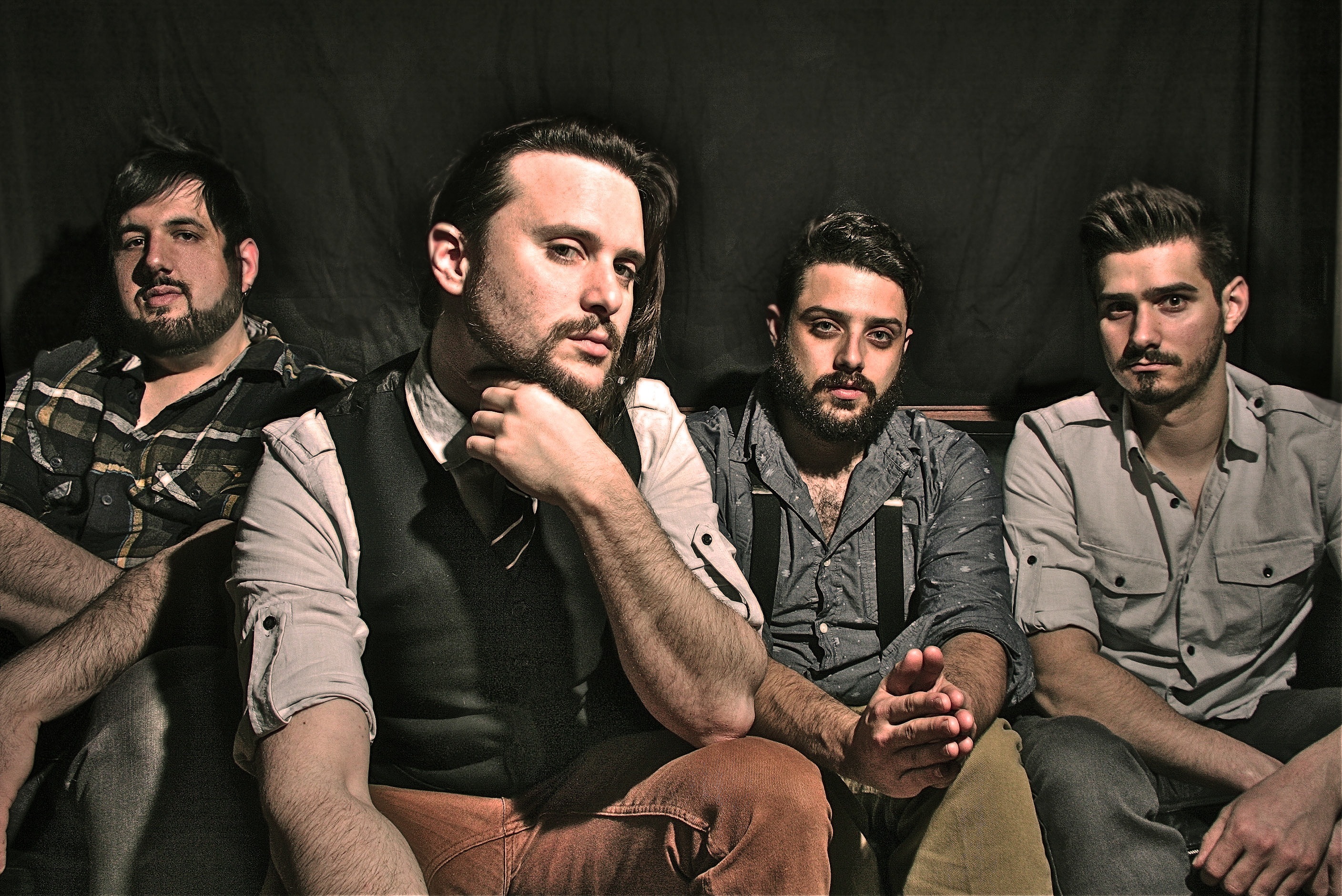 The music business often being the cutthroat, competitive, "needle in a haystack" kind of field that it is, when a band comes along that is not only willing to tackle the almost innumerable challenges of its murky waters but to also make and ride their own waves of achievement, one would be hard pressed to find a person not at least mildly fascinated in a story of twice rare character and success.
The unfolding of such a story comes when one delves into alternative rock band Face the King. Harboring influences that include Kings of Leon, Silversun Pickups, Radiohead, 30 Seconds To Mars, Young the Giant and more, Face the King have the sound of a tightly knit, seasoned group that is built like a mosaic but, focused and thematic like a blended collage.
Where some groups dream of and work, sometimes to no avail, to earn a place in just one facet of the music world, this band has carved their own slice of recognition in several facets of the industry –national festivals and contests, terrestrial airplay and high-profile sponsorship to name a few – during just a handful of active years. A four piece group started in June 2009, originally based out of Long Island, NY but currently residing in New York City, (Eric Zirlinger-Vocals/Guitar/Keys, Dan DelVecchio Lead Guitar/Vocals/Keys, Joey Dammacco-Bass/Vocals/Synth and Randy Palumbo-Drums/Percussion) Face the King are right in the eye of a storm, which is brewing all good things around them.
Last year saw Face the King hit the stage for one of its most high profile performances to date, during the CBGB Festival, playing the main stage in iconic Times Square, alongside the likes of Jane's Addiction, We Are Scientists, Devo, Billy Idol and several others. 2015 now at hand, the band is not relenting in their efforts, turning their attention to their next recorded project. It will be their third overall, following two well received EPs – The Sound and The Burning and the Falling Down, (produced by Steve Haigler-(Brand New, Fuel and the Pixies).) – but this is their first as a full length studio album. Face the King have chosen to undertake this next step via crowd funding platform, Kickstarter, and the campaign will run until 10 February.
The gentlemen of Face the King were kind enough to offer an audience for some candid conversation and we talked everything from their whirlwind of work and growth, to the Kickstarter's progress and more –including details on an upcoming show back in their old Long Island stomping grounds!
---

Kira: At the beginning of this article I mention that it would be difficult to find someone not fascinated with a band that carries the uncommon combination of actively determined character and subsequent success in the music industry. I'm definitely one of those interested people and as someone who has been following the many DIY trends that have come and gone in the music business, seeing your band's ability to stay above the waters is indeed exciting.
What would you say ranks highest as a priority for the healthy sustainment of Face the King in the music industry of 2015? (e.g. playing shows vs. finding and pushing a unique sound (even if it falls away from the popular listening trends,) vs. getting recorded music out there vs. establishing your artist image, etc.) Has the band's primary focus and matters of importance shifted at all since your beginnings back in 2009?
Dan: Throughout our career we've learned over time that everything is important when it comes to surviving in this business, even the things that may seem insignificant. The band is always growing in terms of our sound, which is crucial to any successful band or artist. From our beginnings our music has gone through an evolution, with our main goals each step of the way being both appealing to a large audience and creating something heartfelt and unique. We found it's important to give the fans something that they can't get anywhere else, otherwise where is the appeal? Then comes re-branding ourselves, coming up with new and creative marketing ideas, keeping in touch with the fans, and so forth. I wouldn't say that our primary focus has shifted since our beginnings, as much as over time we learned and got smarter about the way we run the band.
Kira: How is it juggling the feeling of being a band that undeniably built itself from the ground up while also being a band that can say it is a Warped Tour regular or, have Ernie Ball, Korg and DBZ Guitars pulling for its musical ambitions? How did this slew of sponsor support come about and how do you all discern the more corporate side of the music business while working to stay true to the down to earth, more artistic and emotional side of things?
Joey: Being a band that started with nothing and getting to this point has been pretty surreal, to say the least. We started with a vision and we never thought everything would just fall into place so naturally; but that is the beauty of this band. As far as sponsors are concerned, and trust me many bands ask, all it takes is persistence, determination and hard work. We were lucky enough to be invited to play at the NAMM convention in Anaheim, CA, where we met so many of the reps for the companies that we now represent. We exchanged business cards and emails and here we are today! The sponsors and opportunities do not taint our perception of why we play music, it just makes it much easier and inspires us to continue to do what we love!
Kira: In your Kickstarter promotional video, you explain with genuine transparency, that you've "done several Kickstarter campaigns that [you] have never released" and that you "don't want to give [fans] something [they] don't deserve." To perhaps give you a chance to elaborate in a way not shown on your Kickstarter page, what made you decide to try Kickstarter again and furthermore, given the meticulous artistry and reputably produced projects you have already released, what exactly is it that you feel Face the King can achieve with a record supported via crowd funding, that you cannot, or haven't already, attained in the past, producing music in other ways?
Dan: Well the only reason why we had to pass on launching previous Kickstarter campaigns was due to timing constraints. We realize that doing something like this requires a lot of work whether it's simply shooting and editing the video, or coming up with a rewards system that will properly give the fans justice. Then there's all the time needed for delivering these rewards to the fans. For an up and coming rock band that is entirely self-managed, time is always one of the biggest challenges. It's not easy to put in all the required work for a Kickstarter campaign while at the same time doing all the things that a band needs to do: record an EP/album, rehearse, book and play shows, write new music, etc. After finishing up an incredibly busy summer, (fresh off of Vans Warped Tour and the CBGB Festival in Times Square), we were finally able to put time aside for funding our first full length album – making it our #1 priority.

The winter can be a slower time for bands so we figured this would be the perfect opportunity to finally do this for real. With the extra funding from our fans we feel we are able to achieve what we haven't in the past, and that is a product that is in no way limiting our ability. We are proud of most of the work we've put out in the past, but always felt we fell a little short when it came down to mixing and mastering (one of the most important parts of polishing a record). Unfortunately time and money are always the main concerns in recording an album, and this extra help from the fans allows us to focus more on making things "right," rather than worrying about how much we have left to spend. I think the same thing can be said for filmmakers who may have an extraordinary vision, but can't pull it off because of their limited budget.
Kira: For those with a love for the inner cogs of studio work, what have been some of your recording methods / effects of choice as you have worked on this new release? Analog v. Digital? Live? Strict isolation with overdubbing? Unusual techniques for a particular drum sound? Any favorite or signature guitar/pedal effects?
Eric: I think everyone has a personal style in the studio that they will defend tooth and nail. Some record as a whole band live. Some record each instrument individually. Some record one section at a time. Recording is one of the few times where the ends justifies the means. The average listener doesn't ask about how you got that kick drum sound in the bridge. They just enjoy the song. That's the secret to the studio. Trying to remember it from with a fan's ear. That being said – there are FTK preferences in the studio. Like so many these days – we record into Pro Tools. If analog was affordable many more might try it. However, for me – digital or analog doesn't matter. It's whichever sounds better. No point in fighting when it makes no difference in the end. When it comes to overdubbing – that is an understatement. We overdub to get the sound we want.

That is the benefit of the modern studio. Years ago if you wanted an orchestra in the studio – they needed to be there with you. Not everybody is Frank Sinatra in the studio and can have that kind of luck. FTK puts everything into a record. Orchestrations are composed after the main instruments are laid down and the vocal idea is solidified. This lets us focus on working around the vocals in the song. However, after we lay down the extras we go back and fill in the gaps. I redo the vocal performance and have them pump it loud in my ears. I want to feel it as if it is live. As for unusual techniques – there is only one. We take our time. In a time when so many can rush through a record and fix it post – we take our time. There is no substitute for "the take." No editing or plug-in can make the song right. It takes the right performance and making it better. We start with the performance and tweak it post. A good song in the studio should be undeniable from the take to the end. The only thing that should be better – is the live performance after. That is what the fans deserve. That is what the music deserves.
---

Kira: It is somewhat different, and certainly refreshing, to see a band of your reach still make time for frequent shows around the Long Island area, not forgetting your root fan base or venues. Your upcoming show on 30 January, at Revolution in Amityville, NY, sees you in the company of several local acts and is proof of your hometown devotion. What would you say to those residents who have unfortunately not had the chance to attend a live performance, is the special element you think that makes a Face the King show a must-see event?
Dan: I think something that really stands out in a Face The King live show is the fact that it's genuine, and something different from what you hear on recording. We add intros, segue ways in between songs, showcase a little more of our musicianship, and will overall switch things up simply based on how we are feeling on a given night. This way, we never play the same show twice. A lot of bands phone it in or act on stage, but what you get here is a band who truly connects to their music and the audience. We treat our live show not only as a performance, but an experience that is shared between us and the fans. That, and the sheer intensity that comes with it. If you really connect with the record, we feel you may love our live show twice as much. It's bigger, louder, and more emotionally intense.
Kira: In the interests of the many bands that are digging their musical heels in all over Long Island, since this is a demographic you know well yourselves, what are some pieces of advice you might offer to those musicians who are striving to break the glass ceiling of the local music box?
Randy: This is a business, treat it as one. Make sure the people you work with are people you trust, and who believe in putting out a top-notch product. There is no actual "ceiling" when you view your band as a business. Work hard, and plug away. Develop yourself as a musician and as a business person. Do your studying, and do your work. Also, utilize the capabilities of the 21st century. What worked for a band in the 80's and 90's isn't what will necessarily work today. Be innovative, think outside the box.

You consider yourself an "artist" right? Be creative. Expand your market by making connections to other bands in other emerging markets. For example, 4 different bands from different states consisting of 4 members each with followers on social media has a greater reach then 1 band with 4 members all based out of one set area. This is the difference between local acts and national acts. This means teaming up with like-minded acts from different states. Trade gigs, and give people places to stay when they are in your town. Believe me, it'll save you money when you're out touring by them. Last but not least, be fearless! Love what you do, and do what you love!
Kira: The Kickstarter campaign and album release are definitely big points of focus for the band right now but, as it is only January, what is on the agenda for Face the King as 2015 rolls onward –perhaps at least as far as plans for summer are concerned?
Eric: The typical answer is touring and releasing great music. That is or at least should be on every band's agenda. However, for FTK that is a small part of it. 2015 is going to be the start of everything. The next big step for us. This is the year we see how far FTK is willing to go. This is the year we exceed every expectation we have set for ourselves. This is the year we push to be too big to talk to all of our fans but still find a way to do it. 2015 is going to be the year FTK became an overnight sensation as far as the world's concerned. However, we will all know that it took years of hard work and dedication. Years of sacrifice. Years of fans giving and helping and cheering. This is the year we show all of our fans that they were right to believe in us and we thank them – by taking FTK to the next level.
Kira: I have to crown the conversation with this question of intrigue: Why are you named Face the King?
Joey: The band name, Face The King, comes from a song that was written in me and Eric's old band, Seer. We are asked very often if we a are religious band because of the name. It's not a religious reference, however, it touches on spirituality. At the end of your life, you have to reflect on the choices you've made, reflect on your time on earth and decide if you are satisfied with what you've become. The line in the song goes 'before you face the king, you face yourself'. It's always struck a chord with me and is still a powerful message in my life.
---
Face the King will be playing at Revolution Bar and Music Hall on Friday, 30 January.
Tickets are free but donations are welcome and will be put toward the band's Kickstarter funding.
Revolution Bar and Music Hall is located at:
140 Merrick Road
Amityville, NY 11701
Doors: 8:00PM
Bands sharing the bill include:
Moon Tooth (Twitter: @MoonTooth1)
Dune Local (Twitter: @dunelocal)
Last Turn Off Broadway (Twitter: @ltobroadway)
Sharks In The Shallows
The Little Red Men (Twitter: @TheLittleRedMen)
Those interested in backing Face the King's studio album Kickstarter can make pledges here.
Keep up with Face the King via their
official website
and these social media outlets:
Facebook
Twitter (@FacetheKing)
YouTube
Bandcamp