Say you'll spend time in Sayville, jammin' at a Generic Rekurds showcase!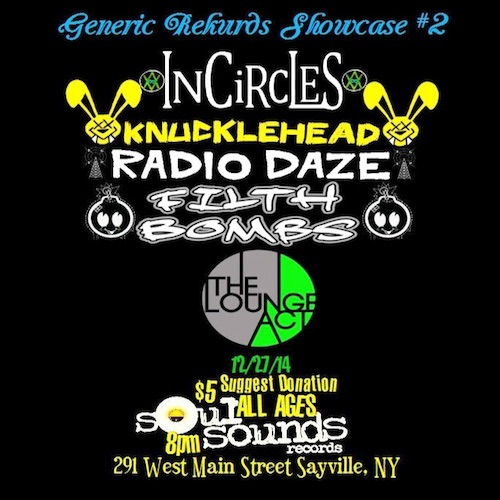 Something titled "Generic," also being something worth devoting any amount of serious time and energy to, might initially sound like a thing of low prospect –something for which one might not be liable to carve out advanced planning, lest what's delivered end up being presumably mundane.
What can be great is when these adjective driven expectations get utterly flipped upside down. Circumstances like those are often what lead to some of daily life's more exciting and memorable moments.
The latter of these two scenarios is what residents and out of town road trippers alike, can prepare for, in the days following Christmas, when five musically magnanimous bands come together for a showcase presented by Generic Rekurds, in coordination with Planet of Sound Promotions, at local brick and mortar shop, Soul Sounds Records Inc. in Sayville, N.Y. on 27 December 2014.
This night of music will be combining the power chord chaos of bands from Long Island and New York City. Here's what those looking to rock out can expect:
---
If anyone has ever been out to the eastern end of Long Island (or even if the only point of reference one has is what comes from the pop culture media,) the pairing of punk, rock and eastern towns like that of East Quogue, probably are not what first come to mind over that of vineyards, farm stands, large boats and loud parties –except those usually being the kind with a DJ booth and a playlist loaded laptop.
In this way, InCircles is a band that perfectly sets the expectation-shattering tone for this showcase, since this trio takes to a stage like boats take to the Long Island Sound: with great ease and the ability to make some serious waves if desired.
Playing shows for almost a decade, InCircles (Jewlee-Guitar/Vocals, Eric P.-Bass/Vocals and Oscar Silva-Drums) present a package of punk-tinged blues with a splash of classic rock n' roll style that calls up predecessors like Nine Inch Nails, The White Stripes, The Beatles, Velvet Underground, Nirvana and Queens Of The Stone Age. The group released their sophomore LP, "Youngblood" (produced by Grammy winning enginner, Cynthia Daniels) just last year and have taken their sound to the likes of Brooklyn, Connecticut, New Jersey and Albany, N.Y.
InCircles are intense in volume and emotion but melodically approachable enough that no one need be scared off by the often over-the-top use of capital letters and exclamations used by existing fans when typing it up on social media in anticipation of a show. There is plenty of potential for everything from headbanging, skanking, swinging and even just some simple snapping and tapping along if that's your game. It also doesn't hurt that the band is very much about the local scene, with the first track of their new record being titled, "Long Island."
The word scrappy sticks out from the pages of the dictionary when first cueing up Knucklehead's songs. A trio also from the Big Apple, (Roger-Guitar, Spike-Bass, Kraz-Drums) this is a group of punks who feel like a pair of reliable sneakers that you borrowed from a friend. They might not be shoes you bought yourself, but, they are from a long time brand and your friend broke them so you know they are going to take to your feet well. The same could be said for how one sees and hears Knucklehead as a whole.
The "traditional" punk band formula is there, half of the group's newest album, "Waiting For Life," contains songs running less than a two minute track time (but not leaving listeners feeling short changed after any of them.) and artistically, their dazed, yellow rabbit brings to mind Green Day's drunk bunny. Sonically though, listeners are left mulling over a more nostalgic sound circa mid to late 90s –somewhere between punk structure of early MxPx, to production touches of Saves the Day (circa "Through Being Cool") and yes, even a bit of what sounds like younger (perhaps if nothing but a bit more emotionally authentic) Billie Joe Armstrong. Roll everything together and then return to the top of the first paragraph and add on "moderate but catchy."
Still, nothing sees Knucklehead wearing one or more influences of any kind, directly on their sleeves for the cookie cutter matching. This lands them squarely in that sweet zone where listeners gravitate to the band's music for various musical elements they feel vaguely reminded of but can't quote place their ears upon and end up sticking around for the remaining and most important element that is born out of this trio's own character.
Speaking of things in a daze, this – you guessed it – three person punk band from East Meadow, Long Island, (Ryan Llanos-Guitar/Vocals, Vinny Carriero-Bass/Vocals, Vinny Pannullo-Drums) channels plenty of their own favored and respected bands of times gone by, but, of a much different "loud and fast" tone than their aforementioned peers.
Radio Daze has three possible approaches right before sounds come flying into microphones and travel out of amps:
Loud and fast, bordering on shredding at live shows, complete with a blur of a four-beat count off, liable to be missed if one breathes or blinks. (See "Narrow Ways")
Slower but with curtly shouted phrases (See "Sheep," a favored track on their debut album "Where Are We Going?".)
More melodically focused and probably slowest (not to be confused with "most boring"), usually tipped more to their ska, reggae or dub infused songwriting. (See "Sorrow's Crown", "Narrow Dub" and "Telephone".)
Solidly stacking their amps at the likes of many a local Long Island venue, Radio Daze embody a wholly homegrown group that knows its strengths and wears its punk with pride but is never so hardcore in their love for the genre that they in turn, come across half-baked. This being the case despite whether or not fans ingrained in punk's sub-culture might confuse Vinny Carriero for a model rocking "the genuine punk look."
There are times when a little mystery can make things all the more an object of interest. If one has a never ending thirst for all things do-it-yourself and punk, then Filth Bombs are definitely going to make a ping on the radar –or maybe they won't, since their presence on the web leaves most to the imagination. Nonetheless, with a scrapbook of experiences like a showing at a recent Battle of the Bands held at Revolution Music Hall in neighboring Amityville, N.Y., and opening at a show at Even Flow Bar and Grill in Bayshore, N.Y., featuring visiting UK punk band, The Members, these three punk rockers from varying places around the island (Kyle Mclaughlin-Vocals/Bass Guitar, Joe Moore- Guitar/Vocals, Rob Irwin-Drums/Vocals) definitely stir up enough intrigue for onlookers come investigate every riff and roughed up ratamacue the Filth Bombs can blast.
Perhaps most amusingly, the other band also visiting from the very diverse New York City, is the one with the most ambiguous and generic name of each of these groups. In fact, the mentality drawn up by combining New York City and lounge acts can prompt anything from solid intimate sets, to unidentifiable and unassuming.
However, The Lounge Act on hand rounds out a lineup that started with an impression positively busted, by similarly assuaging any fears of bad stereotype – in this case lounge monotony – via playfully entertaining instrumental arrangements and nicely defined musical roles for each of the four gentlemen's parts –something slightly less emphasized amidst punk's affinity for the aurally intertwined.
The Lounge Act deliver a style of songwriting that rings up just a light glaze of vocal gruff and lyrical craft of a band like Lifehouse; painting pictures of scenes, specific people or inspiring multiple moods –even within a single song. (In the song, "For What It's Worth," for example, lyrics like "I don't know what I've been told" bring to mind old fashioned military marches but that quickly flies away, only to be followed by a melody line that, ever so subtly, if only for a moment, drops hints of the ascending major line in "Somewhere Over the Rainbow" but with a blatantly uptempo, alternative rock colored execution.) Listeners can get to know The Lounge Act with less or even no prep time than their punk cohorts, gleaning emotion and a reaction via everything – together or isolated – from the melodies, to the lyrics, to the song titles and even the mild changes in lead singer, Simon Arcenio's, articulation and vocal delivery. (Most likely another way to give each song a further established senses of individual identity.)
Despite being a band of less than three years, The Lounge Act has already made their rounds at New York City venue staples like The Studio at Webster Hall, The Knitting Factory in Brooklyn and Arlene's Grocery in the Lower East Side. The Lounge Act is Simon Arcenio-Rhythm Guitar/Vocals, Jordan Wuest-Lead Guitar, Roger Walsh-Bass Guitar and Nick Ciccantelli-Drums. The band's many songs are compiled here.
---
Generic Rekurds was created by Matthew Riley and Vincent Carriero.
Generic Rekurds will have an official page coming soon! In the interim, look out for information on future showcases by connecting with Radio Daze and or Matthew's band, Felix, on Facebook.

Generic Rekurds Showcase (#2)
Saturday, 27 December 2014
Soul Sounds Records Inc.
291 West Main Street, Unit F
Sayville, New York 11782
Doors: 8:00 PM
All Ages
$5.00 suggested donation