All I'm Asking, is for a Little Respect (and you got a lot!)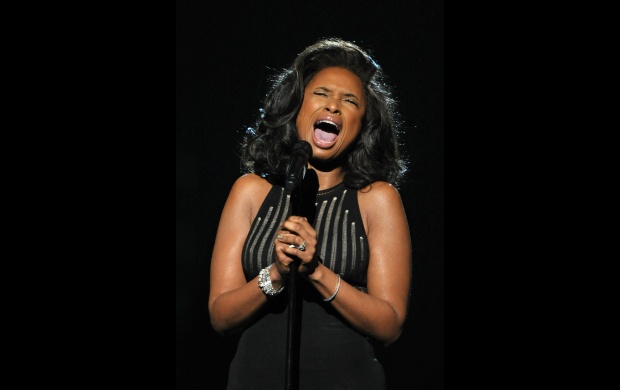 After my Grammy Awards post from last year, I'm almost a little surprised at how well my hope and slight prediction for more aired and recognized diversity has come to pass.
"So perhaps with each passing year, a different form of the new, unknown, reserved or underdog will be thrown out from stage left until one day, someone like the New York Philharmonic's conductor, Alan Gilbert walks out cracking jokes about Miley Cyrus too."
My major take aways from 'Music's Biggest Night' have got to be what supported my year old quote and the level of true respect that was shown and sewn in throughout the show. If I had to give an unofficial subtitle for the awards to reflect what it conveyed, this was definitely an extra standout year for the old adage "Respect your elders."
The ill-timed passing of Whitney Houston, only the night before what is meant to be a celebratory ceremony filled with partying and laughs and good times to the max, left a sadness among the attendees that I think, reigned in the hyperactivity factor just a bit. From the loose chatter of the A-listers being somewhat quieter on the red carpet, to the dawning of some black dresses, (perhaps to show active grieving for Houston's death) it wouldn't go unnoticed that a level of seriousness joined the party as well.
Hudson lets out all emotions for Houston's tribute. (Cit. grammy.com)
While it's clear some of the performances from last night were planned in advance, e.g. the Beach Boys collaboration with Maroon 5 and Foster the People, (see below) when these classic artists and songs were combined with brilliantly done tributes to other 'classic greats' past, to me it felt as if the show's organizers just wanted to really stick their necks out for those musicians who stood the test of time and have gained their eternal recognition in the limelight of music, outside of current popularity's narrow lines.
Each year, musicians and figures in the music industry are lost to death and each year, the Grammys recognizes these individuals with a reverence and acknowledgement of their cumulative accomplishments. Even so, in addition to the rapidly and beautifully assembled tribute from Jennifer Hudson, to the melody of Houston's romantically anthemic "I Will Always Love You," the show did itself one step better with a second performance tribute to the late Etta James. Emotion was fully displayed by the notes and words from blues singer Bonnie Riatt and soulful pianist Alicia Keys. (see below)
Indeed, 2012 will be the Grammy Awards that's all about throwbacks, making and keeping memories, on top of reverence for the greats. Keeping the momentum of honor going, country singer Glen Campbell (a.k.a. the Rhinestone Cowboy) made his final Grammy appearance, playing as the finale to a collaborative medley that included The Band Perry and Blake Shelton. Although Campbell is still with us to present the gift of his abilities, the further onset of his Alzheimers is putting an approaching cap on his musical career. Adding Sir James Paul McCartney to the lineup of performances and there's not denying the older generations stood as showman equals to their newer juniors, not letting the music industry forget where it's been.
Though not seen in the telecast, yet another grace of respect was given, and memory honored, for the young, late Amy Winehouse. Winehouse's passing may have quieted in the media for the pass of time, but the Recording Academy didn't forget the loss. Mitch and Janis Winehouse, Amy Winehouse's parents, took the stage with Tony Bennett to accept a posthumously awarded Grammy in the category of "best Pop Performance by a Duo or Group" for the song Soul and Body, recorded not long before Winehouse died.
While I certainly didn't intend to make this such a somber post, (because the show was certainly upbeat and full of its fair share of tearfully joyful moments,) it's just an expected side effect of this year in music. As I said before though, the show also concentrated on remembering what the industry still does have, in terms of timeless songs, timeless voices and timeless philosophies. Dave Grohl, lead vocalist of the Grammy sweeping Foo Fighters, brought a core principle of spirit within of the latter, back to everyone's minds in the Fighters' first acceptance speech. A band that cranks out a gritty, old school rock sound, Grohl stuck to that guidance of style when he spoke to the audience:
"Singing into a microphone and learning to play an instrument, and learning to do your craft, …that's the most important thing for people to do. It's not about being perfect, it's not about sounding absolutely correct, it's not about what goes on in a computer…it's about what goes on in *here* and in *here.*"
(Cit. Dave Grohl – 2012 Grammy Awards)
Some viewers across the social media sea and blogosphere may have presumed Grohl to be ironically hypocritical with his participating in a massive collaborative performance that included computer driven dubstep artist deadmau5 after that speech. However, if that's the case, you missed the actual focus of his words. It wasn't a statement against computer driven musical genres/stylings, it was a statement for the integrity of a person's natural, initial abilities. In other words, excessive use of Vocaloid, Auto-Tune and the like, to cover what you should be able to do yourself, even if it's not shiny and crystalline. No one's bashing electronica.
Though the unsurprising "Year of Adele" did happen (as I casually predicted via my Twitter feed after the first of all 6 of her awards,) her return to performance reinforced the idea of not taking things for granted; as her singing career could have easily suffered a premature death of its own, had her vocal nodules been more damaging. Food for thought to consider on that: You can't get vocal nodules if you're not doing any singing whatsoever.
I'm closing this post with the statement host LL Cool J made to get the whole ball rolling. He really set the tone and afterward, the collective presentations made things seem as if everyone had genuinely shifted to a mindset of love, respect, and true gratitude. The words in action can be viewed HERE.
The Grammys grew up a little more this year. in performances and in taste level. kudos.
"There's no way around this," he said, addressing a silent crowd. "We've had a death in our family, and so at least for me, the only thing that feels right is to begin with a prayer for a woman we loved, for our fallen sister, Whitney Houston.

Heavenly father, we thank you for sharing our sister Whitney with us. Today our thoughts are with her mother, her daughter and all of her loved ones. And although she is gone too soon, we remain truly blessed to have been touched by her beautiful spirit, and to have the legacy of her music to cherish and share forever. Amen.