Thinkin' About "Me Without You" Brings on the Broadway Blues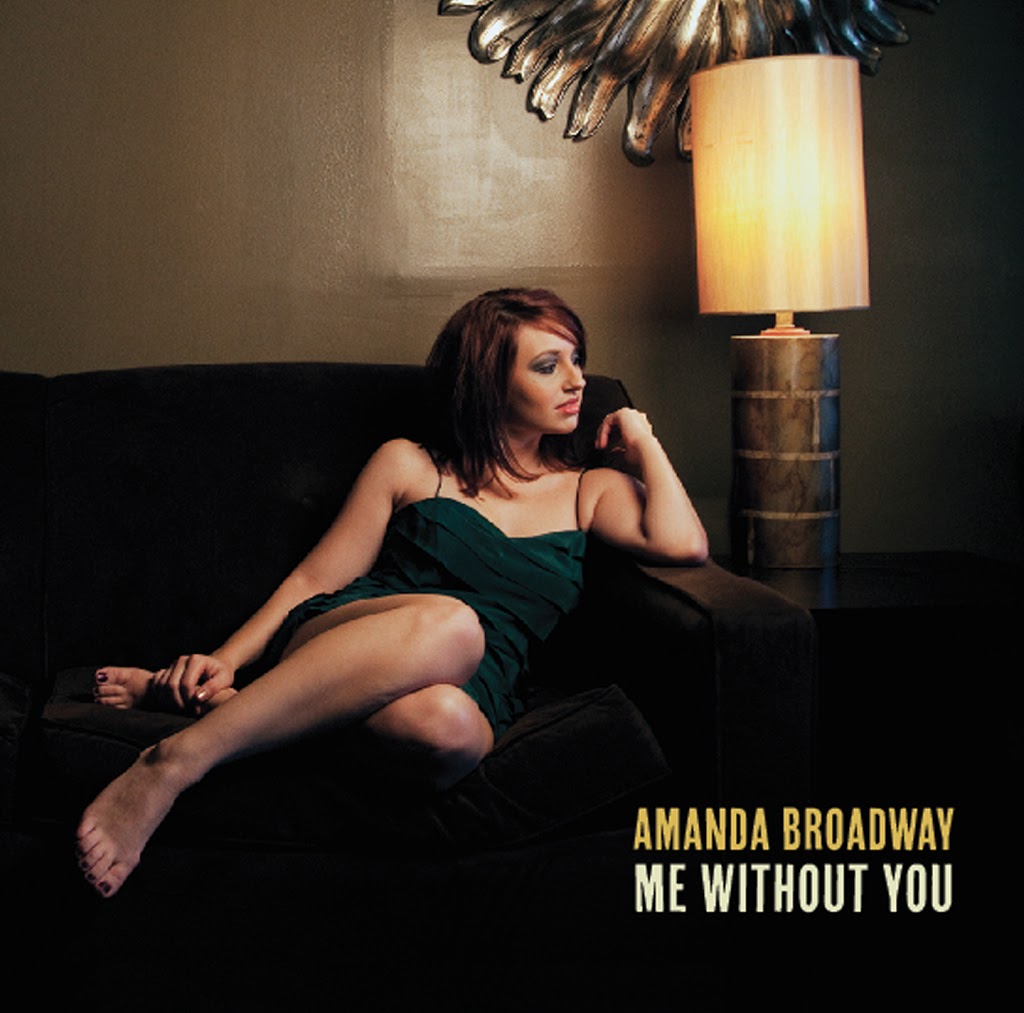 Thank goodness it's Friday. I'm so happy the weekend is just about here. Now I can look forward to coming home with the blues. I know it might not sound like I'm not making any sense, but you'll get it soon and agree I'm sure.
When you were young, did you ever have one of those initially crazy, "reach for the stars" kinds of dreams? Who hasn't had one at one time or another in their life? A common one, especially for those of us who eat, sleep and breathe music, usually falls along the lines of, "I want to be a pop-star/rock star when I grow up!" Heck, even grown adults say that nowadays with reality shows like Idol, (Insert Country Here)'s Got Talent, and other fame related reality shows of the like on the rise today. In a way, the concept of overnight, television induced, fame almost seems to diminish the idea of, "I made it" status from its former self-carved out glory.
On occasion though, some stories can be both serendipitous and have an engaging exposition, if you will. No stage alias necessary, Amanda Broadway, (yes, that's really her name) an extremely talented friend of mine from undergraduate college, has just taken the next big step to making it as a musician and she kindly agreed to talk with me about her views on the music industry, how her musicianship has evolved over the years and most importantly, the release of her debut EP, "Me Without You." After always saying she was meant to become famous, I couldn't pass up the chance to have you readers get to know Amanda and her music. Who is this person with the perfect stage name, you ask? Read on to find out. The Q&A starts after you click the "Read More" link below!
"Amanda Broadway is an aspiring blues/soul singer-songwriter based out of Nashville, TN. She moved to the Music City after studying Music Industry and Voice at the College of Saint Rose in Albany, NY. Three years later, she has independently released her debut EP, Me Without You, which she co-produced with Max Abrams. The record, a collection of seven songs all written by Amanda, hit number 8 on the Top Blues Albums chart on iTunes."
Q: So Amanda, you strongly market yourself to new and older listeners alike, as a Blues/Soul singer now. Everyone that knew you in school always saw you going the certified country route –especially with your desire to move to Nashville. What inspired the gradual shift in genre? Artistic preference? Vocal changes?
A: It's interesting you said gradual, because it was definitely something that did not happen over night. I grew up with a lot of country music, mainly due to my parents. As I grew older I acquired my own tastes and especially in my college years I started listening to, and also performing, a lot of other genres. I was in a cabaret/burlesque show, where I sang a lot of Christina Aguilera. I also sang in a 9 piece eclectic cover band. As one of two female leads, I covered the diva material – Aretha Franklin, Alicia Keys, Donna Summer, etc. College is also when I began writing my own material, and one of my very first songs, Better Than You Can, is a blues shuffle. The chorus veers a bit and I added a bridge, but the verses are straight 12-bar blues. When I moved to Nashville, I was still pursuing a career as a country singer. I'm not sure of the exact moment that I realized I wanted to do a different genre. But a lot of factors had been simmering for a while. In addition to the experiences mentioned above, I was also starting to feel differently towards country music. I'm not a fan of the current style. When I got to Nashville and had it thrown in my face, I liked it even less. I really started evaluating myself as a singer, and for the first time, as an artist. I realized that a lot of the material I was writing had a lot of soul. And I was primarily listening to artists like Grace Potter, Susan Tedeschi, Etta James, Janis Joplin, Aretha Franklin, etc. Even looking at the country music I prefer… I don't really like the happy songs. I gravitate towards songs like "Broken Wing" by Martina McBride – which is pretty much a gospel tune. All of those feelings and thoughts at some point just clicked. As soon as I had this self-realization I felt as if I came alive. I was ready to record and start seriously pursuing my career as an artist. I've never felt more connected to music. I do want to say that country music is still dear to my heart, and I will always be inspired by it. You can still hear it in my voice and songs. But there's nothing like the blues and soul.
Q: The songs I've heard you compose and perform are so flooded with personal experience; as most all songs are. Has your songwriting process grown or changed with your personal experiences –particularly now that you work regularly with backing musicians and bands rather than just solo performance?
A: I definitely still write from personal experiences. Love (or lack thereof) is always a great muse – and Lord knows I've got plenty of heartache to write about. "Me Without You" was all about relationships, if you couldn't tell from the title. Lately, though, I've been writing more songs about life in general. I'm still writing solo, even though I've added other musicians to my performances. I do like the idea of writing with a band, but I don't have a consistent one right now to do that with. If I were aiming to be only a songwriter, then I'm sure I would co-write with other writers – which is a huge thing in Nashville. But as an artist, if I'm going to write with someone else, it has to be someone I feel musically connected, and comfortable, with. To me, writing is so intimate. I'm not trying to churn out hit songs. I just want to make good music that makes people feel something… that makes me feel something.
Q: What's something you felt totally caught off guard by when trying to first establish yourself in Nashville that perhaps you can't prep for without plain old trial and error? Furthermore, what would you say are the most useful lessons you've taken away from college to apply in a real career?
A: This might seem like an odd answer to this question… but the people. There are literally thousands here trying to do the very same thing I'm trying to do. And then on top of that you have the aspiring producers, writers, musicians, etc. It's overwhelming – and at the same time it is such a small town. All of the circles overlap. Navigating through those circles, finding the right people to surround yourself with can be difficult and ever changing. This town is a hub and people are always coming and going. In school we learned the importance of networking, but actually getting out and doing it is a whole other story. As for the most useful lessons – I feel like I know how to protect myself and keep track of my royalties. I'm a BMI artist and I even started my own publishing company with them as well – Whiskey Blues Publishing. I'm a member of Sound Exchange too.
Q: Given everything we learned in the studio and the classroom about topics like: developing an aspiring artist, marketing their material and protecting your artistic rights, what do you think of the emerging trends like cloud computing, the surge in cross-genre collaborations and the increasing loss of major labels (and the subsequent loss of control to the rights of their catalogs) that we didn't necessarily cover in lecture?
A: So much has changed already and we have been out of college for three years. The big thing I've taken thought to lately is Spotify. As a BMI member, I was sent a free download link for the program. (My album is also available on it.) The program is incredible. It is a music library at your finger tips. You can search and listen to anything you want, with no limitations. It's not the first of its kind, but the way it has integrated facebook and users' personal music libraries is dare I say revolutionary. It will be interesting to see how these trends effect the industry, and its more important now than every to be sure that you are signed up with the right organizations to make sure you are receiving the royalties you're entitled to.
Q: What's most important to you regarding how you market your music and marking your place in the industry? E.g. Your choice of Performing Rights Organizations?
A: Well, as I mentioned, I'm with BMI. I chose BMI because, in Nashville at least, they really offer help and support for their members at any level in their career . For example, they sponsor shows for local artists, including contests to play at festivals like Bonnaroo. I really aim to work from the ground-up, building a fan base the grass roots way. I want to develop a really great live show and be known for that. There are so many artists (Grace Potter) that I can say this about: "Their albums are amazing… but you HAVE to see them live." I want people to say that about me.
Q: Now, about your new EP, "Me Without You…" What's the story? Where does your concept come from?
A: I never really sat down and thought of a concept for the EP. For me, these songs just personally went together. When I went to record, I couldn't imagine adding or taking away anything. They're all coming from the same place. I wrote them during a very transitional time in my life when I was doing a lot of soul-searching. Some were written in college up in New York, and some here in Nashville. A lot of them are about one relationship that was pretty tumultuous. Moving on from that as I settled into a new town was difficult.
Q: I know you took people along on the ride with you, per se, as you were making this EP, through regular social media updates. What was the most exciting part of the process? The most frustrating?
A: The most exciting part was seeing people that I didn't know interact with my posts and updates. I actually made a few fans along the way. Equally exciting has been having people I have lost touch with come out of the wood works to tell me they've been following my journey and give their congrats.
Q: For the engineer pros out there, did you try anything spontaneous in terms of microphone choice/placement, any unorthodox recording techniques for your multiple tracks?
A: I don't think we did anything out of the box. I was working with a professional engineer so I didn't really have much of a hand in that aspect. For the basic tracking, we recorded the players together as a band – and did all 7 songs in one day. I sang along for tracking purposes… and actually we ended up keeping some of the takes from tracking because I really fed off of the energy of the band. Later we overdubbed the horns, bgvs, harmonica, and vocals. When we went to record vocals, I did have an input on which mic sounded best for my voice. We ended up going with a Neumann UM57 .
Q: Do you have any specific plans for this EP other than individual sales and your ongoing live performances? Pandora? Spotify? Local Nashville radio perhaps?
A: I used TuneCore for my digital distribution and they placed my record on iTunes, amazon, Spotify, etc. And I actually just found out that Pandora accepted my record and they are working on analyzing and adding it to their Genome Project! You should be able to find me on there in a month or so. My current project is submitting for reviews and radio. I've been looking into blues radio stations and programs. Nashville's local radio station has a local spotlight I'm also pursuing.
Q: In hindsight, how much of an impact do you feel your formal music education supported this endeavor? How much different do you think you would be if you had to do it over, figuring everything out on your own, as many artists do?
A: I think the program at St. Rose was a great general overview of the music industry that gives artists such as myself a great foundation for this journey. I left with basic knowledge of pretty much every aspect of the business that I would need to know. I think I definitely came out a step ahead.
Q: And now for that oh so necessary, final question: How do you feel now that you've got a mastered, bounced and officially released project under your belt?
A: I honestly can't do justice with words. I've actually joked that I had postpartum depression for a bit. The waiting period from the time it was mastered and ready to actually releasing it was interesting. It's like I didn't know what to do with myself. I have never put so much time and energy into something in my life. The feeling I had on the day of release was pure euphoria. Seeing my little ole album sitting on the iTunes Top Blues Albums chart next to my heroes like Etta James was just surreal. I went out with friends that night to celebrate and had a blast. During the day, I had been at number 15 on iTunes. Mid-celebration, a few shots of Jack in, I got a call from a friend saying I was at number 9. I started laughing and crying all a the same time. When I got home, I was at number 8, the highest I've seen it. All of that, combined with the incredible response from family, friends and fans…. it was the best day of my life, August 2nd.
Amanda Broadway is absolutely one to watch out for going forward. I said it back in school and I will say it again for everyone here. She is going to go even more places, and I feel privileged to know where she's been and what she's accomplished. "Me Without You" can be downloaded now on iTunes and is available for hardcopy purchase as well on Amanda's official website. If you're looking to keep up with the news, you can also connect with Amanda through the social media channels listed below. For the moment, here is a sample of Amanda's solid live work -an acoustic performance of the title track off her EP, "Me Without You," which was performed at the Wine Loft in Nashville on March, 31, 2011. In my opinion, and for anyone that knows me, believe me when I say, you definitely HAVE to see her live. 🙂
Facebook
Twitter
YouTube
WordPress Blog