The Met's "Eurydice" and the impact of storytelling devices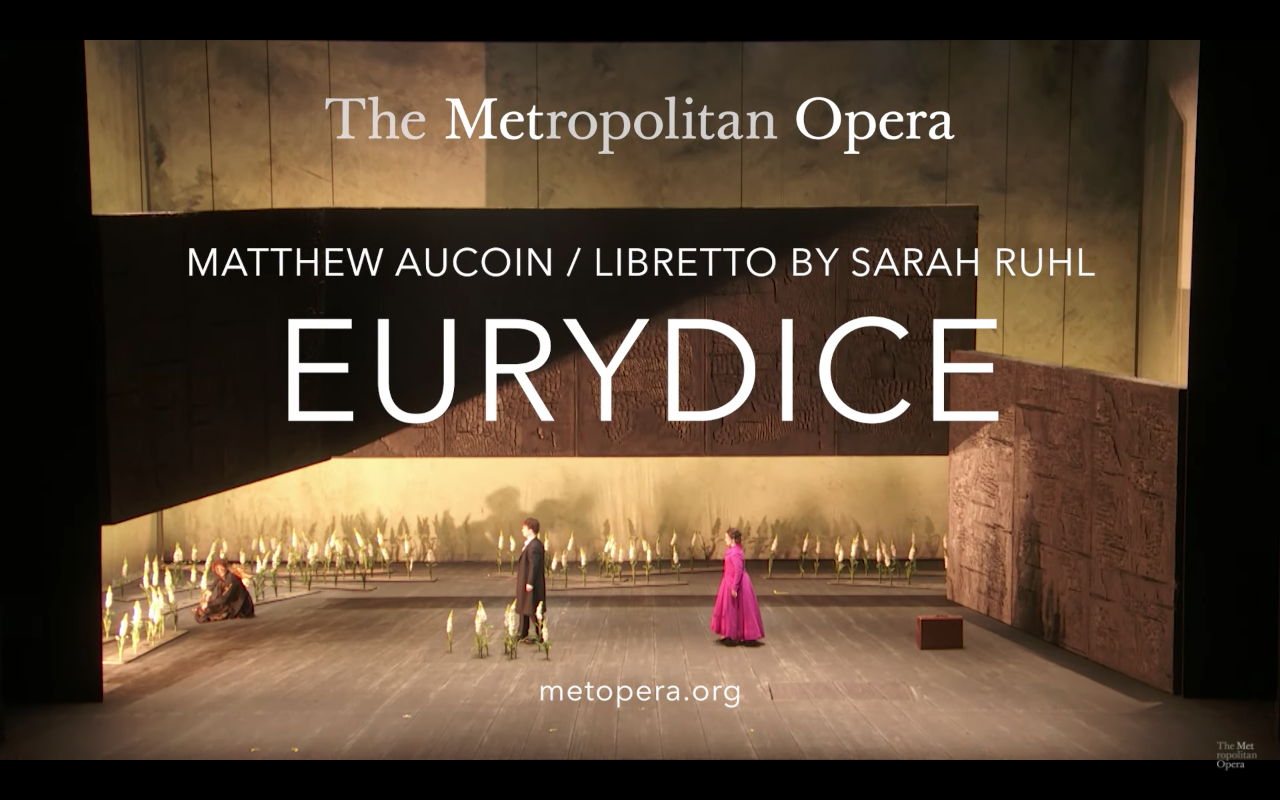 Though Matthew Aucoin's musical reshaping of the opera Eurydice (YOO-RIH-DUH-SEE) has been running at the Metropolitan Opera since 23 November, a few weeks passing and several performances gone by has no effect on how well this incredibly modern and contemporary take on the Greek mythological tale of Orpheus and the originating opera Orpheus and Eurydice – first composed by Willibald Gluck in in 1762 – delivers its fiercely untraditional brand operatic storytelling. Librettist Sarah Ruhl and director Mary Zimmermann round out the trio of interconnected creatives who have brought this millennia-old story into a modernized, English-sung context.
Their teamwork, combined with the passionate support of the Met and its musical director Yannick Nézet-Séguin – who has been and continues to be a champion of new work, under-told stories, and the people who write them – has brought the Met one of its most engaging and successful implementations of an English-language production in recent years. In this context, one might say "successful" refers to a positive outcome with regard to Eurydice's acknowledgement of its much older source material and the integration of the various non-traditional and non-originating storytelling elements utilized by Aucoin, Ruhl, and Zimmerman, around the former. The best and most fitting way to highlight this perceived achievement of Eurydice as a work of particularly appealing and engagement and shrewd application of the English language – a language not commonly associated with opera's much older and more established repertoire – is to point out exactly how this creative group approached modernizing the story and why that method perhaps works better for bridging the old and the new, to a more natural and apropos result.
One look at a single photo or the minute-long trailer of the Met's production (which originated with the LA Opera back in 2019-2020) and there is, of course, no denying the more overt modern elements of Eurydice. Bold choices for everything visual – from the costuming and wardrobe, to Zimmerman's vision of sparse but striking staging for the story – and the opera's contemporary direction stands out before a single note is played or lyric is uttered. To then follow that up, with not just English lyrics but Aucoin's downright witty and mischievous score, which employs both instrumentation and applications thereof that are almost more character themselves than simply sonic support, and the ratio of traditional expectations to unknown newer ideas skews heavily toward the latter. However, that isn't a bad thing. In fact, this ratio is one of the primary outcomes that makes Eurydice work so well. While the underlying story is old, none of the major creators behind this production opted to provide a musical or visual experience of equally conventional and mentally established measure.
There are a couple of ways the intermingling of ideas across generations can be brought together: Either the older idea can be the driving force, or the newer creative ideas can steer the story. Depending on which creative framing take the lead, the question then becomes, "What creative direction does the supportive framing of the source story – the costuming, the scenery, the music, the choreography, etc – take in suit? It's this second query that can make or break an opera's attempt to jump forward in time and present a well-known narrative in a grossly unfamiliar setting. The Enchanted Island, a previous English language production of the Met's comes to mind. This Jeremy Sams' production from 2011 opted to give its scenery, costuming, and language a more modern take. But its score, which was first composed by George Frideric Handel, Antonio Vivaldi, and Jean-Philippe Rameau in the 17th century, drove the story forward with a distinctly traditional musical framing – harpsichord and all. While the two stories themselves are not pointed out for strict comparison, the strategy of where each apply their respective aspects of modernization demonstrates how a single choice made in two different ways and to two different extents, can impact whether an opera feels merely coated in an modernized exterior or whether it was crafted to convey an older story with a modern perspective from the inside out.
It's impossible to stress this point without brightly highlighting Aucoin's score. While it would be nearly impossible to breakdown every moment of the whole work, there are definite moments of note that reveal Aucoin's forward-thinking compositional style and appreciation for contemporary instrumental arrangement – even for the centuries' old medium of opera. One moment in particular that really stood out, not only for its melodic playfulness but it's unique purpose in the context of everything else happening on stage, was a brief few bars that served as the music heard on a radio fiddled with by Barry Banks' Hades. As his yet to be revealed god character is attempting to woo Eurydice in his farce of a home, he turns the tuning dial on a nearby radio to set the mood in the room. In response, the Met orchestra suddenly goes from playing thematic backing score to the bright and bold opening bars of Vivaldi's "Spring." This then, is abruptly cut off by a sudden, singular, and very loud clash of noise that can only be described as sonic cacophony, before suddenly switching to a light and bouncy set of what can best be described as cheesy lounge music.
That swift series of musical events unfolds seamlessly and with such precision that, without the visual of the scene, one might for at least a brief moment, believe genuine white noise had descended upon the opera house (or perhaps upon a future recording of the score??). It's a delightful use of the orchestra's potential to act as not just an enhancement for the singers but to serve as a colorful figure alongside them, even if only for a few measures at a time. Add to this, Aucoin's embrace of a rhythmically-driven musical motif for Eurydice's main theme, in which there is heavy use of the modern drum kit and various timbres of bells and tonal percussion, and the overall melodic feel of Eurydice's score reveals itself to flow with a structure that is hardly conventional or old-fashioned in its compositional framework.
Ruhl, for her significant part in steering the operatic ship, bolstered Eurydice's modernization in two very distinct ways of her own. Firstly, the opera itself pivots from centering the story around Orpheus, over to Eurydice as the focal character of note. This gives the story an inherently new point of view, as the degree to which the audience is given Eurydice's perspective, grows immensely from her secondary position in the traditional story of Orpheus and Eurydice. Second, there is a delicate undercurrent of fluidity to the story, which is impressive given the surrounding rhythmic complexities and convoluted shifts in narration that occur throughout the opera. Ruhl is able to maintain this feeling underlying fluidity, through a subtle but notable decision: Keeping lyrical repetition to a minimum.
Though the opera provides plenty of musical callbacks and instrumental signatures for characters throughout the story, the words sung and the advancing of the plot are not in conflict with one another. Never is there a time when a character, even Eurydice or Orpheus themselves, sing an emotional phrase to a level of three, four, or even five times, as is common in some arias, solos. and even operatic group numbers. This choice keeps the opera moving nicely. Given the emphasis on words and language in the plot, as well as the necessary balancing of action happening in two worlds simultaneously,  a run time of two hours and 45 minutes minus intermission feels just long enough to keep the audience well engaged and interested, without losing anyone to the detail-intense nature of the story's advancement itself.
Purists of the opera world might find this less than three hour run time insufficient to adequately tell a story or convey a strong score but the cohesive results speak for themselves. Other prominent visual aspects, like Zimmerman's use of projected, stylized-font subtitles during key points in the opera's dialogue – most notably during narration and dictation of letters by one character to another – as well as sections of clearly time-tied choreography, like dancing partygoers at Eurydice and Orpheus's wedding doing extended bouts of flossing and the 90s classic of the Macarena, only add to the litany of creative choices that emphasize Eurydice's modern-minded creative core. All of these pieces of the production work together to present an opera that doesn't look to present day production for aimless shock value or creatively cheap gimmicking. Rather, Eurydice is a coming together of several creatively progressive minds, who each use their best talents to shape and mold a story that itself is timeless, with a present day foundation built up by interconnected ideas that complement one another, as opposed to simple existing in a sequential line of importance of awareness. Look no further than Baz Luhrmann's 1996 film adaptation of Shakespeare's Romeo and Juliet for such short-sighted, mismatched applications of new and old. That combination of chronological elements starred then-pop-culture-heartthrob Leonardo DiCaprio, bad Hawaiian shirts, Shakespearean old English dialogue and of course, the natural pairing for all of this: guns and a drive-by scene.
Eurydice might have died twice, but at least no one shoots her with an AR-15.
---
Eurydice runs at the Metropolitan Opera now through 16 December.
Tickets are available starting at $30 from MetOpera.org.
Keep connected with the Metropolitan Opera through its official website and these social media platformsç
Facebook
Twitter (@MetOpera)
Instagram
YouTube