"People, Let's Dance" to Public Service Broadcasting's new single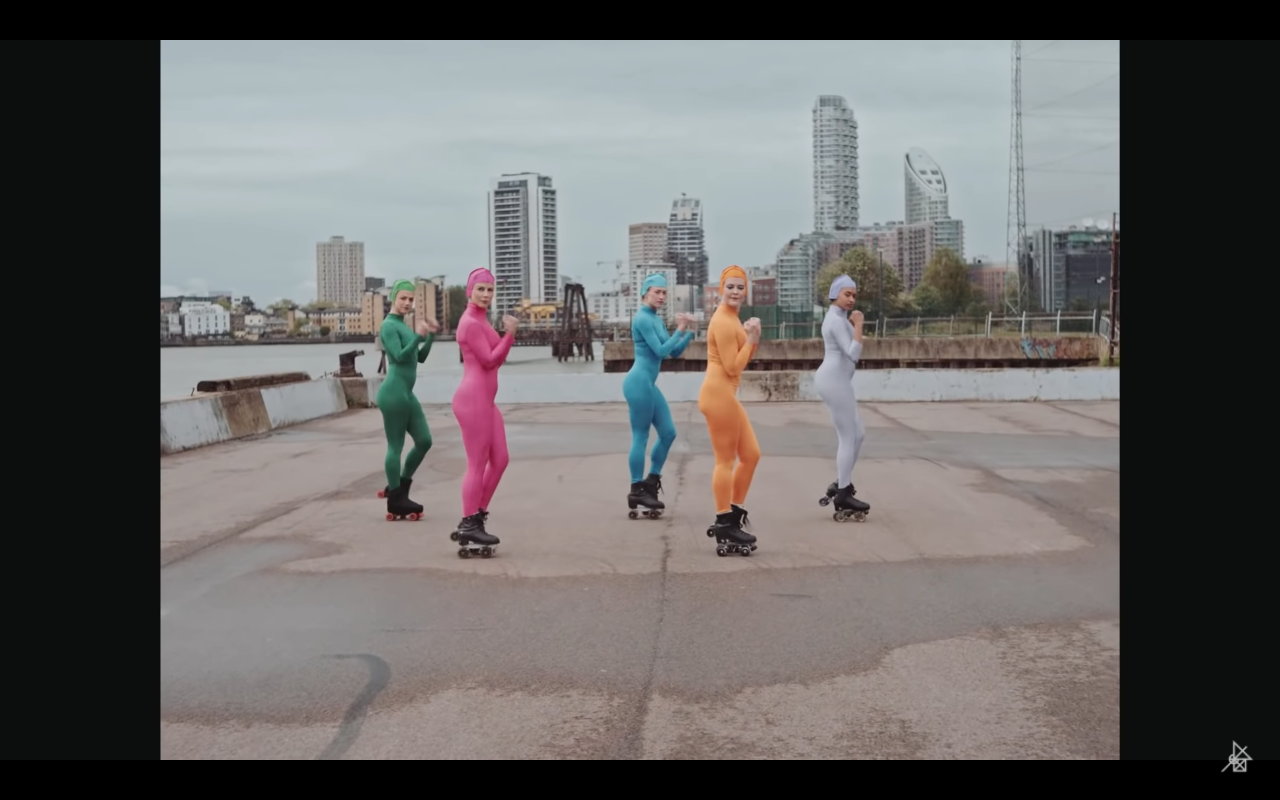 Public Service Broadcasting is a group that's long been hard to sonically summarize. The sounds and arrangement thereof that the London, England band have implemented over their last three full-length records, has never allowed itself to settle into a groove-turned-foregone-conclusion. The subject matter of the band's music on the other hand, is another matter entirely. Similar to its musical pivots, Public Service Broadcasting has made a point to delve into the archives of different parts of history with each release, rendering an accurate prediction of any forthcoming work nearly impossible. After all, when the passionate fire of one's band is drawn from all of recorded human existence and human achievement, that leaves a lot of possibilities for conceptual exploration. The fact that the band turns to and is inspired by the vastness of history is about the largest component of consistency to Public Service Broadcasting's identity.
Public Service Broadcasting is:
J. Willgoose Esquire (Guitar, Synthesizer)
Wrigglesworth (Drums, Percussion)
J. F. Abraham (Multi-instrumentalist)
Mr. B (Visuals)
What though, if the group's latest endeavor gave a glimpse into a record that turned the pursuit of exploring history through music, also on its head? "People, Let's Dance" is the leading single released alongside Public Service Broadcasting's announcement of fourth album Bright Magic (Play It Again Sam, 2021) and, unlike the very event-specific nature of prior albums, both the new single and the album overall are far more broad in their visitations of the past. With the latter intention being less the frontrunner than the idea of building the album around the city of Berlin, Germany, one could even say that Bright Magic is focused more on locality than it is chronological occurrence. Based on what songwriter J. Willgoose Esq. had to say about the humble beginnings of the album's concept, this seems like an accurate observation of Public Service Broadcasting's latest direction.
"I knew the album was going to be about the city [of Berlin], and its history and myths, and I was going to move there," says J. Willgoose Esq. "So it's quite a personal story. It's become an album about moving to Berlin to write an album about people who move to Berlin to write an album…"
Still, even going into the next chapter of Public Service Broadcasting's history-driven catalog with the understanding that the album is more place than period-driven, "People, Let's Dance" quickly assuages any apprehension regarding the uncertainty of what that will mean for the record's music: Its musical foundation immediately takes listeners back several decades. The song's arrangement and tonal core is one that's extremely reminiscent of 70s electropop,  Eurodance, and Eurodisco,  thus, giving the track a strongly vintage vibe even before unwrapping its other creative layers.
The deep and thuddy digital drum beat that starts the opening seconds of the track is followed by a complementary pulsing of bass tones and the voice of guest artist EERA. Her clear cut vocals are dressed in a moderate but hardly audibly dehumanizing (think Daft Punk's feature on "Get Lucky") amount of mechanizing affectation, which is likely generated by vocal layering and tonal manipulation with delay, frequency filtering and a bit of reverb. The splash of digital cymbals and gated snare hits; the cyclical ascending motif played by a soft-toned synthesizer as the chorus kicks in; the, by contrast, descending motif played by a bold and clean-toned guitar…all of these elements together channel the most approachable parts of this older sound style: a strong, low-register, groove; callbacks to bustling night clubs; a vocal part with entrancing melodic minimalism. This makes "People, Let's Dance" a prime selection for the first preview of a record meant to encapsulate the multi-faceted culture and personality of Berlin.
Now turning to contemplate that aspect of this release and the way Berlin comes into focus, both in this song and likely the rest of the record, is through less of a specific moment tied to Berlin and more so exuding an interest in showcasing its unique character – including its history – through an overarching snapshot, almost like a sonic panorama more than a particular historical portrait. The biggest display of this is the lack of specified sampling. While a small musical sampling of Depeche Mode's "People Are People" is present on "People, Let's Dance," unlike much of Public Service Broadcasting's previous repertoire, there is no break or dynamic ebb in the band's instrumental contributions to highlight spoken excerpts sampled from a non-musical source, like a speech or a audio recording of an event, as was the case with the shuttle launch procedure checks heard in "Go!" from The Race for Space (Test Card Recordings, 2013). Nevertheless, with EERA's vocals sung in German, the classic Euro disco aesthetic of the instrumental character, and the lyrics alluding to the energy poured into dancing away a long weekend, an inner imagining of the vibrant, buzzing atmosphere of Berlin's creative scenes and somewhat mysterious, modern nightlife sits quite undeniably at the forefront.
Komm tanzen
und loslassen
Komm tanzen
People, let's dance
(Come, dance / and lose yourself / Come, dance / People, let's dance)
– Lyrics from "People, Let's Dance"
While there are prominent aspects of "People Let's Dance" – its guest vocal feature, its non-English lyrics, its lack od specified historical reference – which make for easy pickings in terms of highlighting what's different for Public Service Broadcasting this time around, the changes aren't so stark that the band has lost what makes its repertoire compositionally unique, conceptually memorable, and intellectually engaging – some of that signature creativity is just being included in more subtle ways. For example, J. Willgoose Esq. did choose to pay homage to a piece of creative work made nearly a century prior: Walter Ruttmann's Berlin tape-artwork Wochenende (Weekend). The work is best described as a collage of music, field recordings, and speech that was meant to become a sonic embodiment of Berlin.  But in the case "People, Let's Dance," J. Willgoose Esq. didn't look to sample Ruttman or pursue a direct re-creation of his recording, so much as  create a similar encapsulation of Berlin's present personality, the way J. Willgoose Esq. would come to experience it firsthand as a temporary resident. This methodology of approach to Ruttman's idea, done with emulation and originality in mind, evokes somewhat of a "4'33" mentality: anyone can perform 4'33 but it's never the same twice, no matter how much one person imitates the instrument choice or performative behavior of another.
Given the important but challenging role of first impression, "People, Let's Dance" is certainly a surprising and intriguing reveal. Thankfully, what works so well in its favor, is that whether considered on its own or in the imminently broader context of Bright Magic and Public Service Broadcasting's longstanding informative ethos, the song provides exactly what it needs to in either situation. As a single piece of music, "People, Le'ts Dance" offers a rhythmically magnetic hook and lyrics that are aurally catchy, conceptually casual, and experientially enticing. It's a gripping party song for the late hours of the night, if there ever was one but it sounds nothing like the typical fare of every other "let's dance" driven pop song on the U.S. Top 40 summer charts. Meanwhile, sitting among the yet-to-be-heard shadows of future songs, Public Service Broadcasting have given just enough of a tease, a taste, of J. Willgoose Esq.'s encapsulation of Berlin that it beckons listeners to return for more, to see where the next twist and turn down Berlin's streets will lead, and what that series of pathways will sound like. It's as much an adventure of a new place as it would be physically visiting Berlin oneself and in that way, "People Let's Dance" is also a perfect musical lede to a longer journey with who-knows-what-fun waiting around the corner.
---
"People Let's Dance" is available now.
Get it from iTunes, stream on Spotify.
Pre-orders for Bright Magic are open through various platforms HERE.
Keep up with Public Service Broadcasting through its official website and these social media outlets:
Facebook
Twitter (@PSB_HQ)
Instagram
YouTube
Spotify
SoundCloud