Sarah Slaton moves to motivate and invigorate with "Get Up"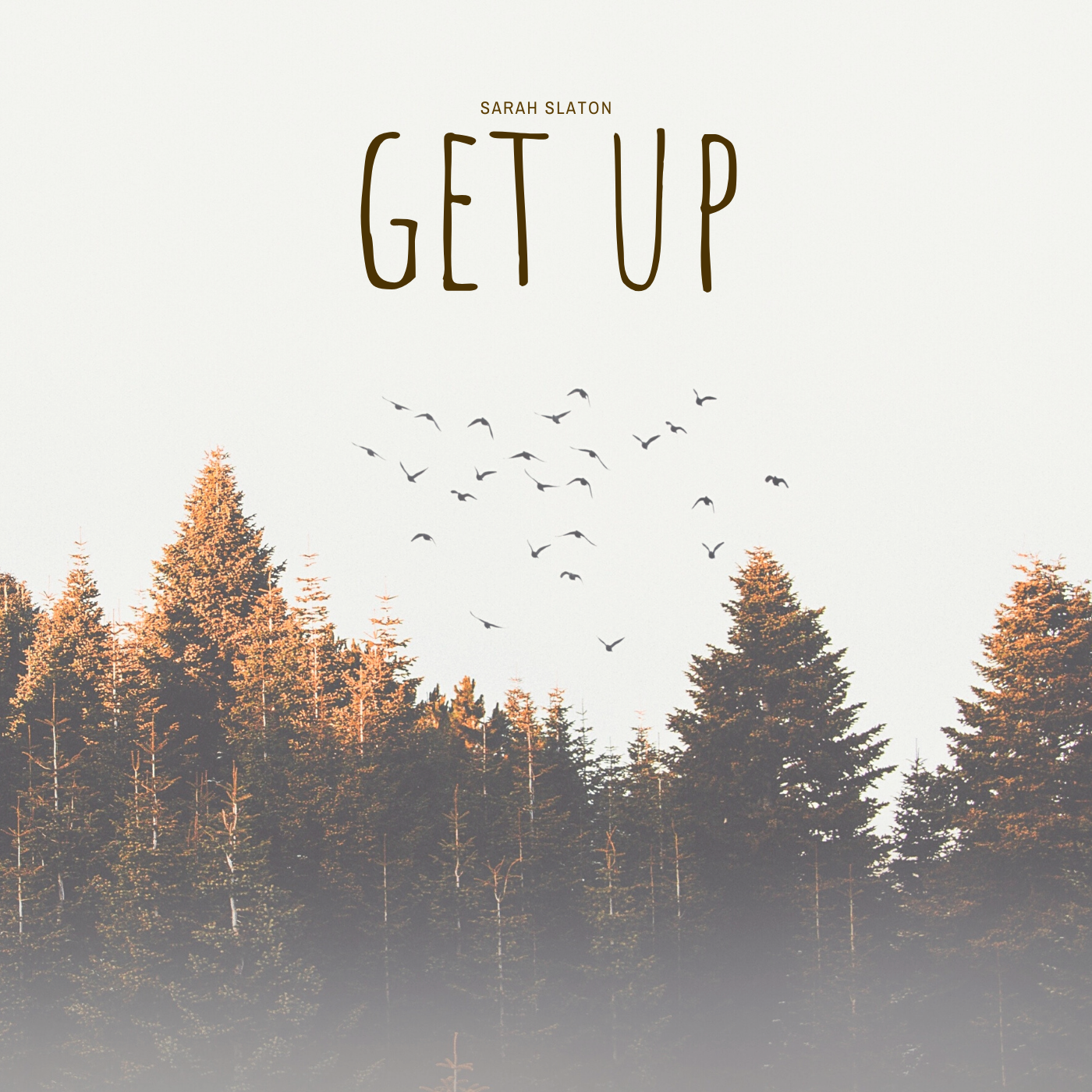 Whether asked as a request or demanded, the phrase "Get up" sounds so direct and unambiguous in what it calls for. Yet, when placed against a variety of different situational backgrounds and expectations, this succinct statement reveals an abundance of emotional depth. The same can be said for Colorado singer-songwriter Sarah Slaton: a musician who pens songs highlighting portions of her real life and the feelings that arise along with them. Slaton's artistic presence appears straightforward enough but, just as the former Edison vocalist points out that her new single, "Get Up," can be interpreted as an energetic well of positivity or, a symbol of forcing oneself to push through the lows of life, Slaton's autobiographical work isn't just meant as a one-way street for telling her story.
Put to a halt along with the rest of the music industry, "Get Up" is just one compact but focused musical representation of a multi-faceted journey that Slaton is undertaking in order to not only release sincerely written music but also, to be a force for fostering creativity, highlighting industry shortcomings, and helping to inspire new art made by others – even if it stems directly from music she's made.
Prior to the official release of "Get Up," Slaton spoke with me over the phone from her home just outside of Denver, Colorado, all about specific stylistic choices she's embraced with this new song, the impact 2020's events have had on her art-making process, how she sees bringing the spirit of local music with her on the road in (hopefully) 2021, and more.
---
Kira Grunenberg: You say that you wrote "Get Up" as a way of persevering through self-doubt that arose with particular severity this year. What are some of the thoughts and feelings that you have had to contend with as a result of facing these ongoing moments of difficulty while still working through the discern your presence as a solo artist?
Sarah Slaton: "You know I think [the challenges of the pandemic and challenges of developing myself as an artist] kind of intersect in different ways. You know I feel like the year started off for me on––I was riding some really high hopes for some opportunities that I had on the horizon, and some festivals and shows that I hadn't announced yet. And then whenever the pandemic hit, I really struggled, like everyone else was just absorbing what was happening, and you know it's it's hard to just take in the amount of loss and the amount of pain and the amount of just devastation that's happened and that itself can just be a lot to handle, I think for everyone.
But whenever it hit and all of my shows were canceled and tour was canceled, and the day job that I had let me go – and so I was unemployed – all these things were kind of compounding on top of each other. And aside from just the general stress of the year, I found myself just hitting a wall with who I was because everything I did around work revolved [around] music and I didn't know what my next move was, or what my next step was and I just felt like I was hitting rock bottom in my own confidence and I never felt that before.
["Get Up,"] just came out of, you know, just sitting there playing my guitar. You know, the song starts with just a very basic kind of acoustic guitar picking and that's how the song started when it was written. I wanted to keep that in there and that's because I just felt, there. I was just sitting there playing those simple notes and just started singing what was on my heart. It's just that I felt like a stranger to myself and I felt like this year was already so much to take. But then, not knowing what my future would look like, or my financial future, [or] my creative future, just everything…It was the first time I felt like I didn't have something that…I felt out of control for the first time. Usually whenever hard things happen, you can always find something to do but, for me, it was the first time I didn't know what to do."
Kira: What is it about the specific direction of deliberate digital alternation like what you're featuring in "Get Up," that makes it feel artistically right for you at this moment and, presumably going forward?
Slaton: When I was in the band Edison, we had [this] song, "Sideways," where I really started exploring this vocal pedal that I have and some of [its] different effects. And I do like my voice being slightly manipulated at times when it can help bring out like, a character in a song. And so for me, the verse and, even part of the chorus, has, you know, this kind of double feeling and I feel like there's a bit of a sadness to the mix of the vocals. And I just wanted [the song] to feel hopeful and I felt like I could best convey that through a bit of…it almost sounds like, I guess you could call it the T. Pain pop effect but, it just had that happy kind of pop joy to the vocal effect and that's why I did it because I wanted it to bring in a feeling of positivity.
Kira: Given that the music of Edison was imbued with, and fueled by, the spirit of life's experiences, how has the logistical process and experience of writing about personal experiences changed for you now as a solo songwriter?
Slaton: Well there's a bit of a difference in the process and a lot of similarities. With Edison, a lot of the times with our songs, I would come to [Dustin Morris and Maxwell Hughes] with a song, close to complete on the acoustic guitar, and then we would develop it from there and it would evolve. And, they were so great at writing these melodic lines that all these new parts would come to life.
The biggest difference now, is I feel like more of that rests on my shoulders [but,] in a good way. I'm pushing myself creatively more [in] the pre production process. You know, I built out on this song for the first time, before I submitted to the producer, I had done like, drums on my MIDI player at home. And I did all the different guitar parts, and just did, you know, some kind of sloppy version of what the song would become.
But in the past, I never really did that. I would get with my bandmates to build it more. [However,] this time my partner Sarah Joelle was working with me from the beginning and doing piano and we had piano and guitar and then I got to put on my producer hat for the first time, and try to do as much pre-production and build parts that I heard in my head so that when the drummer that we brought in, Matt Fink, came in, I already knew what I wanted him to kind of play and when we were doing the bass lines – the producer played the actual bass in the studio – I already kind of had an idea of what I was looking for and so that was really exciting and also a bit challenging at first because it was a [new] experience.
---
Kira: One of the silver linings to 2020 forcing everyone to stay close to home, is that you've gotten to really connect with your local music community. What are some of characteristics of the Denver and Colorado scenes, that are utterly different from the slew of other scenes you've connected with in your past travels? Do you believe you'll need to shuffle around how much of that spirit you inject into your artistry as you eventually transition back to life as a touring artist?
Slaton: [W]hat's so wonderful about Colorado is that it has such a supportive music ecosystem. Like, ["Get Up"] comes out [today,] and [I was] already charting top five on Colorado radio because a lot of stations around here have picked it up and it's on rotation on a couple of the bigger [stations] and, you know, the Colorado musicians and the people in the music community that are creatives, have a very community-minded attitude. It's not competition or competitive first. And so since the pandemic hit, I've really enjoyed reconnecting with Colorado and the Colorado music scene.
When I'm back out on the road and touring, you know, I'll always be performing in Colorado – I think more than Edison even was in the past. And it's a huge, huge source of building my own community since Edison but, whenever I go back out in the world. I think one thing I want to be more mindful of is, nurturing this part of my career as much as I'm nurturing that the national elements and all the other big picture things that are happening because it's really easy when you're out touring all the time, to kind of get this disconnected from your local music scene. I think it's really important to always stay connected and I've been reminded of how special that is since I've been grounded [at home.]
Kira: One of the most prominent qualities heard in your music is a very familiar and amiable demeanor – something that resonates well with the energy of smaller communities where you've thrived. How do you see yourself nurturing this unique energy in more communities like the ones where you're most known?
Slaton: So, my plan is to definitely get back out there and be touring nationally. I've got some conversations going now with a few people that I'd like to be partnering up with when it's safe to go back out again but, you know that's the community that I feel like I have in Colorado. I think my former band did a good job of building in other cities. It's the same approach that I'll be using [in other places] and I think first and foremost I'll be touring again to the cities where I toured the most before with my band Edison, which was all over the country but, there were certain[ly] markets that we developed more.
I'm also hoping, as soon as it's safe to do so, to be back at festivals like SXSW, and Folk Alliance, and doing––I don't know if CMJ / Mondo is coming back but [with] all of those things, I would like to have a presence back at. [Start to] network again with folks in the industry that maybe didn't know my name before, even though they knew my band or whatever. And I'd like to get back out and be touring a good chunk of the year [while] also making sure that I'm spending a good amount of time playing shows in Colorado because they are so good.
[For the moment,] I joined Parlour [Gigs] which is a really cool network online where anyone that gets on Parlour can go to my artist profile and book me for a backyard or house show around the country. We just worked out the ticket price and minimum number of people that have to be there so I will be doing some like backyard shows for sure in 2021.
Kira: Someone new happens to hear your latest single on the radio. If you were in the room with them, face-to-face, through the whole listening experience and then had their attention immediately after "Get Up" ended and they asked, 'Who are you? What do you want your music to do in the world?' what would you tell them?
Slaton: I would tell them that I am just someone who's trying to figure out the world, and I don't always get it right, [but] I hope that my music puts that out there and I hope that my music, for them, or for other people, is something that they can relate to and that can belong to them.
That's all I want, is for my music to not be mine, for it to belong to someone else and for it to feel like it was written for them.
Kira: Did you bake any sourdough bread during the earlier part of the pandemic? I can't help imagine you making your own starter, sharing it with fans once you're back out touring, and calling it "Sarahdough."
Slaton: Oh I like that. We like, cooked a lot of food during the pandemic and we did some baking but, no bread. I could do some Sarahdough bread; that'd be amazing. The "F–k Yeah Sarahdough Bread!"
---
"Get Up" is available now.
Find it on iTunes, Bandcamp, and streaming on Spotify.
Keep up to date with Sarah Slaton through her official website and these social media platforms:
Facebook
Twitter (@iamsarahslaton)
Instagram
YouTube
Bandcamp
Spotify
SoundCloud