Patrick Wolff's Quartet brings "Hi-Fidelity Bebop" without bravado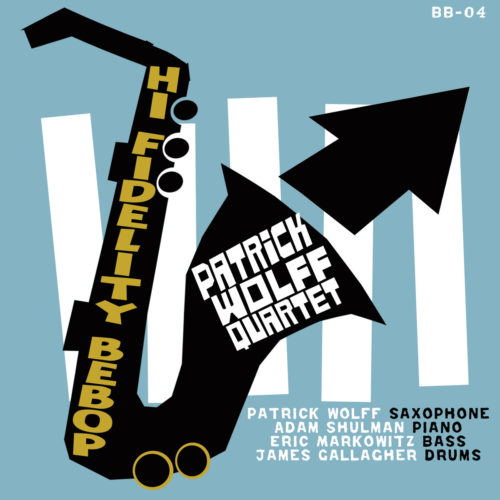 There's a dash of irony in Patrick Wolff's disclosure that his quartet's newest LP, Hi-Fidelity Bebop, was "recorded in a studio, with a really nice piano," which he then immediately clarified with a comforting disclaimer of "no offense to the old workhorse at [Club] Deluxe….". While it's factually true and boldly apparent upon listening, that the seven track effort is well recorded, mixed, and sonically balanced, one could argue the compositions themselves project a kind of "workhorse" quality insofar as their steadfast alignment with bebop and other classic jazz sub-genres are concerned.
Patrick Wolff Quartet is:
Patrick Wolff (Saxophone)
Adam Shulman (Piano)
Eric Markowitz (Bass)
James Gallagher (Drums)
That's not to say Hi-Fidelity Bebop conveys any degree of commonality or average wear on its musical tires like the idea of a workhorse could possibly imply. The execution of all four players is exceptional and flows from beginning to end like a fine tuned machine – each in sync with the others. Furthermore, the collection of tracks solidly ensures the record rotates its illumination of instrumental focus – from Markowitz's tempo-relaxed but adeptly performed bass solo at the back end of "When Sunny Gets Blue," to Gallagher's tone-variant drum solo bringing together "Monk's Shop," or the rhythmically loose but gracefully legato piano interlude by Shulman that fills out the middle of "Sweet Pea."
All the same, the connection to a workhorse feels apt due to how reliably clear and committed to convention, the tracks' personalities are. Though the melodically intricate and hyperactive nature of bebop only comes flying right out of the bell on Wolff's saxophone during the contrastingly titled "Love is Like a Turtle," and the homage-esque opener "Monk's Shop," there's no attempt to overwhelm the listener with super-hybridized modern takes on the bebop, swing or other styles of this album. The latter, which pervades the last pair of songs, is easy to fall back into – like a lightly rocking hammock on a summer afternoon. Yet, each is distinct in its signature melodic and rhythmic themes.
"Black Fire" moves at slightly more sprightly pace, in line with the friendly energy of a city on a Saturday afternoon, as opposed to rush hour on a Wednesday evening. Meanwhile, closing neighbor track, "Self-Portrait of the Bean," feels its swing primarily in the rocking brush strokes against Wolff's longer sax held notes and it's as though the quartet has transitioned from the swing of energized Saturday fun to that of a nonchalant Sunday recovery. With or without a modicum of familiarity or knowledge for what to expect to hear in traditional jazz forms, Patrick Wolff's Quartet delivers enough thematic variety to be delighted and impressed but nothing insanely avant enough to preoccupy listening to the group with questions, which could be considered a good thing or a bad thing, depending on who's asked. This jump-right-in attribute does epitomize dependably enjoyable for all but it can also be said that the band will need to consider reminding the public what Patrick Wolff is fully capable of writing and playing on the next outing to record in a studio with a really nice piano.
---
Hi-Fidelity Bebop is available now.
Find it on Bandcamp.
Streaming available on Spotify.
Learn more about Patrick Wolff through the Stanford Jazz Workshop and hear him live on "Have You Heard," with KSCM-FM 91.1 in San Mateo, CA, on Mondays from 9-10PM PST / 12-1AM EST.