The go! team cut no corners on "Semicircle"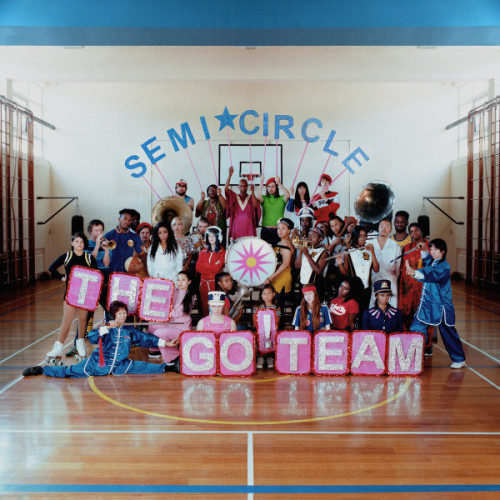 Here's the thing about semicircles: Regardless of which way a person starts looking at one – round or straight side first – the shape initially presented seems like it has a definitive trajectory planned out. Then, completely abruptly the eventual result winds up entirely unlike how it first began. This is just one of numerous ways The go! team's newest full length outing, Semicircle (Memphis Industries, 2018), can be summarized. Yet, any of the many possible summaries given describes a mere fraction of the spirit packed into this 12 track record.
A band that's always required a bit extra processing upon first listen, The go! Team's enthusiasm for a wide range of instrument sounds, rhythms, vocals styles, lyrics, and arrangements makes this group one that's best explained much the same way someone takes in a landscape: as a whole, for the bigger picture that it provides. All the same, Semicircle, which follows 2015's The Scene Between (Memphis Industries, 2015), can easily be isolated from the rest of The go! Team's cumulative history while still offering an avalanche of artistic and cultural substance that make connecting to the band's past a definitively fascinating bonus but not a factor of necessity to cultivate excitement or appreciation of founding member, Ian Parton's, vision. The history and multi-faceted musical endeavors of The go! team is noteworthy tales all their own but Semicircle alone plays out almost like an isolated project with a theme permeating not only its musical direction but the attitude and conceptual cohesion of the record as well.
Speaking strictly from an elemental point of view, Semicircle is a record that pays due and more to the familiar, but rarely universally exposed, marching band. Horns, percussion, and snappy rhythms have always been a part of The go! team's formula but with marching bands in mind, Parton found something with underutilized vitality that not only fits with a part of the band's existing aesthetic and also carves out paths to relatable new factors that take the album from adventurous art to a work exploring cross sections of localized culture, demographically driven insight, and how both these things can shape the delivery of different musical characteristics. Adding the energy and emotional drive of a community based music group, The Detroit Youth Choir, to the marching band focus, is where the album really draws intrigue – and that's before ever getting to the technical decisions applied to each track. A city rich in history that's forever shaped by the legacy of Motown, R&B, and socio-political shifts, highlighting a slice of local Detroit artistry, alongside Parton's aim to separate marching band style from its "patriotic or sporty associations," really speaks to the wealth of sub-cultural avenues available for highlighting.
While many records prompt journalists to make comparisons based largely on similar instrumentation or vocal style, what comes to mind for this iteration of The go! team's creativity are alignments born more from similarities of conceptual reasoning over musical specificity. There's a resonance of similar collaboration and unorthodox trial, much like OKGo ("The Answer's No – Now What's the Question"), finesse with sampling ("All The Way Live") alongside an interest in local identities ("Semicircle") like fellow UK group, Public Service Broadcasting, and an openness to cross-genre and cross-generational performance ("Chain Link Fence") like Ben Folds with string ensemble, yMusic.
This partial coupling of characteristics with tracks that epitomize each of these respective qualities is still only one vantage point of Semicircle's head-turning originality. Moving from bigger generalizations, to smaller careful details like: the wide spaced mix of the marching band fare, the brief but still noticeable nod to John Lennon's "Imagine" on "Chain Link Fence," the occasional warbling of sustained sousaphone notes, the unexpected appearance of prominently heard sitar during an otherwise girl-powered surf rock-esque number in "The Answer's No – Now What's the Question," and so much more. Semicircle's culturally thematic wrapping reveals a box chock full of individual musical fragments liable to generate their own pause-worthy moments denoted simply by the likes of "oh!" of "ooo…"
Now, even though The go! team has been all about collaboration, guest appearances, and otherwise constant re-inventing of artistic ideas during its last few albums, there's an aspect of this motivation that rings out especially fascinating through Semicircle.The band is based in Brighton, England but with this new album, there is a strong focus on a very particular portion of the U.S. and even more so, a focus on the style, sound, and personality of people in that place who are not automatically hoisted up by widely established celebrity. In this way, there was a risk that Parton's curiosity and enthusiasm for the musicality of Detroit – both present and past – would end up seeming disingenuous; like a caricature, or like a gimmick taken in as piecemeal snapshots for some uncommon flair. None of this is the case however and the reason for that is exactly what makes Semicircle so enjoyable. Nothing about this dive into Detroit's relationship with urbanity, music, hip-hop sub-culture, and the blending of generations' perspectives about creativity, feels like a single fleeting part of the record. It's all of the record and, for an act based on the other side of the pond, Parton will be giving his local audience a true and thoughtful glimpse into not just the sounds but the soul of people and of a place very unlike where he's from, which makes for one hell of a listening adventure.
---
Semicircle is available now via Memphis Industries.
Find it through iTunes, Google Play, Amazon, Bandcamp, and Rough Trade.
Follow along with the go! team on the band's official website and these social media platforms:
Facebook
Twitter (@the_go_team)
Instagram
YouTube
Spotify