Count it off: Musicians and making your voice heard on Election Day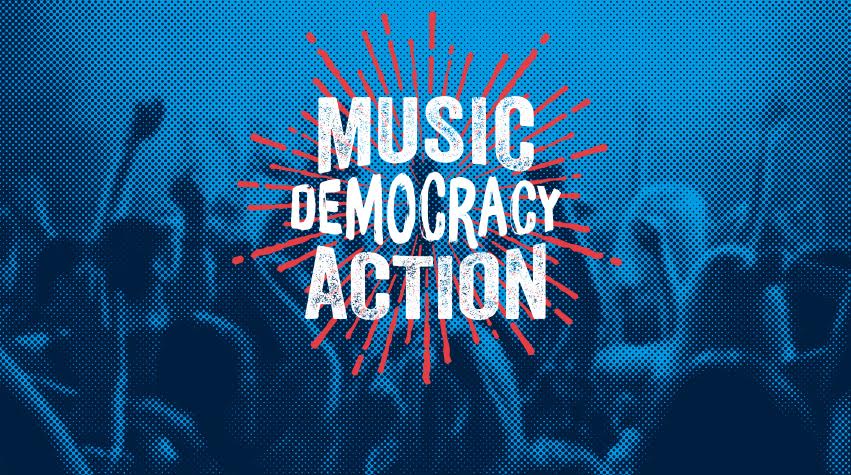 Musicians are really good at counting to four, eight, nine, 16…so on and so forth.
A band steps on stage and the drummer in the back, sticks in hand, counts off the beat, 1…2…3…4!
Every night of the week there are dozens and dozens over shows that take place all around the United States of America. Open mics, major headlining shows by touring bands, label showcases, battles of the bands, or just weekly jams by favorite acts of every local scene around. The U.S. is packed to the brim with music makers. That's one of the things that this nation really has going for it: Lots of sounds, styles, and things to say, that get put to melodies, played night and day.
In addition to the many notes of many artists, the U.S. is packed with just as many opinions on all the topics that issues that we face – as individuals, households, towns, counties, states, regions, and a collective country – and being able to raise our voices, musical or not, to express those feelings, is one of the other priceless things we should never take for granted. Knowing this way of life isn't how things are for everyone everywhere else, when it comes time every four years to decide on the person who will step into the highest political office of the U.S. government, why throw that liberty of expression away?
Now, why talk about musicians and politics? Well, aside from the fact that this combination is actually quite tried and true in the canon of America's history, (here's looking at you protest music era), when one thinks about it, what better ambassador could there be to remind us as citizens, that the ability to vote matters and has important value? The minds behind the non-profit organization, HeadCount.org put this two and two together and with today being Voter Registration Day in the United States, it seems only fitting to highlight what this group is about and more importantly, how they can get anyone eligible, who is reading this and hasn't already, registered to vote!
Founded in 2004, HeadCount.org's mission statement is as follows:
HeadCount is a non-partisan organization that uses the power of music to register voters and promote participation in democracy. We reach young people and music fans where they already are – at concerts and online – to inform and empower.

Our message is not about what party you support or where you land on an issue.

It's that you must speak to be heard

.
That last part of the mission statement is particularly poignant because so many eligible individuals in this country let their votes go un-cast on Election Day and regardless of "what side of the aisle" a person is on, giving one's vote is the part of the process to which everyone can and should commit when the juncture for change comes around. HeadCount works to connect with individuals through the art of music and live performance, to not only register voters but to also create a sustained community that propels things like issue education, active discussion and social consciousness, interest in volunteerism and participation, and of course, an overall drive to creating a positive impact on society.
The musicians who have partnered with HeadCount.org over the years, reflect a big picture similar to that of the reading material here on Throw the Dice and Play Nice: A diverse body brought together under a common denominator. There is no focus on genre, appearance, race, gender, orientation, or level of celebrity status. A plethora of musicians that spans the widely assorted likes of Death Cab for Cutie, The Allman Brothers, Modest Mouse, Jason Isbell, Calexico, Dead & Company, Sara Watkins, The Black Keys, The Seratones, Edison, The War on Drugs, Dreamers, Son Little, and many, many more, are all adding their voices to the anthemic call for people to participate in this country's political process.
Getting down to it, if registering to vote sounds boring, HeadCount.org makes it easy and in turning to them for help in doing it, everyone might just find a new band or two to love in the process.
And who doesn't love the idea of music discovery?
---
Register to vote now with HeadCount.org. HERE.
And if you're reading this on your phone, you can even register through text message!
(Click link for info)
HeadCount.org also has information on absentee ballots and individual state voting information, as well as information on how to volunteer to support the movement.
Connect with HeadCount.org on these social media platforms:
Facebook
Twitter (@HeadCountOrg)
Instagram