Side Saddle's new single will get you in the "Right Frame of Mind" for their next album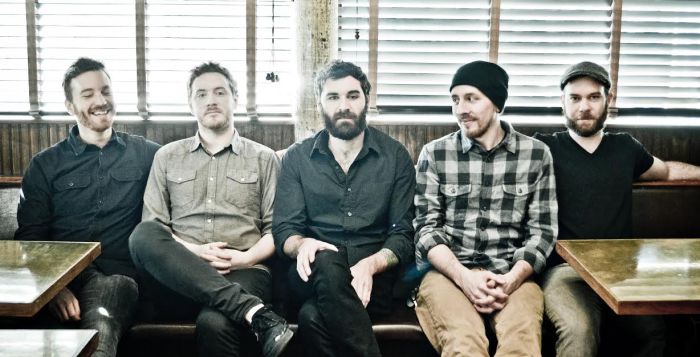 It's said that memory is simply reliving the experience that's being pulled from between the lines of our minds on command. It's also no secret that people tend to remember and recount experiences differently depending on their perceptions of a particular series of events. That's part of what can make a song so appealing. Sure, dozens of people might be able to say, "I've lived through that kind of situation too!" but the magic of music's potential lies in how a songwriter describes a given situation to everyone around them. That's where uniqueness can really shine.
Six piece Astoria, New York band, Side Saddle, have honed in on this factor of distinction with their newest song, "Right Frame of Mind." The lead single to their upcoming album, Stunner, (due out via Cedar Lodge Records on 28 October) Give the song a listen below!
Side Saddle is:

Ian McGuinness
TJ Dumser
Ryan Sniffen
Eric Tait
Brendan Coughlin
Rich Bozek
Droves of people have been there: The long simmering crush, the internal conflict, the volcanic level of anxiety just before letting the proverbial cat out of the bag to another. This is the all-to-common scenario from where lead singer Ian McGuinness found inspiration for "Right Frame of Mind." The overarching setting might feel ubiquitous at the outset but beneath that uppermost layer, Side Saddle has left listeners with the results of subtle, but no less enjoyable, artistic decisions over which to mull and marvel.
Following the release of the Young Professional EP (independent, 2015), "Right Frame of Mind" sees the Queens based sextet continuing to work with a sonic palate that moves farther from the folk-rock lined roots of earlier music like that heard on The Astorian (independent, 2014), Side Saddle's debut full length. Immediately at the start, McGuinness's signature voice and tightly executed, doubled, parallel harmonies – two elements definitively tied to Side Saddle's compositional canon – still ring out like a melodic beacon that raises the ears of anyone who catches them. Mirroring the struggle of McGuinness's narration, the song dives right into the central point of conflict. Aligning well with what existing fans will have come to expect, McGuinness stays true to his unabashedly stated, wholly imaginable descriptions; easy to follow but with all the personality of a one-on-one conversation, where listeners are granted the privilege of hearing exactly what was going on in his mind in that moment, much like any best friend would – not a metaphor in sight.
I told you how I felt,
I felt it needed to be said.
After a year of charged looks and conversations,
I told you how I felt.
You sat me down on your couch…
Where things quickly and assertively diverge, is in the also immediate introduction of a pulsing, dirtied-up electric guitar, followed by a triple pattern of two kicks and a whip-cracked snare, mixed prominently to the front – nearly competing with McGuinness for listener attention. This might be considered a poor decision given the aforementioned importance of McGuinness's singing if not for the larger picture, which is that "Right Frame of Mind" wants listeners to know and understand without a doubt, that it is an indie rock cut.
Lyrically, McGuinness is inviting listeners to hear him divulge about a situation of utterly delicate and suspenseful proportions but melodically, the track comes across unwavering and brazen in its arrangement. While the individual parts and pieces might be shuffled around some between the verses and chorus to affect how it comes through, the underlying pulse and dynamic intensity coasts forward with laser-like consistency. This contrast in presentation is but one of the less obvious ways Side Saddle creates artistic intrigue. The appreciation for covert representation through methods like these helps satisfy Side Saddle's ability to unearth some extra complexity without scaring away average music listeners with a collage of compositional decisions that might otherwise weigh down the band's typically, very approachable, storytelling fare.
That's not to say, of course, that "Right Frame of Mind" is locked on a set-it-and-forget-it setting in the textural department. Reservation and restraint take priority at another parallel juncture, when the lyrics outline the very acme of the song's exposure and uncertainty (You told me you loved me / But I couldn't hear anything / except what was about to come). Swapping out the pulsating electric for McGuinness's trusted acoustic guitar the second time around changes the feeling of the otherwise identical structure entirely and, as the song works back up to the full powered chorus, gradual re-inclusion of a clean toned electric support part demonstrates classic songwriting form – steering things back to their emotionally charged bases.
Remnants of Side Saddle's folkier tools of the trade – hand shakers and tambourine included – peek through alongside their new musical attitude during the roughly half-minute instrumental bridge. If anything, there's perhaps some room for further expansion, as the lead guitar solo singing over the top in the bridge feels a bit like there was some holding back and untapped potential, bearing in mind how well Side Saddle typically utilizes robust melody lines and chord resolutions. Still, it's nice to hear the band's cohesive playing uninterrupted and left to expand, acting like a small appetizer to the more rugged rock that's bound to come with the rest of Stunner.

---
Pre-orders for Stunner will be available starting 12 August 2016.
Keep up with Side Saddle through their official website and these social media outlets:
Facebook
Twitter (@sidesaddlemusic)
Instagram
YouTube
Bandcamp
SoundCloud