Butchers Blind are seeing The University Café through to the end!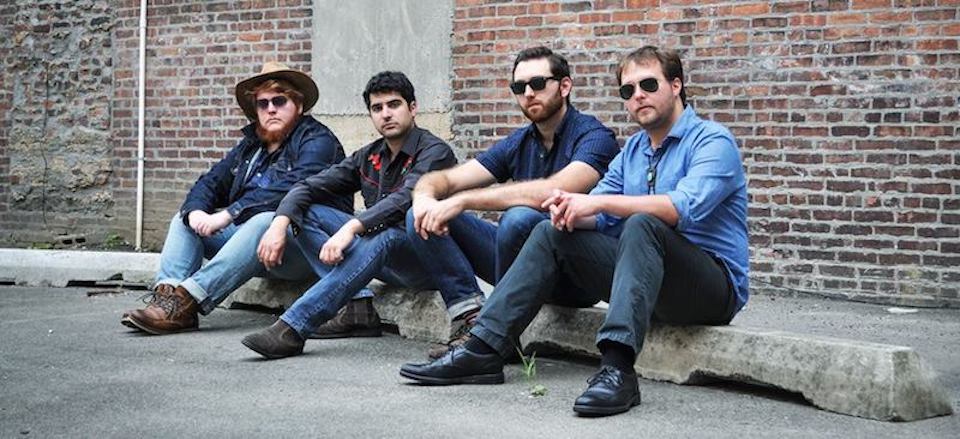 There's something to be said for the way people perceive their treasured, local performance spaces and the people who visit them regularly with the intent to fill nights with music. No matter how small a venue might be or how widely recognized a band might become, if some hometown heroes settle in for a night of performing at a beloved venue, suddenly nothing of size or reputation matters –it's the coming together of elements that make local memories and everyone feeling at home.
Butchers Blind are fast approaching this exact scenario.
Pete Mancini (Guitar, Vocals) Paul Anthony (Drums, Vocals), 
Brian Reilly (Bass) and Christopher Smith (Piano), make up the Bellrose, NY based Americana quartet. A band since 2009, Butchers Blind have carved a steady path of noteworthy benchmarks for themselves over the last six years. Just coming off a showing at this year's Livestock Music Festival at the Barn at Old Bethpage Village Restoration, Butchers Blind are already looking ahead to December where the band will be helping to inject cheer and a spirit of camaraderie into The University Café at Stonybrook University, despite the sad understanding that the college's cherished space will be permanently closing its doors thereafter.
Currently partnered with Electric Giant Productions, Butchers Blind recently released a six track EP (their third project overall) titled, "A Place in America." Following the well received release of two full length albums that managed to earn Butchers Blind attention from the likes of Long Island's own Newsday, to the iconic publication and "roots music authority," No Depression, the group are hopeful this third batch of songs is the charm that will firmly earn them "their place in the proud tradition of American music."
December 12 will mark the final day for the University Café and Butchers Blind, along with two friends and fellow musicians – Chris J. Connolly and Bryan Gallo – will be the evening's entertainment for what's been titled "Last Call" at The University Café. What is normally simply looked upon as another installment of the "Sunday Street Acoustic Series," will serve as both a farewell and a show of support. While the space itself may be closing, the weekly acoustic program, which is produced by Chris Backfish and co-sponsored by Stonybrook University's own station, 90.1 FM WUSB, will eventually carry on in a new location.
WUSB, known on campus and across Long Island for its wide assortment of programming covering news, talk radio and a slew of genre specialized shows, has been a regular part of local life since 1977. The Acoustic Sunday Series is a well-ingrained part of the station's repertoire, offering live shows to residents at the Café for the last 10 years. Speaking about the legacy of The University Café, Pete Mancini had high praise to offer, in tandem with recalled memories of Butchers Blind shows past:
"The University Café is one of the best listening rooms here on Long Island. We have been lucky to play it quite a few times.  We had great shows opening for artists like Iain Matthews and Casey Neill as part of Charlie Backfish's [Acoustic] Sunday Street Series. The tribute shows were always a blast. My favorite memory was the power cutting out during the Zevon show.  It was a great night of loose, unrehearsed rock and roll in an intimate space. It felt more like a party than a concert."
The aforementioned intent of support in this closing performance comes from its doubling as a fundraiser for WUSB. The station may be held in well-appreciated regard among Stonybrook University students and Long Island residents but much the same as many other college radio, WUSB sustains itself solely through donations and outside funding given by those who love what the station's director many DJs bring to the airwaves everyday. In this way, the ultimate energy brought by Butchers Blind for the "Last Call" could serve as a really significant boost for the work and art that continues long after the doors are shut. The Nassau based quartet are acutely aware of the impact of memory and the time that will follow December's show. Together, the four plan to bring a spark of generosity, (in the form of a giveaway –who doesn't love free music?!) spontaneity and more, to ensure the audience of the night continue to think of not just them – but the venue especially – for years to come.
"Being asked to play the last show at [this] legendary venue is a huge honor, and we're happy to have our friends Bryan and Chris on the bill with us.  To mark the occasion, we are giving every guest a copy of our new EP, "A Place in America."  It's our big Oprah moment! We also have a few surprises in the works; we want to send it off with a bang."
Earning long-lasting residence in the memories of Americana fans might be a tall order that indeed takes time and a lot of dedication to receive but, there's no mistake that Butchers Blind have gradually been earning the time and love of many in and around their local scene –if for no other reason than the band's sincere enthusiasm for, and commitment to, a style of songwriting not pursued with as widespread a fervor by their musical peers.
---
Tickets for the final week of Acoustic Sunday Sessions at The University Cafe are available now. Full show information is below!
"Last Call" at The University Café
Saturday, December 12, 2015
Doors: 7:30PM
$10.00 (Advanced Sale)
$15.00 (cash only) at the door if available
*21+ to purchase tickets: HERE
Podcasts of past Sunday Street Acoustic shows can be heard HERE.
"A Place in America" is available now through iTunes and Amazon via Electric Giant Productions, as well as streaming through Spotify but those who come to "Last Call" can get it for free!
Keep Butchers Blind in the line of sight through their official website and these social media outlets:
Facebook
Twitter (@ButchersBlind)
YouTube