A few words with the "Young Professional" behind Side Saddle!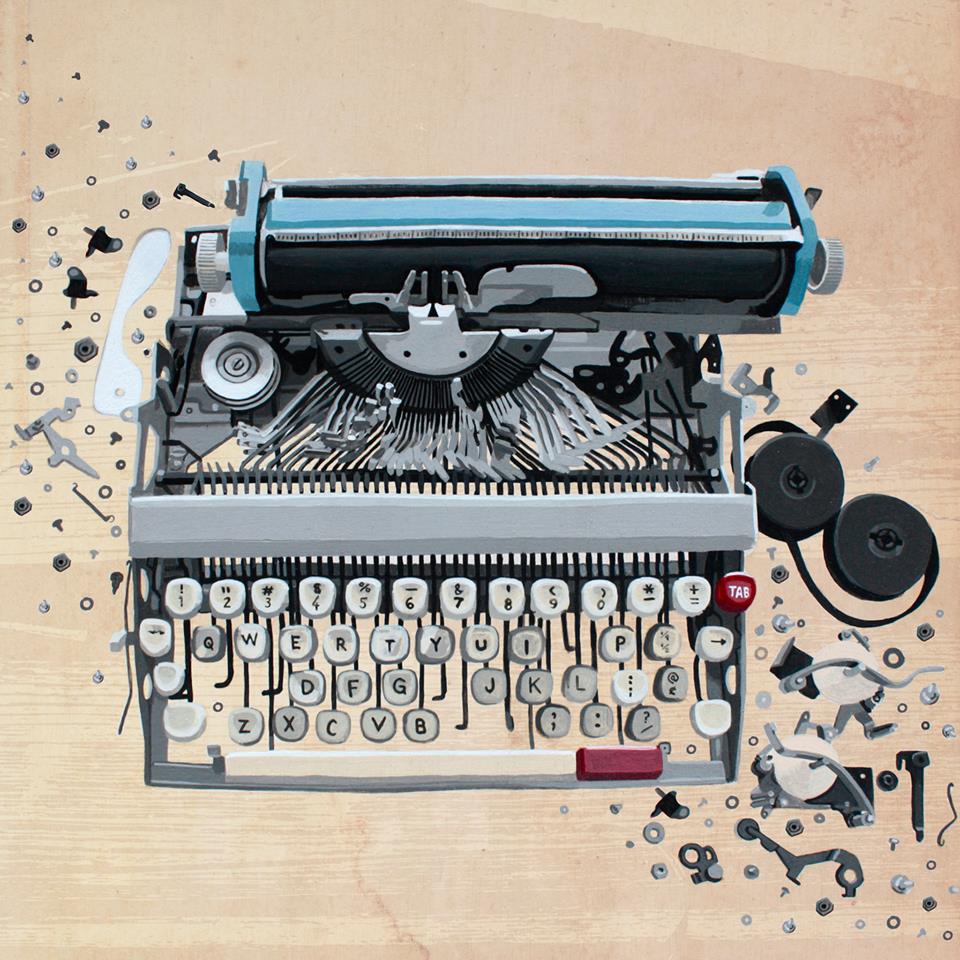 It's a less than common thing, to come across a band that, even if one has not been a "lifer" fan from the very beginning, so easily projects the musical metamorphosis of itself over time –all without trying too hard or even necessarily doing it on purpose.
Side Saddle, a project that started out as a second, solo project for musician Ian McGuinness in back in 2013, practically has a perfectly marketable narrative already at the band's fingertips; just from that one introduction alone. Limiting associations of Side Saddle to that of a "following act" would be doing it a massive disservice, however.
The story of this folk-pop band from Astoria, Queens might have started from a typical point of expansion in many musicians' careers (In McGuinness's case, a feeling of desire to give previously unused songs he had written while in another group, which were notably different in style, a place to call "home.") but Side Saddle has evolved and settled very well into its own identity. While not forgetting the previous portions of his musical journey, McGuinness has nurtured the now six-person group, into a self-sustained and well respected band, wherein he simultaneously recognizes the past while not being afraid to steadily keep growing beyond it.
Side Saddle is:
Ian McGuinness
TJ Dumser
Ryan Sniffen
Brendan Coughlan
Eric Tait Jr.
Miles Nasta
Side Saddle just released their second EP titled, "Young Professional" on 20 July, which is the band's third overall release. It follows their debut full length album, "The Astorian," which was released just last September. Succeeding an album that was very folk-reverent in its instrumentation and the delivery of McGuinness's signature, enunciating vocal, the music of "Young Professional" very consciously ventures beyond the founding aesthetics implied by either half of their hyphenated genre label. It does so, however, with a prudent mindset –not a compulsion to be abruptly trendy or different. This small but vital distinction shows Side Saddle exudes an awareness between what it means for change to be deliberate but moderate and what it means for it to be forced and a mess.
Check out the official music video for leading single, "The Romance in Disappearing," below!
Founder of Side Saddle and lead singer, Ian McGuinness, and I spoke about the making and release of "Young Professional," how things have grown and the horizons have widened for Side Saddle – both musically and literally – as well as where the potential for metaphors exist on this project for both the band and its listeners alike.
---

Kira: Let's say you are speaking specifically, to those music lovers who are always on the lookout for a new sound to discover and crank up really loudly. What would be your "elevator pitch" description of Side Saddle as a band and the music you make?
Ian: I'd tell them we're a spritely flower rock band from a magical place called Astoria and we take all your bad feelings and turn them into good feelings.
Kira: Side Saddle has certainly been hustling to keep its rotation of songs continually fresh! After all, the time between the band's debut EP ("The Postcard"), the full length album that followed ("The Astorian") and now the release of your new EP, "Young Professional," will only cover a total period just shy of 16 months since last spring! You have said in other interviews that much of the initial kickoff the Side Saddle's material was a result of you having a number of folkier songs during work with a prior band, of which you chose not to let go. Would you say that the upcoming "Young Professional" is still drawing at all on the well of that inspiration or, have you moved fully into a brand new chapter of songwriting? If the latter, what life experiences – relevant to Side Saddle or not – brought you to this new place?
Ian: I wouldn't say the song-writing process has changed so much but the recording process certainly has. With each record you learn and you grow. The band I was in prior to Side Saddle was a huge learning experience. I learned how I like to operate and what I need to thrive creatively. The core of everything is still folk, it still starts with me and acoustic guitar…what we choose to do with after that is typically reliant on the song the mood we're in.
Kira: Speaking of new places, it would probably be safe to say Side Saddle has become popular neighborhood name; appealing to a sizable local audience and fan base in Queens, NY. This is further cemented by the fact that your debut album, "The Astorian," was clearly an homage to the area where you (and almost all the rest of Side Saddle) live. Since releasing that record, the band has played plenty of shows, gained recognition from outlets around the ever-musically idolized NYC area and even landed the opportunity to perform in Iceland.

In light of this new peek beyond the NYC horizon, in addition to the fact that you are celebrating the launch of "Young Professional" at a brewery popular in Astoria (which has also named a tap beer after one of your EP's songs), what's your and or the group's mindset, as far as moving forward and growing, considering Side Saddle's established devotion to a niche demographic and its accompanying localized sub-culture?
Ian: Astoria has been an amazing place for us plant our roots. As we grow and develop as a band, we're confident our friends and fans will stick with us. After the release show, we have a bunch of stripped down sets we'll be playing at some amazing local bars and we'll debut new tunes, which are always fun for both us and the audience. I think it's super important to play in Astoria as often as we can and keep building what we've started.
Kira: The lead single from "Young Professional," titled, "The Romance in Disappearing," appears to run with this idea of wanting to pack up and move on but struggling to follow through. Is this a theme that listeners are liable to sense through the rest of the EP's songs?
Ian: "The Romance in Disappearing" definitely illustrates the struggle of wanting to move on but feeling stuck, whereas "Legs for Days" is sort of the execution of that idea… so the theme is definitely there. And there are also other dynamics explored within the frame of struggling to act like in "Should've Gotten Done". I think that ongoing theme enables people to celebrate with "Til The End" because the songs leading up to it are about the painful, drawn out moments of uncertainty and then "Til The End" is a celebration of action, after having learned action is seemingly easier than it seems ie… "I'm not good at hello's but it came out so easy when I saw your face."
Kira: The title of the new EP, "Young Professional," feels like it could be one of straightforward, personal life stage description for Side Saddle as a group of musicians or, a general reference to the overarching pocket of the current 20-something generation. Is it meant to represent either of those meanings or is there a deeper third, more metaphoric, explanation?
Ian: The album title comes from my idea of a progressive tier system for each record we've done. "The Postcard – EP" kinda feels like high-school. "The Astorian" was like college, we started experimenting, and figuring out what we liked and didn't like. Then "Young Professional" is a young adult out in the world with a well formed sense of self and the skill-set to execute with passion.

Kira: It's not uncommon to hear the narrative of Side Saddle's music often go from unfolding (musically speaking) very uniformly, to playing around with longer and shorter lyrical phrases, start and stop syncopation that reduces verse predictability and pulls listeners' focus away from a classic ABAB rhyme scheme –even when one is written. This gives the music a much more free form feeling and makes telling the story at hand, feel like much more of your priority. Would you say the narrative – and not necessarily how that narrative is structured – is the core of the approach to how you compose? Has your approach changed significantly over the last year?
Ian: I'd say the story definitely takes priority however I do love a good rhyme. On this record, I was a little harder on myself lyrically so if I didn't think something worked, I spent more time on it. I don't think the approach has changed, I've just let myself explore different options when telling a story.

Kira: What does the style of "folk" mean to you as a musician? What about it has spoken to you and the rest of Side Saddle that made you decide to bring this band together and kept it going so strongly during your relatively short time of active existence?
Ian:  To me, folk means relate-ability, sincerity and simplicity (with substance). Most folk singers are storytellers and most everybody goes through the same shit at some points in their lives so in a way they feel like musical companions for life. I've found that a great folk record will surface the feelings I didn't realize I had.
Kira: What's the most prominent memory that sticks out in your mind from the entirety of this EP's creation process? Why makes it such a salient point?
Ian: My absolute favorite moment was one that TJ and I shared during the last recording session of "Legs for Days". I was trying to figure out how to put a powerful vocal period on the end of the song and was struggling. I had some ideas about a building harmony but nothing solid. I just asked TJ to hit record and started singing. I came up with two parts and TJ sang me another two parts to create a 4 part harmony that pedals and cascades adding a powerful harmonic climax to the song. It was a powerful moment for us because it was both spontaneous and a collaboration… and we were both really proud of what we had created. It might be my favorite moment on the record.
Kira: Are you planning to take a brief breather now that "Young Professional" is completed or does Side Saddle have more pavement it plans to pound right away?
Ian: "Young Professional" was one of two EP's we planned on releasing before this year is over. Hopefully we can achieve that goal. Tracking is done for the next record…it just needs to be mixed and mastered. After that, we may take a short breather 🙂

Kira: Wrapping things up on a bit of an imaginative note, what would be the very next venue you would want Side Saddle to play?
Ian: I'd like to hit Mercury Lounge next. I like that spot.
---

"Young Professional" is available now on iTunes, Amazon and Bandcamp.
Orders through Bandcamp receive a free "Making Of" podcast recorded by McGuinness, Dumser and Sniffen at Headroom Digital Audio in NYC, which outlines the band's recording process for each track on the EP.
Hear the new songs live this coming Friday in Side Saddle's home stomping grounds of Astoria, at a local brewery! There will even be a special beer on tap called "Legs for Days IPA," named for the song off the EP and it's for one day only so the party is the only chance to try it out!
Details on the show are below:
"Young Professional"
EP Release Party!
Friday, 24 July 2015
Doors: 7:00PM
---
Stay on track with Side Saddle going forward through their official website and these social media platforms:
Facebook
Twitter (@sidesaddlemusic)
Instagram
YouTube
SoundCloud