Nothing But the Silence: A sophisticated debut from Striking Matches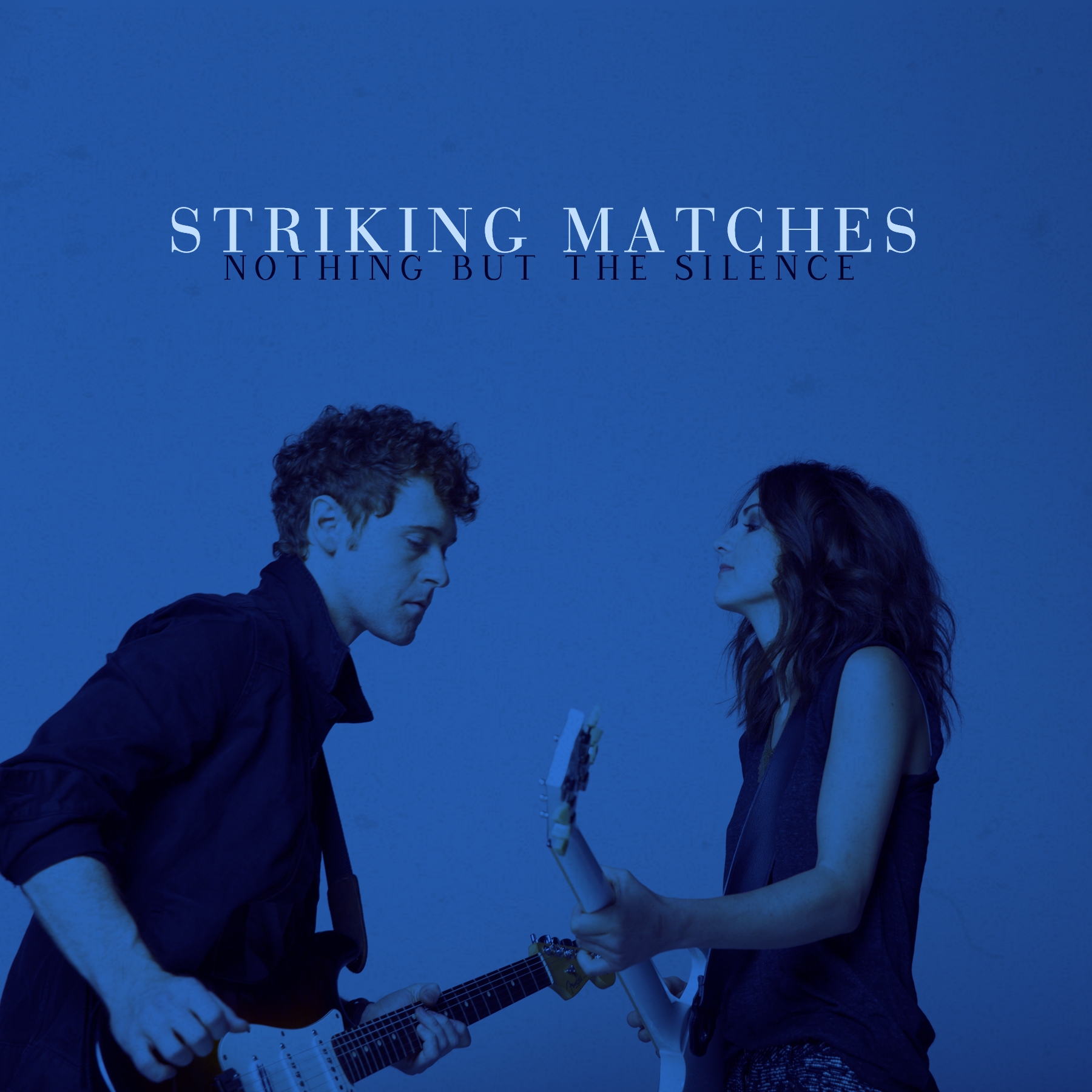 When a band hits the point of releasing their ever important debut album, that's when listeners – new and pre-debut fans both –  get a fuller sense of how a band is looking to convey themselves going forward. That's when a tone is set into a band's story; propelling them from that point on (or at least until the next record) down their chosen sonic path. What is there to be said though, when a band's first record already imparts the feeling of a "seasoned second release?"
"Nothing But the Silence," the full length debut from Nashville duo, Striking Matches, is a record that establishes a definitive first impression while simultaneously presenting an aura of matured refinement. This is not entirely surprising, given the work Justin Davis (guitar, vocals) and Sarah Zimmermann (guitar, mandolin, vocals) have already put forth via an earlier, self-titled EP release (2012) and a growing list of songs handpicked for use in the ABC show, "Nashville." In this regard, Davis and Zimmermann have certainly spent plenty of time under the spotlight now leading up to their debut release. Nonetheless, while "Silence" represents the next chapter for Striking Matches, it manages to stand apart from its extended play predecessor with plenty of an identity of its own.
An 11-track offering produced by the notable T. Bone Burnett, (Producer of many credits, including the likes of B.B. King, Alison Krauss / Robert Plant and for films like "Walk the Line.") "Silence" hits nerves all along the emotional spectrum and channels a mixture of arrangements and tempos that showcase Striking Matches as far more than an act comprised of a singular country classification; playing through much more like a well-coordinated art exhibition with varying perspectives, tastefully tied together by the everlasting theme of love.
"Nothing But the Silence"
Track Listing
1. Trouble Is As Trouble Does
2. Make A Liar Out Of Me
3. Nothing But The Silence
4. Hanging On A Lie
5. Never Gonna Love Again
6. When The Right One Comes Along
7. What A Broken Heart Feels Like
8. Miss Me More
9. Like Lovers
10. Missing You Tonight
11. God And You
Taking in this album from the most macro of levels, there are two fundamental sides to each love story-turned-song: getting together or breaking up. Leaving things at that would do the music a massive disservice, however, as what makes "Silence" so satisfying is how Davis and Zimmermann have managed to work with a very limited number of narrative outcomes and still provide enough nuance to change an essentially two-choice road, into one with much more middle ground.
---
Each of the two outcomes is paired with a more complicated line of thinking. Everything from a mutually understood, but nonetheless painful, end to a relationship ("Like Lovers"), to a comfortably confident kiss-off ("Miss Me More") and, of course, the requisite country cheater cut ("Hanging on a Lie"), allow "Silence" to resonate with listeners, regardless of their experience with love. The lyrical fabrics of each song, whether happy or sad, are then gracefully enhanced with an even further diverse score of melodies and instrumental combinations, on top of which the words to each song coast.
Zimmerman and Davis have thrown in a good dash of blues and rock style sensibilities on many of the tracks (e.g. John Mayer circa 2006's "Continuum" immediately comes to mind at the instrumental start of "Make a Liar Out of Me.") and the extra charge provided by a moderate amount of amplification and effects for many of the duo's instrumental parts (The bite of Zimmermann's ever-so-slightly overdriven mandolin is way too fun to ignore.) definitely give "Silence" a boost in the sonic substance department. A consistent presence of reverb, tightly mixed drums and a noticeable shift in mix dynamics within individual songs, (much less common in present day recording) add to this sense of transformed complexity. Previous fans need not be alarmed by what might now sound like a shedding of artist authenticity though, especially if one takes into account that many of Davis and Zimmermann's early musical founding inspirations mix together genre influencers and mold breakers like Otis Redding, Ray Charles, Cream, Patsy Cline and Nickel Creek.
Looking from 2012 to now, think of it as though the pair have gotten dressed up for a nice evening at the Grand Ole Opry, rather than staying in and casually rehearsing at the home studio. Davis and Zimmermann's musical chops and artistic vision remain intact. The shift in sound and choices for production, guided by Burnett, are simply framing the core of Striking Matches' music in a more colorfully assembled context. This non-invasive stance becomes even more apparent, given that "Silence" was put together via a series of sessions recorded live at Nashville's House Of Blues Studios. Aspects of the live work are well highlighted amidst the mixing luster; especially through things like the slight stress retained in Davis and Zimmermann's vocals when they are harmonizing together, reaching for that extra powerful delivery. Much like an actor or actress running through a climactic scene, there are moments where it almost seems like things are on the brink of coming loose but then settle back down in the most emotionally endearing way.
---
The duo's new approach to their reputable musical dueling and performance chemistry are a joy to listen to for established fans, as even songs heard previously will feel new and ready to be discovered all over again. First time fans will similarly get to enjoy, even without prior context, the magic of things like Davis's precise finger-style playing and Zimmermann's innate sense for the perfect amount of slide in her singing that gives the music a palpable attitude. Past any kind of conventional labeling or back story-induced expectations, with "Silence," these two are being wholly themselves. The cornerstone messages and feelings that make up this record are, at the end of the day, not something that will be lost, regardless of what instruments the pair have in tow or what pedals they might plug in to play. After all, whether you take a picture with a disposable camera or a professional rig, the subject of what's been captured on film doesn't suddenly change into something else.
---
"Nothing But the Silence" comes out 23 March 2015 via I.R.S. Nashville Records. (The duo are so excited they bumped up the release for a day earlier!)
Pre-order is available now through iTunes, Google Play and Amazon.
While waiting in anxious anticipation for the full record, if you haven't seen it yet (or even if you have), check out the hot-off-the-presses music video for the single, "Hanging on a Lie," that just premiered at 6AM EST this morning –the duo's first ever video to be run on CMT!
Keep up with Striking Matches through their
official website
and these social media outlets:
Facebook
Twitter (@strikingmatches)
Instagram
Tumblr
YouTube
Spotify