City Mouth motion for a new spin on "Sanity for Summer" with spunky guest remix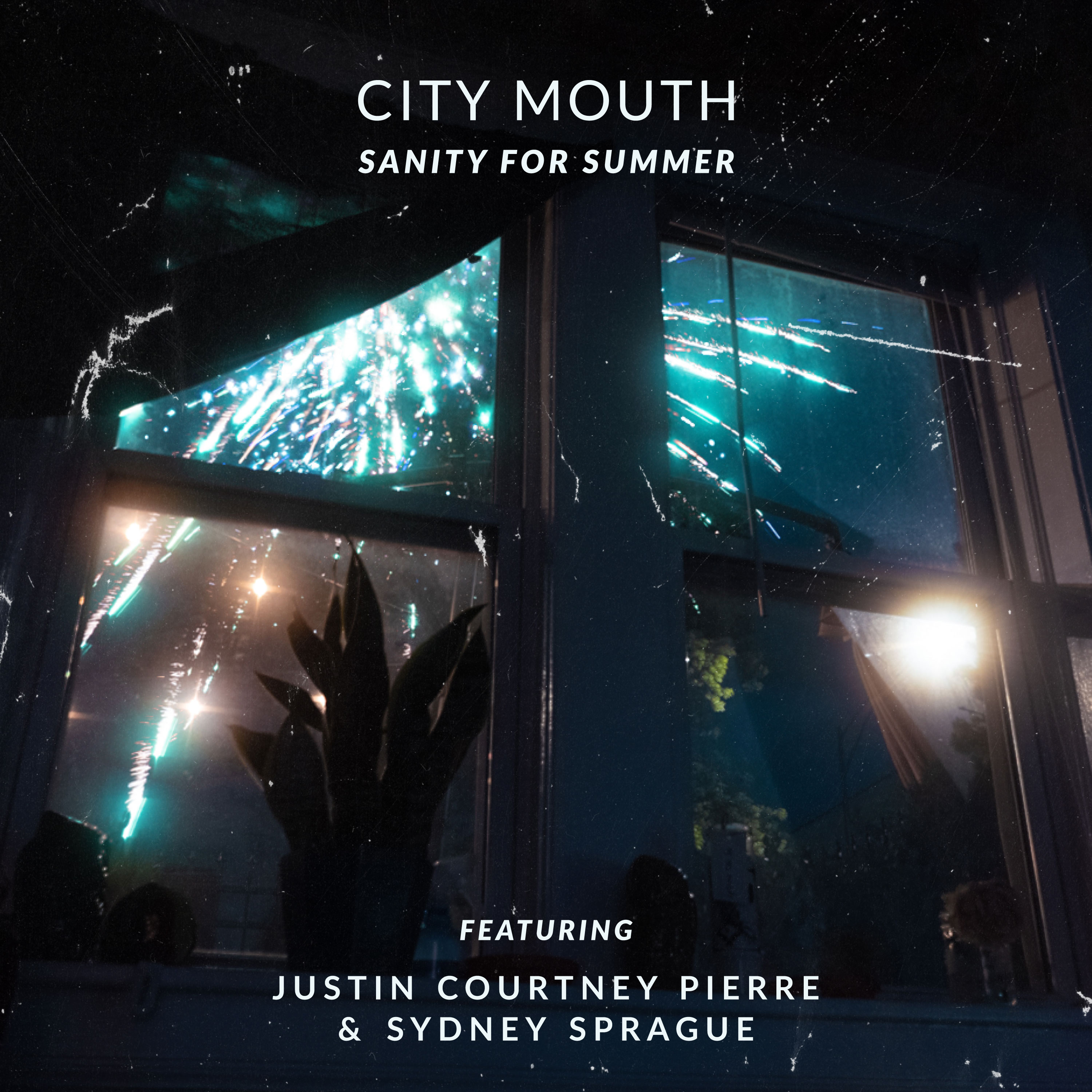 The speed with which the music industry and all the creativity in it moves, can leave fans in a dizzying haze. Going from one amazing hook to another without much time in between to really process and sit with the songs and messages that pass by is like a double-edged sword. On the one hand, a constant flurry of new ideas and new spins on familiar life experiences means one can never never run out of things to explore and (presumably) never become bored. Yet, the downside to this is a constant pressure to move on from something –– particularly because of the urge to keep up with the majority and be able to fully participate around the global water cooler of pop culture conversation. This trend has been a driving force of the music landscape for quite some time and as an artist, it can be difficult to resist the nudge to quickly abandon a successful project and get right to starting another for the sake of a current of manufactured relevancy.
Chicago, IL indie power-pop band City Mouth has decided to go against the grain in this regard, with the release of a new take on the group's 2019 single "Sanity for Summer," now almost three years later to the date.
City Mouth is:
Matt Pow (Vocals)
Ryan Kress (Guitar)
Evan Opitz (Bass)
Jessica Burdeaux (Drums)
The release of "Sanity for Summer" back on June 21, 2019 was a not-so-coincidental move on the band's part, to mark the start of the summer season with a melodically bright, rhythmically lively, and visually mesmerizing bit of storytelling.  Everything about the song exudes an air of fun, save for vocalist and songwriter Matt Pow's underlying narrative about quiet remorse over a failed relationship. Pointing out the story within the song as a secondary aspect seems a bit backward but that underlines just how much City Mouth crafts its music to surround somber emotions with a thoroughly appealing artistic aesthetic. Now with this guest artist remix, City Mouth has brought in the voices of Motion City Soundtrack vocalist and songwriter, Justin Courtney Pierre and Phoenix, AZ indie pop punk rock singer-songwriter Sydney Sprague.
The opening section of the new recording might not seem all that different from the outset –– Matt Pow starts the song and general hook from the band, though still as catchy as ever, retains its original instrumental arrangement. The music is ripe with punchy drums, a very prominent but active bass line, and sonically colorful bell tones leading into the song's bouncy, syncopated chorus. Where the music takes on its new twist, is in the second verse –– complete with not just Pierre's vocals but a verse of new lyrics as well. Kudos the City Mouth and Pierre for finding a way to include the word "idiosyncratic" in a verse whose rhythm remained virtually unchanged. The verse ties in nicely with the theme of a broken relationship and introduces some interesting new imagery to the story, as well as a clever bit of conceptual phrasing and even a witty Pet Shop Boys reference. These changes are small but act like appreciable sprinkles on top of an already enjoyable musical sundae.
Felt like a cold, hard, idiosyncratic Sunday
on a dusty floor of concrete
All those cobwebs in your hair
I couldn't breathe –– hell
no one stutters like the speechless
just an east end boy and west end girl
lie injured and unwound
– Lyrics from "Sanity for Summer (Remix)"
The shift in vocal style from Pow's smoothly rounded, full bodied and direct tone, to Pierre's thinner, slightly more piercing voice –– particularly in melodically ascending pre-chorus –– is immediately apparent. This isn't a bad thing though. The two singers share enough overlapping vocal characteristics, that "Sanity for Summer" upholds its feeling as a piece of music written for the pop-punk / power-pop vein. In other words, the two complement each other seamlessly and so the song gains an fresh infusion of something new, without taking on a drastically disparate new style. That said, the band's mix seems to have undergone a touch of creative adjustment, (it wouldn't be a remix without that, right?) and one place where said tweaks are most noticeable, is in the presence of Jessica Burdeaux's drums.
Already a heavy-hitting style of player, Burdeaux's part in the song has an unwavering boldness that keeps the listeners keyed into the music's momentum with effortless authority. Between the dynamic emphasis and the explosive and full tones across her kit, it's nearly impossible not to mentally keep moving forward with Burdeaux's beat keeping. Yet jump from one version to another and it's fairly easy to pick up on an even deeper pronouncement of both the kit's heartbeat, the snare, as well as its backbone, the kick. This rings especially true during the first halves of both Pierre's and Sprague's guest verses and with both artists bringing in voices lighter and-or more delicate in tone than Pow's the depth of contrast against drums turned up in the mix, sounds all the more grand in scale.
For her contribution to the song, Sydney Sprague's presence in the song's bridge brings an inherently different voice to the mix. Her gentler and dynamically softer tone of voice runs opposite of both Pow and Pierre's bold and crisp singing. Furthermore, the melodically descending, lyrically despondent section of the song is written to have the much of the band's power instrumentation drop out, thus leaving more room for Sprague's voice to be heard and not have to fight for space. Logistically this makes all the sense in the world, given how densely packed the full band can be and that Sprague's voice would likely get drowned out if swapped to sing the chorus or even the ascending pre-chorus instead. Slotted in where she is, the slight bit of reverb on the ends of notes, drums hits, and even the echoed phrase of "I can't relate," now sung by Pierre, meshes well with Sprague's lighter demeanor. All the sonic and stylistic components in the bridge work together to further emphasize the level of uncertainty, driven by question-oriented lyrics that surfaces at the point in the song and by this point, listeners have gotten to hear the song from several points of view while never falling out of the music's catchy gravity.
In addition to adjusting what was already present, there's also the matter of the music incorporating some digital drums as well, with nimble beats not all that different from the rapid splash of tiny beats heard on "For a Second,"  a later single released in the lead up to the launch of City Mouth's debut album, Coping Machine, (Take This to Heart Records, 2020). While those two tracks share space on the same album, in the run up to the record's release, listeners got to see the band's willingness to start blending of more guitar driven pop punk, with a bigger reliance on synthesizers and electronic elements, when compared with the music of their more recent previous EP, Hollows.
In this way, hearing a touch of that stylistic pivot in a previous piece of work that didn't before use it, almost makes the song resonate a bit with the "Taylor's Version" approach to re-releasing that all of Taylor Swift's earlier discography is currently undergoing (sans the legal woes, of course). "Sanity for Summer" is older and familiar but this new version gives listeners a glimpse at what it sounds like from the point of view of the band as its creativity continued to change after the original track was released. It's the best of both worlds, older and newer, and as a complete piece of work, this version of "Sanity for Summer" is an incredibly satisfying way to sit for just a bit longer on something already great, while still instilling a genuine sense of originality and positive anticipation in the music and the listener. Perhaps this multifaceted take on the concept of a remix is an approach more artists should consider. Not a full uprooting of a perfectly good song to become unrecognizable but not a one-dimensional shift, simply to a faster-paced dance mix either.
---
"Sanity for Summer (Remix)" is out now via Take This to Heart Records.
Get a copy through Bandcamp, iTunes, or stream on Spotify.
Stay up to date with City Mouth's work through their official website and these social media platforms:
Facebook
Twitter (@CityMouth)
Instagram
YouTube
Bandcamp
Spotify