Go on a sweet and bitter descent with Another One Down!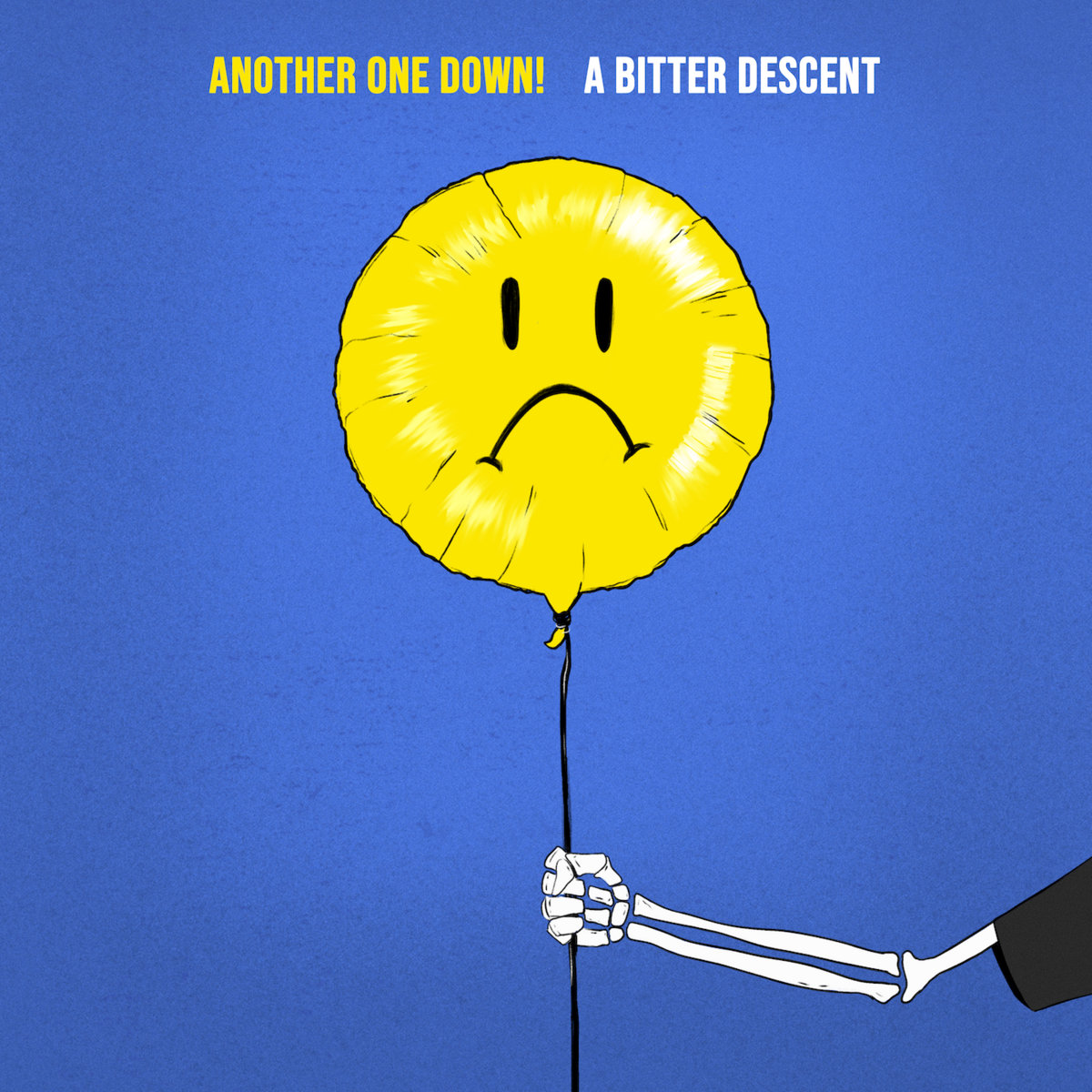 While the fanfare of live pop punk staples like Warped Tour and Riot Fest have perhaps ebbed somewhat from the heights of public mainstream popularity that they relished in the mid-90s to mid-2000s, songwriters and bands of the genre have continued to proliferate and strive for broad listener appreciation. Providence, RI foursome, Another One Down!, is one such present day pursuer of pop punk art. The band's newest full-length, A Bitter Descent (independent, 2021), takes listeners down a stretch of pop punk memory lane. However, don't assume that means there's nothing creatively new or emotionally inspiring waiting within the records 12 tracks.
Another One Down! is:
Marcus Simonini (Vocals, Guitar)
Brandon Teh (Guitar)
Cyrus Pruenca (Bass, Backing Vocals)
Ryan Beck (Drums)
Though A Bitter Descent embraces a heavily self-depreciating and occasionally self-destructive mindset through its lyrics and narrative settings, the album's often clean toned guitar parts and major key structured melodic hooks help to soften the mental impact the songs' messages – either implied or direct – deliver. It's these central qualities that give Another One Down! the pop side of its pop-punk style – that and the the clear, balanced, and non-nasal driven vocals of lead singer Marcus Simonini. Unlike some pop-punk band that thrived in the late 90s and early 2000s, like Simple Plan or Saves the Day, the "emo" dimension of this album's stories isn't bolstered by a performance from Simonini that's deliberately made to sound whiny or petulant in an immature or entitled fashion. While this single decision around the album's execution might not seem like a monumentally affective choice around artistic style, it's enough of a distinction to make sections in a song like "Sulk" go from sounding like a detached, possibly hormonal teenager, to an older adult just being bluntly honest about their feelings and a rough patch they're going through in life – both internally and externally. That's not to say teens and younger folks don't have legitimate emotional or mental struggles but at least for Another One Down! there's a distinct lack of intent to add on an implication of age-driven contempt via stylistic impression.
You pulled me into a void of nothing
Vacancy while you made your peace
I'm stranded out between the edge and something
Strong enough to seal the hole you leave
I hope you feel empty without me
— Lyrics from "Empty (Without Me)"
Another band with a similar penchant for openly emotional lyrics but do so through approachable, pop-structured hooks, is City Mouth. There are brief moments on A Bitter Descent, like the ending verse of "Sulk," (I failed everything and everyone / And the worst of it has yet to come / I just hate myself too much to love anyone) wherein one might even wonder if Another One Down! is real-life friends with the Evergreen Park, IL band. That's not to say "Sulk" plays out like a "been there, done that" kind of song. It's more a case of hearing shared personal pains than a harping on some compositional resonance.
And perhaps that's what makes the particular vein of pop-punk heard on Another One Down!, so appealing: The nuanced way the band and this album embrace the style, feels like a reminder that pop-punk one of the few areas of mainstream accepted music where adults no longer beholden to inexperience in life or a still-developing frontal cortex, can be perceived as both edgy and sensitive at the same time. Additionally, it's also a style where a song like "High" – which cuts right to a heart of a crushing loss when a person's partner leaves them due to the obsession and addiction of drugs – can really amplify the emotional stakes of a song's narrative without sounding patronizing or melodramatic. Instead, the song just makes a plain, straightforward statement that needs no extra adjectives, atypical instrument, or unusual production trick to impress the sheer realness of the scenario. That said, Another One Down make it clear the band doesn't lack the desire or intent to project a bolder sound on occasion, as the often prominent bass lines and kick drum on songs like "Deadweight" and "Stuck in the Wake" tend to project tones that teeter finely on the line of metal style tone production, with looser, ringing bass plucks and punchy, super rounded, fast beats respectively. The latter at its fastest flourishes, even seems like it would be at home within a metal band's kick-fueled solo fill. There's a noticeable flair for sonic versatility evident on A Bitter Descent, which shows that aside from excelling in writing around the hallmarks of pop-punk, Another One Down! carries with it plenty of room for various displays of evolution, transformation, artistic growth, and – ironically given the implication of it on this album – even more maturing of their musical cohesion, in what will hopefully be several more records to come.
Just when I think that you're at my side
You drift away and leave
And can you see it inside of my eyes
I'm unhappy
It's plain to see
You'd rather be high than be with me
– Lyrics from "High"
A Bitter Descent shows that the beloved pop-punk of years gone by, and the qualities that made it so widely received, are neither lost to time, nor abandoned due to shifting levels of interest from the broader music listening public. Furthermore, the album shows how even a record composed around a style not reigning on the charts doesn't lose its objective musical or performative strengths simply because it's not at the top of everyone's trending list. Thus, one should dive into Another One Down's latest piece of work knowing they very well can, and should, fully embrace and enjoy the album, in addition to doing so without fear of a listening experience that will feel dated or out of touch with current lived experiences or creative motivations.
Another One Down! will be celebrating the release of A Bitter Descent with a release show on Saturday 4 December 2021. Details below!
Another One Down: A Bitter Descent Album Release
Alchemy
171 Chestnut Street
Providence, RI 02903
Saturday 4 December 2021
5:00 PM EST
Tickets HERE.
---
A Bitter Descent is available now.
Find it on Bandcamp.
Keep up with Another One Down! through these social media outlets:
Facebook
Twitter (@AnotherOneDown_)
Instagram
YouTube
Bandcamp
Spotify