This "Airport CEO" is thinking bigger than fancy lounge music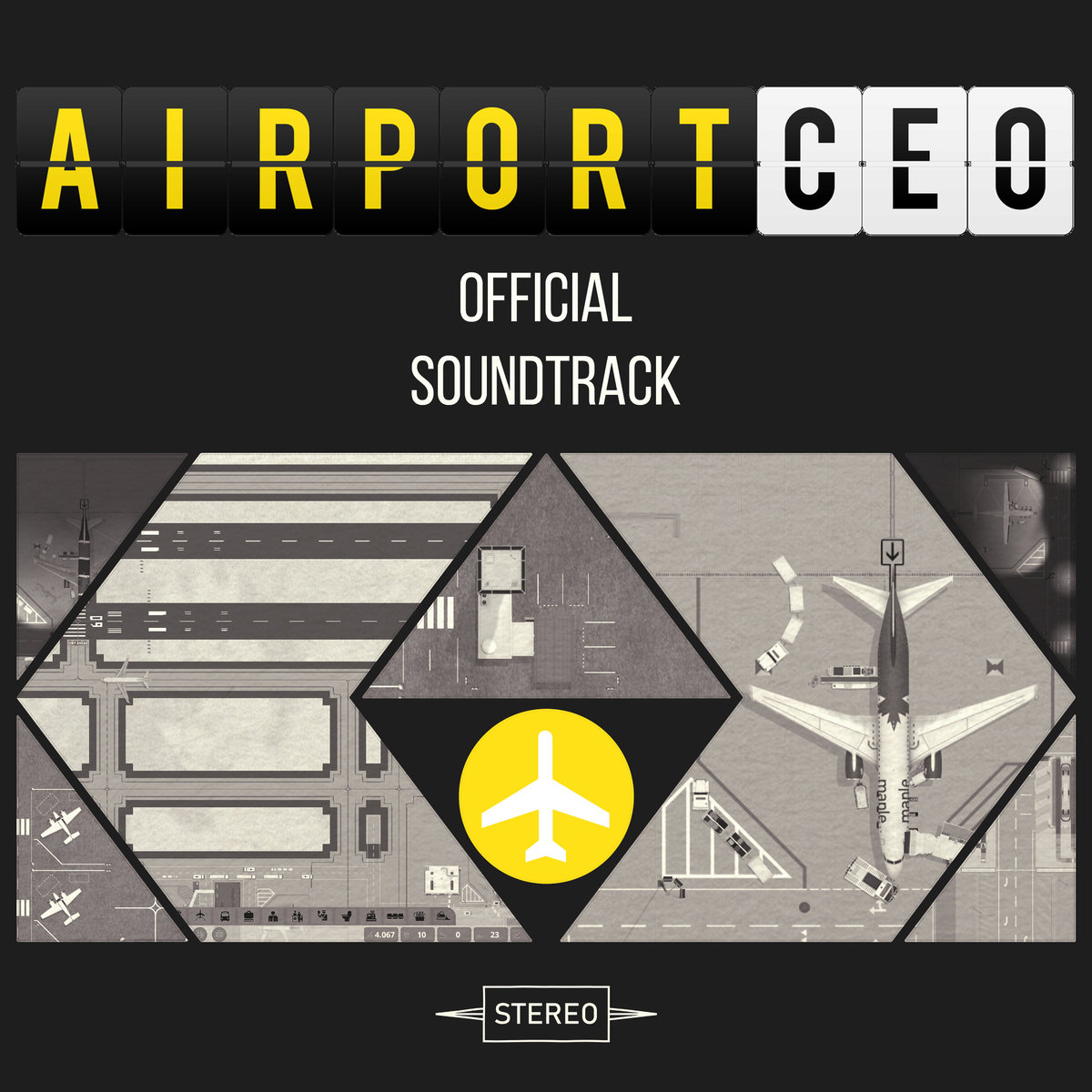 While much game music that's made today can be triumphant as art on its own, the lack of equal footing with games themselves oddly also means that the composers will only continue to work harder, smarter, and think more uniquely in their writing processes, likely giving listeners and players even more pieces of music that the public almost doesn't deserve. The composers of the nine piece soundtrack toAirport CEO are doing just that and, given the game's very business-oriented premise, the contrasting diligence toward sonic and stylistic creativity couldn't be more noticeable and applaudable.
Just released at the end of last week, Airport CEO OST isn't a top-heavy record of 30+ micro songs or one beholden to a single super aggressive hook that insists on sneaking into every other tune so it goes unforgotten. Instead, it appears from a distance, built more like a traditional record. Nine tracks and about an hour of listening time spread over several distinctive motifs and timbre combinations to create the imagined scenario of each descriptive title, like the opening "Night Flight," "Like a CEO," or "Cloud Connection." What's most interesting about the soundtrack's state however, is its simultaneous embrace of variety for the purposes of bucking sonic expectations and an obvious embrace of those same expectations. How though could a soundtrack both deviate from, and stay entirely in, its lane on the tarmac?
It's all in the production for Airport CEO OST. Though each track ventures quite energetically into instrument, tempo, rhythm, and arrangement territory that establishes itself far outside the realm of cruise control soft jazz and ambiguous easy listening compositions, the finishing details on each track leave the whole record coated in a shared layer of tonal polish and modernization that is impossible to ignore while also being wholly blendable by virtue of its very fundamental quality. Music meant for a game that's meant to simulate the construction and operation of airports – some of the most hectic, fervent, and stressful places on Earth – would unsurprisingly be expected to emulate the kind of sonic environment aimed for by actual airports: smooth, calming, subtle, and not in any way meant to draw much mental energy, so as to foster happier, rather than in any way more irritable, customers. And this soundtrack does just that without leaving the audience to fall haphazardly off the listening plane in boredom.
The very beginning of "Night Flight" starts with impeccably crisp, clean, and clear piano chords, eventually giving way to intermittent synth tones and plucks of thin but well-rounded guitar plucks, cymbal taps, and thenthe hallmark of smooth jazz, the alto saxophone, bringing out the main motif of the piece – a 12 note, push and pull phrase that generates a sense of inquisitiveness, as flight often can. This first impression feels very safe, a sentiment airports like to instill with good reason, but the drumming up of obvious musical phrasing is what shows right away, that extra initiative for sonic character, over just setting and forgetting. Additionally, it's worth noting that despite the very flawless sound of this album, composers Daniel Rosenqvist and Anton Dromberg of prolific Sinephony Studio didn't settle for digital to record everything. Where it would have been easy to reach for digital strings and keyboard generated or even just bass guitar, this "Making Of" video shows standalone instruments at play.
As the soundtrack continues, listeners continue to be reminded of qualities of airport aesthetic but the way and the type keep the tracks from ending up looking like carbon copies of each other, even if they share many tones. "Like a CEO" is more low-end driven, despite the high-pitched layered synth chords and eventual lead synth ushering in the first melodic motif. Syncopated bass moves with a funk rhythm underneath the colorful assortment of punchy snare hits and softer but quirky cowbell and when the synths do eventually return, it's in the form of wahs, 80s style laser tones, and in the company of subtle electric guitar with backing bongo taps. The track as a whole feels very busy but well-organized for all intents and purposes, like a CEO. And again, this hectic but calm duality brings listeners back to the core expectation of a functioning airport. But in what airport, on what moving sidewalk to the boarding gate, would a person expect to be gifted with a definitively funk-inspired groove with 1980s tonality?
Some tracks are in fact set to be the calming direct visualizations as alluded to in title and that's okay. "Morning Dew," with its open toned, breathable, arpeggiating finger style acoustic guitar immediately evokes just the serene daybreak scene for which it calls. Running at over six minutes, this song too eventually takes on more layers and tonal qualities. However, the set visual theme is kept well intact with crystalline chimes, gently rocking shakers, mild-mannered harmonizing doubled marimba and quickly emerging synth notes that now sound like trippy, slow decaying radar tones over decisive and cutting lasers. Some of the instruments in this track then carry directly over to its successor, "Runway Lounge." Yet, even though the initial description of harmonizing doubled marimba, arpeggiating dreamy synth, and light hand percussion taps reads uncomfortably similar, the way Daniel Rosenqvist and Anton Dromberg apply them in the latter creates a more energized but easy-going atmosphere by shifting the position of leading instrumentation and changing the rhythmic responsibilities around as well. The sheer smoothness of the synth in "Runway Lounge" now tasked with a brisk and cyclical note pattern creates that duality of calm but motivated, as opposed to its previous role creating a decisively relaxed and looser mentality.
It's subtle but crucial changes like these from one piece to another, that allowed Airport CEO OST, to end up sounding so diverse without straying far from the central goal of calmness that typically pervades airport music. One could say the soundtrack's greatest strength is in its utilization of perspective. While an instrument might have an inherently bold or conversely, delicate tone, showcase it in such a way with varying speeds, quantities of notes, or forcefulness of sound, and a broader range of emotional versatility is instantly noticeable. Much like lounge music, elevator music, hold music, and other "placeholder tunes," Airport CEO OSTdoesn't mess very much with the basic instruments they use. But just because one doesn't start with an intricate set of tools doesn't mean sophistication is out of reach. And for an album that ultimately doesn't want to rock the plane too hard, these pieces of music show that sometimes the most effective and creative results come from the simplest and most straightforward approaches to composing.
---
Airport CEO OST is available now.
Find it on Bandcamp.
Airport CEOthe game (currently in version state Alpha 33,) can be found on Steam.
Stay up to date with Airport CEO's development through its official website and these social media platforms:
Facebook
Twitter (@AirportCEO)
YouTube
Discord