Shining a light on the pristine pop of Soleil's "Tout Recommence"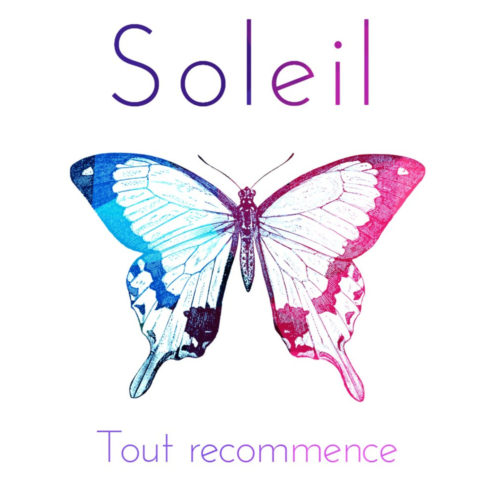 There's no shying away from the linguistic hurdle facing non-fluent French speakers when listening to Tour Recommence, the new EP by Montreal, Québec duo, Soleil. Save for one phrase sewn throughout second track "Ici ou ailleurs," when vocalist Julie Méthot sings, "My home is always where you are," and during ending track "Jour après jour" sings, "Because you're my ever blazing flame," this release full-bodied French-pop through and through. Still, even if nothing but the band's name rings with a note of familiarity, (soleil is French for "sun,") there is plenty to enjoy, with or without complete lyrical context.
Soleil is:
Julie Méthot (Vocals)
Sylvain Sauvageau
(Guitar, Ukulele, Banjo, Synthesizer, Bass, Percussion, Keys)
While Soleil's instrumental foundation seems uncomplicated, Sylvain Sauvageau's electric-acoustic guitar, ukulele, banjo, percussive backing, subtle bass, various synthesizers, and keys, are arranged with a shrewd creativity in the EP's four songs. The crisp, bell-like, tone of the guitar leading on the two bookend tracks is a prime example. The timbre itself doesn't change much in both but, the way in which it's played and placed together with the rest of the instrumentation results in two vastly different musical aesthetics. Opener, "Demain" (Tomorrow), propelled by guitar and banjo strumming alongside uptempo kick drum, evokes the popular folk-rock style embraced by early Lumineers. Conversely, the polish on the tone brings in Soleil's pop-oriented preference and feels collectively closer to the style of indie folk and pop-folk bands like The Soorleys, Shake Shake Go, or City and Colour. Whereas the strummed but syncopated hook starting "Jour après jour" (Day After Day), combines with splash-like synthesizer, rhythmic clapping, and a prominent kick drum beat to instead create a distinctly dance-pop style groove that, with the higher octave chords and thinner Spanish guitar tone, exudes a touch of  carefree Latin-pop sound.
Regardless of the musical style in which Sauvageau is framing Méthot's voice, her vocal character remains a pleasant constant throughout; blended beautifully with the natural phonetic flow of the French language. Delicate but still deliberate and defined, Méthot's fusion of gentler tone and clear enunciation is reminiscent of singers like Donna Lewis, Natalie Imbrugia, Jewel, and Meredith Godreau (Gregory and the Hawk). Collectively, Tout Recommence seems to invoke reflection on more than a few musical highlights of past decades but perhaps that works to its advantage. When you have a vocalist whose very voice appears plucked from a time of easily recognized and appreciated singers of the past, and the music behind them is melodically driven, as opposed to hook-based and virtually static like pop music of today, these elements can only stand to complement each other do well together as a record meant to be catchy, memorable, and fun to hear. Both Tout Recommenceand Soleil, are made of pairings that know exactly how to play to their strengths.
---
Tout Recommence is available now.
Find it on Bandcamp.
Connect with Soleil on Facebook.