Honeyblood lands a single bullseye with "Bubble Gun"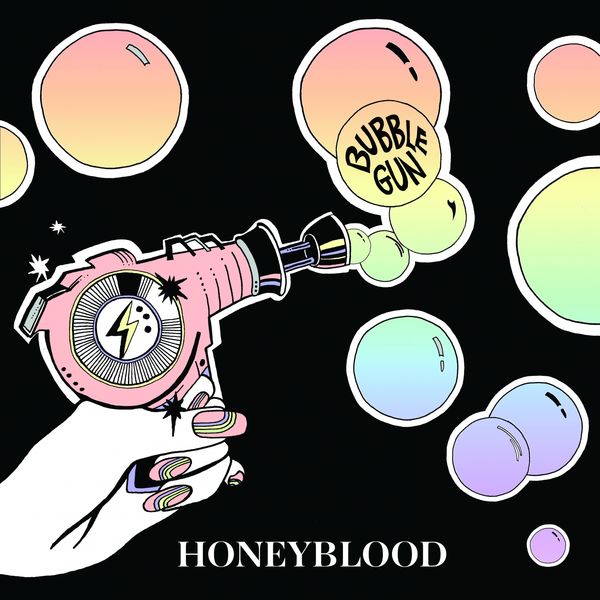 It's ironic that the ammunition behind the titular object in Honeyblood's newest single is a mere bubble. An object so innocent, fragile, and freely moving serves as a main point of mental and visual imagery for the freshly pressed standalone track, "Bubble Gun," while the song itself can be described using anything but the aforementioned object's qualities.
Still, "Bubble Gun" does share one characteristic of bubbles: their fleeting and short-lived nature. Stretched to just shy of 2:30, this first song following Honeyblood's third album, In Plain Sight (Marathon Artists, 2019), is short by even today's radio standards. However, even for its minimal length, the track doesn't go by on a musically unnoticeable whim. Stina Tweeddale, who is currently supported by a backing band of Debbie Knox-Hewson on drums and Anna Donigan on bass, hasn't slammed on the creativity brakes since adjusting to her embrace of solo artistry. If anything, "Bubble Gun" shows a continuance of sonic and artistic expansion for the Glasgow songwriter, all while maintaining a firm grasp on the crunchy,  but lo-fi core that's powered Honeyblood's discography since its self-titled beginnings.
The difference now, several years later, is an enthusiastic dive into sounds that – though analogous to Honeyblood's original qualities – deviate just enough to result in something new without tossing long time fans off the trolley entirely. "Bubble Gun" moves along with an easy to follow downbeat and sense of stomping momentum, thanks in no small part to the dynamically prominent smacking snare hits that mark the beats in the opening bars. The rhythmically conventional foundation of the song could be perceived as a shortcoming but reflecting on the garage and punk-tinted roots of early Honeyblood canon like "All Dragged Up" and later-born singles like "Ready for the Magic," this dialed in approach to the bones of "Bubble Gun" turns out to actually be a preferred route for Tweeddale that's proven to be well enjoyed in the past. Where musical aspects deviate noticeably and appreciatively, are in the lead instrumental melodies and the production direction encapsulating the whole song.
Tweeddale, who is now firmly in solo artist territory, is even less shy about making a mark in her music than before. Her lead electric part takes on a bold, jagged, and thick tone that doesn't seem far off from the tone favored by fellow front person Mike Kerr, of rock duo Royal Blood. Interestingly, this thought turns inward and amusingly cyclical quite fast, as fans of both bands will recall that Kerr's instrument of choice is the bass, the signal of which he runs through several pedals – namely a pitch shifter – to attain a more flexible but still heavy tone that, during Royal Blood's early days, was easily mistaken for a lead guitar by those listening without visuals. Thus, is it fair to say "Bubble Gun's" guitar is sounding like a bass that's trying to sound like a guitar?
Added to the thick and but defined guitar tone are a few quirky contrasts. The frequency-compressed crunch of Knox-Hewson's crash cymbal hits off-set the smoothly rounded tone of the secondary but colorfully-accenting synthesizer that is harmonizing with and following the guitar's lead. Herein lies the coexistence of older and newer adventurousness in Honeyblood's sound. The old-school lo-fi and crunch pop aesthetic remains on some of the more upfront instrumentation. However, underneath in its own subtle yet still noticeable way, auxiliary sounds bring a bit more tonal focus, sense of delicacy, and unique timbre to the music that hasn't always been standard sonic fare for Tweeddale. The music video is then like the icing on the cake, taking the idea of vintage to an interesting new place. A flow that cuts between performance shots and action sequences fervently resonates with campy films of the 1960s. A more contemporary piece of work that comes to mind in this vintage vein is the music video for 2009 single, "Closer to Contact," by electro-pop band, Dynasty Electrik.
Melodically,  there's an argument which can be made, that the vocal part is constrained. Tweeddale confines herself to a see-saw like melody on both the verses and pre-chorus, with the latter being all but entirely a vacillation given difference sheerly through syncopation. And indeed, the pre-chorus, which is a definitively call-and-response/audience participation  style section, is limited in both notes and lyrical content. However, again looking back, it's not uncommon for Honeyblood to vacillate between rowdier songs that limit movement on verse melodies but ramp up in the choruses (See again, "Ready for the Magic"), and songs that rely more heavily on phrase based melodies and lyrical narratives that are notably, like In Plain Sight single, "The Third Degree."
In its collective form, "Bubble Gun" is as much a collage of pieces reflecting Honeyblood's transformative story as it is a straightforward view of new stylistic curiosities – both visual and musical – that Tweeddale has decided to explore without fear since crafting her recent LP and now this single. While not boasting a premise of unyielding heaviness, "Bubble Gun" is a perfectly good, extremely well-timed song to bring a new dose of fun into Honeyblood's discography while the iron from In Plain Sight is only just now starting to cool and fans begin to imagine what may happen next.
---
"Bubble Gun" is available now via Marathon Artists.
Find it on iTunes, and streaming through Deezer, TIDAL, and Spotify.
The music video was directed by Gareth Goodlad.
If you live in the U.K., be sure to grab tickets for the shows on this tour, as it's likely to be Honeyblood's  last one for a while!
Honeyblood U.K. Tour Fall 2019
OCT 24
THU 
Queen Margaret Union Glasgow, United Kingdom
OCT 25
FRI 
The Castle & Falcon Birmingham, United Kingdom
OCT 28
MON 
Rescue Rooms Nottingham, United Kingdom
OCT 29
TUE 
Thekla Bristol, United Kingdom
OCT 30
WED 
Concorde 2 Brighton, United Kingdom
OCT 31
THU 
The Garage London, United Kingdom
NOV 1
FRI 
02 Academy 3 Manchester, United Kingdom
NOV 2
SA 
Brudenell Social Club Leeds, United Kingdom
Full tour list with ticket links is HERE.
Stay up to date with all things Honeyblood through the official website and these social media platforms:
Facebook
Twitter (@yumhoneyblood)
Instagram
YouTube
Spotify