Fantastic Negrito doesn't sew his message short with the "The Suit That Won't Come Off"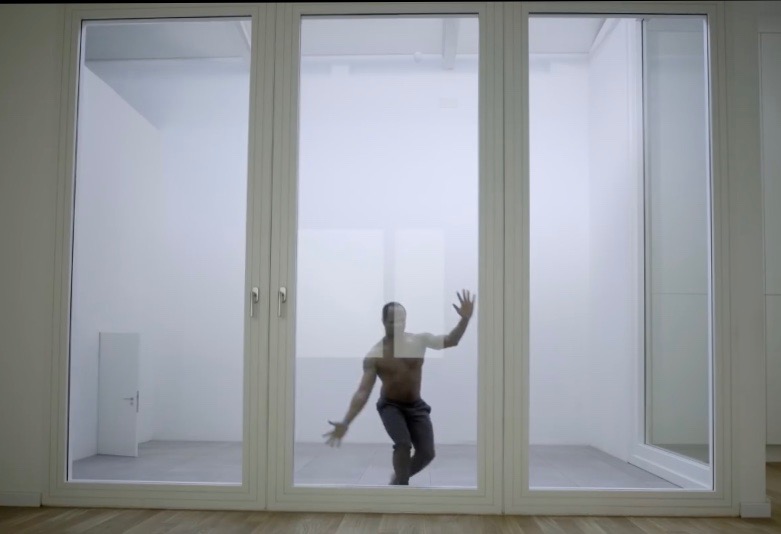 I am invisible, understand, simply because people refuse to see me.
from The Invisible Man, by author, Ralph Ellison.
A man of Grammy-winning prestige, Xavier Amin Dphrepaulezz, known more commonly on stage as Fantastic Negrito, doesn't just turn ears because of his mainstream recognition. And what better direct proof of this than to find Negrito commemorating the one year anniversary of his latest LP,Please Don't Be Dead,with a music video that, despite having limitless conceptual potential for its visual presentation, goes for just as bold and trend-balking of a message as its sonic source material?

It would be easy and understandable for listeners to expect Negrito to pair "The Suit That Won't Come Off," one of the singles that ushered in Please Don't Be Dead, with a strong portrayal of struggles relevant to any number of marginalized communities seen in the news headlines today: asylum seekers, LGBTQ+ folk, and of course, people of color. After all, when the crux of the bluesy reflection at hand reverberates on a single set of blunt statements like, "Do you know how it feels when you're standing on the outside?" and"How do you sleep at night when you've stolen from me?," it's hard not to feel pertinent parallels to any one of these groups rise to the surface in the mind.
However, Negrito chose this time, to highlight a different societal group – one that many might not expect, despite its shared statuses of underrepresentation and marginalization. Odil Gerfaut, the dancer and central figure in the music video, and choreographer, Angele Carole Chappuis, are both blind. This project they put together with director/producer, Fred Macdonald, cinematographer, Sebastian Klinger, and Swiss Arts Council Pro Helvetia, serves not only as thought-provoking art but also as a vehicle to highlight the Braille Institute of Americain Los Angeles, CA. Negrito's decision to demonstrate support for these artists and to the the visual impairment/blind community at large is refreshing because sight loss is something that knows no race, gender, political party, or financial status and often times, so many of the causes behind the loss remain and are indeed like a suit that won't come off.
Yet outside of the occasional comic book or fantasy figure trope, visual impairment is a status of life that often goes – in spectacularly ironic fashion – unseen or, worse, deliberately shoved aside in all kinds of situations (social, romantic, professional, academic) by those not familiar first hand. Thus, society runs the risk of tarring and feathering itself with hypocrisy as a member of one community struggling to be heard ends up shoving aside another, of which a person might turn out to be part of both. Right from there, "The Suit That Won't Come Off" serves to teach as it emphasizes the fluidity of connections and that support need not be limited to folks and life experiences that are only directed tied to oneself.
Amidst these indirect catalysts for reflection, Negrito takes things even further in his demonstration of acknowledgment, as Gerfaut also serves as the voice over narrator for his own choreography in a close captioned and descriptive rendition of the video – describing the surroundings and his own interactions with the stark and often enclosed settings, as Negrito's impassioned and pleading line of questioning plays underneath. While it's understandable that inclusion of voice over descriptive narration ends up competing with the song's audio for sonic space, having the option to get a conceptual grasp on the visual project made by an artist, allows those who can't see the medium to be part of the conversation. Furthermore, for music videos that go well outside the realm of static live performance and into complex visual storytelling – Childish Gambino's powerful video for "This is America" is a prime example – understanding what's happening in a visual narrative that might not run parallel to the lyrics provides a listener with the entirety of an artist's intended message(s) – without which the full impact might not be fully understood, felt, and-or internalized. The added layer of access is as much a benefit for the artist as it is the viewer/listener.
"The Suit That Won't Come Off" might not be a new song and Please Don't Be Dead might be a year old. However, Fantastic Negrito used this secondary of expression to not only breathe new life into an existing work but also to remind us how music can be reinvented and its objective reinvigorated when extended to a completely new audience.
---
Fantastic Negrito will be performing at a swath of festivals in the U.S., Spain, and the U.K.
Dates and venues are below. Full ticket information can be found HERE.

Fantastic Negrito on Tour: AUGUST 2019
1-4 Lollapalooza – Chicago, IL *
3 Lincoln Hall (Lollapalooza Aftershow) – Chicago, IL
22 Teatro Ibiza – Ibiza, Spain
24  Greenbelt Festival – Kettering, United Kingdom *
*Festival performance
Learn more about and donate to the Braille Institute HERE.
Please Don't Be Dead is available now.
Find it on iTunes, Amazon, and stream on Spotify.
Keep up with Fantastic Negrito through his official website and these social media outlets:
Facebook
Twitter (@MusicNegrito)
Instagram
YouTube
Spotify