Illustrations worth 1000 words: Jared Saltiel and "The Emperor's New Wall"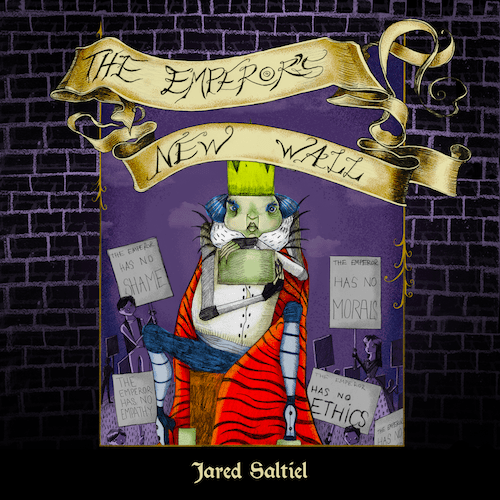 Singer-songwriter, orchestrator, and playwright, Jared Saltiel, isn't the typical breed of ambitious New York City musician. Sure, the idea of anything being typical in New York City seems oxymoronic because the famed metropolis is built on a never-sleep philosophy of, "anything goes." Nevertheless, Saltiel is indeed notably unique in his musical quests, as the multi-faceted creator can be found both downtown serenading crowds at the likes of Rockwood Music Hall and deep in Brooklyn on the stage of National Sawdust. Yet, in both places, it's not about capturing that familiar stadium rock sound or that poppy radio hook so much as it's about writing and telling vibrant stories and using vibrantly uncommon instrumentation to match. Nowhere is this idea of Saltiel's composer style more proudly and impressively put on display that with his newest single and music video, "The Emperor's New Wall," which is part of a new EP, One More Revelation (independent, 2018), due for release next week.
Narrative-centric songs aren't uncommon as a concept, and the song's more acoustic, folk style arrangement makes that lyrical decision even less surprising given that story based pieces often thrive in the folk sector of music. Listen a little more closely though and the extra effort beyond selecting acoustic instrumentation and an anecdote based idea, comes right through: Jared Saltiel is a songwriter after Broadway's own heart. "The Emperor's New Wall," which is an expansion on the classic children's tale, "The Emperor's New Clothes," by Hans Christian Anderson, feels like something of a world-building sequel not that far outside the kind of creative thinking that led to Gregory Maguire's expansive origin story to L. Frank Baum's The Wonderful Wizard of Oz – the novel turned-smash-hit-musical, Wicked: The Life and Times of the Wicked Witch of the West.
Saltiel shrewdly and very precisely connects the line between Anderson's funny fable and the idea of just as ignorant a king – though one not nearly as harmlessly oblivious its inspirational counterpart – moving to not just needing the best and finest clothes but now also needing the "greatest wall ever made," as the first verse unveils. He rhymes without hesitation and without much abandon (schemes not quite as daring as "Wicked" composer and lyricist Stephen Schwarz with his application of rhymes like "frank analysis" and "personality dialysis" in Kristin Chenoweth's bubbly iconic, "Popular") but, the song never feels immature in thematic tone.
The music supports the Saltiel's shocking deviation from harmless to dark humor as well, even while keeping the arrangement organic and light. Just the opening 15 seconds set quite the mood, with an ascending, old fashion carnival organ melody prompting fun and innocent thoughts of a children's song to come, only for the singular implementation of a DJ scratch plugin to kick in and immediately warp the cheerful melody away with one virtual rotation of the turntable. Such a brief audio effect but such a poignant sonic marker early on in the song – it's own "Looks like we're not in Kansas anymore!" moment set to DAW, if you will. In fact, it's subtle but ear-catching choices like this and the wavy, theremin-like key tones creeping underneath the pure melody, that give the song's surrealistic chaos vibe its most vivid musical strength.
The story unfolds in a completely organic way from beginning to end, telling the tale of the plan for this fictitious wall, the objections, deportations, dismissals of cognizant rejections, and an eerily wary ending that leaves one contemplating times yet to come. The thought provoking nature of the song is incredibly smart not just from a prose point of view but also for its emphasis on human interaction and emotional intelligence that need not be spoiled pre-playback. And aside from inclusion of a title-bearing refrain a few times in multiple verses, not a moment is wasted on filler chorus syllables, or excessive instrumental interludes. (Though performative displays by Saltiel's co-vocalists, upright bassist, Dan Asher, or even Saltiel stretching his mallets on the vibraphone, wouldn't be detrimental by any means.) Furthermore, running a definitely uncommon 5:21 minutes in length, the song is a downright pleasant listening experience that feels hardly as long as it looks, which is another hallmark of solid theater based songwriting: when a longer than average song can easily hold your attention and go by feeling shorter than it is. The easily memorable rhythmic choice of a mid-tempo waltz 3/4 time signature doesn't hurt the flow of the song either and when wrapped all together with Saltiel's gentle but decisively sung and enunciated performance, the modern New York musician suddenly sounds like a classic medieval bard offering historical context and a sense of foreboding cautious wisdom in one melodically pleasing package.
All of this astute writing speaks nothing of course, to the painstakingly drawn and animated visual work that constitutes the single's lyric-music video hybrid. Highly detailed and brightly colored illustrations of the non-computer generated variety, along with the kind of synchronous and decorative lyrical prompts that initially feel fitting for a children's book, complete Saltiel's satirical vision for "The Emperor's New Wall." The entire audio-visual experience is stronger together than piecemeal and knowing that the artistic collective, Fantasmal, worked carefully with Saltiel for over two month in advance of U.S. Election Day to make his vision real, the quality is unquestionably superb and a thing of underappreciated beauty against today's fast paced world. In the end, gaining the retrospect knowledge that the "The Emperor's New Wall" was written over a year and a half before the video was ever conceived – and thus well before any of the real life acts which the song parallels – such insight only heightens the emotional and contextual impact of the song and gives the whole project one near dumbfounding, "life imitating art" twist. Though it might not have anything to do with the notes or the art,  it leaves plenty to think about beyond invisible hindsight.
---
"The Emperor's New Wall" is available now on iTunes and Bandcamp.
Streaming is available on Spotify and SoundCloud.
One More Revelation EP is due out next Friday, 16 November 2018.
Jared Saltiel is playing a show next Thursday at Littlefield in Brooklyn.
Full show details below:
Thursday, November 15, 2018
Littlefield
635 Sackett St
Brooklyn, NY 11217
Doors: 7:00PM
Show: 8:00PM
21+
$8.00 / $10.00 Day of Show
Tickets available HERE.
Stay up to date with Jared Saltiel through his official website and these social media outlets:
Facebook
Twitter (@JaredSaltiel)
Instagram
YouTube
Spotify
Bandcamp
SoundCloud