Edison roars with emotions on final "Lion's Heart EP"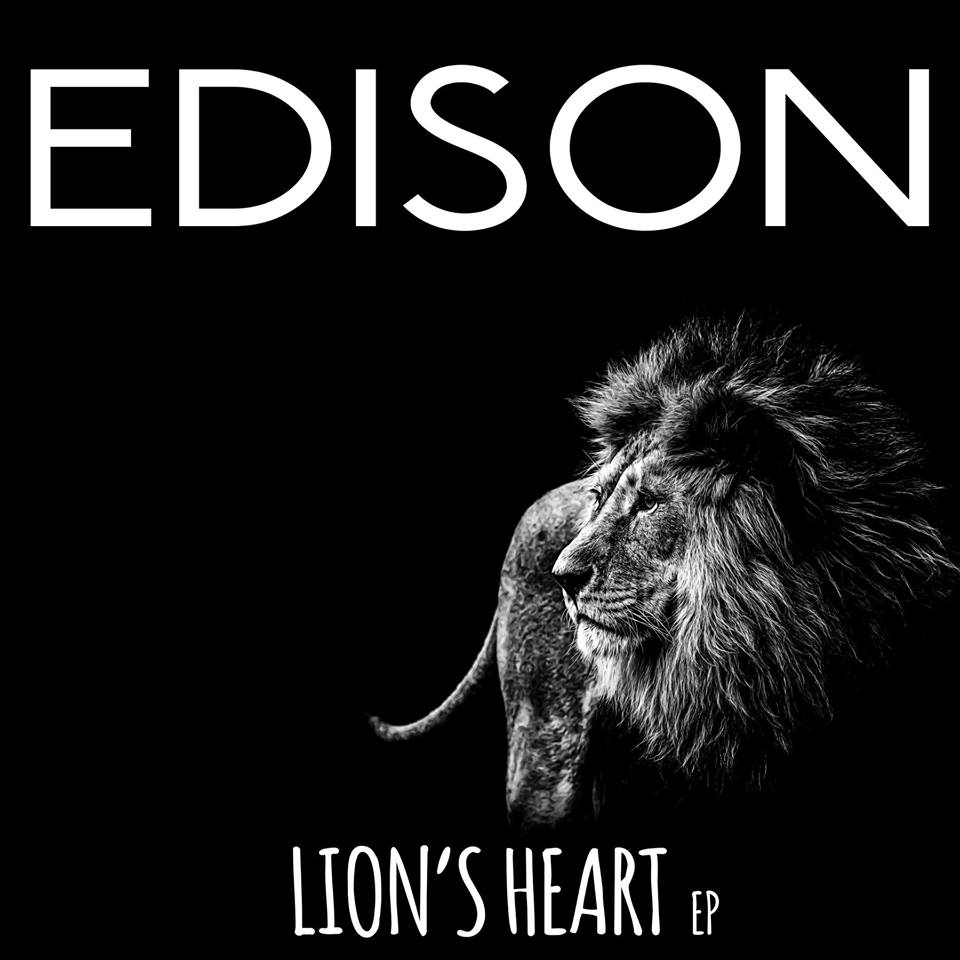 Knowing there would at least be one last recorded outing by the vagabond trio of Edison was a comfort but, that didn't mean saying goodbye would be any less difficult. Well, now the Lion's Heart is here, it's safe to say the waves of simultaneous feelings haven't let up. This of course might be due in part, to the nature of the emotional flow that quickly runs its course in the EP's all-too-fast 15 minute span. That said, don't let the short run time sell the beauty of this extended play short. Think of this release as one that's quick but packs a mighty musical punch.
After the premiere of lead single, "Take Me Home" last month, Edison left listeners within a space of curious mystery, as the upbeat, hook-oriented style of that first song made it hard to suss out whether the remaining three songs would follow suit, take the band down an even deeper rabbit hole of stylistic shifts, or leave room for call backs to the sound that started it all. The actual results are a bit of both a yes and no answer to every piece of that question, as there are moments on Lion's Heart that are utterly different and unexpected, as well as others, that show the band embracing some beloved folk foundations. Where the former is concerned, it's impossible not to give second single, "Sideways" its unique due, thanks in no small part to Slaton's decision to incorporate some pretty specific technology to help mold and steer the entire song. In an interview with 303 Magazine, she elaborates on not only what gives her vocals their ear-raising layering effect but why the tech was the tool of choice for the song., "I use my TC-Helicon vocal pedal on my voice to pay homage to Imogen Heap and her song, 'Hide and Seek' that inspired me in a huge way years ago."
Indeed, the stylistic admiration shines through brilliantly. Though Slaton makes the tool her own away from Heap's style and within Edison's neck of the musical woods; serving up a poised, smoothly sung, sensual slice of songwriting that makes for an interesting contrast against the defined ripples created through the pedals distortion. The pedal's sonic character both supports and complements the slow and deliberate mindset framed through the tempo and the lyrics. Minimal on narrative, the more poignant aspect of "Sideways" is its ability to set a mood and to grow a feeling as its goes on. The track is a star in that regard and more than an ace for a cornucopia of sync placements with other media like television, film, and even some carefully selected product advertisements.
Meanwhile, although "Ghosts in This House" also evokes thoughts of darkness and quieter moments, unlike "Sideways," the presentation takes an amusing 180° turn in both the emotional and performance departments. More a song observing wistful and despondent reflection over that of quiet joy, musically, °Ghosts in This House° actually has more pep in its step than its predecessor. Maxwell Hughes, known throughout Edison's tenure for his gifted finger style guitar work, doesn't go to the nines with note overload but his acoustic sets the tone at the outset, as well as between lines in verses. Not mention, there comes a point when one has heard an individual musician enough, that just the precise way that one person interacts with their instrument becomes an identifiable sonic signature unto itself. Hughes' guitar is given not just room to be heard but for his own touches to sing out and be recognized. Minor key, arpeggiating note patterns create a sense of cycling sound to match the idea of resurfacing, cycling thoughts that invade the imagination during the song (In the night you hear them scream / they're always haunting up your dreams).
Add to that, subtle but notable touches like Dustin Morris's finesse with mallet and cymbal for delicate accents of metallic waves, the mild amount of reverb glossed over Slaton's vocals, and the less common production decision not to apply an excess of compression, and the "Ghosts in This House" really projects great dynamic variation, despite taking the arrangement back to Edison's more minimalistic, traditionally indie folk, roots. The vacillation between minor and major chord progressions throughout, with shifts that happen as fast as from one chord to the next, combine with everything else to even bring to mind a nod to City and Colour, a classic inspiration for Edison's earlier work. And furthermore, for those who have been with the band since the beginning, it almost seems like Edison is doing a more deliberate callback to their first EP, "Ghosts," which not only aligns in name but contains a similar through line of imagery on older cuts from back then. It's here there seems to be the biggest moment of overall reflection and as the penultimate of the four songs, taking the emotional dial to just under peak level is bound to leave anyone's feelings in just the right position to come barreling down upon them mountain as the EP reaches the titular conclusion.
"Lion's Heart" starts out calm and innocent enough. More gentle finger style guitar, along with some soft piano chords support Slaton's voice, as she sings about the beginning of an average day (On a normal day / my life begun / then changed course / all at once) Then, following that first verse, without subtle transition, Edison jumps toward an immediate and solid change to anthemic delivery. Morris's disciplined and confident drumming over a drier, marching band style snare tone and constant downbeat kick drum propels the song forward, from the start of Sarah's retrospective narrative toward the end of the EP and the conclusion of Edison's recorded work. Things continue to expand as "Lion's Heart" carries on, with a steady, sectional crescendo forming from the verse to the pre-chorus, and then from the pre-chorus, reaching a climax not only at the chorus, but also at the most dramatic part of Slaton's story. Given where the band and its fans are at this very moment, the words resonate with a heavy amount of honesty that, while this EP has been a long-awaited undertaking for the band, the lyrics still drive in that hint of sadness, just from their statement of truths; to say nothing of how much or even if this last song is exactly meant to depict Edison's very own difficult decision to move on or if it's just a creative coincidence.
But something changed
somewhere along the way
And oh, oh we couldn't stay
Moving on is easier said than done
Cause a lion's heart
it only knows one.
A lion's heart
only knows one.
Lyrics from "Lion's Heart"
Regardless of the parallels between this song, Edison's past and Edison's present, the very decision to place the track at the end enhances its emotional impact and relatable spoken significance that much more. It's both circumstantially apropos and sobering because the way people process the dissolution of bands they love varies as much as the miles of road Edison has driven over the years. Yet, it's almost as if listeners are being given a glimpse into what the trio of Edison felt way back when they wrestled with this decision, what they felt as they prepared for this project, and how they might be feeling now that something is finally born but also ultimately over.
That's of course, speaking only to the emotional facets of this finale. Musically, "Lion's Heart" is a surefooted, and artistically precise piece of work that unfolds in the most compositionally strong ways. The ebb and flow of dynamic intensity with vocal vulnerability and lyrical alignment, as Slaton leaves just the absolution of "than done" off her final a cappella chorus line, is a trifecta of songwriting perfection. Collectively, the song features a blending of older Edison style arrangement and writing with more newly embraced electric sounds and fuller bodied percussion that permeated the band's LP. The song feels like a complete, wholesome, single thought of what everything Edison has done to now – musically and in their life together as a group – sounds like when wrapped together in one piece of music. The fact that the band comes to quiet silence without saying "done," doesn't inspire frenetic desperation for a decision reversal. Rather, it just shows that while the band might be finished, the emotions, energy, and love, and memories of everyone involved aren't ready to retire just yet. And in depicting that sentiment through its last lyrics, Edison froze this moment in time, letting everyone know just how much it – both the song and the band – means.
Lion's Heart is a project of pure passion pressed to disc and Edison will live on in its sounds.
---
Lion's Heart was engineered by Andrew Berlin (Rise Against, the Flobots), at The Blasting Room Studios.
Mastering was done by Grammy award-winning engineer, Brad Blackwood (Sara Bareilles, Maroon 5, Alison Krauss & Union Station), at Euphonic Masters.
Edison* have one last burst of shows, running primarily through the midwest, through September. Full tour list and tickets HERE. (*partial band duo shows featuring Sarah Slaton and Maxwell Hughes, plus guests.)

Edison's legacy will live on through its official website and the following social media outlets all @ListentoEdison.
Sarah, Dustin, and Maxwell each have burgeoning solo projects in the works and each can be followed individually at MaxwellHughesMusic.com, DustinMorrisMusic.com, and @IamSarahSlaton.
Facebook
Twitter
Instagram
YouTube
Bandcamp
Spotify
SoundCloud