Band ahoy: Punch Brothers navigate DIY waters with "All Ashore"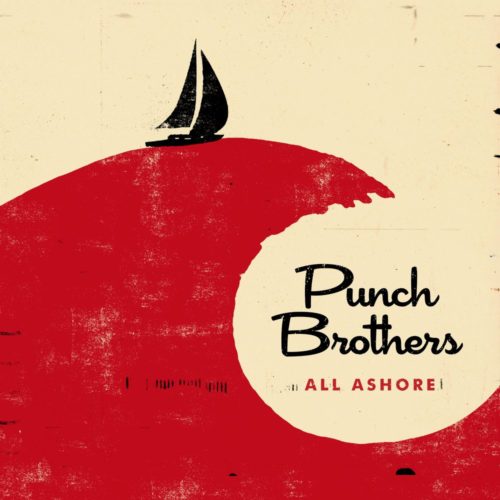 When a band like Punch Brothers comes along – one with a steeply curved and balanced pool of musicianship, variety of sounds, and simultaneously kindred yet singular points of view – the beginnings of such a collaboration are entirely unknown and exciting to the point of feeling almost dangerous because of the seemingly limitless potential at hand. There's sense of risk, of hitting an emotional, sensory overload which can't be described. It's like a relationship that starts with a sudden flash and catches fire. The sensation of the heat is familiar but what this particular fire will do and where it will go is yet to be seen.
That initial spark was years ago with the debut of Punch (Nonesuch Records, 2008) and the spontaneous, nonconformist, creatively brimming edges of the band's choices have propelled familiar instruments and a familiar bluegrass arrangement into territory destined to inspire. Here now on a fifth outing, Punch Brothers (Chris Eldridge, Guitar; Paul Kowert, Bass; Noam Pikelny, Banjo; Chris Thile, Mandolin; Gabe Witcher, Violin.) continue to inspire but, after stoking a flame for 12 years, how does the approach of All Ashore contribute to the warm light that has lit the way for the quintet all this time?
Now so long down the path of this "lifer band," as Eldridge describes it, how the quintet manage to stir up curiosity and that dangerously exciting shock from the good old days becomes less obvious but no less rewarding once felt. The nine track album, which was pieced together sequentially over the band's typically favored process of selective curation, is as sonically shrewd as ever. Though doubt over performative execution would hardly be a facet of concern for these seasoned musicians, All Ashore is actually the first to be self-produced by the group. All the same, from a practical point of view, one would be hard pressed to find flaws or inconsistencies with the end results, which impressively mesh with the kind of modestly accented but mostly organic sound setting produced by T. Bone Burnett on Phosphorescent Blues (Nonesuch Records, 2015). While the self-guided endeavor to produce sounds like an inherent risk meant to brush up sparks in the ear, the choice to do so now, as opposed to during album three, means the band's accrued lessons and reactions to life on and off the stage came along for the ride. The choice might be new but the wisdom in the studio is not. There's a layer of confidence rather than a layer of pure impulsivity.
Conceptually, All Ashore serves as a bookmark in the life of Punch Brothers as a collective and in the lives of its five players individually. Knowing that the sonic chemistry of the band is an inevitably praiseworthy conclusion, what becomes the focal point of the album is the listening journey to understand the album as a whole work and then to allowing oneself to react and possibly learn from it, with the changing dynamics of relationships in real life – romantic, platonic, professional, social – as the backdrop. Thile establishes the starting point as "a meditation on committed relationships in the present day, particularly in the present political climate" and although it would be easy to jump to the expectation of strictly sardonic-but-carefree commentary style songs much like some of the weekly musings Thile composed for his "Song of the Week" segments on Live From Here, the mood of All Ashore never loses sight of trying to make a point without its songs becoming single-burn caricatures.
Even on a cut as metaphorically direct as "Just Look at This Mess," which goes so far as to less than eloquently describe its central character as "Our sandlot antagonist-cum-king," the bigger picture of the song and of the state of national politics retains an air of seriousness. The same can be said for the socio-economically driven "Jumbo," which uses verbiage both crass and emotionally ardent (Here comes Jumbo / American as gumbo / Washed in the blood of the little man singing 'fee fi fo fum, bro') to perhaps raise an eyebrow but more so to align with the frustrations and concerns held close to people's vests, giving them a way to be heard that matches what often can't be said in everyday discourse. The language is a form of illustrative release more than simply intended as a vernacular blow.
The cast of characters unveiled along each of All Ashore's songs breaches dynamics political, social, familial, romantic, and even those which are steadfast but maybe taken for granted. The through-line style of this "nine-movement thought," as Thile calls it, definitely lays out a traceable path; one that starts by examining the now vastly different physical, emotional, and mentally prioritized world of all who orbit Punch Brothers and it does so in a poetically vivid fashion that's mildly less casual in tongue than the latter half of the record. Images are unexpected but clear and striking.
Momma cuts through the morning like a man-of-war
Daddy burns through diversions like a meteor
And so they use one another like a guiding star
And how I watch as they wonder where and what they are
– Lyrics from "All Ashore"
It's interesting to note that beyond any aforementioned vulgarity, as the contextual environment of the relationship narratives expand to a more universal setting, the style of writing used to depict scenes, feelings, and thought processes, contracts to individual words and overall rhyme schemes that instigate far less abstract navigation than those assigned to the songs reflecting Punch Brothers' sphere of life (Got a hell of a deal / A hell of a deal / The struggle is fake / The triumph is real). Beyond reflecting a sense of everyday thoughts and emotions to match current, everyday affairs, it's worth considering that the change in writing style is another attempt at showing listeners empathy. The speed of information and the weight of its implications are both so severe that it's almost as though there isn't the time or luxury to craft the kind of artfully meticulous expositions found on the first couple of tracks (which also clock in at the longest, both more than seven minutes).
Once all is said and done, where does All Ashore leave Punch Brothers and the band's sense of art? In some ways, the amount of foregone conclusions the group have rightfully accrued up to now – lyrics like experientially fascinating poetry, musicianship with almost psychic-level cohesion, graceful but deliberate elucidation of the realities that fill life (a staple of roots music) – leave this fifth installment feeling a bit "much the same." Yet, inviting the idea that a band is so good that they are starting to encroach upon some kind of ceiling, feels like a surrender and-or an admittance of boredom. This could not be farther from the truth of what All Ashore does encourage: deeper thought presented in a comfortable way. Just as this group of five people found themselves digging to rediscover what Punch Brothers has come to mean in the present, sticking with a band this long means that there's going to be work involved. Getting a surprise from Punch Brothers isn't a passive experience as perhaps it once was when the band burst onto a stage for the first time and everyone in the room lost their minds. The goodness is a given. What isn't a given is the way in which this goodness will move different people and how that emotional moment when finally encountering the unexpected will be presented. Realizing both takes a bit of listening commitment and, for a record about the state of committed relationships, All Ashore couldn't make a more thematically clever statement if it tried.
But don't look back
There's nothing there
It moves so fast
Chase it when it's gone and you could miss it when it comes back around
Our true love is reflected in the change
We embrace for one another
Our true selves live forever in the change
We effect in one another

So forge ahead knowing you just have to miss me when I'm gone and love,
I'm always gonna come back around
'Cause I love you like it's going out of style
---
All Ashore is available now via Nonesuch Records.
Find the album through iTunes, the Nonesuch Store, and streaming on Spotify and SoundCloud.
Look for Punch Brothers live, as they tour across the U.S., U.K., and Europe through November 2018.
The band plays the Beacon Theater on 28 July 2018. Tickets for that show are available HERE.
The full list of "Summer Tour" stops and tickets links are HERE.
Stay connected with Punch Brothers though the band's official website and these social media outlets:
Facebook
Twitter (@punchbrothers)
Instagram
YouTube
Spotify
SoundCloud