Severed: Curse of Lono and the effort to break form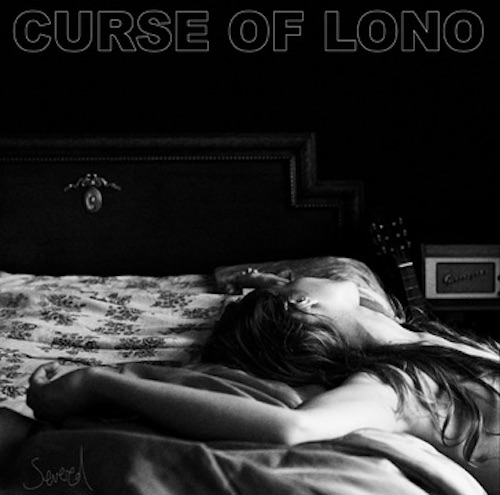 While the very name of the Americana genre elicits an immediate geo-based demographic and historical context, the rise thereof across the pond in the United Kingdom is a trend that has only swelled over the years and really, ceased being a trend in favor of being more the norm. London, England based five piece, Curse of Lono, is very much a part of this norm in the UK and on top of embracing this newer dimension in their nation's music scene, the quintet's tilting of Americana's core stylistic character toward darker and self-described "gothic" quality, makes for an even more mold-breaking presentation.
The group easily established this as their chosen musical vantage point with the release of their self-titled debut EP last October (Submarine Cat Records, 2016) and are now about to follow with a full length record titled, Severed (Submarine Cat Records, 2017). Following a debut extended play with a full album is an entirely expected development and managing to do so within a period of less than six months to prevent excess anticipation, is noteworthy.
Apart from the musical determinations of Severed, front man, songwriter, and former Hey Negrita member, Felix Bechtolsheimer, provides much of the substance that makes the album lyrically weighty and gives it an aspect of genuineness over entirely imagined narratives conceived for the sake of hosting a particular emotional angle. Going into Severed knowing that Bechtolsheimer is laying out real-life experiences and recollections of life post-heroin is something that should not be omitted or understated. This is a record of intense personal narrative and its transparency with a topic so often shamed, even within the context of successful recovery, is to be commended. Nevertheless, despite combining pause-inspiring lyrics with a melodic style that sets Curse of Lono up to be a band brandishing an element of intriguing differentiation, this time around the band appears to be offering a project that actually struggles – at least within the confines of this album's own shape – to demonstrate a healthy amount of contrast and musical difference.
The players of Curse of Lono, (Felix Bechtolsheimer, Joe Hazell, Charis Anderson, Dani Ruiz, and Neil Findlay (also formerly of Hey Negrita),) are no slouches in the department of musicianship. This is another factor worth noting. Parts are played well; vocals are defined and confident in delivery. Group cohesion is definitely present. Where everything seems to plateau is in the way Severed comes across as a whole, as opposed to numerous small-scale deficiencies. Containing 10 tracks, the first thing listeners are given is actually a re-introduction to the "Five Miles," one of three out of the four tracks from October's eponymous release.
Right away, this decision leads to some surprise, as the track has not been remixed or otherwise significantly re-worked in any way and, outside of catering to purely new audiences, going this route for an opening might inject an early sense of redundancy that gets established fans to hit the skip button; something you never want to happen with a new record. Those who haven't heard the track before will enjoy the starter that displays Curse of Lono's ability to fluidly harmonize, while also sounding like a single voice and nearly unison. Their collective timbre is soft around the edges and very easy on the ears. Its repeated use could have been a good opportunity for shortening, as the song maintains a very cruise-control kind of feel and albeit a pleasant one, at over four minutes, feels like an introduction gone too long.
Continuing into new territory, lead single, "Pick up the Pieces," departs from guitar strums at the start with a sprightly rolling drum pattern. Yet, despite the occasional interesting dash of tone color with a melody that's played by contrasting delayed and distorted lead guitar and bass, and the inclusion of backing (real) hand claps, this first dose of new material never opens up the way one would expect based on the moderate tempo and wide open opportunity for capitalization on build up. Then, for those without fuller conceptual context, lyrical one-liners might come off more cliché than honest due to the band's genre (And I've been drinking / My way back to you / my way back to you / one more time).
The album slides on toward the end of its first half and unfortunately, this pattern of needing to either dig or be patient enough to unearth individual components worth interest in the songs holds fast. It's after the dead middle of the record, ironically on another EP repeater track, "London Rain," that Severed severs itself from what to this point, has become a very ingrained structure of group vocal harmonizing and an unrealized relationship with contrast and dynamic choruses. The injection of "London Rain's" more spoken-sung lyrics, deep Johnny Cash style vocal and more minor key/blues tiled musicality, cuts through and against the front of Severed like a high beam on an unlit back road at night
After shining a light of structural change halfway through, it's on the second half of the record Curse of Lono finally seem to have warmed up to the idea of sectional diversity to accompany their obvious appreciation for similar instrumental . While "All I Got" returns the band to a restrained place with a vocal-centric ballad using minimal reverb (Nod however, for the beautiful Rhodes solo!), this follows what feels like the high point of Severed, in "Send for the Whisky." The latter still runs along the same style and flow lines of the album's beginnings but unlike those tracks, this one hones in on, and with sure footing, nails the structural build up (Cause there's no use in crying / When you're hanging by a thread / When the curse of darkness / hasn't swallowed you yet) that was sorely missing from previous opportunities. Each line sung adds in a new instrumental texture, not everyone is on vocals from the start, and dynamically, when the band sings together during the bridge, there is a carefree sense of conviction akin to back porch jams and fun-loving imperfection.
The sense that Curse of Lono have somehow settled into themselves and have a firmer grasp on the micro and macro of musical balance pleasantly doesn't let up as the album descends toward its conclusion. Delay, distortion, and a bit of guitar growl back up "London Rain's" more dark and brooding style vocal reappear before finishing but this aspect of familiarity has been reigned in enough to feel more friendly than fierce upon reprisal. Again, it's some of what's been heard but showcasing a bit more refinement and a sense of steadiness. Ultimately choosing to close out Severed on a note that carries a temperament much like "Five Miles," can be given a pass if looked at as a sonic bookend for the record and for this chapter to Curse of Lono's story. It gives the project an overall symmetrical feel and a way for the band to leave listeners a reminder of the aesthetic the group seems to bask in and rely on most.
Reflecting on that same end, plenty of what can be appreciated about Severed – because there are lots of qualities worth praise – is highlighted here for listener exploration. Overall though, for more than half the album to create a feeling of frustration translates to a band that perhaps still needs time to hone their songwriting skills or sense of conceptual production. In that sense, if Curse of Lono choose to take a notably longer time between this album and their sophomore, that would not only be an understandable but also respectable decision.
---
Severed will be released one week from today, on 7 April 2017, through Submarine Cat Records.
The album was produced at Gun Factory Studio by Oli Bayston (Boxed In)
Pre-orders are available now through iTunes, Amazon, and Rough Trade (vinyl).
The band will be celebrating the release at The Water Rats in London. Full show details and ticket link are below.
Thursday, 20 April 2017
The Water Rats
328 Grays Inn Road
WC1X 8BZ London
Doors: 7PM / 19:00
Tickets available HERE

---
Keep up with Curse of Lono through their official website and these social media platforms:
Facebook
Twitter (@curseoflonoband)
Instagram

YouTube

SoundCloud

Spotify