Tel Aviv's Lara Snow "tells all" during CMJ week 2015!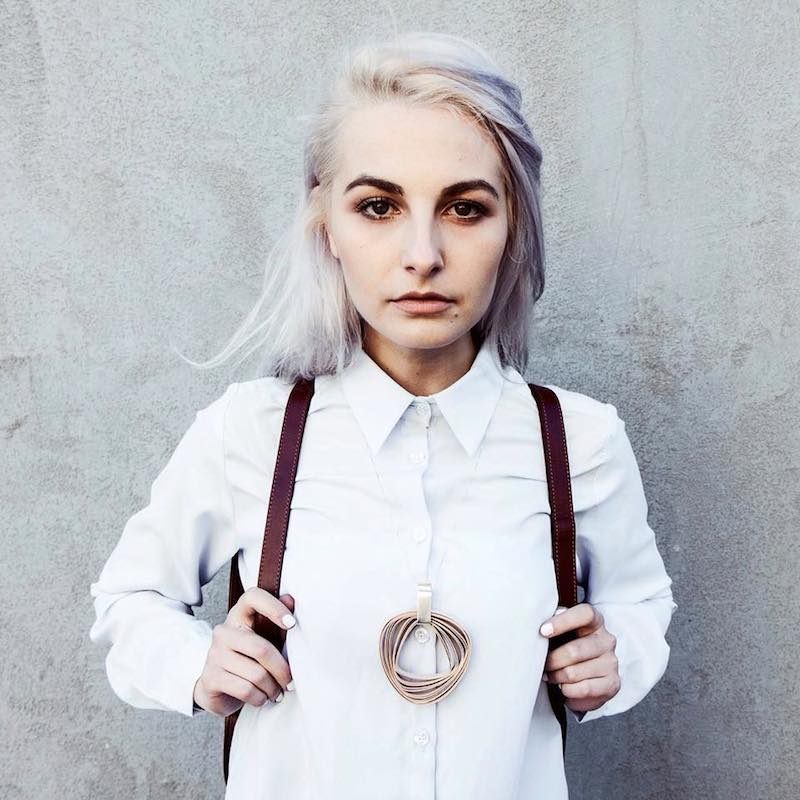 The annual week that is the CMJ Music Marathon, (formally known as College Music Journal,) is an unrelenting twister of events that indeed leave one feeling like they have just run a marathon. Hundreds of bands and hours of highly informative panel-style lectures – much of which tends to happen simultaneously across New York City – make seeing and hearing everything actually impossible. (Where's Hermoine Granger's Time-Turner when you need it?) Aside from a musical overload however, for many bands and artists selected to play a coveted showcase during the festival, attendance means plenty more than playing and hearing new music. It means a long trip – sometimes trans-atlantic long – and exploration of a brand new place, not previously visited outside of things like media and literature. CMJ, for these bands, is the definition of an adventure –one that goes beyond performing at a new venue for the first time.
A two piece electro-pop outfit, Lara Snow, is one such band that traveled to New York City from Tel Aviv, Israel for CMJ 2015, which transpired between 13-17 October. Comprised of singer, Lara Snow and drummer, Jonatan Harpak, this pair was hardly alone in their long distance travels and were not even the only band coming from Tel Aviv! Pursuing music together since 2013, Snow and Harpak might only be a two person band but, they each dive into the work of their music with every role in mind: writing, producing, promoting and everything else along the way.
Leading up to the arrival of CMJ, Lara Snow has kept undeniably busy, recording a handful of tracks, which culminated in the band's "We Are Animals" EP, released on 21 August 2014. One look and listen at what Lara Snow brings to the table and it is unsurprising that many echoed cries of Glasgow's Chvrches or Edmonton's Purity Ring would come up in conversations. Though easily classified as electro-pop for its affinity toward digital synth sounds and up-tempo, singable melodies, there's much more to Lara Snow than a one genre label and contemporary band comparisons.
Following their two official CMJ showcases at Fat Baby and Leftfield respectively, Lara and Jonatan met with me at Cake Shop, another lower east side city favorite and CMJ hosting venue. Settling down with some hot tea at a table in the back, only an hour past opening, it was still (fairly) quiet when the three of us had a chat to reflect over CMJ, love of musical styles and what it's been like for Lara during her first ever trip to the U.S.!
---
Kira: It's great to get to talk with both of you after everything that's happened this week! Your music definitely caught my attention and I've had so many thoughts and questions on which I've wanted to hear your insight –the first being all this talk of the band Chvrches and your similar sounds. Beyond that though, I was curious to see if perhaps there's more you have in common with Chvrches than just musical form. Lauren Mayberry has been extremely vocal about how important it is for women to be active, noticed and appreciated in the music industry. How would you say you feel about the ongoing problems of misogyny and a general lack of women taking on roles at the forefront of music –whether as artists, managers, radio promoters, etc.? Do you feel an inclination to jump into this topic of industry conversation, being an internationally recognized female musician and band front woman?
Lara Snow: You know, it's funny because I had this question [brought up] before so I had a chance to think about [the topic.] I think you had Bjork talking about it a lot, like in the last few months? So I think there is some sort of thing with women in the music industry that some of them don't really get the respect they deserve because a lot of people assume that if you have like, a guy on stage and a girl on stage, they will just assume the girl is singing and that the guy is creating the music or producing or doing everything [else] and I've had this question before, like, people at Jonatan, "Do you produce and she sings, or, how does it work?" and I'm like, "It's not like that. We work together. We write music together. It doesn't really matter for us who sits at the computer. We can even work with other producers. The whole process of the production of our music –it's something we do together. There are some songs Jonatan does the production and there are some songs we have other producers but I'm very much involved with the process of everything [too.] So, I feel like people…it's true sometimes, what you said before, that people can't always get it straight in their minds that girls can also be producers and can be musicians but I think my point of view –for now at least – I don't think I've really come across people who have had the wrong feeling about me. All the people I've worked with respect me and treated me as an equal. So my experience for now, from the music industry, has been pretty good. So for now I don't really feel the urge to go and talk about this [topic] because I feel kind of good about it. I don't know, maybe it will change it the future!
Jonatan Harpak: I must note, we participated in this "Tune in Tel Aviv" showcase, which is an Israeli bands showcase and I think, 80% of the bands were girls.
Lara: It's true. They made an event here at CMJ, like, "Tune in Tel Aviv" branded, with seven or eight bands from Israel and [Jonatan and I] were just talking about it –that like, six of the eight bands were female fronted. It's cool like that. In Israel, you have a lot of female musicians. It's really common. I gotta say, in Israel we have this radio station and people really want to get into their playlist and they were talking a bit about this and one girl got to the point where she checked it and saw that most of the producers and musicians on the station's playlists were female. [Nonetheless,] I think if I send my songs to that station, I don't think they will [choose to] either play it or not play it because I'm a girl. Maybe they'll feel my music is not right for the station or whatever but it'll be about the music. I do have friends who [don't feel the same] but I think it depends on your environment and who you surround yourself with, who you work with, your goals and where you want to go.
Kira: So I noticed in your official CMJ Artist Profile page, your main "survival tip" for CMJ was this very straightforward philosophy of, "Stay up late, don't waste your time on bullshit, work hard, dream big." Is this the type of mentality that pushes you and Jonathan forward where decisions for the band are concerned and does that drive you in how you run things from day-to-day?
Lara: I would say that like, especially in [events] like this, like CMJ, you gotta do the best you can and work hard. I think that a lot of bands that get into this kind of thing, they don't really known how to build with it. It's very hard. It's a hard week, it's hard work. Everybody knows that. It's a lot of meetings, panels [and] a lot of stuff to do. So I think you just have to toughen up, do your thing and be some sort of super hero for the week or, for like, always. I think musicians are always some kind of superhero.
Kira: Similarly, I also noticed you listed MoMA the single "must do" activity while you're in New York City. What types of visual art pique your interest? Why?
Lara: Actually, I haven't had the chance to look at what's presenting at the museum now. [Jonatan and I] are planning to go there tomorrow…but I have a friend who was here last year and he went to see some sort of exhibition about punk and punk culture and how it influenced the couture design. He brought me back a book about it and it was super cool. And so ever since I've just wanted to go to the MoMA. I definitely know I'm going to go find the cool exhibitions and go see them. I don't know which ones [just] yet but I'll know probably tonight because we're going to check it out.
…Jonatan and I, we both come from punk music and I think you can feel the vibe in some of our songs and when I was very young, every other girl was into pop music and when I grew up I was into all like, punk and rockabilly and stuff like that. So I still really, really dig, you know, the outfits and the fashion it created. And just [the punk community's] vibe –the way they acted or the things they believed in…So if that exhibit is still there I will definitely go see it.
Kira: One of the most enjoyable things about CMJ, in my opinion is the very fact that unique and talented musicians such as yourselves are able to just come here from all over the world and show people like myself, who you are in a live setting. To that same end, I haven't gotten to know you on your home turf. Can you take me through a day in the life of your band, the night you have a show, while at home in Tel Aviv?
"A lot of people assume that if you have like, a guy on stage and a girl on stage, [that] the girl is singing and that the guy is creating the music or producing or doing everything…It's not like that. We work together. We write music together."
Lara: First of all, it's much less stressed, it's more free. It's very nice. It's your safe spot, it's your home so you know everyone [and] it's very easy. We started performing actually, [in] April of this year and we had an official show that was only ours. We had some kind of small first show and then we had a festival and then we had [that] first [solo] show and it was really fun. We created a Facebook event and we invited like, everyone. We had a lot of "attending" and like, lots of people came to the show. It was really crowded and the place was full so it was very fun…For now, [with CMJ] I'm kind of satisfied because both our shows were kind of crowded so it was pretty cool. It was very nice to see people [here] just look us up in the CMJ [artist] list and they [ended up lik[ing] us. Or some people just told me, "We really liked your photo so we entered [your artist page] and then we really liked your music." So it's kind of cool to know what we do works and people like our image and everything so I think it's kind of the same, only it's smaller. I would say [Tel Aviv] is like a small New York because the vibe is very alike but you know everyone, you grew up there, it's very easy.
So I guess our normal day would be like, we have a studio back at home and we work there a lot. …when I have [come up with] a song, which I really love, I just call to Jonatan and say, "Come on home I've got a new song, we've got to work on it!" and then he comes and we start to do some kind of a demo for it and then we decide if we do like it, it we produce it. Sometimes we take [songs] to other producers if we feel someone could upgrade our work or give us [their] vibe into it and it could become something we really love –something we want it to become.Then if we have a show, it's much easier because [at home] we have a car, we just put our things in the car –everything is very close – we drive there and we just do the show. It's fun but I gotta say being here [in New York City,] it's better because, for me at least, I love to travel the world and see places I've never been to and meet new people. [Ultimately] I think this is what I want to do. Just going to new places and performing there. I think there's something magical about not being at your "safe spot" –not being at home.
Jonatan: Israel, I think, it's like a small sister of the United States. Culture wise, it's very similar. A lot of our TV and movies are very American so I guess, for us to come to New York, for [Lara] the first time and for me, the first time was, I don't know, around six years ago. I remember getting off of the metro and looking around and it looks like I'm in one of the movies that I know.
Lara: Yeah, you feel like you're in an American movie. It's true. When you grow up initially, your TV, your education, it's from many American things. We don't get a lot of European things so like, I think even our accent is more similar to Americans than to, let's say, British.
Kira: What about the style of electro-pop speaks to you both?

Jonatan: I think when we forged the band, we didn't really choose what it was going to be except that we knew we wanted to do something electronic and we knew it would work great for the two of us…but I think the pop side [of things] is just Lara writing her own music and that's it. That's what it is. [Lara's] songs are truly kind of pop and this is what she does. I don't think she really thinks of whether she's going to do a pop song. She just thinks and that's how she writes naturally.
Lara: I think I remember once I met an Israeli artist and I asked him [about his style of music] and he told me [the music] in his head is very popish. All of his songs are turning out to be pop and he like, really wanted to do more rock stuff and, you know, Nirvana kind of stuff but he couldn't because it was very popish and I think this is kind of the answer. All my life I tried to run away from pop. I always was like, "I don't want to do pop!" especially during my punk period, I was like, "I don't like pop. I don't want to do pop. I want to be a rebel [and] I want to do rock!" So when I got a bit older, I got into alternative more from punk and after that I went into indie and other genres like that.
Somehow from that, I got into electro. I think one of the first bands I really loved was The Knife…I thought they were amazing. I saw their vocalist [from what] I saw, everything I loved. Her accent, the way she pronounced [lyrics] the way she sings, the stuff she writes about…I don't know, I just loved it. I think, over time, I came across more and more electro-popish acts and I just started to like it a lot. I think for me, life just kind of took me there. I don't know how but now I really love this genre and I'm all into pop. I took down the walls of, "I'm not making pop music!" and [now] I'm making pop music and I love it and I want to make the best pop music I can. Of course, I always want to make it special and give it a new edge and to do something different from what I've already heard. I think it's just the stuff of whatever comes out of you naturally. I don't think we get to choose that.
"I think you just have to toughen up, do your thing and be some sort of a super hero for the week or, for like, always. I think musicians are always some kind of superhero."
Kira: We touched upon this earlier before but your debut track, "I Like Snow" is definitely one of your heavier and more intense songs –your vocal even almost sliding into a light rap. Yet your stage dress and band artwork lean toward evoking a more light and delicate character. Do you tend to like playing with dichotomies and opposites with your music/image/live performance, etc.?
Lara: Actually, I had some time I was sort of into hip-hop so I just really liked, all sorts of hip-hop acts and I just really wanted to do some hip-hop and I really wasn't very good at it but…"I Like Snow" I think it just something that came out naturally. It was, I guess it's a song about broken hearts and after a relationship, being mad at the other person and being like, on one side…scared because you're going to be, for the first time, you're alone. [Yet,] on the other hand, you still miss them. I think the song is sort of mix of feelings that you have when you're young and you're in love and you want to be free and you want to live your life.
So I didn't really think of "I Like Snow" as a more hardcore song when [Jonatan, DJ Safra and I] created it together. It just felt right so at that time I think [those] were the kinds of [sounds] that were my influences so it led to this kind of thing. But about the snow and the whiteness and everything…I wanted to do something that was just kind of dreamy; something that was different from what I had done before and [snow] was the image that fit to it so for me, it's very important to have the whole package together: the image you have alongside your image is something that's supposed to go together. For "I Like Snow" specifically, it did turn out like some kind of conflict but I guess it's just nice. It's not something I chose to do but, we did choose to release it first. We thought about it like, "Which song are we going to release first?" and we just said, "I think we should start with the hardcore." You know, just drop the bomb and then like, release the others.
Jonatan: I think, as an artist, you don't really get to choose your best songs. I think songs are like your kids. You like them all and you like them equally and then the world just picks one and thinks it might be a little better but you know pretty soon why and that's how it works. You just run [songs] through your shows and see what works. You ask your friends what they think and for some reason, people showed us that maybe "I Like Snow" is maybe more getting into the hearts of people and it was easier to choose [the songs] after that.

Kira: Is there an instrument you wish you could play and would you ever consider putting it in your songs?
"All my life I tried to run away from pop…[But then] I took down the walls of, "I'm not making pop music!" and [now] I'm making pop music and I love it and I want to make the best pop music I can."
Lara: I would totally play a harp. I think it's amazing. I love the harp. I think it's one of the most beautiful sounds there are out there. You know, there are a lot of beautiful instruments but the harp, it's, such a fairytale. It's magical, you know, and I love when Florence + the Machine uses it in their music. I think it's amazing and I would definitely want to use it in my music one day. I wish I could play it. I don't think I really have the time to even try [right now] but I would definitely put it in my music.
Kira: What's something that has surprised you most during your visit here –either within CMJ or in the broader scope of coming to New York City?
Lara: I think, in my head, I thought CMJ was mostly for like, young bands. You know, a lot of young bands come to get some exposure and stuff like that and actually I was a bit surprised to see Blonde Redhead playing a showcase at CMJ. Or like, K's Choice, which is a band I used to like when I was younger. They were playing [a set] at the Planetary Group showcase. So it was super surprising for me to see it but it was super cool.
Kira: For the those people who are now hooked on your music…can you share a little about the kinds of things going through your mind right now, in terms of inspirations for your next songs?
Lara: I think I'm always inspired by new music. It's funny because we were talking about Chvrches earlier and it's funny but I didn't know them a few weeks ago and then when we had a new single, the guy who worked on the single with us…the song wasn't quite finished yet but we just started sending it to, you know, friends of ours in the industry, to see what they think and a lot of people compared it to Chvrches. I was like, "Who's Chvrches?" It was like, I didn't know them and then I went and listened to it and I'm like, "Oh my God, wow, it's really…there is something about what they're saying, because we also have a lot of those vocal samples like what [Chvrches] uses." My biggest influences also [come from] music and literature. I love reading…whether it's a poem of just a book. This kind of stuff influences me a lot. That and, you know, just the ordinary stuff; the stuff you experience, the people you meet and the things you see or feel. I think probably our experience in New York will turn up in a song for sure. Being here [in New York] totally made us feel a lot of feelings. We've had some good feelings, we've had some bad feelings sometimes but you know, it's really made us feel so I'm definitely going to go home and just sit on my ass for a while and just write some songs [about it.]
Kira: That said, when's Lara Snow's next work due to appear?

Lara: So,"I Like Snow," like we talked about before, along with some other tracks, are up on Bandcamp, Spotify, SoundCloud. You can go play them, download them, remix them or whatever! I would totally tell people to stay tuned because we're working on new stuff. We're planning on releasing a new single soon. I'm very excited about it because for me, [the songs] are going to be a whole new level of, I don't know, connection to myself so, I'm very excited about them. And we're planning to go on a European tour around March. Hopefully we'll get to see some cool people and some cool places over there also!
---
How poetic that the weather here in New York is getting colder just as Lara Snow is heating up! Anyone feeling disappointment that Lara Snow's CMJ experience is over can cheer up: This Thursday Lara and Jonatan have one more show at Pianos so come check them out before they fly home!
Lara Snow at Pianos!
Thursday 22 October 2015
Pianos
158 Ludlow Street
New York, NY 10002
Doors: 6:30PM
Tickets: $8.00 (Get them HERE.)
21+
The duo's "We Are Animals" EP is available now via Bandcamp and iTunes.

Look out for their new material coming soon and in the meantime, follow along with these Tel Aviv talents through their official website and these social media channels:
Facebook
Twitter (@LaravSnow)
Instagram
Tumblr
YouTube
Bandcamp
SoundCloud
Spotify