Indie Music, Questions and Rom-answers with Lane Moore!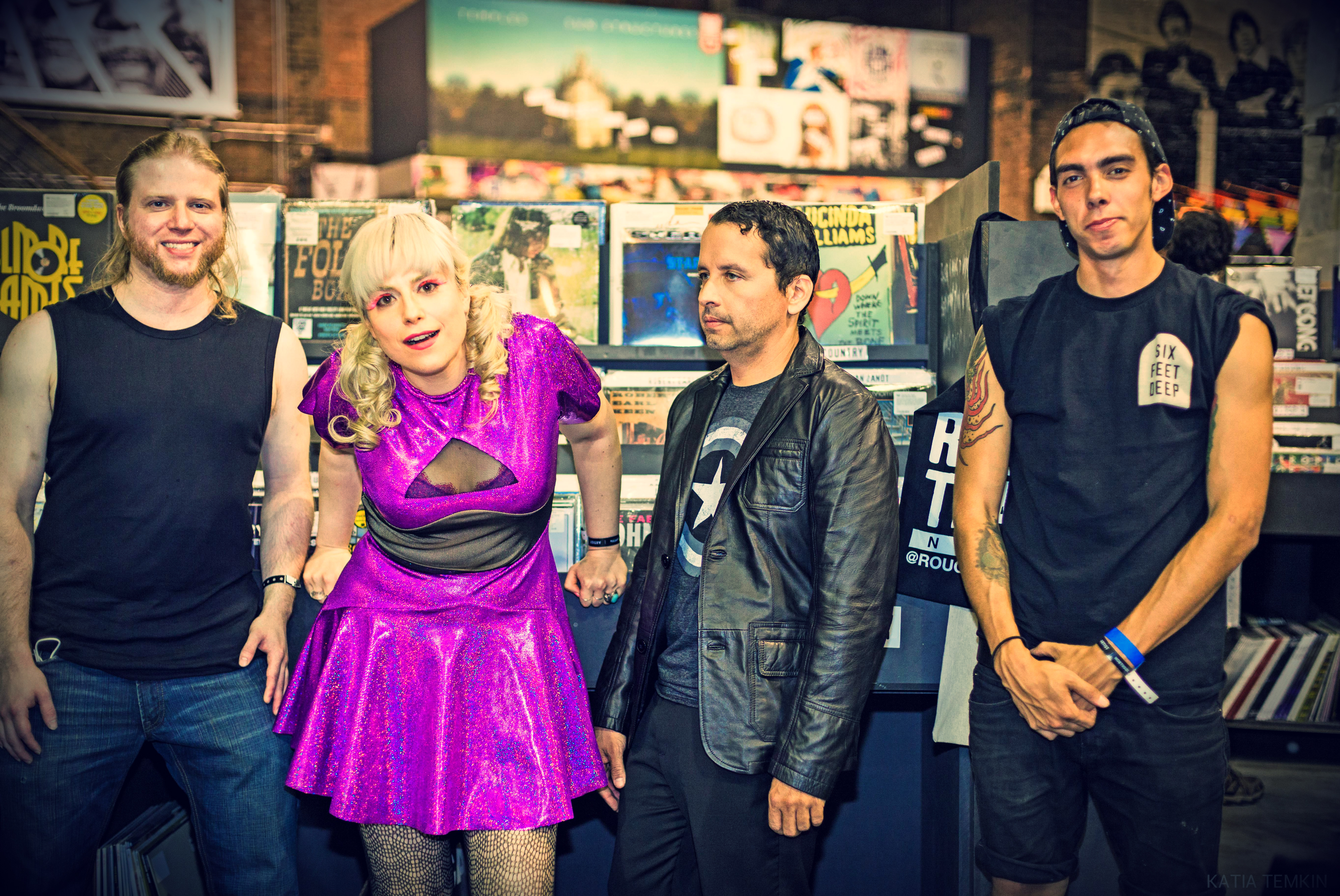 It's amazing how three little words can have such a dramatic impact after they're said; how they can forever shift the nature of how a person sees, hears and thinks about something or someone.
No, this isn't a declaration of love. Nevertheless, after getting to know the name It Was Romance and hearing this band's spunky spin on bluesy garage rock, the way one perceives the timeless topics of love and emotion are sure to be shaken up –tossed right out the window with the box of music's predictable conventions.
Currently a band of four, It Was Romance is the brainchild of comedian, actress, editor and Tinder Live creator, Lane Moore. Originally a pursuit of the solo variety that began in 2009, Moore gradually teamed up with Alejandro Triana (guitar), Angel Lozada (drums) and Jeff Connors (bass). Transitioning to a full band brought new life, new attitude and new musical potential to the songs Moore wrote, which were already heavily clamored for by fans across the web and heavily played on international radio in the UK. The band's sound is hardly describable through an average artist bio and is nowhere near pinning itself down by a minimal list of associated artists of admiration –even if many could come to mind. (Electric ukelele and synthesizers anyone?) The one thing that is easy to see coming are Moore's attitude-laden but-conversational lyrics that breach just about every stage and perspective of love and loss –packed within one seven track album.
This mildly vague primer to the Brooklyn based group might generate some frustration for new listeners but try and trust the instinct that it makes perfect sense because there is almost nothing one can count on as "expected" where the many elements of It Was Romance are concerned. If ever it seems a piece of It Was Romance's musical puzzle fits perfectly into a sensible and rationally defined slot, be mindful that pleasant surprise and reconsideration are only a step behind.
Amidst a presently growing whirlwind of public attention and live shows, It Was Romance is due to play their first ever show on Long Island, headlining the third annual Long Island Indie Pop and Rock Festival. In light of the auspicious occasion, and so the people of Long Island might get to know her better, Moore opened up about how it's felt to watch her solo project evolve, how she works as an entertaining Jill-Of-All-Trades and what she's secretly thought about New York City's next door neighbor.
---
Kira: Prior to ever learning a single detail about what kind of music It Was Romance has to offer, your list of 'day jobs' – ones that collectively blend laughter, love, sex and relationships – combined with your musical endeavors, already make for a compelling cover story. Beyond the initial connection of basic topic words, how would you say the work and entertaining you do outside of music plays a role in your songwriting and stage presence?
Lane: I wish it hadn't become kind of obnoxious to identify as an artist because that's what I am. I don't see any of the things I do as being separate. I love creating things and I'm very expressive and trying to connect people and feel connected. So if that's happening through writing songs or doing stand-up or acting or designing costumes and doing weird make-up at 3 in the morning, it's all in the same realm to me.
Kira: There are a million and one songs about getting together, breaking up and all that happens in between. People tend to find their own meanings and ways of connecting with so much music but having already seen you perform live and in-person, I know you tend to allow the audience to hear more than the usual one-line explanation about what inspired you to write a song. (e.g. "This is a song about a break up.") Do you believe it helps It Was Romance when fans regularly are permitted this additional transparency or do you think over time you might dial things back to leave more open to listener interpretation (and the bottomless abyss of online fan debates)?
Lane: I don't really say that much about the songs at shows and even if I do, it still leaves enough room for interpretation. When I listen to other people's songs, I don't necessarily want to know everything because I also like to guess, but when I hear "This song is about a break-up" I'm like, "Really? That's fucking all?" I just love words and language too much to just say that and leave it there. And the songs are about so much more than people could ever really guess, so I do like to give people something to go on.
Kira: Despite the band's self-titled debut only being released in May, your stress outlet-turned-solo project is already the widely rooted for and "buzzed after band." It Was Romance is known for a lively stage show, colorful outfits and a participatory audience. How has it been on your end, getting ready for another show and, realizing every time, that you're doing/thinking/writing or otherwise incorporating something new and transforming the band's life story? What brings about each consideration of change? Has it mostly been accidental and organic or has it been more of a calculated, conscious choice for growth?
Lane: I just push myself really hard, too hard. Nothing is small to me. I co-design my costumes with designer Steve Buechler of Brooklyn Bespoke. I send him ideas all the time, down to smallest detail, because it all matters. My friend Neal Pittman does my hair and make-up most of the time and I'm similarly meticulous about both and so is he. I've just always felt like, if you can do more, then do it. It's fairly exhausting but I can't do it any other way.
Kira: "Philadelphia," the lead single from It Was Romance's debut, has been highly well received and its accompanying video even more so –chalked up to an abundance of creativity and the great dual gender role playing you provide in the narrative. This kind of well-executed but more straightforward video concept is less common than it used to be. However, in cases like this, it's found to be very refreshing. Is this approach one you feel you will apply to more of It Was Romance's songs; perhaps bringing back a style of video storytelling that's gotten somewhat relegated to the back burner of music television?
Lane: I love super weird Michel Gondry music videos but if you don't have that budget, it's hard to do. I loved the spirit of simpler '90s music videos that were just full of color and life and fun. Plus, I'm a huge fan of "watching the singer walk around the city streets being expressive and dancing." I can all but guarantee that element will be in my future music videos because I love watching it in other music videos so much and getting to make a video where I'm doing that as well is literally a dream.
Kira: Now, given this will be It Was Romance's first ever show on Long Island, what would you say excites you most about headlining the Indie Pop and Rock Festival?
Lane: Being able to play music for a whole new audience is super exciting. It's our first time playing Long Island and I really couldn't be more hyped for that.
Kira: If you could go anywhere or do anything on Long Island for a day, what would you want that to be?
Lane: So much of Long Island is beautiful, but when I went there last I just made a beeline for any place that sold wiccan supplies. So probably there.
"I just love words and language too much to just say that and leave it there."
Kira: As someone who speaks openly and honestly through humor for a living, what's something you would love to see changed about the current music industry? (and in honor of your podcast, "Are You Afraid Of The Snark?," could you phrase your answer as a snarky joke?)
Lane: More visibility for female-fronted bands, bands fronted by people of color, and bands fronted by queer people. ASAP. (Snark-free, I know, but it's what needs to happen.)
Kira: One last impulsive question of my own: What song would you be rocking out to right now if you were dancing alone with headphones on?
Lane: Lucky Ones by LIGHTS. I dance to this song pretty much every day.
---
Look forward to It Was Romance headlining the Long Island Indie Pop and Rock Festival later this month. Details below!
It Was Romance at the Indie Pop and Rock Festival 2015
Presented by Planet of Sound Promotions
Day 3 – Sunday, August 30, 2015

89 North Music Venue
89 North Ocean Avenue 
Patchogue, NY 11772
Doors: 2PM
21+ $12
16+ $15
Featured bands HERE
---
Procure a copy of It Was Romance's self-titled debut album from iTunes.
Follow the saga of It Was Romance through Lane Moore's official website and these social media outlets:
Facebook
Twitter (@hellolanemoore)
Bandcamp