Testing, testing: You'll be impressed by Test Pressings for Charity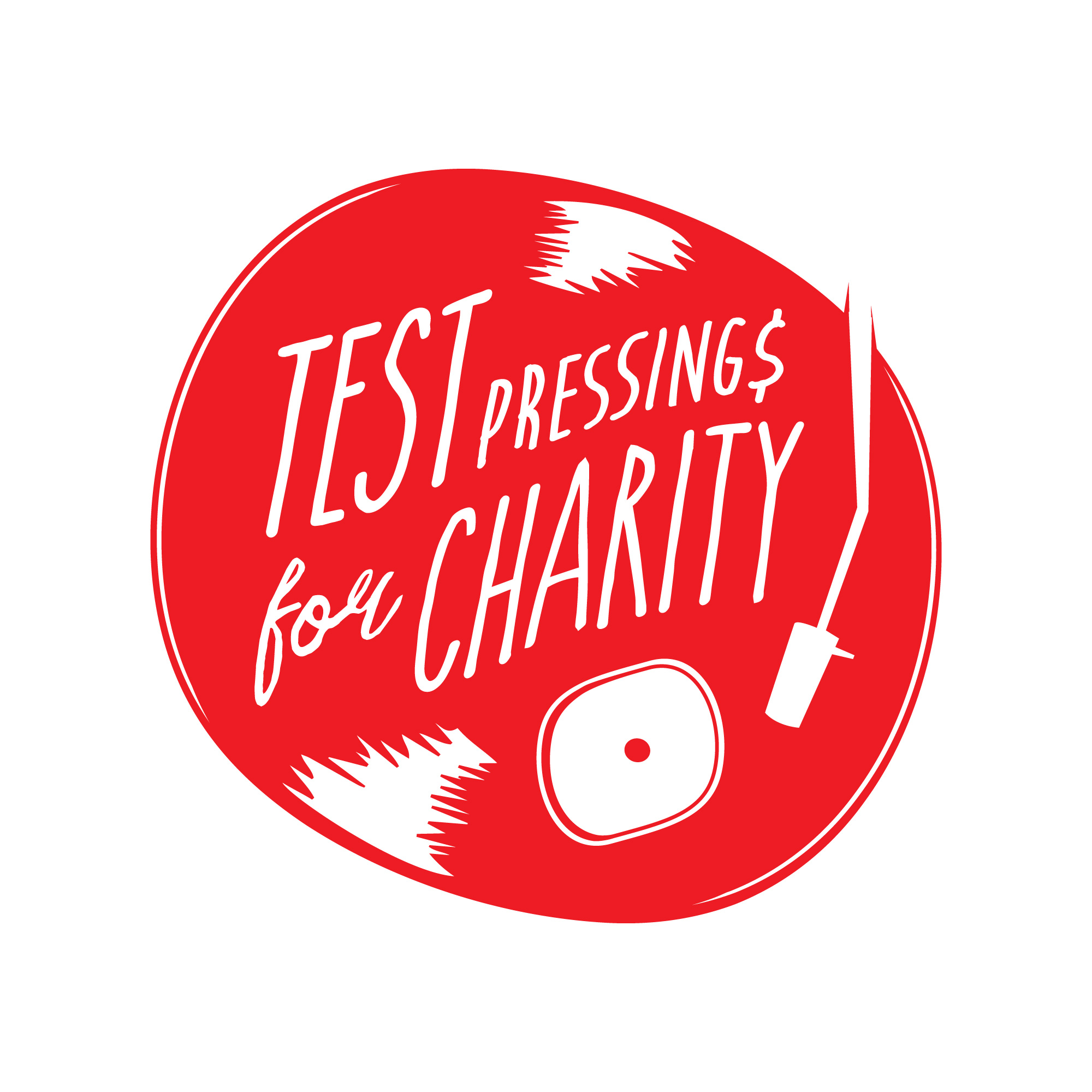 Today's ever-running and ever tightening web of interconnection presents the music world with a nice slice of irony, as it is a rare thing for anything music related to actually maintain a sense of rarity. Anything limited, autographed or with some kind of short term time stamp is quick to be noticed, shouted about from the digital rooftops and swarmed upon because for nearly every limited item connected to an artist or band, there is a fan out there who would love to be the lucky owner thereof.
Interestingly, with all that said, a new organization has managed to sneak onto the web with what has been a respectable but still subtle murmur, given how fast the music loving masses often flock to the source of their cherished tunes. Test Pressings for Charity is, itself, hot off the presses, having just launched on major social media and made their presence known only little more than a few weeks ago. The company's name is virtually self-explanatory, though what it is able to offer in specific is what is likely to garner them a mountain of attention in a molehill's worth of time.
Teaming up with an assortment of record labels that thus far include: New Amsterdam Records, Asthmatic Kitty Records, Ghostly International, K Records and Western Vinyl Records, Test Pressings for Charity acquires prototype, often extremely limited, (as in, you can most likely count the number of stock on one hand!) vinyls belonging to various artists from each of the participating partners and these records are put up for auction; available to anyone who wants them badly enough to win a bid. Following the auction's closing, the proceeds earned from bids on the records are sent to a music-centric charity, selected by a committee with Test Pressings for Charity and that is all there is to it!
The work of Test Pressings for Charity seems straightforward and simple enough but that doesn't mean there aren't plenty of curious details liable to further pique the interest of vinyl collectors, audiophiles or anybody who considers themselves a fan of the die-hard level. Christina Saenger, Coordinator of Test Pressings for Charity, shared some exciting bits of information on the eventual ambitions of Test Pressings for Charity, as well as summing up the success of their recently held inaugural auction and how it was working with their first round of record label collaborators.
---
Kira: Test Pressings for Charity has a great mission that is also pretty "to the point" and though I am not typically for looking a gift horse in the mouth, what enabled this very enticing business entity to come into existence?
Christina: It was an idea that my supervisor, and Asthmatic Kitty Records project manager, John Beeler, came up with a while back. He first mentioned the idea to me when I began as an intern with AKR in June of this year, and I ended up taking the project under my wing. We started contacting labels in late July, got a great response, and pressings started rolling in from those labels not too long after that. We got an awesome logo made for us by graphic designer Matt Hale, and then things started falling into place with some help from the rest of the AKR staff. And with that, TPFC was born!
Kira: The first auction for Test Pressings, which launched on December 1 and ended this past Saturday, saw this whole endeavor ready to go, definitely well stocked with a plethora of test vinyls for bidding, from many different artists to boot. How did each of the five labels participating in this first auction get involved with Test Pressings? Was there a particular aspect to the work that appealed to each of the groups or appealed perhaps, to the individual artists whose vinyls were offered as the bidding prizes?

Christina: We reached out to a few labels that John had contact with that we thought might be interested in donating some of their test pressing inventory. Many of them responded enthusiastically and were really into the idea of us using these pieces of vinyl (that were essentially just taking up space) and using them for good, which I think is what most drew those labels to TPFC.

Kira: Following the close of the auction, exactly how well did the lots up for bid fare in terms of funds earned for charity?

Christina: We ended up earning over $5,000, which we are more than excited to give to the Girls Rock Camp Alliance.

Kira: Girls Rock Camp Alliance is a young non-profit focused on the nurturing and educating of girls using a multi-faceted approach that aggregates aspects of music education, performance, empowerment and social justice workshops, collaboration and cultivation of leadership skills. Test Pressings alludes to the receiving charity being determined via committee before the auction is setup. What kind of process and criteria, other than being music affiliated, does Test Pressings look for when choosing the charity that will receive the auction funds?

Christina: Once we had a solid group of labels to work with, we formed a sort-of "committee" with those labels who would help us make decisions. Before we decided on Girls Rock, we looked into a total of five music-based charities that we thought might be good fits for the auction proceeds. We then presented those possibilities to the committee, asking for their vote, and Girls Rock ended up as a stand-out.

[T]he "committee" consisted of one or two label managers from each of the labels who contributed pressings. That would be Brian from Western Vinyl, Mariella from K Records, Sam and Brian from Ghostly, Bill and Michael from New Amsterdam, and John and Lowell from Asthmatic Kitty. They are all either contacts that John knew already or other label managers who we were put in touch with.

We're pretty open to ideas concerning the charity selection, so if anyone wants to reach out to me, I'd be more than happy to hear their suggestions and take them into consideration.


Kira: The quantity of vinyls for this auction numbered past 100 records and included music by artists that spanned folk to electronic, contemporary classical and more–not a bad lot to choose from and bid on! How are the plans looking for future auctions? Will they all generally run around the same timeframe of a few days? Are you hoping to hold auctions with even bigger lots?

Christina: The thing about test pressings is that usually they are very rare — once they are sold, they are completely off the market. This could make it difficult for us to hold frequent auctions, but hopefully we'll expand our label contacts, collect even more pressings, and be able to do something similar again next [time]!

Kira: Certainly the group of labels already working with Test Pressings is impressive. These are no unknown bunch of industry folk! What are some of the labels you are hoping to connect with next?

Christina: It would be great to keep in touch with the labels who participated this year, as well as add any other labels who might be interested in participating, to our list of contacts. All of the labels this year were indies, so maybe we'll stick to that area, or maybe we'll end up venturing out.

Kira: For any label folk who might be reading this interview, how can they get involved with Test Pressings for Charity?

Christina: They can email me at christina@asthmatickitty.com and I'd be happy to get in touch with them and put them on the list of labels to contact when putting the next auction together!

Kira: When can musically enthused masses expect the next auction to take place?

Christina: We don't have any planned as of now, but hopefully we'll be able to launch another auction around the same time next year, or perhaps even sooner!
---
Anyone already jumping out of their chair and running to mark their calendar in anticipation of the next auction by Test Pressings for Charity can find and bookmark their website at TestPressingsforCharity.org, as well as connect with them on Facebook and Twitter.
Learn more about the work of Girls Rock Camp Alliance at their official website and find them on Facebook and Twitter.
Joyful Noise Records shipped all the pressings for the auction and publicity was handled through Asha Goodman and Sacks & Co.