Here's the real deal on a few Dreamers from Brooklyn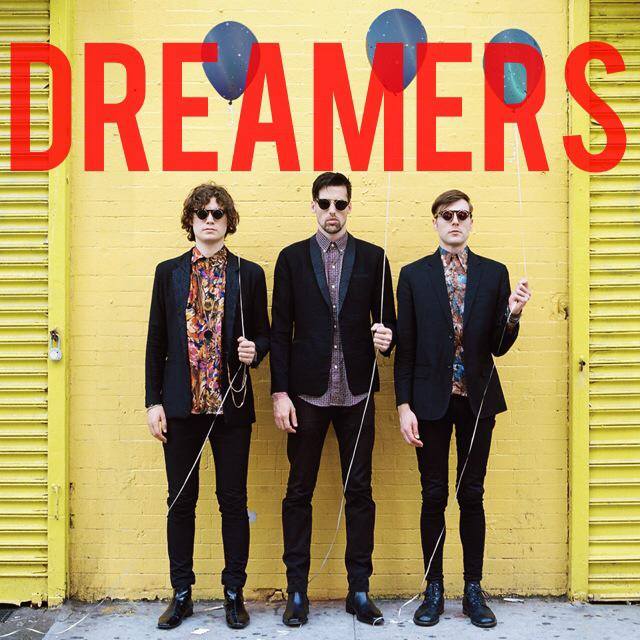 If someone is told not to do something, the more likely that person is going to want to break restriction. If a specific object is made unattainable or extremely limited in existence, people are apt to clamor after it with twice as much vigor. Oh the behaviors humans are drawn to thanks to the nature of psychological influence! When bands take the leap into the public eye, even at the initial and smaller levels, the existence of some of that tempting obscurity can be a serious propeller in the ship of those founding, "I knew them when," fans.
Brooklyn, NY's Dreamers is surely taking up a degree of this approach and running with it; all the more poised to take off well as a result, since this group is both novel and seasoned at the same time. Each of the trio is part of a previous four piece band, Motive, which garnered notable tour exposure and press accolades during its run. Nick Wold (lead vocals / guitar), Nelson (bass, backup vocals) and Chris Bagamery (drums, backup vocals), have control over the perfect storm to grow this next endeavor, as their craft resonates experience, while their sound and gradually unfolding story, resonates something fresh and new.
Right from the title of Dreamers's debut EP, "This Album Does Not Exist," which dropped on 18 November 2014, it is not hard to see how an onlooker lacking any prior band context might be that much more intrigued to dig up a bio or a YouTube performance of the group. After all, what kind of musicians, and with what kind of artistic character, is one dealing when presented with such a title? Tongue-in-cheek? Apathetic? Jaded? All or none of the above? Subjective honesty be told, Dreamers have assembled a four track work that is strong enough in production and compositional cohesion, that the banality of the title could be assumed to simply serve as a placeholder to allow the music to speak for itself–with any amusement that follows just being gravy (and possibly, ironically more memorable).
Arranging chords and combining sonic qualities that meld informality and solidarity in the form of a grunge, rock and late 70s punk-filled foundation, Dreamers are already preventing themselves from being drawn into any sort of vacuum to which bands carrying any of these stylistic labels can fall prey. This is thanks in part to their infusion of a personality that evokes the psychedelic, presented in their lyrical offerings and the band's overall image, both of which gravitate toward an interest in other creative outlets and people of music's close cousins: film, literature and visual art.
The band spoke with me altogether, delving into how one makes an album that "does not exist," the band's recently finished residency at the famous Pianos in lower east side Manhattan, where Dreamers stands on long-term expectations for the band and, a few other insightful odds and ends.
---
Kira: Before we get into anything, allow me to first offer my congratulations on "This Album Does Not Exist." Even only having four songs, each track, and especially the singles, have drummed up what looks like a sizable amount of excitement and of course, new fans.
How was the beginning development of Dreamers for all of you? As all of you have been "active in the music business" and compiled plenty of experience, albeit with another pursuit, did the time from the conception and formation of Dreamers, up to the EP's release day, feel like additional time added to your collective bank or did everything take on a true feeling of a "day one?"
Nick: The formation of Dreamers really did feel like a fresh start.  After the breakup of our previous band we went through a dark cave of soul-searching, writing, and concocting and came out with a whole new, fresh outlook and creative freedom. Having the experience of doing it before was crucial; we've got it all figured out! We've seen it all before!
Kira: Punk, grunge and rock are broad and common enough genre classifications for music that bands can unintentionally but sometimes inevitably get lost but Dreamers has this additional element of a fascination for the universe at large and other art forms that attempt to capture the creativity therein. Where did the desire to include those things, and in this way that embodies psychedelia, come from? (How) would you say it impacted your approach to playing when you went to actually record parts in the studio?
Nelson: As a band, we aren't overly concerned with genre classifications. We all like rock, which encompasses quite a bit and leaves us open to explore just about any sound we think best serves a song. The psychedelia and the diverse pool of inspiration speak to our process and our creative aspirations; drawing from all the experience and culture around us and hopefully synthesizing something familiar yet novel, our own tapestry of conventions assembled in an unconventional way. The studio is fun. We tinker and decorate and it's not self-conscious at all.
Kira: It isn't too often that a band has a section on their website devoted to a manifesto. While that certainly ties into the band's character, is there another reason for the declaration? It feels like anyone that can appreciate this outlook, are united in a kind of movement, as opposed to just the give and take relationship of a band and its audience.
Nick: One of the most powerful things about music is that it brings people together. People from all different backgrounds can unite over common ideas, shared feelings and shared experiences. And we (the band) get to travel around and meet all of them. The manifesto is bait for the type of person we'd like to assemble! And the music is a way for us to all touch the cosmos together.
Kira: Dreamers just recently completed a month-long residency at Pianos down on Ludlow Street –intimate venue and great place to host your release party! What was it like playing on a consistent schedule and in a single neighborhood? Did you get to know a lot of "regulars" at these shows and would you consider doing this kind of arrangement again in the future?
Nelson: The Pianos residency was a blast. We met new fans, friends and musicians every week. There were also a lot of familiar faces at the shows and much hanging out, having drinks and bingeing on cookies from Cake Shop next door. The LES is always alive with late night activity, even on a Tuesday. We try to follow the cosmic electricity. We would definitely participate in a similar format again. Who doesn't like a weekly party?
Kira: Speaking of future performances, you have a show coming up, back in Brooklyn, at Rough Trade NYC. What can someone who hasn't heard Dreamers yet, expect from this larger venue performance?
Chris: We love the chance to spread out over as much terrain as possible. We've had tours where there wasn't enough room for full drums, or no space to run around. With the larger stages we can flex and be free, like chickens let from square-foot cages to roam the pasture and stretch their wings. The sound bounces back and envelops us, and the layers we've added to our new sound does really well with the echoes and the space. Instead of just a party, the larger stages allow us to inject the party with more depth and presence and consciousness. People crowd up to the front a lot more when the stage is at shoulder-level. It makes it a real show and a real memory worth being there for.
Kira: On the subject of Brooklyn, since that's where Dreamers call home base, how are you feeling about the downturn of the borough's music venues? Death by Audio closed in October, then Glasslands Gallery announced closing after 2014 and now there's similar news for Spike Hill? Do you think Brooklyn's music scene can continue to keep its spirits up?
Chris: Those venues had to spring up to fill a void when they started, and there will without a doubt be others to fill their shoes, although they'll definitely be different. Glasslands especially has been a real home for us; we went to school with its founders, we were there when Popgun Booking was printing its first run of flyers to promote their first shows, before the guys acquired Glasslands. So yeah, the impulse is to hold on to these venues forever or the city changes, but everyone has to move on and move up. It's also important to remember that there's more than one side to each story. A lot of the people involved in the closing venues are more excited than anything to have the opportunity to try something new. It's easy to want to oversimplify every scenario to a David and Goliath thing, but there's nothing wrong with letting things get stirred up, because there will always be new places to go to see the music we love and support each other. It's been that way for decades, and there's no reason to stop.
Kira: What can the ever-growing fan base expect from Dreamers as we move into 2015? What are you thinking as a group, as far as how you want Dreamers to evolve over the course of the next year?
Nick: We are always writing new songs, making strange new videos and growing this dream as far as possible. We're so grateful to all the new fans across the world who have been writing us on the interwebs and all the silent listeners as well. With their support we will keep this going to the moon and back. Expect the music to get bigger, badder, weirder and wonderful-er, and expect us to travel to every home-town there is.

---
Tickets for Dreamers's show tomorrow, 19 December at Rough Trade NYC with bands, The Dig and Stargazy, can be purchased here.
The EP, "This Album Does Not Exist" is available now, for download on iTunes and can be streamed on Spotify and SoundCloud.
Keep Dreamers on your musical radar and find them through these outlets:
Official website
Facebook
Twitter (@DREAMERSjoinus)
YouTube
Below is the official video for "Wolves" the leading single off the EP: