On the "Record" with Stephen Godfroy of Rough Trade (NYC!)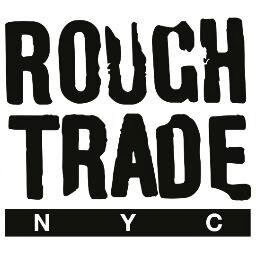 In the CD's heyday and before the iPod broke up the existing music landscape, there were record shops. People went to these places, bought music, chatted with employees, sampled random discs and sometimes stumbled upon a new favorite band…all before "Stumble Upon" became a brand rather than a descriptive action verb.
Fast forward to the fast approaching end of 2013 in New York City. A place once rife with such shops now lacks a serious contender devoted to the music. Well, it didlack.
Making a trip from across the world,
Rough Trade,
 the self proclaimed "purveyor of great music," is just about ready to open up shop here in the states –and right in the heart of Williamsburg, Brooklyn to boot. The chosen destination seems like a fitting locale to make an inaugural move, as Williamsburg is right in the middle of a very positive development stride; particularly with all things artistic. The newbie shop will fit in well with its neighbors but not be overrun with "temporary visitors" and the often claustrophobic nature of establishments put up in midtown or Greenwich Village. Known for unique breweries, parties, concerts, coffee and people, Williamsburg will be home to the appropriately dubbed, "Rough Trade NYC," less than two weeks from now, on November 25
th
.
Stephen Godfroy
, Co-Owner and Co-President of Rough Trade, as well as an acclaimed British Council Young Music Entrepreneur, opened up about this new chapter in Rough Trade's unfolding history. Read on to hear Godfroy's personal insight toward how Rough Trade NYC has become a reality, how the store plans to navigate the shark tank that is New York City and, get an idea of what's to come for us music lovers!
---
Can you tell me some of the story behind how the minds of Rough Trade came to the decision of opening this flagship store in the U.S.? Since the boom in digital music consumption, it has become more and more difficult for even some of the most iconic names in record shops, like Virgin, Tower, and the smaller but equally historic Bleecker Bob's, to keep their doors open. What's the spark that motivated the leap and keeps the fires burning in the days leading up to opening?
Godfroy:Once the success of our London flagship was proven consistent, we had a foundation on which to build and grow the company. With London's model, opening a new store in a similar city was the path of least resistance, so New York was the obvious choice… It maybe in a different county, time zone, etc, but the conditions for running a record shop were very similar to London.
Given all the freak factors that contribute to our success, we don't see ourselves represented by other retailers, so no matter how they fare, we are masters of our own destiny, so to speak, for better or worse. What we're creating with Rough Trade NYC is something unique, without precedent, without available metrics for proving viability ahead of opening… To 'outsiders'  it may appear foolhardy, but we firmly believe that if we build it, people will come.
I have to tell you, with the return of a major brand record shop to NYC, one of the things that immediately comes to mind is Record Store Day –something I know Rough Trades East and West over in the UK take a great deal of pride in really doing as much musically passionate justice every year. Have you started mulling over ideas for how this new location will celebrate its inaugural RSD here in the states?
Godfroy: RSD is a chaotic day that has a lot of positives, but also a number of negatives, in terms of logistics and management. We're hoping RSD 2014 learns from the lessons of past RSD's and helps retailers better manage the day, not just in an operational sense, but also from a customer expectation management point of view. Right now, RSD is the last thing on our minds, as we've more pressing matters to deal with, but no doubt, when it comes around, we'll be ready to support as best we can.
When I think of how music shops used to be places where one could hang out for whole afternoons, converse about the stuff they liked or find new stuff on the fly, the friendly, engaging (and yes, knowledgable) shop employee(s) are undeniably a part of that recollection.
What's your take on the philosophy surrounding music shops' "knowledge guardians," like the kind described in this New York Times piece, written by Alexandra Molotkow titled, "Why the Old-School Music Snob Is the Least Cool Kid on Twitter"? Do you believe that kind of shop culture (at least in the positive sense, not the condescending way,) is integral to the consumer experience and if they could, are the "knowledge guardians" people you would love to see reemerge through places like Rough Trade NYC?
Godfroy: The essence of a record shop is it being a meeting place, a community hub, classless and timeless, where anyone with a love for music can enjoyably spend time in the company of others. We are recommended music by our customers as much as we recommend ourselves, it's a symbiotic relationship that underpins the importance of 'the counter', the conversation focal point. Despite some mainstream generalisations and teasing, a good record shop is never 'too cool for school', it's somewhere without intimidation, where people of all levels of knowledge can exchange and debate, discover and learn.
New York City is definitely a culture hub. People can feel free to explore and express themselves in any number of ways, partnered with any number of artistic vantage points. At the same time, this established amount of openness almost makes it that much harder to genuinely "stand out" in much a different way than any other competing establishment.
Is there one specific action or mindset you are bringing to this store that you think will make all the difference in its success, while other chains have struggled and ultimately had to close? Is it perhaps just matter of Rough Trade being able to fill this long empty, in-person niche in NYC but "doing it better/right" inside the 21stcentury music market? Or would you be approaching things the same way if three neighboring shops were vying for consumer attention?
Godfroy: As I mentioned in a previous answer, we're a bit of a freak, unlike other stores in some key respects (e.g. our history, brand, trade relations, staff, etc). This uniqueness affords us a confidence other stores may lack, allowing us to be more daring and audacious in our interpretation as to what a record store could and should be in this post-digital age. Coupled with this 'bloodymindedness', the music retailscape is a barren sight, a distinctly uncompetitive place despite the myriad of ways people can access music.
Now for a practical question: Seeing as the retail portion of Rough Trade NYC's sales will not venture into marketing used albums, what can consumer-fans expect in terms of selection in regards to recent versus classic records, as well as hard-to-find or collector's music?
Godfroy: We certainly focus on the new, emerging sounds and artists, of which there is a perpetual flow. However, classic back catalogue is essential to have and offer, as it provides the wider context and lessons for the new to reference. We curate our entire offer, new and back catalogue, so visitors can expect to find the seminal albums from yesteryear, alongside the latest and greatest recordings by today's new artists.
What (or who) are some of the musical experiences you are aiming to bring to Rough Trade NYC? Do you have any "wish-list artists" or events that you think would be a hit? Now's the time to put the seed of thought out there!
Godfroy:The combination of in-stores and ticketed gigs is new territory for us, so I'm just praying it works out. If we can make it work, then hopefully the creative scope we have with our London events can be equaled by NYC, allowing us to stage everything from screenings, workshops, Q&A's, to surprise in-store gigs by bands riding the crest of the zeitgeist.
Wish-list-wise, I think there's some unfinished business with Radiohead, given the debacle of our London in-store (a jobsworth from the local licensing authority felt the need to flex his powers). I feel like I need to get that out of my system. Apart from that selfish request, we'd love to have too many artists to list, everyone from Lalo Schifrin to Bjork, Jessica Pratt to El-Mahdy Jr.
Nothing like getting to know the man behind the brand! What's your favorite artist/band of the moment?
Godfroy: My favourite artist right now is the same as always- whoever/whatever fits the mood. Like most people, I'm prone to overplaying and loving something new that catches my ear, like Threads by Om Unit.
Just for fun: What do you think will be the first record rung up and sold at Rough Trade NYC?
Godfroy: I'd hope it would be a debut 7" single by a young artist/band vying for deserved attention.
---
If you're too excited to just sit around and calmly wait, needing something to ebb the anticipation, you can follow Rough Trade NYC on
Twitter
and peruse the
official website
 -soon to include lots from its New York City brethren!
(To give you a peek at what's due for the start, Rough Trade NYC's first in-store performance and signing is already booked for opening day, featuring Sky Ferreira! Simply purchase her upcoming EP, "Night Time, My Time, B-sides Pt. 1" on the day of the event for a wristband.)
In-Store performance and signing with Sky Ferreira
Date: Monday, November 25, 2013
Time: 7:00PM / 19:00