Taylor Swift trying to "Begin Again" in country with Tim McGraw?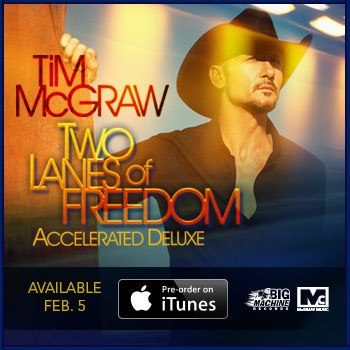 Today's Piece is a Special Guest Post by Scott Interrante, a pop music connoisseur and aspiring musicologist. You can read more of Scott's thoughts on all things pop music and more, on his Tumblr or follow him on Twitter @SmartPopScott
***********************
Much of the reactive writing about Taylor Swift's new album,  and its singles, "Red" "We Are Never Ever Getting Back Together" and "I Knew You Were Trouble," has thus far expressed concern with her transition from "Country Princess" to "Pop Superstar." Of course, this change wasn't sudden. Even from the beginning of her career, Swift has strayed left-of-center on the country spectrum, crafting her songs in the model set up by Shania Twain and Garth Brooks before her. Her songwriting emphasizes universal lyrical themes and focuses on big pop hooks, so that even when the banjos, lap-steels, and fiddles try to convince you it's country, the songs, at their core, are pop fare.

It would be foolish, though, to ignore the fact that with the collective album Red, Swift takes her final step into the pop world. Teaming up with Swedish pop-songwriting giants, Max Martin and Shellback for three tracks on the album, Taylor officially trades in her cowboy boots for stilettos. The songs, two of which have been singles while the third was just announced as Swift's next gift to radio, have huge choruses, four-on-the-floor beats, buzzing synthesizers, and concise and focused melodies.
The songs are certainly still 'Taylor' (no one else on the pop scene could possibly have sold "like…ever" quite as well as she), but they are more sophisticated compositionally, and at the same time, still more fun and accessible on the surface. Even outside of the Martin/Shellback collaborations, there isn't a single song on Red that could be called country through-and-through. Many songs, such as the album title track, "Red," "Begin Again," and "Sad Beautiful Tragic," have elements of country infused into their arrangements but, even more so than on Speak Now or Fearless, these are pure pop songs. If someone didn't know about Taylor's background, it would be hard to imagine them making the connection to the country genre.

Still, Taylor Swift is (almost) as good a businesswoman as she is a songwriter. She knows that the country audience is her base and that she got her start on country radio. She knows the key to success is keeping that fan base while expanding to others.





Tim McGraw's 12th studio album, Two Lanes Of Freedom, was released yesterday on February 5th. The last track of the album, "Highway Don't Care", features Taylor Swift and Keith Urban and although it hasn't been released as a single (yet), it has received a lot of attention from music writers and fans after Swift tweeted about it Tuesday afternoon: 
"I sang with Tim McGraw on a song on his new album- it's called 'Highway Don't Care' and it's out now and I'm psyched about it- check it out?"
Headlines and comments began to pour out about Swift returning to her country roots, which we can be sure was the intended response. If it goes to country radio, it will likely appease many of her worried country fans, while at the same time show that she is a powerful and versatile artist who lives comfortably in both worlds. Her vocals on the song sound stronger than she used to in her 'country days.' The twang is gone and she approaches the lamenting lyrics like the rocking opening track on Red, "State Of Grace."

So is this really a "return to form" for Swift? The song, like most of McGraw's material, is also more on the pop side of country, though it is certainly embraced more readily by country radio that Swift's most recent offerings. Furthermore, Swift's vocal performance remains her new, more mature-sounding pop style. Considering this, "Highway" then serves to continue a dialogue between country and pop that has defined Swift's career. The interplay between styles and traditions is often what gives Swift's music that extra spark. Her appearance with country superstars like McGraw and Keith Urban increases her clout with country music fans (and award committees) while simulatenously reminding people that she hasn't forgotten where she comes from.

As referenced in my title, it is only just so interesting and poetic that Taylor Swift's hop back into country music occurs on a Tim McGraw song, as her first single, which reached no. 6 on the US Country charts, was titled "Tim McGraw". Perhaps this appearance signifies more country on the horizon for Swift but more likely, she will continue to walk the line…

Below is the audio for "Highway Don't Care." What do you think? Is Swift simply showing off her marketing smarts or do you think she truly wants to get back in good graces with the country demographic?