Stop and soak up the star power of GoGo Penguin's new album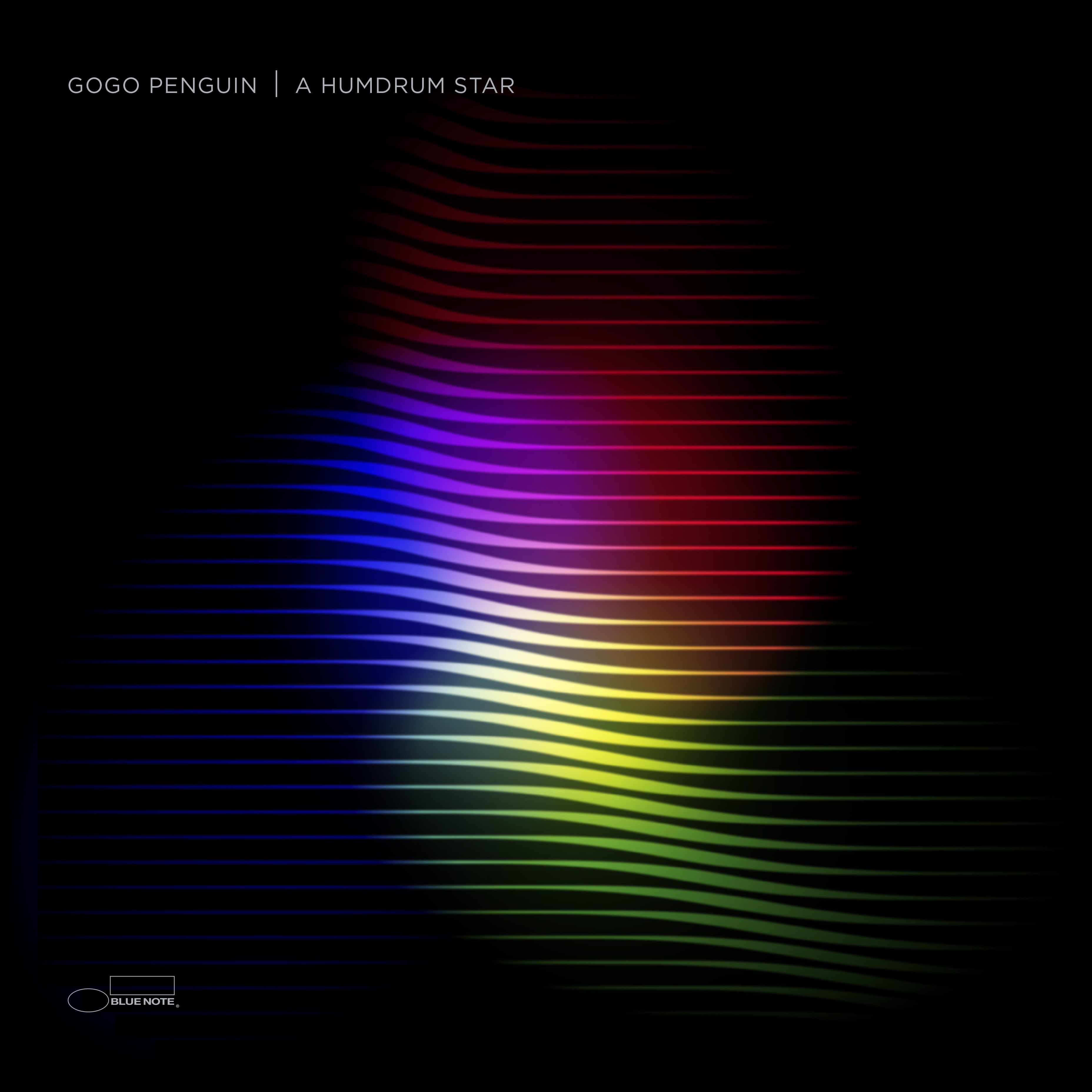 The unknown debut, the dreaded sophomore slump, the high-stakes third album of reinvention: Manchester, England's GoGo Penguin have embraced and emerged stronger after them all. Here now, six years, many artistic accolades, and several world tours since the acoustic-electric jazz band's beginnings, one would imagine GoGo Penguin as a band that has the ability to relax. The hurdles of traditional establishment have been cleared and the trio can hold up its musical torch with a steady hand, right? Well, to a point, this is absolutely true.
GoGo Penguin is:
Nick Blacka (Double Bass)
Chris Illingworth (Piano)
Rob Turner (Drums, Percussion)
Yet, with the unleashing of fourth full-length, A Humdrum Star (Blue Note Records, 2018), this tight-knit group of players gives the public a nine track outing that is anything but predictable. The music dances close enough to the border of familiar and unconventional that the entire experience fosters moments of eye-widening unease; not anxiety inducing but rather, positive nervousness like that which comes with a long-running game of Jenga.
This second effort with Blue Note Records prompts immediate listener investment and doesn't let up the whole way through. There are moments of melodic and rhythmic respite, like the roughly three and a half minutes of single, "Bardo," which exists outside of the song's radio edit counterpart. That track, which recently debuted an accompanying music video, is quite nimbly paced, and sonically active between all three members of the band. It feels lively and its central motif ­– punctuated by a descending minor five note pattern – creates bustling momentum but keeps respective parts neat and organized even amidst relentless movement in the song's mid section. However, once "Bardo" is outside the confines of radio length regulation, the music immediately pulls back and strips down to quiet waves of looping, reversed phased tones and Blacka's pizzicato bass uttering fractions of the ascending and descending hook like whispers in an echoing cave. Eventually the melody builds up again in completed arrangement and dynamic level, before a settling ebb returns to end the track at the full 7:14 mark.
Such an explanation sounds like a lot of focus for just one of the nine cuts on A Humdrum Star but, it's indicative of the album's flow as a whole. Even though not every song got a designated radio edit and even though every song, save for instrumentally serene opener, "Prayer," well exceeds three minutes in length, the overall intensity of A Humdrum Star reflects in a similar way. There are jagged peaks and low valleys; the space between both sometimes smooth and gradual but other times abrupt, loud, and hearing Illingworth, Turner, and Blacka's parts interacting in such a way that they teeter on the brink of disarray.
If A Humdrum Star were given a visual companion, a topographical terrain model might be most appropriate. When observed from afar, it's easy to see how one gets from point A to point B (e.g. track 1: slow, track 2: fast). Look a little closer (the beginning, middle, and end of a specific track like "Bardo",) and the exact number of elaborate mountains and steep canyons cover the land. Get right down to walking level (moment to moment in each song), and the intricacies and musical sensitivity exercised between GoGo Penguin and "fourth member," producer/engineer Joe Reiser reveals a myriad of nuanced choices; decisions meant to mix together the instrumental aptitude long now expected of GoGo Penguin and lesser or even uncharted territory breached for showcasing that very same blend of collective skills.
The trio doesn't pull in a parade of auxiliary instrumental support for girth. Nor does it turn to an excessive amount of digital transformation (occasional composing built from musical "sketches" by Turner on Ableton and Logic platforms, notwithstanding) and move away from the organic side of the band's sonic foundations. However, that doesn't mean the three deprived themselves of atypical methods for the intent of nurturing specific moods or associations. Instruments were taken to higher echelons of creative potential on A Humdrum Star, not merely relying on higher and higher levels of sheer showmanship to evoke awe and unexpected sounds.
Everything from manually dampened piano strings (the front end of "Bardo"), which almost creates an illusion of an electronically altered guitar strum or harp pluck, to the scratchy and industrial long tones heard on "Prayer," made from Blacka's bass strings carrying chains and other materials along for the ride, supports GoGo Penguin's penchant for ingenuity. "A Hundred Moons" packs in the percussive power but Turner gets crafty and forms a sound that is simultaneously hollow and a tad melodic – almost like banging on piping that is just so slightly pitched in nature. Combining that with the shaker quality of a bell cluster (utilized more for its flake-like distribution of sound than its melodic attributes such as on Man Made Object's "Branches Break,") Turner fabricates a very ritualistic aesthetic; one that feels more rugged and less about tonal precision than pieces like leading single, "Raven." Indeed, seeing as the track is inspired by a Caribbean hymn Turner found himself fascinated by, "A Hundred Moons" focuses on establishing and then enhancing a mood, rather than mentally instilling specific characteristics.
It's not to be under noted of course, that in addition to how GoGo Penguin achieved sounds for tracks on this album, the way those sounds are presented in the mix is a massive factor of the magnetism A Humdrum Star has in encouraging listener curiosity. Sure, Illingworth can get a flashy solo here ("Return to Text"), Blacka can get a subtle and soothing pizzicato interlude there ("Strid"), or Turner can crank up the dynamics and tempo of a piece with a sudden full kit assault ("Reactor," "Transient State"). Still, the myriad of additional idiosyncratic sonic details (e.g. string rattles, erroneous rings on cymbal hits, near tone-warping bend effect on repeated piano notes with extreme reverb and length of release,) that are not only allowed to find space in the mix but are at times generously highlighted – giving unencumbered space to the full sound cycle of "attack, sustain, decay, release" – is evidence of just how far GoGo Penguin is willing to go to inspire fascination without diluting the emotional and musical cohesion the band has earned over the last three records.
Here now, through A Humdrum Star, GoGo Penguin have inarguably proven it is not going anywhere and, its mode of generating the unexpected is in no danger of becoming obsolete anytime soon. The band has a piano, an upright bass, and a drum kit. It finds inspiration within some part of the modern jazz space. This tool and type pairing makes the trio seems trite from an un-introduced distance. Though in truth, after six years, continuous artistic growth, and proving that listeners aren't just signing up for mildly altered permutations of the same three elements, GoGo Penguin and A Humdrum Star stand as prominent examples of how one can embrace and retain the foundations of a style, while steering clear of a set-it-and-forget-it presentation, and avoiding perception as utterly abstract or creatively manic.
---
A Humdrum Star is available now via Blue Note Records.
Find it on iTunes, Google Play, Amazon, and streaming on Spotify and Deezer.
GoGo Penguin is embarking on a world tour in support of A Humdrum Star, which includes a stop in Brooklyn, NY at Elsewhere on 4 May 2018. Full tour list and ticket links are HERE.

Keep up with GoGo Penguin through its official website and these social media outlets:
Facebook
Twitter (@GoGo_Penguin)
Instagram
YouTube
Spotify
Deezer
SoundCloud
Bandcamp